2013 CAROLINA PANTHERS TEAM
History
On October 26, 1993, NFL owners unanimously selected Carolina as the 29th NFL franchise and the first expansion team since 1976. Fireworks exploded over uptown Charlotte as jubilant fans gathered to celebrate the news. "This is a dream come true for me and my partners and for the 10 million people in the Carolinas," said Carolina Panthers Owner/Founder Jerry Richardson, who became just the second former player to own an NFL team along with George Halas of the Chicago Bears.
The "dream" began on July 16, 1987 when Richardson met in Charlotte with a group of interested parties to discuss the feasibility of entering the multi-city competition for two NFL expansion franchises. On December 15, Richardson officially announced an NFL franchise bid for the Carolinas.
One of the first orders of business was to choose a stadium site. Locations in North and South Carolina were considered. On December 15, 1989, Richardson Sports selected a site in uptown Charlotte as the future home of a privately financed NFL stadium that would seat more than 70,000 fans.
Across the Carolinas, support for an NFL expansion team poured in at an unprecedented rate. U.S. Sens. Jesse Helms of North Carolina and Ernest Hollings of South Carolina lobbied NFL owners on the Carolinas behalf. Likewise, North Carolina Gov. Jim Martin and South Carolina Gov. Carroll Campbell formed a blue-ribbon committee of leading citizens in both states. Fans demonstrated their enthusiasm by selling out preseason games in Raleigh, NC in 1989, Chapel Hill, NC in 1990 and Columbia, SC in 1991.
At the League owners meeting on March 18, 1992, the NFL reduced the list of expansion candidate cities from eleven to seven with the Carolinas making the cut. Two months later, the NFL narrowed the list of expansion hopefuls to five communities – Baltimore, St. Louis, Memphis, Jacksonville and the Carolinas.
However, on October 20, 1992, NFL owners decided to delay the expansion vote until the fall of 1993 because of a labor dispute between the League and the players. Fortunately, on January 6, 1993, the League and the players approved a new Collective Bargaining Agreement. On March 23, 1993, the expansion race officially resumed.
On June 3, Richardson Sports revealed its impressive plan to privately finance a 72,300-seat stadium from the sale of Permanent Seat Licenses, club seats and luxury boxes, beginning on July 1. A remarkable 15,000 pieces of mail from first-day orders were collected. By the end of the first day, all 8,314 club seats sold out and all 104 luxury suites were reserved and ultimately leased. First-day PSL orders totaled 41,632.
Finally, on October 26, 1993, NFL owners unanimously selected Carolina as the 29th NFL franchise.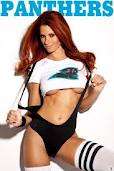 2014 Regular Season Games

Regular Season
Week
Date
Opponent
Time/Result
TV
1
Sun, Sep 7

@ Tampa Bay Buccaneers

W 20 - 14

FOX

2
Sun, Sep 14

vs Detroit Lions

W 24 - 7

FOX

3
Sun, Sep 21
vs Pittsburgh Steelers
L 19 -37

NBC

4
Sun, Sep 28

vs Baltimore Ravens

L 10 - 38

NBC

5
Sun, Oct 5

vs Chicago Bears

W 31 - 24

FOX

6
Sun, Oct 12

@ Cincinnati Bengals

T 37 - 37

FOX

7
Sun, Oct 19

@ Green Bay Packers

L 17 - 38

FOX

8
Sun, Oct 26

vs Seattle Seahawks

L 9 - 13

FOX

9
Thu, Oct 30

vs New Orleans Saints

L 10 - 28

CBS

10
Mon, Nov 10

@ Philadelphia Eagles

L 21 - 45

ESPN

11
Sun, Nov 16 vs Atlanta Falcons L 17 - 19 FOX
12
Sun, Nov 23
Bye
13
Sun, Nov 30
@ Minnesota Vikings
L 13 - 31

FOX

14
Sun, Dec 7

@ New Orleans Saints

W 41 - 10

FOX

15
Sun, Dec 14
vs Tampa Bay Buccaneers
W 19 -17

FOX

16
Sun, Dec 21

vs Cleveland Browns

W 17 - 13

CBS

17
Sun, Dec 28

@ Atlanta Falcons

W 34 - 3

FOX
Saturday, January 10
Russell Wilson, Kam Chancellor Star as Seahawks Roll Into Title Game
SEATTLE -- This time Russell Wilson did it with his arm, passing the Seattle Seahawks into the NFC Championship Game for the second straight year with a big assist from Kam Chancellor.
The Seahawks are one step closer to defending their Super Bowl title.
"It's exciting but the job is not done. There is still a lot more to do," Wilson said.
Wilson threw for 268 yards and three touchdowns, Chancellor returned an interception 90 yards for a TD midway through the fourth quarter and the Seahawks beat the Carolina Panthers 31-17 on Saturday night in an NFC divisional playoff game.
Wilson was nearly flawless in one of the best playoff performances of his young career. He took shots downfield and was perfect on third downs.
Wilson threw a 16-yard touchdown to Doug Baldwin in the first quarter, found Jermaine Kearse for a 63-yard TD in the second quarter and capped his night with a 25-yard strike to Luke Willson with 10:26 remaining that gave Seattle a 24-10 lead.
Even with Wilson's passing prowess, the capper was still to come from the most impressive athlete on the field.
"I don't know if a strong safety can have a better game than Kam did tonight," Seattle coach Pete Carroll said.
Chancellor wowed everyone by twice jumping over the Carolina offensive line on a pair of Graham Gano field goal attempts at the end of the first half. And he showed that he's a pretty good safety in coverage, too.
With Carolina driving and trying to cut Seattle's 14-point lead in half, Chancellor anticipated Cam Newton's throw. Newton's primary target was covered and when he came back to try and find Ed Dickson, Chancellor jumped the throw and returned his third career postseason interception for a touchdown.
For all the tackles Chancellor made -- and his hurdling exhibition -- it was the hulking safety running alone for the first TD of his career that left CenturyLink Field shaking.
"We have a full trust and understanding of his athletic ability. He's a freaking monster," Seattle cornerback Richard Sherman said. "... He damages people's souls."
It was the longest touchdown in Seattle's postseason history, topping Percy Harvin's 87-yard kickoff return for a touchdown in last season's Super Bowl.
"It felt awesome. It felt like preparation. It felt like everything I worked all week for," Chancellor said.
The Seahawks (13-4) never trailed and became the first defending Super Bowl champion to win a playoff game the following season since New England in January 2006.
Since that Patriots victory, three defending champions have earned byes only to lose in the divisional round, the last being Green Bay in the 2011 playoffs.
Seattle will host either Green Bay or Dallas next Sunday for a trip to the Super Bowl.
Newton threw a pair of touchdowns to Kelvin Benjamin, but Carolina (8-9-1) couldn't overcome three turnovers, two of which the Seahawks turned into touchdowns.
After knocking off Arizona in the wild-card round last week, Carolina was trying to be the first team to reach a conference championship game after having a losing record in the regular season.
Much like the previous three regular-season games between the two teams, Carolina made it difficult on Seattle. The best running team in the NFL this season was held to 100 yards rushing by the Panthers' defense.
Marshawn Lynch was mostly a non-factor aside from a 25-yard run in the third quarter that helped set up Steven Hauschka's 37-yard field goal on the first play of the fourth quarter.
But Wilson was outstanding, especially on third down. All three of his touchdown throws came on third-and-long situations. Baldwin beat safety Tre Boston on a double move on third-and-9 on his TD catch in the first quarter.
Kearse's TD reception came on a third-and-7. And Willson's catch-and-run TD was on third-and-10.
Wilson finished with a passer rating of 149.2, the second-highest for any game in his career. He was 8-of-8 for 199 yards passing on third downs.
"That's just a fantastic night of coming through in critical situations," Carroll said.
Newton played well, but turnovers were the Panthers' undoing. Newton finished 23-of-36 for 246 yards and added 37 yards rushing. Jonathan Stewart had been a key to the Panthers' late-season surge, and rushed for 70 yards on 13 carries.
Newton got away with testing All-Pro cornerback Sherman in the first quarter and watching Sherman dance away with his first career postseason interception.
But Seattle took the lead after Carolina's second turnover of the first quarter. Michael Bennett disrupted the handoff between Newton and Stewart and Tony McDaniel fell on the loose ball at the Carolina 28. Wilson connected with Baldwin to take the lead and Carolina never pulled back even.
"We needed them to make some mistakes and that would help," Carolina coach Ron Rivera said. "But it didn't happen. Credit to them."
Game notes

Seattle won its eighth straight home playoff game. ... Carolina's 132 yards rushing were fourth-most of any team versus Seattle this season. ... C Max Unger re-injured his ankle late in the fourth quarter. Seattle WR Paul Richardson suffered a sprained knee in the third quarter.
NEXT GAME
vs
PM EST
TV:
Wednesday, December 10
Cam Newton Injured in Car Crash
CHARLOTTE, N.C. -- Carolina Panthers quarterback Cam Newton has two fractures in his lower back following a two-car accident Tuesday afternoon near the team's stadium.
"Further testing revealed that Cam Newton has two transverse process fractures in his lower back and no further internal injuries," the Panthers said in a statement Tuesday afternoon.
"Right now we have thought about Cam's well-being and we understand there was someone else in the other car who was injured," the team said. "We just hope that they're all OK."
Newton was expected to be released from the hospital on Wednesday after undergoing tests.
On Wednesday, the Charlotte Mecklenburg Police Department confirmed that Newton will face no charges for Tuesday's wreck and was traveling at the posted 35 mph when the other driver pulled out in front of him.
The injury suffered to Newton is the same back injury that Dallas Cowboys quarterback Tony Romo suffered earlier this season. Romo missed one game this season for the injury, however no timetable was given for how long Newton will be out, if at all.
The accident took place around 12:30 p.m. ET, according to Charlotte police. Both Newton and the driver of the other vehicle were taken to the hospital with non-life-threatening injuries.
Panthers general manager Dave Gettleman confirmed in a telephone interview from Texas that Newton had not been released Wednesday morning.
Gettleman said he still has no details of what happened or when Newton would return to action.
The GM was at the league owners' meeting in Irving, Texas, on Tuesday when he received a call from his office about the crash.
"I'm just thankful he was wearing a seat belt and everyone involved is all right," Gettleman said before boarding a plane back to Charlotte.
The Panthers earlier said Newton will be held overnight for observation but that the franchise quarterback was "in fair condition and undergoing tests at Carolinas Medical Center."
Team owner Jerry Richardson earlier told the Charlotte Observer that Newton is "in good shape," after speaking with CMC doctors.
[+] Enlarge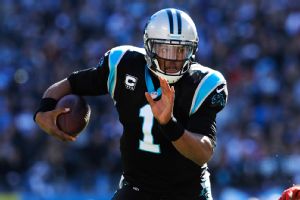 Grant Halverson/Getty ImagesThe Panthers' Cam Newton suffered lower-back fractures in a Tuesday afternoon car crash.
Newton, 25, was conscious when he was transported to the hospital, a source told ESPN's Ed Werder.
A witness told the Charlotte Observer that Newton was "alert" but "in pain" at the scene of the accident.
In his fourth season, the former No. 1 overall pick has thrown for 2,812 yards, run for 425 yards and accounted for 19 total touchdowns this season (16 passing, three rushing) to go along with 11 interceptions for a Panthers team that remains in the hunt for the NFC South division title despite a 4-8-1 record.
If Newton is ruled unable to play, veteran Derek Anderson would be expected to take over as Carolina's starting quarterback. Anderson led the Panthers to a 20-14 victory over the Tampa Bay Buccaneers in Week 1 while Newton sat out with fractured ribs.
The Panthers play the Bucs this Sunday at 1 p.m. ET.