2013 CAROLINA PANTHERS TEAM
History
On October 26, 1993, NFL owners unanimously selected Carolina as the 29th NFL franchise and the first expansion team since 1976. Fireworks exploded over uptown Charlotte as jubilant fans gathered to celebrate the news. "This is a dream come true for me and my partners and for the 10 million people in the Carolinas," said Carolina Panthers Owner/Founder Jerry Richardson, who became just the second former player to own an NFL team along with George Halas of the Chicago Bears.
The "dream" began on July 16, 1987 when Richardson met in Charlotte with a group of interested parties to discuss the feasibility of entering the multi-city competition for two NFL expansion franchises. On December 15, Richardson officially announced an NFL franchise bid for the Carolinas.
One of the first orders of business was to choose a stadium site. Locations in North and South Carolina were considered. On December 15, 1989, Richardson Sports selected a site in uptown Charlotte as the future home of a privately financed NFL stadium that would seat more than 70,000 fans.
Across the Carolinas, support for an NFL expansion team poured in at an unprecedented rate. U.S. Sens. Jesse Helms of North Carolina and Ernest Hollings of South Carolina lobbied NFL owners on the Carolinas behalf. Likewise, North Carolina Gov. Jim Martin and South Carolina Gov. Carroll Campbell formed a blue-ribbon committee of leading citizens in both states. Fans demonstrated their enthusiasm by selling out preseason games in Raleigh, NC in 1989, Chapel Hill, NC in 1990 and Columbia, SC in 1991.
At the League owners meeting on March 18, 1992, the NFL reduced the list of expansion candidate cities from eleven to seven with the Carolinas making the cut. Two months later, the NFL narrowed the list of expansion hopefuls to five communities – Baltimore, St. Louis, Memphis, Jacksonville and the Carolinas.
However, on October 20, 1992, NFL owners decided to delay the expansion vote until the fall of 1993 because of a labor dispute between the League and the players. Fortunately, on January 6, 1993, the League and the players approved a new Collective Bargaining Agreement. On March 23, 1993, the expansion race officially resumed.
On June 3, Richardson Sports revealed its impressive plan to privately finance a 72,300-seat stadium from the sale of Permanent Seat Licenses, club seats and luxury boxes, beginning on July 1. A remarkable 15,000 pieces of mail from first-day orders were collected. By the end of the first day, all 8,314 club seats sold out and all 104 luxury suites were reserved and ultimately leased. First-day PSL orders totaled 41,632.
Finally, on October 26, 1993, NFL owners unanimously selected Carolina as the 29th NFL franchise.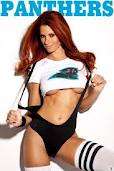 2014 Regular Season Games

Regular Season
Week
Date
Opponent
Time/Result
TV
1
Sun, Sep 7

@ Tampa Bay Buccaneers

W 20 - 14

FOX

2
Sun, Sep 14

vs Detroit Lions

W 24 - 7

FOX

3
Sun, Sep 21
vs Pittsburgh Steelers
8:30PM EDT

NBC

4
Sun, Sep 28

vs New Orleans Saints

7:30PM EDT

NBC

5
Sun, Oct 5

vs Houston Texans

12:00PM EDT

CBS

6
Sun, Oct 12

@ Seattle Seahawks

3:25PM EDT

FOX

7
Sun, Oct 19

vs New York Giants

3:25PM EDT

FOX

8
Mon, Oct 27

vs Washington Redskins

7:30PM EDT

ESPN

9
Sun, Nov 2

vs Arizona Cardinals

12:00PM EDT

FOX

10
Sun, Nov 9

@ Jacksonville Jaguars

12:00PM EDT

FOX

11
Bye
12
Sun, Nov 23

@ New York Giants

7:30PM EDT

NBC

13
Thu, Nov 27

vs Philadelphia Eagles

3:30PM EDT

FOX

14
Thu, Dec 4

@ Chicago Bears

7:25PM EDT

NFL

15
Sun, Dec 14

@ Philadelphia Eagles

7:30PM EDT

NBC

16
Sun, Dec 21

vs Indianapolis Colts

3:25PM EDT

CBS

17
Sun, Dec 28

@ Washington Redskins

12:00PM EDT

FOX
Sunday, September 14
Newton, Defense Lead Panthers Over Lions 24-7
CHARLOTTE, N.C. (AP) -- Cam Newton showed he has no intention of changing the way he plays the game.
The fourth-year quarterback shook off some early rust and returned to his fearless style of play, helping Carolina defeat the Detroit Lions 24-7 on Sunday, capping a distraction-filled week for the Panthers.
In his first start since fracturing his ribs in a preseason game, Newton threw for 281 yards and a touchdown and ran for 19 yards on four carries, He helped the Panthers improve to 2-0 for the first time since 2008 and grab sole possession of first place in the NFC South.
Newton shook off a slow start and completed 22 of 34 passes and overcame five sacks.
''I felt like I was getting antsy early on and that comes from a lack of playing time,'' Newton said. ''... I was getting my feet back under me and as the game went on I started feeling more comfortable and it showed.''
Wearing a thick flak jacket, it took a while for Newton to find his stride.
He scrambled from the pocket on one second-quarter run and dived headfirst instead of sliding. It was similar to the play against New England on Aug. 22 that left him with cracked ribs and sidelined him for the season opener against Tampa Bay.
Later in the fourth quarter Newton ran again, turning the corner inside the 5 and diving toward the pylon.
''He is obviously going to be sore,'' Panthers coach Ron Rivera said. ''He can't help himself (and) he ran a couple of times. He did the best he could with it. The thing that I'm pleased with is once he got the rust off he settled down and made some really good decisions.''
Earlier in the day Rivera made a difficult decision to deactivate Pro Bowl defensive end Greg Hardy, saying that the NFL ''culture has changed'' and the team needed to make the right decision. The decision came one day after the Minnesota Vikings announced they would deactivate Adrian Peterson, who was indicted on child abuse charges on Saturday,
Hardy was convicted July 15 on two counts of domestic violence and Rivera didn't think it was right to allow him to play given the events of the week.
''It was my decision and it was in the best interest of the Carolina Panthers,'' Rivera said.
Carolina's defense didn't seem to miss a beat.
The Panthers had three takeaways, four sacks and held the Lions scoreless in the first half one week after Matthew Stafford and company put up 35 points against the Giants. Mario Addison helped fill the void left by Hardy with 2 1/2 sacks, and cornerback Antoine Cason had 10 tackles, two forced fumbles and a recovery.
The Panthers were a plus-3 in the turnover battle for the second straight week.
''We turned the ball over too many times, particularly in scoring territory,'' Lions coach Jim Caldwell said.
The Lions (1-1) took a 7-6 lead early in the third quarter when Stafford connected on a 1-yard touchdown pass to fullback Jed Collins, who bowled over NFL Defensive Player of the Year Luke Kuechly en route to the end zone.
But the lead was short-lived.
Newton bounced back, leading the Panthers on an eight-play, 72-yard drive, connecting on his first TD pass of the season, a 14-yard strike to Jason Avant on a slant route.
Thomas DeCoud tipped a deep ball from Stafford and Melvin White intercepted to set up Carolina's next score. Rookie wide receiver Kelvin Benjamin, who struggled with dropped balls all day, hauled in a one-handed grab along the left sideline. Jonathan Stewart capped the drive with a 2-yard run and Newton threw to Jerricho Cotchery for a 2-point conversion to put Carolina up 21-7.
The Panthers put the game away in the fourth quarter when Jeremy Ross fumbled a kickoff that kicker Graham Gano recovered. Gano added his third field goal of the game for the final score.
The Lions failed to take advantage of their scoring opportunities in the first half, setting the tone for the game. Rookie Nate Freese missed two field goals, Joique Bell fumbled in Carolina territory and Johnson dropped a potential TD catch.
''When you don't take advantage of your opportunities you miss chances and turn the ball over, you're not going to have a good day,'' Stafford said.
NOTES: Newton apologized to Lions defensive tackle Ndamukong Suh after the game, saying he didn't mean anything offensive earlier in the week when he referred to him as ''Donkey Kong Suh.'' ... Caldwell said he ''won't make any rash decisions'' on whether to keep Freese as the kicker after his two misses. ... Lions cornerback Nevin Lawson was carted off the field with a foot injury and did not return.
Sunday, September 21
NEXT GAME
vs Pittsburgh Steelers
8:30 PM EST
TV: NBC