Admin

Marshall Thundering Herd

Huntington, West Virginia
| | |
| --- | --- |
| Welcome | |
Marshall Thundering Herd Football
First season
1895
Athletic director
Mike Hamrick
Head coach
Doc Holliday
2nd year, 12–13 (.467)
Home stadium
Joan C. Edwards Stadium
Field
James F. Edwards Field
Stadium capacity
38,019
Stadium surface
Field Turf
Location
Huntington, West Virginia
Conference
C-USA
Division
East
All-time record
536–514–47 (.510)
Postseason bowl record
7–3
Claimed national titles
2 (1-AA)[1]
Conference titles
13
Consensus All-Americans
29 Division I FCS (1 Division I FBS)
Colors
Kelly Green and White
Fight song
Sons of Marshall
Mascot
Marco the Buffalo
Marching band
Marching Thunder
Outfitter
Nike
Rivals
West Virginia Mountaineers
East Carolina Pirates
Ohio Bobcats
UCF Knights
Website
HerdZone.com
2016 Football Schedule
2016-2017 SCHEDULE
Date
Opponent / Event
Location
Time / Result
Media
09/10/16

vs.

Morgan State
Huntington, W.Va.
W 62 - 0
GT

TV: beIN SPORTS



09/17/16

vs.

Akron
Huntington, W.Va.
L 38 - 65
GT

TV: CBS Sports Network



09/24/16

vs.

Louisville
Huntington, W.Va.
L 28 - 59
GT

TV: CBS Sports Network



10/01/16

at

Pittsburgh
Pittsburgh, Pa.
L 27 - 43

GT

TV: ROOT Sports



10/08/16

at

North Texas *
Denton, Tx.
L 21 - 38

TV: American Sports Network



10/15/16

vs.

Florida Atlantic (Homecoming) *
Huntington, W.Va.
W 27 - 21
GT

TV: American Sports Network



10/22/16

vs.

Charlotte *
Huntington, W.Va.
L 24 - 27
GT

TV: beIN SPORTS



10/29/16

at

Southern Miss *
Hattiesburg, Ms.
L 14 - 24

TV: American Sports Network



11/05/16

at

Old Dominion *
Norfolk, Va.
L 14 - 38

TV: American Sports Network



11/12/16

vs.

Middle Tennessee *
Huntington, W.Va.
W 42 - 17
GT

TV: American Sports Network



11/19/16

at

FIU *
Miami, Fla.
L 14 - 31

TV: American Sports Network



11/26/16

vs.

Western Kentucky *
Huntington, W.Va.
TBA
GT

TV: ESPN TBA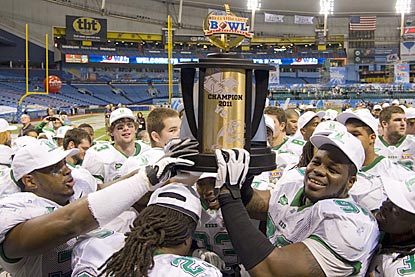 With their victory, the Marshall Thundering Herd are now 7-2 in bowl games since rejoining Division I-A football in 1997.
Defensive lineman Brandon Sparrow #96 of the Marshall Thundering Herd holds up the trophy after Marshall defeated the Maryland Terrapins 31-20 to win the 2013 Military Bowl at Navy Marine Corps Memorial Stadium on December 27, 2013 in Annapolis, Maryland.
Defining Moment: On the anniversary of the 1970 plane crash, Marshall traveled to Tulsa for their first November 14th road game in 43 years. Wearing the number "75" on their helmets, in remembrance of those lost, Marshall was victorious with 45-34 final score, and first ever victory, over the Golden Hurricane.
Saturday, November 19
Marshall Football Drops Final Road Game at FIU
See You Next Season
vs
Time: :00PM EST
TV: TBA
Sunday, November 27
STANDINGS
East Division
Western Kentucky
7-1
9-3
Old Dominion
7-1
9-3
Middle Tennessee
5-3
8-4
FIU
4-4
4-8
Charlotte
3-5
4-8
Marshall
2-6
3-9
Florida Atlantic
2-6
3-9
Monday, November 14