WEST GROVE GIRLS SOFTBALL LEAGUE: Welcome
****************************************
Our site has moved.
Please click here during our transition to see the new site and to access the online registration process.
Thank you for your patience.
******************************************
CELEBRATING 41 YEARS OF COMPETITIVE
FASTPITCH SOFTBALL
HOME OF THE 10U WEST GROVE "TOXIC" ALL-STARS WHO WENT UNDEFEATED AT THE 2008 ASA WESTERN NATIONALS IN VEGAS
Tuesday, October 30
2012 Halloween Spooktacular - Tournament Champions
Congratulations to the following
2012 Halloween Spooktacular Tournament Champions...
8U: Cypress - Thunderstruck
12U: Cypress - Showtime
14U: Fountain Valley 2
and
Out of 14 teams in the 10U Division, West Grove swept the standings coming in at 1st, 2nd and 3rd!
10U Champions: West Grove - Silver Bullets
10U 2nd Place: West Grove - Regulators
10U 3rd Place: West Grove - USC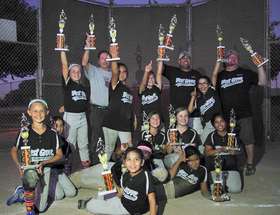 2012 Halloween Spooktacular Champs
Tuesday, October 16
2012 Winterball Fundraiser
Handout:
2012 Winterball Fundraiser
Tuesday, October 9
2012 USA National Coaching School
The Amateur Softball Association (ASA) of America announced that three cities will host USA Softball National Coaching Schools presented by Liberty Mutual Insurance in the coming months. The schools feature first-hand instruction from members of the USA Softball Women's National Team coaching staff including Head Coach Ken Eriksen (University of South Florida) and assistant Mike White (University of Oregon). Portions of the school will also feature former USA Softball Women's National Team Head Coach turned USA Softball Director of Coaching Education Mike Candrea (University of Arizona). Candrea led the program to a Gold and Silver Medal at the Olympic Games as well as numerous other medals in international competition before retiring from his USA Softball coaching duties in 2008.
After the opening of the school on Friday, Eriksen will address the audience on the state of USA Softball and his time with the USA Softball Women's National Team who recently concluded their 2012 season with a silver medal finish at the International Softball Federation (ISF) World Championships in Canada. Other Friday clinics are "Beginning Pitching" with White and "The USA Approach of Hitting" with Candrea.
Saturday and Sunday's instruction includes classes on both defense and offense as well as base running, hitting, pitching and out fielding. Candrea will also speak on the Liberty Mutual Responsible Sports program. The National Coaching School concludes Sunday morning with a question and answer session with the staff.
November 30 – December 2, 2012, Cypress, California
Hosted by the Southern California chapter of the ASA, the Cypress, Calif. school is open to the first 275 registering participants. Registration is $225 per-coach but those who have their applications postmarked by Nov. 1 will receive an early bird rate of $200. Coaches who register before Oct. 15 will also receive a commemorative polo shirt.
Handout:
2012 USA National Coaching School
Wednesday, July 25
West Grove Softball 12U All-Star Team is Going to Nationals
Garden Grove TV3 recently posted a video on Team Swag as they prepare for their trip to Salem, Oregon for nationals. Check it out!
http://www.youtube.com/watch?v=y2bqi-RA2-0
Wednesday, May 30
West Grove 2012 All-Stars Bring Home the Hardware...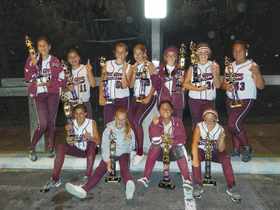 12U Swag - 1st Place La Mirada Tournament 2012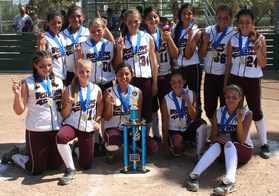 12U Swag - 1st Place Moreno ValleyTournament 2012
12U Swag - 2nd Place South Huntington Beach Tournament 2012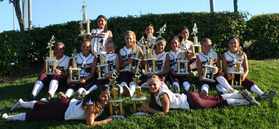 12U Swag - 1st Place Chino Hills Tournament 2012
Tuesday, November 1
OPEN BOARD OF DIRECTORS POSITIONS
THE FOLLOWING POSITIONS ARE AVAILABLE FOR THE WEST GROVE GIRLS SOFTBALL LEAGUE BOARD OF DIRECTORS FOR 2012-2013.
IF YOU WOULD LIKE TO VOLUNTEER FOR ANY OF THESE POSITIONS PLEASE CONTACT THE LEAGUE PRESIDENT BRET MONTGOMERY AT WGGSL.PRESIDENT@YAHOO.COM. THANK YOU TO ALL OF THOSE WHO VOLUNTEER ON THE BOARD TO MAKE SUCH A WONDERFUL LEAGUE FOR OUR GIRLS!
Player Agent
Umpire in Chief
Snack Bar Director
Uniform Assistant
All-Star/Winter Ball Commissioner
14U Commissioner
Snack Bar Assistant
Field Maintenance Assistant
Wednesday, July 13
14U MAROON ALL-STARS - 2011 WESTERN "B" NATIONALS & CALIFORNIA STATE CHAMPIONSHIP - 3RD PLACE

14U Maroon All-Stars - Insidious - 3rd Place at CA State Championship
Wednesday, June 29
14U & 8U MAROON ALL-STARS - 2011 CENTRAL DISTRICT CHAMPIONS!!

14U Maroon Allstars - Insidious - CENTRAL DISTRICT CHAMPS!!

8U Maroon Allstars - Fury - CENTRAL DISTRICT CHAMPS!!
Sunday, November 7
GOT SPONSORS?
Are you a frequent patron of local businesses? Your answer should be 'yes'. Here is the chance to have your favorite local business sponsor WGGSL. All funds benefit the girls of our non-profit organization. In return, businesses get advertisement on our website, word of mouth advertisement, and increased customer patronage from those that support WGGSL. If you have found a league or team sponsor, please complete one of the attached forms and send to WGGSL. We appreciate the support of our players, families, and local businesses. Thank you!!
Handout:
Sponsorship Forms
Monday, October 26
WEATHER HOTLINE
Weatherline!
When we have RAIN, please call the WG Weatherline
before you go out to play or practice on a WGGSL field
WEATHERLINE
(714) 210-7334
Thank you for your continued support