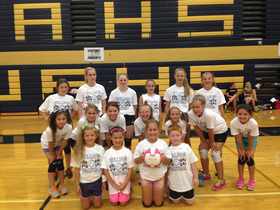 Bulldog Youth Camp 2014
Thursday, July 10
Try-out Schedule Posted
The Try-outs schedule is now posted in the Events section of this website. Try-outs are Aug. 18-Aug. 21. Please note that attendance at all try-out sessions is mandatory. Please contact Coach Backer with any questions regarding try-outs. If your daughter makes one of the three WA teams she will be expected to attend all practice sessions after the try-out dates.
Please be sure that all Freshman and Juniors have a sports physical this summer before Aug. 18th. The school is offering physicals on August 9th, but space is limited. Sign up for this in the main office. Be sure that you are exercising and conditioning on your own this summer, this will help you perform better at try-outs. Be sure to click on "Team Selections" for more info on how this process works.
Go West Albany Bulldogs!