Vista American Little League: Fundraisers & Promos
Thank You for Supporting Our Community!
Whether their fundraiser is active or has expired, VALL would like to thank the businesses that support our community. Please support those that support us by visiting these business: Dick's Sporting Goods, Rubio's Oceanside, Panda Express Oceanside, Buffalo Wild Wings Oceanside, Pizzamaniac
Dick's Sporting Goods 2018 VALL Coupons
Dick's Sporting Goods has been very generous to VALL with amazing gear donations and continues their generosity with these coupons that should last us through the Spring season. If you're in need of baseball gear, please show your appreciation and visit the Oceanside Dick's Sporting Goods at 2160 Vista Wy.
Valid Jan 10-Aug 31, 2018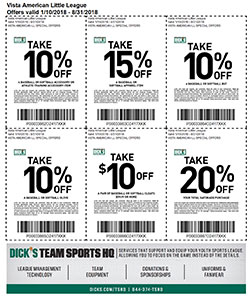 Click to Open