Vista American Little League: Welcome
2018 Spring Season Signups and Tryouts
Saturday, January 27, 2018, from 9am-2pm
Vista Sports Park
We'll also be running our first round of assessments/tryouts for team placement evaluations. This is the first opportunity our managers and coaches will get to gauge your child's abilities to ensure we have well-balanced teams.
What to bring for Signups:
Please bring your child's birth certificate and three documents showing your home address within the Vista American Little League boundaries. If your child does not live within the VALL boundaries but attends a school within the boundaries, you can also apply for a waiver.
If you're not sure if you fall within VALL boundaries, please use the League Finder here:
http://www.littleleague.org/LeagueFinder.htm.
Pricing
T-Ball: $110
Single A: $120
AA: $145
AAA: $160
Majors: $160
Juniors: $170
What to bring for Assessments/Tryouts:
Please have your child dressed in standard practice gear.
*** Please also be aware that as of January 1, the new USA Baseball Bat Standards have been enacted and are required for try-outs, all team practices, and games. ***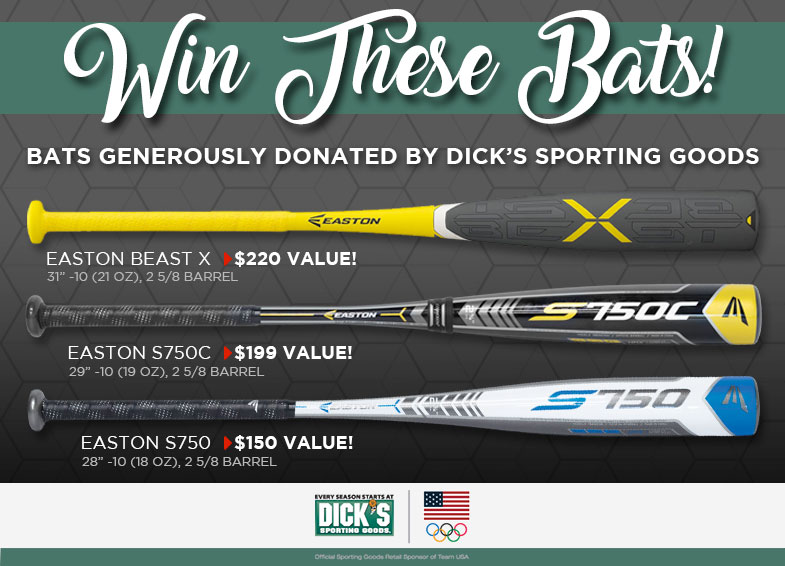 You've all seen the new USA bat requirements beginning this season. How would you like to WIN A NEW BAT?!
These bats will be available for use at Try-Outs, and then they will be raffled off!
Buy tickets at Try-Outs/Registration (1/13 & 1/27)
1 ticket $5
5 tickets $20
12 tickets $40
If you are unable to purchase tickets on these dates, but would like to, please contact a Board Member.
Need information on the new USA Bat Standard? Click here to learn more.
For the most timely updates and notices, please follow us on Facebook.


https://www.facebook.com/vallbaseball/
---
French Field Workday - January 20th, 8am-3pm
We're planning a French Field work day on January 20th from 8am-3pm. With your help, we will be finishing the big field and starting the smaller field. We're ready to set the poles for the Single A/AA field. Now, all we need is YOU to come join us for some friendly, community building fun.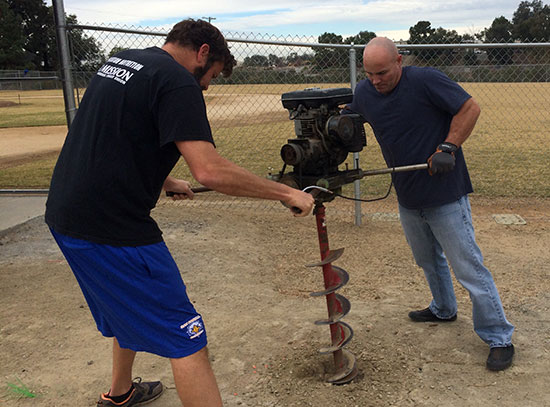 Not only is there a sense of community pride in helping to build these fields, this will be a great opportunity for younger players and families to put in some work for the fields that they will be practicing and playing on this year. But we really do need your help to build the fields your kids deserve. We're all volunteers in the league and our fields will only be as great as we make them. We look forward to seeing you there. Kids are welcome with parental supervision.
How to get there:
French Field Map
What to bring:
Please bring any standard yard working tools and work/gradening gloves.
---
Save Big this Season at Dick's Sporting Goods, Oceanside
Dick's Sporting Goods has been very generous to VALL with amazing gear donations and continues their generosity with these coupons that should last us through the Spring season. If you're in need of baseball gear, please show your appreciation and visit the Oceanside Dick's Sporting Goods at 2160 Vista Wy.
Offers valid Jan 10-Aug 31, 2018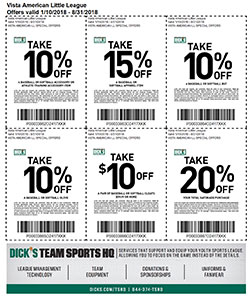 Click to Open
VALL EXCLUSIVE!!! Jan 27-28 ONLY
SAVE 20% STOREWIDE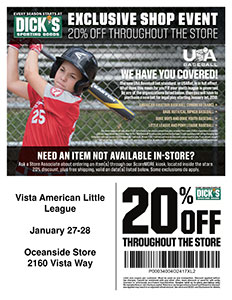 Click to Open
---
Panda Express VALL Fundraiser - Feb 27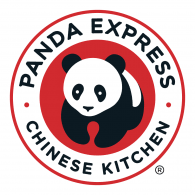 SAVE THE DATE
Tuesday, Feb 27, 2018, 4:00PM -9:00PM
4121 Oceanside Blvd, Oceanside
Let your cashier know you're there for the VALL fundraiser and show them this image: