Victorville,CA - Youth Soccer League: Welcome
Thursday, January 4
Annual General Meeting
Annual General Meeting
Wednesday, February 7th, 2018 @ 7:00 PM
At the Adelanto School District
11824 Air Expy Adelanto, CA 92301
Adult (18 or older) Victorville Youth Soccer League 2017 league directors and coordinators, activated licensed coaches, activated registered team administrators and active certified adult referees that have fulfilled CalSouth risk management requirements are eligible to vote for 2018 VYSL board positions at the Annual General Meeting. The CalSouth registration system (CORIS) will be utilized to verify risk management status, coaching certification (division specific) and VYSL team assignment and activation for the 2017 season. Referee game records will be utilized to verify active status with VYSL for the 2017season.
Nominees for the following positions must be received
by the league secretary (mailto:soccer_vysl@hotmail.com) no later than February 1st @ 9 pm.
Directors (2 year term)
Vice President
Secretary
Registrar
Director of Referees
Coordinators (1 year term)
Asst. Registration Coordinator
Asst. Dir. of Coaches Coordinator
Asst. Dir. of Referees Coordinator

Asst. Dir. of Fields Coordinator
Purchasing Coordinator
Public Relations Coordinator
Fundraising Coordinator
Concessions Coordinator
Sponsorship Coordinator
5U Division Coordinator
6U Division Coordinator
8U Division Coordinator
10U Division Coordinator
12U Division Coordinator
14U Division Coordinator
18U Division Coordinator
Team Parent Coordinator
Tournament Coordinator
TOPSoccer Coordinator
All nominations must be in writing (e-mail ok). Verbal nominations will not be accepted.
If nominating someone other than yourself your nomination MUST INCLUDE contact information for the nominee. Only nominees confirmed by the league secretary will be included on the ballot.
---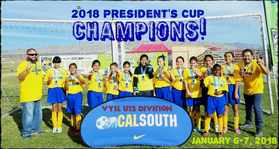 U12 President's Cup Champions
Wednesday, January 10
2018 President's Cup - GIRLS
CONGRATULATIONS TO THIS YEAR'S ALL-STARS TEAMS
The girls teams participated in the 2018 President's Cup at Brewster Park on January 6th & 7th.
Here are the results:
U12 - Coach Ortega and Coach Gonzales successfully led the team to the championship. They beat Colton 4 - 0 in the Finals

becoming this years' Champions!

They will now be competing at the Tournament of Champions (TOC) in Palm Desert on January 27th & 28th.
U10 - Coach Garren and his girls missed qualifying for a spot at the Tournament of Champions by a single point! However their performance at this year's tournament was impressive, winning 2 out of their 3 games.
U14 - Coach Campos led this year's team, tying 2 out of their three games. Nevertheless, the girls played awesome and represented VYSL well!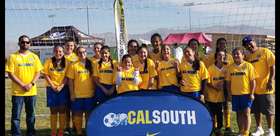 U14 All-Stars
Volunteers Needed
If you would like to lend a hand, donate a few hours during the week or on Saturdays, VYSL is always in need of people who would like to get involved to serve on the board, referee, coach or just help out. Please contact any board member or come to the next board meeting.
2017 U8 Tournament Champions - "Gold Rush"
Coed
1st place - Coach Eddie Serrato
2nd place - Coach Luis Roman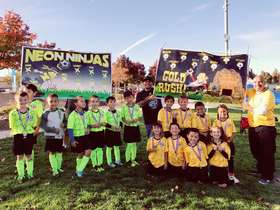 2017 U8 Tournament Finalists
Spring Registration
2018 Spring Season
Register Online
Early Registration NOW
$60 per player
February Registration
$70 per player
Late Registration
$85 per player
Month of March
late registration limited to team availability
PLAY AT MESA LINDA PARK
13151 Mesa Linda Avenue, Victorville
Practices begin in March, games March through May
Victorville Youth Soccer League
We offer the BEST in Youth Soccer in the High Desert.
Our divisions range in age from 3 years and continue to 17 1/2 years.
Our fields are located at Mesa Linda Park and Mesa Linda School.
TOPSoccer program available for special needs athletes.
Feel free to look around our Web Site.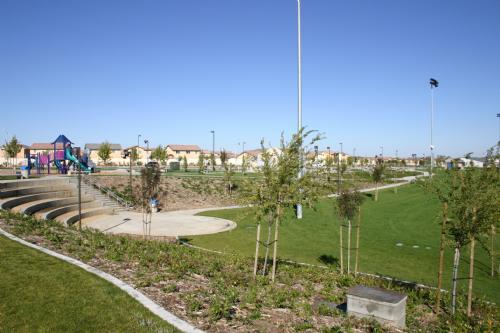 If you have any questions, contact us at our e-mail address vysl_ja@charter.net
Sunday, November 19
2017 U8 Tournament Champions
U8 Girls 1st place "Purple Dragons"
---
Congratulations to this year's tournament finalists and champions!
Girls
1st place - Coach Servando Chavez
2nd place - Coach Michael Espinoza
---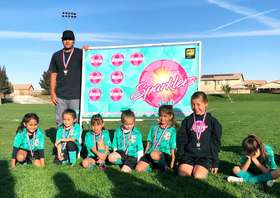 U8 Girls 2nd place "Sparklers"