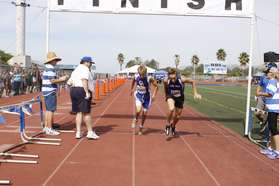 Garrett Corcoran Wins Dana Hills With A 14:38
Tuesday, April 23
Villa Park Spartans
Villa Park Track 2013
Handouts has a list of all schools entries for League Prelims. It is called League Prelims Entries.
Here are links to our Invites so you can see results and schedules.
There is a Pic of this Track seasons shirts in the Handout page in adobe format.
Below is the 2013 Track Schedule.
All meets held at Canyon, El Modena, and Villa Park are at Kelly Stadium ( El Modena High School)
Wed
Feb
27
4:00
Sunny Hills @ Villa Park
Sat
Mar
2
9:00
Earl Engman Relays @ Kelly Stadium
Fri
Mar
8
2:30/4:00
Irvine Invite @ Irvine Highschool (Best 2 or 3 In Every Event)
Thu
Mar
14
2:00
Brea, Villa Park @ Esperanza
Sat
Mar
16
8:00
Triton Invite @ San Clemente Highschool (Most Of Team)
Sat
Mar
16
10:00
Redondo Invite @ Redondo Highschool (Only A Few Distance)
Thu
Mar
21
3:00
Villa Park @ El Dorado
Sat
Mar
23
7:00
Meet Of Champions (Distance Only) @ Azusa Pacific University
Sat
Mar
23
9:00
Roosevelt Invite (Most Everyone Except Distance) @ Roosevelt Highschool
Wed
Mar
27
4:00
Canyon @ Villa Park
F/S
Apr
5/6
TBA
Arcadia Invite @ Arcadia Highschool (Select Few)
Wed
Apr
17
2:00
El Modena, Foothill @ Villa Park
Sat
Apr
20
8:30
Orange County Championships @ Mission Viejo (Best 2 In Every Event)
Sat
Apr
20
8:00
Orange County Champions @ El Modena (Next 3 Best In Every Event)
Sat
Apr
27
TBA
League Prelims @ TBA
Sat
May
3
TBA
League Finals @ TBA
If you have some good pics you would like put up, email them to me and I will. If there is a pic up you really like, email me and I can send you a full size copy of it. The pics here are small to save space. If there is a pic of you that you don't like, email me and I will remove it.
Check out the Locations Section. There are directions to meets and off campus practice sites.
Check out the Calendar Section. The whole summer workout is listed.
As races get near, I will try to list bus and event times. Please keep in mind that sometimes the coaches will not know until the day before. If there is anything listed of you that you do not want on the site, is incorrect, if you use a nick name, have a good pic to post, or have any comments, let me know. My email and Coach White's email is listed below.
If your name is misspelled email Coach Sitner with the correct spelling.
My number is 714 4649979.
My email is d1500man@aol.com , You can email Coach White at dwhite@orangeusd.k12.ca.us
Thank you everyone who gave PICs for the site. Mrs. Dismang, Mr. and Mrs. Miller, Martin, Courtney, Mrs. Rice, Mrs. Horist, Mr. Weeks, Mrs. Hudson, Mr. and Mrs. Ewing, Mr. Lizarraga, and Tegan.