OFFICIAL WEBSITE OF THE 2016 LAS VEGAS COBRAS: Welcome
THE HOME OF THE COBRAS
Lets go
Tuesday, July 17
HEADLINES


Your Nevada Cobras will be holding tryout for new players on Tuesday' may 3 at 7pm at 6800 east Russell rd..at silver bowl park. This is for our new season this summer.if you would like more information about the tryout and the Nevada cobras.please. call coach mike at 702 .624 .9004
Coming to Las Vegas this summer hosted by your Nevada cobras.championship weekend .Texas and Florida is coming to Vegas .
On July 9. There will be 3 outstanding game being played on July 9
At cornorda high school
1001 cornorda center drive
$10 At the Gate. For adult s and. Kids 10 and under are free
Florida universal league all stars vs California mercury. 2pm
Florida universal league champion vs self champion west coast Lions. 4pm
Texas United football League. Vs Nevada cobras 6pm
Wednesday, February 17
REVAMPING THE COBRAS
On Tuesday February 16, 2016 the Las Vegas Cobras and Las Vegas Rocks Powerhouse radio joined a new partnership. Las Vegas Rocks Powerhouse radio will be hosting all of our games and providing a wide selection of entertainment for our games from live musical halftime shows, family entertainment, vendors, and much more... On February 21, 2016 opening season game day starts the jumpstart to the new revamping of the Cobras. Fans can expect to be entertained by the one of the hottest DJ's in town DJ Luie of Las Rocks Powerhouse radio with a special halftime show performance. In addition, each week a player of the week will be featured in the Philippine Times and received a live studio 30 minute segment interview at Las Vegas Rocks Powerhouse radios where they will be heard and seen by over 14 million people worldwide... Coach Mike Howard is providing opportunities to all the Cobras football players and will be providing career resume packages, with players stats, video, and pro commercial provided by Las Vegas Rocks Powerhouse radio for more information please contact coach mike (702) 624.9004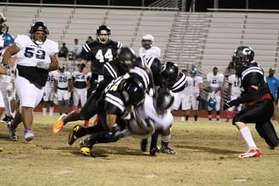 Friday, January 8
IF YOU CAN"T TAKE THE PAIN STAY OFF THE FIELD !!!