USA Patriots Gold: Welcome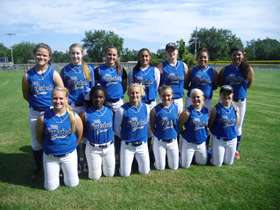 Power, Speed, and Brains
Sunday, June 16
South Carolina Owned
Southern Hospitality has it's limits
Southern Pride was dealt a rude awakening in dixie. Several local teams were none to happy the ASA #1 ranked 16U rolled into town without any brakes applied.
USA Patriots Gold dominate in SC Dynamite Classic to bring the championship home to Florida for the 1st time in 18 years! 10 games played - 10 victories; 88 total runs scored, only 17 allowed; 76 stolen bases, WOW! Those Mid-Atlantic teams never knew what hit them! Awesome performance ladies!
Shots reported in Sarasota
The Sarasota Heat ASA Showcase was the site of some pre-4th of July fireworks as our Patriots let loose a barrage of bombs. After a heated defensive battle against the stout 18U Bombers, your ladies buckled down for 5 straight wins highlighted by over-the-fence dingers by Lindsay B, La Shara, Lindsey W, Mim and Shailynn.
We had a great day showing off skills for the college coaches. Then Sunday's competitive phase ended with another tournament win, bracket champions. Overall, the ladies outscored our opponents 48-12 over 6 games and filled another defensive highlight reel.
Great work Patriots!
#1 ASA Ranking
After last week's qualifier fun, the USA Patriots Gold ranked tied for first place in the State of Florida ASA ranking and #4 nationally, based on points. A week later, we were #1 Nationally. By the end of last weekend, we dropped to #5. Somehow the BCS must be involved.
Taylor Bell verbals to UCF - in late May, Taylor made it official her desire to shine for the University of Central Florida Knights softball team. UCF recognised the special talent and energy "Tigger" brings every minute of every game.
Taylor makes the 4th D-1 commits this year, joining Mim (USF), Megan (UCF) and Elicia (Marshall). More to come...
Our Next Events are :
Local Tournament
Florida's Finest Summer Showcase (Tampa,6/29 to 6/30)
July is blastoff time with :
Florida's Premier Showcase (Titusville 7/11 to 7/14)
Atlanta Legacy Showcase (Atlanta 7/18 to 7/21)
ASA National Championship (Sunnyvale, CA 7/29 to 8/4)
Perfect 5-0 at ASA Clearwater
Your Patriots were named co-champion of the tournament, after defeating all comers at the ASA Qualifier Clearwater. Since we are already qualified, our team stepped aside for others to qualify. Congratuations to the Windemere Wildfire for gaining their bid to join us in Sunnyvale to represent Florida. Our offense exploded with 9 runs per game, and for the season, our ladies have a team batting average of 0.409.