Utah Basketball League: Welcome
Monday, July 10
The Utah Basketball League
Official Site of the UTAH BASKETBALL LEAGUE...(UBL)
The Utah Basketball League(UBL), is a Minor basketball League in the Wasatch Mountain region. It will be for Men ages 18 & above, with all skill levels welcome. All ex Pro, College, High School players or if you just want to lace up the sneakers and play competive basketball again: this is your second chance!



The UBL is a second chance for some or maybe a stepping stone for others, or just a chance to relive your basketball glory days. The UBL looks to become part of our local communities, and build strong ties for many years to come!






.



More information will be posted shortly..


Please send inquires to: UtahBasketballLeague@yahoo.com or call (801)695-3920..
*CHECKOUT OUR ALBUMS PAGE FOR SOME "OLD SCHOOL" PHOTOS*
Thursday, July 31
Atwater advance to Pro-Am Championship Game
Taylorsville, Utah- On July 29, 2014 the Atwater Basketball Team advanced to the Championship Game of the Taylorsville Summer Pro-Am, a league which runs June - August. Atwater, who won back to back Utah Basketball League Championships in 2011 & 2012 is undefeated this season in the Pro-Am, and is led by Jacob Atwater (ex Bonneville HS) and Tim Drissom (ex Utah), and ex Jazz player Ronnie Price, w

...

ho is looking to catch on another NBA team after being released from the Orlando Magic a few weeks ago. The Atwater team who finished runner-up last season, have been on a year long mission to win the Championship this season. The Summer Pro Am is comprised of current and former Pro and College players, and has become one of the regions top Summer Pro Am leagues. The Championship Game will be this Thursday night July 31 at 7:15pm, at the Taylorsville Rec Center, 4948 South 2700 West, Taylorsville, Utah .
Final Countdown
Thursday, July 31
2013 UBL Champions: Veterans Camp
Sunday, April 6
UBL CHAMPIONS
2011- Atwater Boys
2012- Atwater Boys
2013- Veterans Camp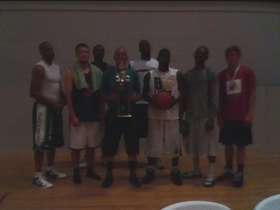 Atwater Boys
Wednesday, July 25
Atwater Boys Repeat as UBL Champions, win Back to Back 2011 & 2012..
The 2012 UBL Championship,(the second for the league), had the Defending UBL Champion Atwater Boys vs Wasatch Warriors. The Atwater Boys entered the game on a current 14 game UBL winning streak, and thei Warriors on five game streak of their own.
The Atwater Boys jumped out to an 18-2 lead early, led by former Metro St/Utah St star Myron Simms and Mario Roe, who each finished with 11pts. The Warriors mounted a comeback lead by Kris Wallace, who made several key shots from the three point stripe, as well as, key rebounds, and spectacular play in the open floor and big assists. The Warriors narrowed the margin to 33-20 at halftime.
In the second half the Atwater Boys took control lead by Game MVP Jacob Atwater (ex Bonniville High star), who finished with 22pts and 12 assists, made key shots, and floor leadership, and finding teammates for open shots, gave the Atwater Boys a commanding lead 60-45. But true to their nature, the Warriors mounted another comeback led by Wallace's 16pts and Juan Hernandez (ex Ogden High) 12pts, who had key three pointers, steals, and hustling after loose balls, got them back into the game. But in the end, the Atwater Boys prevailed, 73-60.
The Atwater Boys become the first UBL team to win back to back Championships in 2011 & 12, as well as, completing a second straight undefeated season. Atwater continues to dominate the Wasatch Region, like they have for the last decade and a half, led by Head Coach Peter Atwater, who has won over 1,500 games in that span. The UBL after a great second season, which saw the level of play rise, look forward to expansion in 2013, and the addition of many key College or high school players next season. And with the success of several players moving on to play College Basketball, or former pro's coming home to play, and with former UBL and ex Weber State player Damian Lillard move up to the NBA, the UBL is quickly becoming a training ground for players
Chicago Bulls Theme
Thursday, July 19
2012 UBL Playoffs
UBL FINAL FOUR
Atwater Boys 85, Ogden Elite 53
Wasatch Warriors 63, Davis Devils 60
2012 UBL CHAMPIONSHIP GAME (7/25/12)
Wasatch Warriors vs Atwater Boys, 9pm
Sunday, July 15
2012 UBL Final Standings:
ATWATER BOYS 6-0
DAVIS DEVILS 4-2
WASATCH WARRIORS 4-2
OGDEN ELITE 3-3
O-TOWN KNIGHTS 2-4
WEBER ALL STARS 2-4
UTAH BREAKERS 0-6
Friday, July 29
Atwater Boys win 2011 UBL Title!
The Atwater Boys won the first UBL Title and were crowned 2011 UBL Champions!
UBL Championship Game
Atwater Boys- 87
N.Utah Gators- 63