Trinity Shamrocks Ice Hockey: Welcome
TRINITY SHAMROCKS
ICE HOCKEY
********************************
COACHING STAFF
Rick Robinson, Program Manager/Head Coach/Scheduler - rockscoachrick@gmail.com
Keith Kurland, Asst Coach
Geoff Norman, Asst Coach
Conor Carroll, Asst Coach
David Huls, General Manager
**************************************
Trinity is a Catholic, college-preparatory high school,
forming men of faith and men of character.
Wednesday, May 20
Coach Gustafson Receives Trinity Athletic Coach of the Year Award!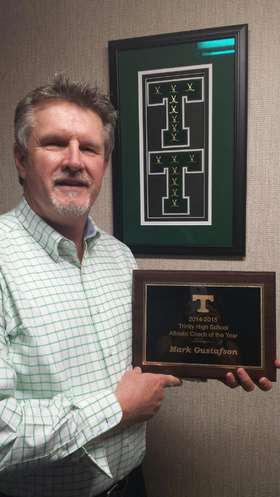 Coach Gustafson
Wednesday, March 4
Mark Your Calendars for July 27-31 Christenson Hockey Camp
Thursday, April 23
Ryan Trefes Signs with Chapman University
Sunday, March 15
End of Season Banquet Pictures and Highlights
Monday, February 2
"End of Season - End of Era"- Thank You from Coach Gustafson
Sunday, March 1
CONGRATULATIONS TO THE ICE ROCKS FOR TAKING FIRST PLACE IN LEAGUE PLAY AND THIRD PLACE AT STATE
Saturday, February 28
Thank You to the Byrne Family for Hosting Team Dinner!
Saturday, February 7
Ryan Gustafson Signs with EKU
Sunday, September 21
Trinity's hockey family legacy begins with the name Gustafson (reprinted from Trinity High School Echo)
Sunday, March 15
End of Season Banquet 2015