Tomahawks Home: Welcome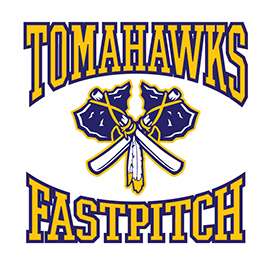 TRYOUTS - Fall 2015/Summer 2016 SEASON
Our annual tryouts will be held the weekend of 8-9 Aug 2015 at the OTHS varsity field. The address of the field is 308 East 5th Street O'Fallon IL 62269.
Specific Dates and Times For Each Age Group:
10U - Saturday, 8 Aug, 9-12 am
12U - Saturday, 8 Aug, 12-3 pm
18U - Saturday, 8 Aug, 3-6 pm
16U - Sunday, 9 Aug, 1-4 pm
14U - Sunday, 9 Aug, 4-7 pm
Participants should arrive 30 minutes early for registration. Should these dates and times create a conflict, we can schedule alternate dates/times. We would prefer to do those prior to the tryout dates. Call us at the number listed below.
Want to know more about the Tomahawks? Visit our web site below to see how many of our girls have moved on to play collegiate softball, our many accomplishments, our community fundraising efforts, etc.
We currently have coaches for at least one team in each age division. Persons interested in coaching, either head or assisting, should contact Mr. Wayne Bendall (contact info below)
NOTE: We would entertain fielding an 8U team should there be enough interest.
Our active teams are in the middle of a busy and successful 2015 season.
Please check the individual team pages for more details and information.
---
We invite you to click some of the links on this page to become familiar with our teams' accomplishments, success stories of our players heading to college, and our active community involvement.
---
Founded in 2007, the Tomahawks Girls' Fastpitch Softball Organization fields competitive teams in 10U, 12U, 14U, 16U and 18U ASA and NSA Class A and B Divisions. Based in Southwestern Illinois (St. Louis Metro East area), the Tomahawks rosters include players from surrounding towns. They play in summer and fall leagues and participate in tournaments year-round, taking a break only in the Spring (high school) or Fall (junior high) to allow players to suit up for their respective school teams. The Tomahawk's goal each year is to qualify for National Tournaments through a foundation of commitment, determination, focus, self-discipline and teamwork.

---
Questions about the Tomahawks organization? Please contact:
Wayne Bendall, President and Co-Founder
618-407-5061