THE TEXAS ELITE FASTPITCH SOFTBALL CLUB: Elite News
BANCROFT EARNS RED RIVER ALL-CONFERENCE HONORS
Freshman 2b Jessica Bancroft earns herself a spot on the 2005 Red River Athletic All-Conference Team while leading her Texas Wesleyan Lady Ram softball team to the playoffs in 2005.
Way to go Jessica!!! Keep it up!!!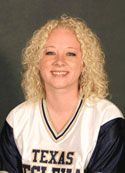 Click on pic to read article.
Texas Elite / Easton Softball Club Player Application
Please click on the attachment below to fill out the Texas Elite / Easton Softball Club Player Application and email back to MrTexElite@aol.com or fax to 972-986-3145. We are currently looking for players born in 1987-1997. We currently have teams participating in the 8UA, 10UA, 12UA, 14UA, 16UA, 18UA, 18U Gold Divisions.
If you know you want to go on to play softball into college and beyond then please fill out a application and send it in we will then contact you about a tryout.
Thank You,
J.D. Bancroft
General Manager
Handout:
Texas Elite / Easton Player Application
TEXAS ELITE SOFTBALL WEBSITES
Texas Elite 10U www.eteamz.com/texaselite10u
Texas Elite 12U www.eteamz.com/91texaselite
Texas Elite 14U www.eteamz.com/texaselite89
Texas Elite 16U
Texas Elite 18U A
TEAM
"Nine average kids playing as a team will always beat nine stars playing as individuals."