Dolphins 92 Premier: My Site News

PSPL Super Cup Champs!
Monday, February 21
Dolphins are Puget Sound Premier League Super Cup Champs!
The Dolphins battled through a tough weekend and a lot of adversity to win the final championship match 2-1 against Legacy FC of Arlington, Washington. The Dolphins went 4-1-1 over the two legs of the tournament scoring 9 goals while only giving up 4. Another Cup for the Trophy Case...Congratulations Fins - you were simply fantastic!
Sunday, November 7
Thank You Jesus!!!
After 3-1/2 great seasons with The Dolphins, Jesus Bautista has decided to move on to focus his full efforts on his younger team, The U-12 TUSK Strikers. Ken O'Donnell will resume the role as head coach for the Dolphins final U-18 season.
Jesus led The Dolphins to 2 consecutive winning seasons at U-15 & U-16; including a WSYDL championship at U-15 and a finalist berth in the WSYSA U-16 Challenge Cup. At U17, he led the team to promotion into the WSPL 2nd Division and a second consecutive Final in the WSYSA Challenge Cup and a trip to Regionals as the WA State wildcard team. To learn more about Jesus and his U-12 Strikers, click on the website link below:
http://sites.google.com/site/strikersscpnw/home
Jesus, thank you for everything, and GO STRIKERS!
Sunday, November 7
Way To Go, KO!
Congratulations, KO! Congratulations Lady Loggers! For the ninth consecutive year, the University of Puget Sound women's soccer team has claimed the Northwest Conference title. The Loggers (16-1-2, 13-1-1) posted a 2-0 victory over Pacific to clinch their ninth consecutive NWC title.
KO, we hope you go all the way to the final and are looking forward to your return to The Dolphins. Good Luck in the NCAA tournament!

Dolphins Semifinalists at Bigfoot!
Saturday, August 21
Dolphins Semifinalists at Bigfoot!
The Dolphins played well through preliminaries but fell a little short in the semifinal agianst a strong Marauders side. Even so, the team had a great time camping out, ate well and played some great soccer...but mostly ate well. Thanks Chef Dave!
Wednesday, June 9
Fundraiser for Regionals - TUSK STOMP!
Thanks to everyone that came to The Fins Car Wash fundraiser on Saturday, May 22nd. Your help has made it a little easier for our families to make it to Regionals in June. Special thanks to the Easy Rider Kayak outlet store in for hosting the car wash!
The Fins have another fundraiser planned for the weekend of June 11-13 and the players will be working concessions during the TUSK Stomp jamboree; which will be held at Lee Philips and Lower Foster Fields in Tukwila. Stop and say hello and buy a hot dog or two! Click on the link above for information on the TUSK tournament.
Thanks in advance for your support for our team and Tukwila Youth Soccer!
Wednesday, June 9
GU-17 Dolphins Headed to Far West Regionals!
By making it to the finals of the Washington State Challenge Cup,
The Dolphins
qualified for the
2010 Region IV Far West President's Cup Regional
tournament in Medford, Oregon that will take place June 16-20. The team has drawn the Cal South, Arizona and Colorado State Champions. We could not be more excited for the team and honored to get this opportunity to represent the State of Washington!
Tuesday, May 25
Dolphins Featured in Seattle Soccer Examiner!
Check it out! The Dolphins have been featured in an article by David Falk of the Seattle Soccer Examiner! Click on the link above and it will take you to the story. Dolphins Rock!!!
Thursday, May 20
Meet the New Dolphins!
The Dolphins warmly welcome the following new players and coach to the team!
Savanna, Erin, Taylor, Tesla, Rachel, Kaley, Amanda and, of course, Coach Dave Moorehouse.
This is going to be a GREAT season!

GU-17 Challenge Cup Finalist
Wednesday, June 10
GU-17 Dolphins - 2009 Challenge Cup Finalists
For the second straight year, The Dolphins made it to the Washington State Challenge Cup Final. Once again, they fell a little short with a 1-0 loss to Eastside White in a match that could have gone either way. Fortunately, both teams qualified for the President's Cup Regional tournament in Medford, Oregon! Congratulations Eastside White! We will see you at Regionals!

Kristen & Ally Agree We Are Still #1
Tuesday, June 16
GU-16 Washington State Challenge Cup Finalists!
The Dolphins finished their GU-16 season in the Washington State Challenge Cup Final losing to Snohomish United Black 1-0. It was a great battle throughout the entire game. Snohomish got their winner in the 75th minute and The Dolphins nearly equalized before the end of regulation, but a shot off the crossbar went over the top and The Dolphins ran out of time. When they say football is a game of inches, do you suppose they were talking about soccer...?
We congratulate The Challenge Cup Champions Snohomish on their win as well as their promotion to WSPL second division. Best of luck Snohomish, you have a great team!
The Dolphins finished their WSPL season 5-3-1 (14 goals for, 7 against, 5 shutouts); which earned them a fourth place finish in 'P3'. By virtue of four straight wins at the close of their season, The Dolphins made a statement they are one of the strongest teams in the 10-team WSPL Third Division. With this experience and form, the team went 5-1-1 in the Challenge Cup with 11 goals for, 4 against and 3 shutouts. The girls made it all the way to the WA State Challenge Cup Final and played a fantastic game! We are also very proud to have been awarded the 2009 Washington State Challenge Cup Fair Play Award.
Along the way to the Final, the girls defeated NW United Skagit Storm 1-0 in the semi-final on a beautiful full volley inside the left post in the 72 minute of play. The previous weekend, The Dolphins had to go the distance and then some to defeat SSFC Red in a thrilling double OT game 2-1 on Saturday in the Elimination Round and then Eastside White; the defending 2-time Challenge Cup Champions, in the Quarterfinal on Sunday. The Eastside match was a battle from start to finish with both teams having great chances and both keepers making great saves. The game ended 0-0 and was still tied after two overtime periods. The game then had to be decided by kicks from the mark...
Last year, The Dolphins U-15 Challenge Cup 4-game winning streak ended in the Quarterfinals with a 1-0 double-overtime loss to Eastside White. This year, the girls were ready. No late goal for Eastside this time and after double-overtime expired the game had to be decided from the penalty mark. The Dolphins made their first shot and The Rock made a big save from the first Eastside player. The Dolphins made their second shot and Rock made her second save. The third takers for both teams found the net and the fourth Dolphin stepped up and sealed the game with a beautiful goal. No need for further takes, the game was decided. Dolphins win 1-0.

The Dolphins moved through the preliminary qualifiers with a 2-1 win over Evergreen FC, a 1-1 draw with 2008 Challenge Cup Finalist MRFC Blue and a 4-0 winagainst Wenatchee Fire.
With P3 season and Challenge Cup combined, The Dolphin GU-16 record was 10-4-2, with 25 goals for, 11 goals against and 8 shutouts. It truly was a great season and we cannot be more excited for our team to build upon this success and compete for a P2 spot next season!
Sunday, March 29
Dolphins Retain P3 Spot for GU-17 Season!
After a tough February filled with injuries, The Dolphins won their final four matches to claim 4th place in WSPL Third Division! The team finished their season 5-3-1 with 14 goals for and 7 against; including 5 shutouts. The girls are looking forward to competing in the State Challenge Cup and, if their current form continues, they should go far. Congratulations Dolphins! Now the hard work begins on the road to P2!
The Dolphins earned promotion to WSPL Division 3 last summer after WSYSA allowed Spiros, Snohomish United Black, River City and our team into P3 to create a 10-team division along with Crossfire Premier, Columbia Timbers, FC Vancouver White, Norpoint, Eastside White and Westsound Red. All of these teams fought hard all season and showed they belonged in The Premiership. The Dolphins wish Spiros and Snohomish United Black congratulations for promotion to P2!

Dolphins Relax after LPT Game 3
Monday, August 11
GU-16 LPT Weeks 1 & 2
The Dolphins 2008 LPT journey began with a difficult match against 11-player Lakewood Legacy. It was a battle from start to finish and both teams had chances to win in regulation. After two overtime periods, the game ended in a draw and went to kicks from the mark. The Dolphins were perfect, making all 5 shots to win the game.
Our second match was against Sun City Strikers and, thankfully, the girls were able to shake the 'first game jitters' and get back to playing Dolphin soccer. They controlled the game from the beginning scoring twice in the first half, then added two more before giving up a late goal. Final score 4-1.
As if the first game was not stressful enough, The Dolphins faced a determined Snohomish United Black team in their final game of the weekend. Snohomish played P3 the past 2 years and they came out and showed us they they wanted to get back. Strong, physical and technical, SnoU gave us a great, fast-paced game. Both teams had chances and both keepers made saves. It was not until about 8 minutes left in the game when The Dolphins broke through on a set piece and ripped a shot into the side net. SnoU was not to be denied. With about 5 minutes remaining, their player hit a shot from a tough angle to the (out)side net. The referee somehow gave them a corner and our opponent made the best of it. Even though we brought back 10 to defend, a long kick found the foot of a SnoU player who struck the ball well to even the score. Time ran out and it was back to OT. Once again, the teams fought for every ball and tackled hard. OT expired and it was time PKs...Once again, The Dolphins were perfect and Rock made a big save on the second SnoU kick. The fourth SnoU player hit the crossbar and the game was over. It was a great win and it would not surprise us if Snohomish United makes it back for another chance at P3. They have a great team.
Week 2 at LPTs did not go as well as the first...Westsound played most of the match down a player following a red card ejection. Even though The Dolphins dominated the game and outshot their opponent, great play by the Westsound keeper and a solid back line prevented our girls from finding the net. Westsound scored on a counterattack in the second half off a cross from the right side that found the foot of a Westsound player who struck it first time. It was the only time The Dolphin defense was tested during the game and it was all the offense Westsound needed. It really was a nice goal and we congratulate Westsound Red on their 1-0 win. They played a great game and deserve promotion to P3.

Dolphins Smile while Teammates Decorate Guest Calli's Jersey at Starfire
Sunday, August 3
Dolphin Prep Work for LPTs
The Dolphins competed in two tournaments to prepare for LPTs. The first was the Diadora Cup at Starfire in June where the girls made the semi finals; losing in a close match against P1 NWN Blue 2-1. In their second tournament in July, the Lake Oswego Nike Cup, the girls played three Division 1 teams; losing two and winning one. The best of the three was FC Vancouver Justice, the eventual tournament champion. The Dolphins played a great game against Justice and took the WA State Finalists to the limit, losing 1-0. The experience will definitely pay off in August at LPTs.
Tuesday, July 8
Dolphins Go International in Victoria BC
Dolphins Pose on the Ferry Ride to Victoria
The Dolphins traveled to beautiful Victoria, BC the weekend of June 14-15 to compete in a series of friendly games with EM Sports Academy. The girls finished 1-1-1 and gained valuable experience to help them prepare for LPTs. EM Sports Academy were gracious hosts and have a quality program dedicated to the development of young soccer players. It truly was a fun weekend with lots of great soccer. Thanks Coach Eddie! Can we do it again next year?
Sunday, June 1
Dolphins Are 2008 Challenge Cup Quarterfinalists!
The WSYDL Champion Dolphins Challenge Cup 4 game winning streek ended in the Quarterfinals with a 1-0 loss in the 100th minute of double overtime to Eastside White. It was an exciting game and if it were not for a few great saves by the Eastside keeper and a little help from the woodwork, the match might have ended differently in The Dolphin's favor. Both teams can be very proud of their performance and we congratulate Eastside, who went on to become the State Champions with their 3-2 victory over our good friends MRFC Adrenaline. We wish both teams the best of luck at LPTs. See you in P3!
Thursday, May 22
Dolphins - 2008 WSYDL U15 Champs!
2008 WSYDL U15 Champion Dolphins
In 2007, The Dolphins hired professional coach Jesus Bautista to develop a 4-year program designed to return the team to the WSYSA premiership and prepare the girls to compete at the collegiate level.
In the first year of the program, the results were impressive. The Dolphins earned promotion to the WSYDL, finished in 1st place (9-0-1 record, 23 goals for, 6 goals against, 6 shutouts) and were Quarterfinalists in the Washington State Challenge Cup. In addition to this, the team participated in some of the top tournaments in our region during the spring and summer of 2007, earning results against some of the best clubs in WA, OR, ID and British Columbia.
The goal for the U16 season is to win a spot in 'P3' at LPTs in August. If you are interested in learning more about the team, stop by to watch a game or practice (see calendar for times/locations). You may also contact our Manager, Lita O'Donnell, at 206-433-6138 or dolphinsmanager@hotmail.com with any questions.
Thursday, March 27
AC Rides for 'Project Earth Care'
The Dolphins congratulate Alexandria Stariha on her selection to represent her high school (Chief Sealth) in 'An Inconvenient Ride', a City of Seattle sponsored program designed to increase environmental awareness across the United States. AC, along with 6 other student bicyclists, will trek across the country meeting with other students to discuss Mayor Greg Nickels Climate Action Now Initiative in participating cities. The trip begins in Washington DC, spans 3 weeks and will cover approximately 5200 miles; culminating in a celebration at Benaroya Hall on Earth Day, April 22. For more information on this unique project, click on the Title above.
Sunday, November 25
Starfire Field Turf Cup
The Dolphins' played exceptionally well at Starfire's Field Turf Cup held Thanksgiving weekend. The Dolphins lost their first game to 1st division Reign Purple and won their next 2 games against 2nd division Harbor FC & 1st division Les Bois Elite (Boise, ID). The girls finished 2nd in Bracket A's group of five, but it was not enough to move on to the semi finals. Even so, it was a great soccer weekend!
Monday, September 3
Fins Make Semis at Starfire Labor Day Cup
The Dolphins played fantastic and fought their way to the semi-finals after three consecutive draws against Port Coquitlam Xtreme (Canada), Reign Purple and Westsound Carter. This grouping was evenly matched and every game was tightly contested. The Dolphins finished second in the group to face the winner of 'Group A' and eventual tournament champions, Semiahmoo FC (Canada). Although The Dolphins gave up two goals early, they battled back to tie the match 2-2 before the end of regulation. The game then went into extra time and Semiahmoo got the 'golden goal' game winner about half way into the second 10-minute overtime period. Semiahmoo then played Reign Purple in the final and won 1-0; also in the second overtime period. It was a great weekend for the team and we could not be happier with their performance!

Dolphins Finalists at 2007 Cascade Cup!
Tuesday, July 31
Dolphins Finalists at Cascade Cup!
The Dolphins won Silver at the Cascade Cup the weekend of July 20-22 in Gresham, Oregon. The team went 4-1 scoring 10 goals while only giving up 2. The only loss came in the final against WS Metros Patriots 1-0. Way to go, Dolphins!

2007/08 Dolphins Cool Down after 100+ Degree game at LPTs
Thursday, June 12
Dolphins Qualify for WSYDL at LPTs!
The Dolphins won 4 games and lost 2 on their way to qualify for 'P4' at LPTs in Pasco; scoring 20 goals while only giving up 8. Although the team fell short of achieving their goal of 'P3', we look forward to an exciting and fullfilling 2007/08 club season.
Sunday, May 6
Dolphins Endure Snohomish United Invitational
The Dolphins posted a 2-1-1 record (22 points), but it was not enough to earn them a berth in the final. After an initial loss to FC Alliance Gold (2-0), the girls tied Snohomish United Spirit (1-1) and defeated South Hill Revolution (2-1); coming from behind in both games. The Dolphins ended their tournament with a win over Islander Fury (3-0). The team played four games in 24 hours (three on Saturday within 11 hours) and improved with each game. Their performance under such grueling conditions is a positive sign they will be ready for LPTs; which are now less than 1 month away.
Sunday, April 29
Dolphins go 1-1-1 at Starfire Spring Classic
The Dolphins played some tough competition in their first tournament of the U-15 season finishing 2nd in their bracket. All games in the group were decided by 1 goal or less. The Dolphins topped Adrenaline 1-0, drew Spokane Shadow 1-1 and lost to the eventual tournament champs WPFC 1-0. It was a great weekend of soccer and the girls are looking forward to their next challenge at the Snohomish United Invitational.
Sunday, April 6
Dolphins Complete Selection for 2007/08 Season
The Dolphins welcome new players Dayna, Kaitlyn, Katie, Sydney and Ali to the team! We are excited for the U15 season to begin and are looking forward to a great year. See you on the pitch!
Friday, March 16
Dolphins Sponsor ACL Injury Prevention Seminar
The Dolphins sponsored a Group Workshop on Anterior Cruciate Ligament (ACL) injury prevention April 22nd at Starfire Sports Complex. Dr. Susan Sigward from the University of Southern California provided a 50-minute presentation on the latest information available on ACL prevention. The presentation was followed by a 90-minute demonstration of training techniques designed to minimize the risk of ACL injury provided by Jim Liston who is one of the leading strength and conditioning coaches in the country.
Handout:
ACL
Monday, February 26
Dolphin U-14 Season Ends in Challenge Cup Elimination
The Dolphins played well in the Challenge Cup, posting a record of 1-1-1; including two shutouts against ESA (1-0) and Bainbridge (0-0). Unfortunately, a 2-1 loss against Eastside White and the draw against #1 seed Bainbridge was not enough to move deeper into the tournament. Bainbridge and Eastside continued through the elimination rounds to face each other again in the final game; which was won by Eastside 3-0. The Dolphins congratulate each team on their accomplishment and look foward to facing them again next season.
Tuesday, December 26
Dolphins Finalists in Starfire Candy Cane Indoor Tournament
The Dolphins went 2-0-1, scoring 10 goals while only giving up 2 during round robin play. This record qualified the team for the final against Crossfire Shilperoort who were also undefeated. The final match was exciting, with Crossfire scoring first. The Dolphins answered in the second half to force 'sudden death' overtime, but this was short-lived...Crossfire scored a fantastic 'golden goal' within the first minute of OT, giving them a 2-1 victory.
Tuesday, September 5
Dolphins Make Semis at Starfire Labor Day Cup
The Dolphins posted three consecutive shutouts but their run ended in a semi-final match against the NWN Rayos. The Rayos, who will play in the WSYL 1st Division this Fall, topped The Dolphins 4-0 with exceptional possession passing and quality finishing. The Rayos went on to win the final 6-1 against Bainbridge FC Magic. The Dolphins now look forward to their first game of the Fall CYL season; which will be played against Aanvallen on September 9th.
Sunday, August 13
Dolphins Return To Form At Rimland
The Dolphins came to Rimland to play, facing 2nd Division Crossfire, 1st Division DOS and 3rd Division South Hill Revolution. The girls went undefeated with one win and two draws and, although they finished second in their bracket with 18 points, they were nudged out of the semi-finals by the Whatcom County Rangers who finished with 19 points. Still, the girls are excited about their play and are looking forward to their upcoming Labor Day tournament at Starfire.
Monday, August 7
Sunshine Vitamins Place 3rd at Kick-it 3v3
The 'Sunshine Vitamins' did very well at the Sports Illustrated For Kids Kick-It 3v3 tournament at Starfire Sports, going 4-1-0; qualifying as the 2nd seed going into the playoff round. Unfortunately, they lost in the semi-final to a Reign91 team (which they had beaten on Saturday). However, they rebounded against a second Reign91 team and took the 3rd place medal. Although they qualified for Regionals again this year, they will be playing at Rimland instead with the rest of their teammates. Way to go Raynee, Litening, Thuhndur, Win-dee, Klowdee and Sonny! We'll get 'em next year!

Jesus Rocks The Dolphins!
Friday, August 4
Dolphins Train with Jesus Bautista
The Dolphins spent a week training with Jesus Bautista (former professional and member of Mexican Olympic Team) at Starfire's Manchester United Soccer Camp. The girls had a great time with Jesus and look forward to applying what they learned from him during their remaining summer tournaments and upcoming fall season.
Saturday, July 29
Dolphins Selected To Play In CYL 1st Division!
The Dolphins have been selected to play in the Inter-District Commissioners Youth League (CYL) First Division! The CYL, administered by the Districts of Washington State Youth Soccer Association (WSYSA), provides an environment under which the development of youth soccer players is maximized. We congratulate all the other teams that were selected by their respective Districts and look forward to some great competition this coming fall season!
Wednesday, July 19
Parrot Week
Katie, Sophie & Juli & The Dolphins
For the second year running, former Parrots Juli Edwards, Katie Schoene and Sophie Spickard provided a week of training for the Dolphins during their summer break from college. The Parrots dominated girl's youth soccer in Washington State from 1999 to 2004. During this time, The Parrots won many championships with flair, superior technical skill and by playing beautiful soccer.
Juli and Katie are now teammates at Portland State and Sophie plays for The University of Washington.
For last year's photos, go to The Parrots website at http://www.theparrots.net/dolphins2005.htm
Thursday, July 27
Dolphins Make It To Semis of SCORE 6v6
The Dolphins 'played up' in the U15-16 bracket of the SCORE 6v6 tournament on a very hot day July 22. The girls went into the semi-final as the 2nd seed, but lost to the eventual champion 1-0 in overtime. Playing older girls was great experience for our 'senior' players who are looking forward to competing for a spot as freshmen on their high school soccer teams this coming fall.
Tuesday, July 11
Dolphins Are Finalists at Starfire Xtreme Cup
The Dolphins made it to the Final of Starfire's Xtreme Cup for the second year in a row, but lost their crown to WSYL 2nd Division Harbor FC Green 3-0. The girls played well, finishing 2-1-1 over the weekend. The Dolphins will next play at Rimland, August 11-13.
Friday, June 16
Dolphins Split at LPTs
The Dolphins won 4 and lost 4 games at LPTs but fell one game short of qualifying for WSYL. The team has applied for the Commissioner's Youth League and will enter several small- and full-sided tournaments throughout the summer to help prepare for the upcoming fall season.
Sunday, May 21
Fins Excel at Yak-Attack
Two Dolphin teams did very well in the 'rainy' Yak-Attack 5-a-side tournament on May 20-21 and both played beautiful soccer. The teams that participated were named Golfinho (Portuguese) and Delfino (Italian) in honor of the 2006 World Cup. Golfinho went undefeated and took home the first place 'survivor torch'. Delfino made it to the semi finals, but injuries and a lack of substitutes prevented them from moving on to the final game with their teammates. Even with the rain, it was a great weekend for the girls and their families.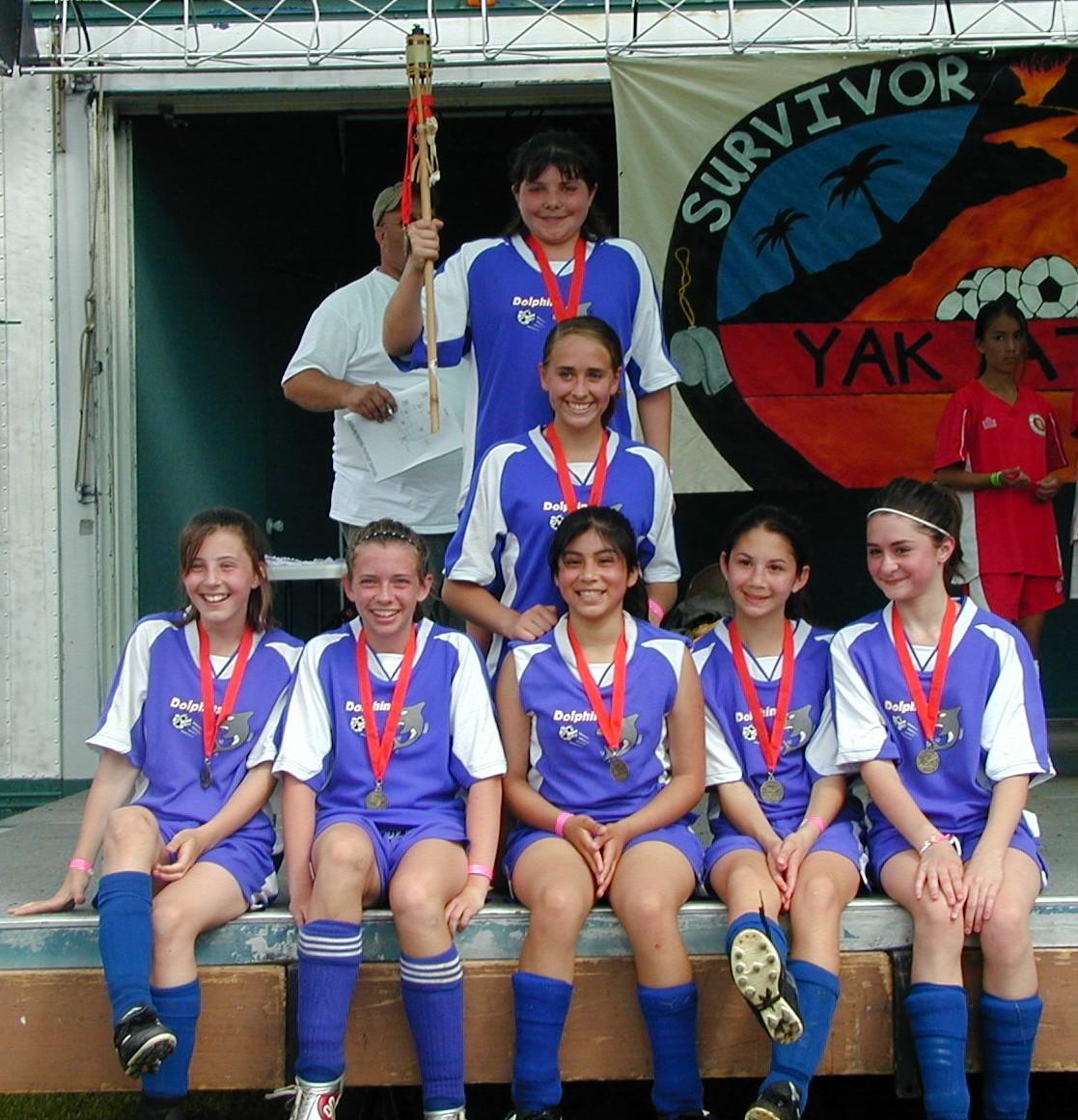 Golfinho Rocks Yak-Attack!
Dolphins Are WA State Challenge Cup Finalists!
The Dolphins gave up two first half goals to Crossfire-Stengrun in the Challenge Cup Final and, in spite of an exciting second half rally with several near misses and a thunderous shot off the crossbar, that is how the game ended. Congratulations to Crossfire! In addition to their silver medals, the Dolphins were awarded the 2006 Leann Ehnat Fair Play Award after the game. Way to go girls!!!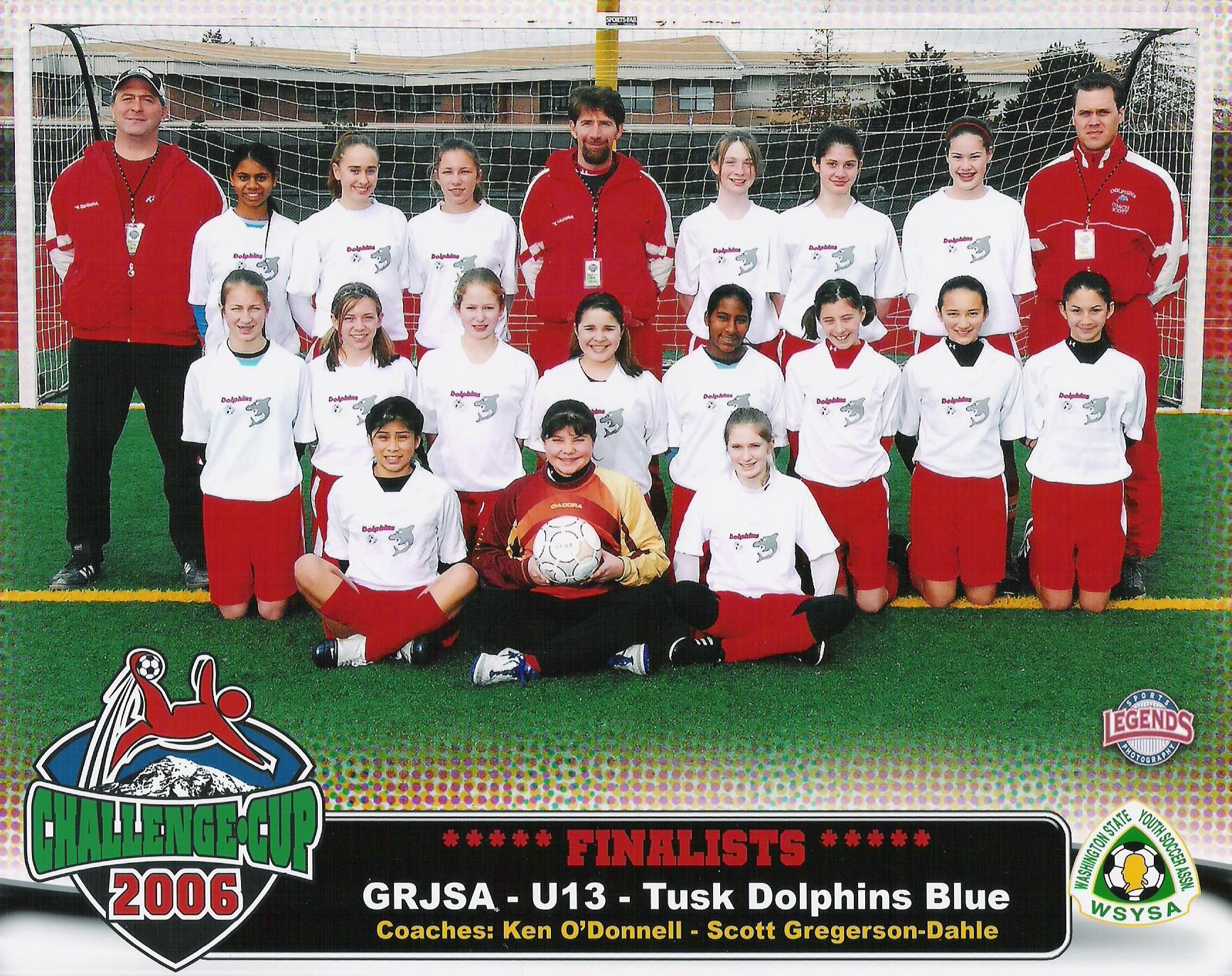 2006 WA State Challenge Cup Finalists!
3v3 World Championship - Dolphins Ranked #22 in Nation!
The Dolphins took 6 players to Orlando, Florida the weekend of Jan. 14-16 to compete in the Sports Illustrated for Kids Kick-It 3v3 World Championships. We did not bring home a trophy, but the girls gained valuable experience by competing against some of the best U-13 soccer players in the country. The Dolphins went 1-3-1 and were eventually knocked out of the tournament by the #13 ranked Thunder from Avon, IN. Other losses were to the #7 Futbol Fanatics from Medina, OH and the #15 Brutal Beauties from Shelbyville, KY. Our only win came against #21 ranked Lucky Charms from Oakbrook, IL and our tie against #43 Lady Blitz from Evansville, IN. We also spent a few days enjoying the sun and amusement parts. SeaWorld's Dolphin Show was the highlight of the trip (of course). It was great fun the girls will surely remember for years to come!
2002 Tukwila Dolphins are Champions
******************Are You Practicing?******************

"When you are not practicing,
remember someone, somewhere,
is practicing,
and when you meet them,
they will win."

Are you practicing?
Saturday, November 9
Dolphins clinch 1st place with 2 games left to play
The Dolphins take first place in the 2002 Fall District 3 GU11R division. Because of the Dolphins 7-1 win against the Skyrockets combined with a 0-0 tie between the Tidalwaves and Falcons. The Dolphins have clinched first place with 2 games still left to play. As of November 9, 2002 the Dolphins have enjoyed a perfect 9-0 record scoring 45 goals and allowing only 4. What makes this even more impressive is the fact that the Dolphins were able to accomplish this task against teams that are a year older than they are.
At the beginning of the 2001 season. Coach Brian had stated that only a 1st place finish would justify the team receiving trophies.
The Dolphins are not to be denied this 2002 Fall season and will be receiving trophies. Because of the high standards that were put on receiving trophies. These trophies will now serve as a representation of an outstanding team effort and also for the individual dedication necessary to succeed in obtaining any goal that they may set for themselves.
Dolphins Blue Xtreme Cup Champions!
Congrats Dolphins Blue, Champions of Starfire's Xtreme Cup! That makes 7 consecutive shutouts in tournament play! ...
2002 Tukwila Dolphins Soccer Team
2003 Tukwila Dolphins Basketball Team
Commissioner's Cup Schedule
December 6th at 7:00pm at Fife HS - Drawing for tournament placement
January 10th, 17th, 24th and 31st - Preliminary Rounds
February 7th, 8th - Elimination Round
February 21st, 22nd - Quarterfinals
February 28th, 29th - Semifinals
March 13th, 14th - Finals
We're Going To Disneyworld!!!
The Tic Tacs and Kit Kats qualified for the 2005 Kick It 3v3 World Championships in a 'big' way at NW Regionals in Bremerton August 6-7! Both teams competed in a combined 'U13-14' bracket, which actually had two U-15 teams (Skagit Storm) and one U-16 team from Eugene, Oregon (OUSA)! The girls performed well and finished 3rd and 4th, which earned them a trip to Orlando at Disney's Wide World of Sports Complex January 14-16, 2006!
The Tic Tacs and Kit Kats previously qualified for the NW Regional by finishing 2nd and 3rd, respectively at the Kick It 3v3 Shoot Out held at Starfire on July 30. Way to go Beana, Coolcat, Ari, KO, Mini Mia, Hollywood, Shorty, Superstar, Beeps, Bekah, Ally and Crush!

2003 Evergreen International Champions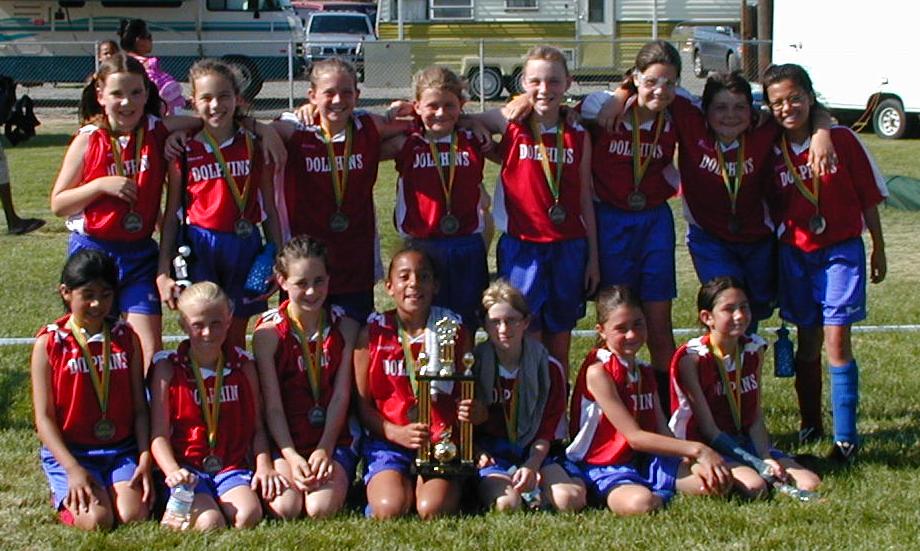 2003 Yakima Mid-Summer Classic Finalist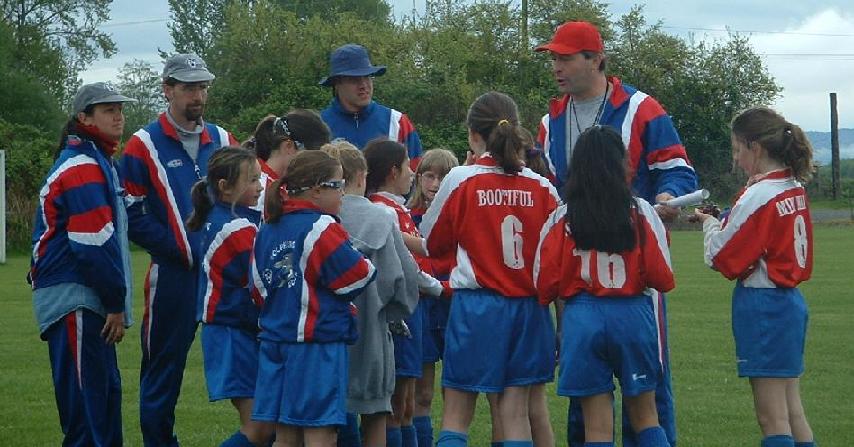 2003 Snohomish United Invitational Finalist
WRPA & Wembley Soccer State Soccer Challenge 2005
The WRPA & Wembley Soccer State Soccer Challenge is a competitive contest for boys & girls that tests a series of soccer skills involving accuracy and distance of throw-ins and kicks, shooting accuracy and speed dribbling. Scores are given for individual performance in each skill. Scores are then added together, and the three players with the highest scores in each age group are awarded medals. KO and Galaxy both won their age groups at a local contest in Tukwila, then went to State. KO took first place in the U13-U14 age group and Galaxy took third place in the U11-U12 age group. Great work girls! All that hard work really paid off!

2004 Snohomish United Champions