TVT Swimming: Welcome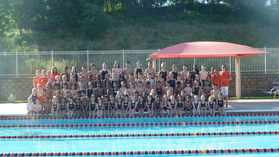 Taylor Village Tigerfish Swim Team 2016
WELCOME TO TAYLOR VILLAGE TIGERFISH SWIM TEAM
The Taylor Village Tigerfish Swim Team, established in 2006, is a competitive summer swim team that provides a positive learning environment where swimmers improve their swimming skills and promote good sportsmanship and team spirit. Most of all, our goal is to develop a lifelong interest in swimming and have fun!
Swim team is for children of all ages, provided they are able to swim one lap of the pool (25 meters) unassisted. Swim team members must be residents of Taylor Properties or a registered pool member with a full family membership.
Taylor Village Tigerfish Swim Team Pool Location:
8010 Village Crest Drive, Ellicott City, MD 21043.
Telephone No. (Pool Life Guard Office): 410-203-1668
JOIN TVT YAHOOGROUP MAILING LIST:
To Join click here: TVT Yahoogroup mailing list