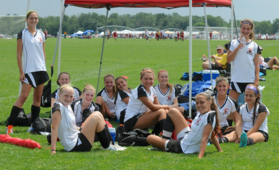 2012 July Showcase - Some Bengals cooling off
Welcome Family, Friends, & Fans!
HOME OF THE TBAA BENGALS
U16 Try-Outs!!! To attend a team training session and tryout for the 2012-13 U16 TBAA BENGALS team please contact Gary Urban at urbang13@comcast.net. Tryouts will occur on Tuesdays & Thursdays at team training sessions during April and May.
Thank you for visiting the TBAA Bengals team web site. The Bengals are a U15 girls team that plays in the Jersey Area Girls Soccer league (JAGS) for the Timberbirch Broadmoor Athletic Association (TBAA), located in Gloucester Township, NJ. For the U15 season, the Bengals will be competing in the highly competitive JAGS / MAPS league. The Bengals are a well established, highly competitive team, currently playing in their eight year.
The Bengals are professionally trained & coached full-time by Nick Martinelli. Currently, Martinelli is also the head coach for Triton High School Varsity Boys Team. Martinelli has years of coaching and training experience and a vast knowledge of the game.
For the U15 season, the team will compete in JAGS/MAPS league play, the NJYS National Championships, the US Club Soccer New Jersey Cup (spring), and play in ten plus high-level tournaments during the U15 year. The Bengals also compete in several top-level friendly matches throughout the season...
2011 U15 Winter / Spring Season Schedule
Winter Indoor Training - January & February
Friendly Match: Kingsway United Pride - February 26
Friendly Match: SJEB Piranhas - March 3rd
2012 MAPS Spring Challenge - March 10th & 11th
MSSL 2012 Spring College Showcase - April 6th & 7th
FC DELCO 13th Annual Players Cup - May 25th - 28th
2012 US Club Soccer New jersey Cup
US Youth Soccer State Cup / National Championships
JAGS League Divisional Play
---
>>> THANK YOU TO ALL OF OUR 2012 SPONSORS <<<
**** PLATINUM Level Members ****
*** GOLD Level Members ***
** SILVER Level Members **
** BRONZE Level Members ** If you have any questions or would like more information, contact Gary Urban at urbang13@comcast.net.
---
---
Club Website: http://www.tbaa.net/