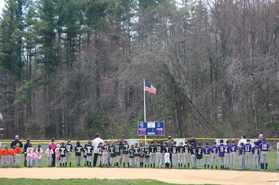 Opening Day Coming Soon
George P. Gibbs Jr. Little League
We are dedicated to providing a fun, safe, and competitive environment for boys and girls of Sterling, MA to learn the fundamentals of baseball, the greatest game in the world.
SPRING 2014 LITTLE LEAGUE REGISTRATION
You can register online using the above registration link. Registration for AAA, AA and T-Ball is still open. Registration for all divisions will close on March 15th. If you have any questions please email us at sterlinglittleleague@gmail.com
OPENING DAY SET FOR SATURDAY, MAY 3rd !!!
AAA Division
Evaluations will be held on Saturday, March 22nd from 5:00-7:00PM at Union Square Sportshub 529 Lancaster Street Leominster.
All AAA players must attend the evaluation!
CALLING ALL COACHES !!!!
All coaches must attend a baseball coaching clinic...we have the following clinics available.
Nashoba Little League Baseball Coaching Clinic... April 4th from 6-9PM at Nashoba Regional High School. Clinic will be run by Nashoba Chieftans varisty coach Chuck Schoolcraft. (Nashoba Regional High School 12 Green Rd Bolton MA)
Bromfield Varisty Baseball...Little League coaches clinic will be held on Saturday, March 22nd from 10-12pm at Bromfield High School.
Umpires Wanted !!
If you would like to be an umpire for the upcoming season please contact us at sterlinglittleleague@gmail.com
Registration is now open for District 4 Big League Baseball! Rutland Little League offers Big League baseball for 16-18 year olds. Sterling residents that wish to play big league baseball this year should visit www.rutlandtbaseball.org for more information. If you have any questions please contact Tammy Griffin-Kumpey at tgkumpey@msn.com
Little League of America Celebrates 75 Years !!!
How did Little League get started?
In 1938, Carl E. Stotz was playing backyard baseball with his nephews when he had the idea to give those boys the opportunity to play an organized game of baseball on a field that was sized for them, with equipment that was built for them and against their peers with actual rules. Mr. Stotz started working with the local community in Williamsport, Pa., and with parents and volunteers coming together, they formed three teams. On June 6, 1939, the first official Little League game was played in Williamsport, which is still the home of Little League today.
Sterlng Little League is Now on Facebook
Follow us on our new Facebook page by searching for "Sterling Little League" on Facebook, or clicking the link below. Once you've found us on Facebook, click the "Like" button to receive updates on your Facebook news feed on important announcements, photos, schedules, etc...