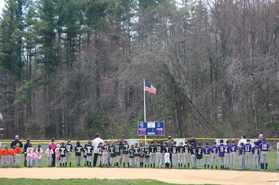 Opening Day Coming Soon
George P. Gibbs Jr. Little League
We are dedicated to providing a fun, safe, and competitive environment for boys and girls of Sterling, MA to learn the fundamentals of baseball, the greatest game in the world.
OPENING DAY SET FOR SATURDAY, MAY 3rd !!!
Parade will begin at 11:30AM Sharp ! We would ask teams to start getting assembled by 11AM.
Team Picture Night ! We will hold team pictures on Thursday, May 1st at the Chocksett Middle School. Schedule will follow soon.
Little League of America Celebrates 75 Years !!!
How did Little League get started?
In 1938, Carl E. Stotz was playing backyard baseball with his nephews when he had the idea to give those boys the opportunity to play an organized game of baseball on a field that was sized for them, with equipment that was built for them and against their peers with actual rules. Mr. Stotz started working with the local community in Williamsport, Pa., and with parents and volunteers coming together, they formed three teams. On June 6, 1939, the first official Little League game was played in Williamsport, which is still the home of Little League today.
Sterlng Little League is Now on Facebook
Follow us on our new Facebook page by searching for "Sterling Little League" on Facebook, or clicking the link below. Once you've found us on Facebook, click the "Like" button to receive updates on your Facebook news feed on important announcements, photos, schedules, etc...