South Sunrise Little League - Orange, California: 2013 Registration Info
2013 Registration
South Sunrise Little League is open to boys and girls ages 4-14
(league age is determined by age as of 4/30/13)
Players must reside within our League's boundaries as dictated by Little League International. General League boundaries are: East of the 55 Freeway, South of Chapman Avenue, North of Fairhaven. (see map below)
Divisions:
Children are placed in a division based on their league age and previous playing experience.

With the exception of t-ball, there is a skills assessment prior to the formation of teams which assists in determining which division best suits a player.

General age guidelines for divisions are as follows;

T-ball- 4-6 year olds

Single A is a "machine pitch" consisting mainly of 8 year olds with some 7 year olds.

AA is a "kid pitch" division consisting mainly of 9 and 10 year olds, with a few 8 year olds as well.

AAA is a "kid pitch" division consisting mainly of 10 and 11 year olds, with possibly a few 9 year olds.

Majors is a "kid pitch" division for 11 and 12 year olds.

Juniors is a "kid pitch" division for 13-14 year olds. South Sunrise may not field a Junior's team but will help place players with other leagues. Games for Juniors are held throughout Orange, Tustin and Santa Ana.

50/70 The pitcher's rubber is moved back to 50 feet from home plate, and the bases are now 70 feet apart. Players may now take leads and steal bases. The purpose of 50/70 baseball is to ease the transition from the 46/60 diamond to the larger (60/90) diamond on which players play when they graduate from ALL.

T

he Challenger Division was established in 1989 as a separate division of Little League to enable boys and girls with physical and mental challenges, ages 4-18, or up to age 22 if still enrolled in high school, to enjoy the game of baseball along with the millions of other children who participate in this sport worldwide.
What does your registration fee include??
a team uniform jersey to keep
basic photo package
5 tickets to our Pancake Breakfast
12-20 game schedule and a trophy at end of the season.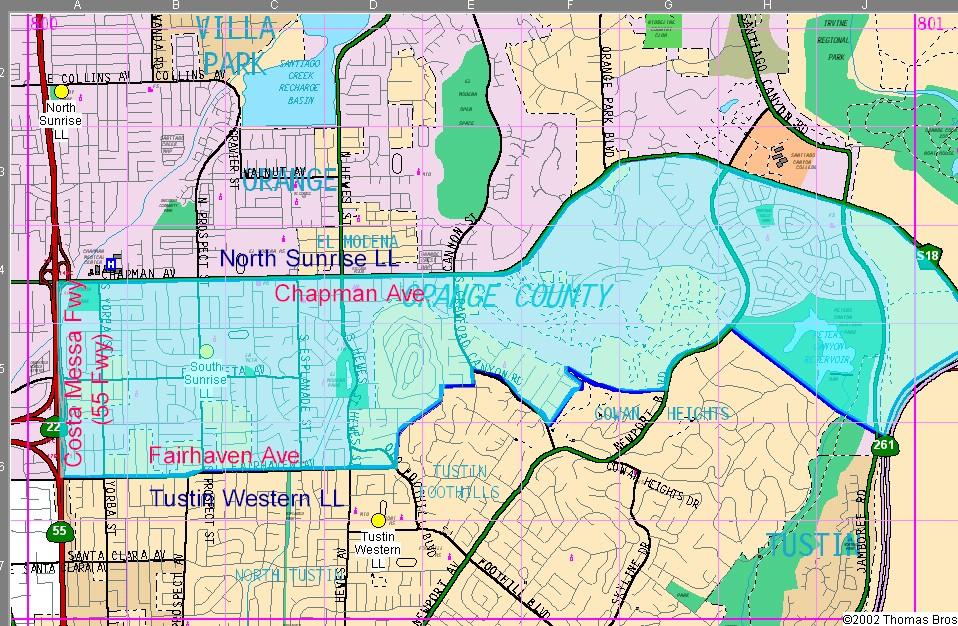 South Sunrise Boundary Map