Want a shot at the Title?
Sunday, June 30
SINBAD'S GYM PRESENTS THE 500 PUNCH CLUB
The 500 Punch Club is a club that can be obtained by throwing at least 500 proper punches within a 2 minute round. Incorrect punches will not be counted toward the punch count. Below is a list of "Heavy T Boxers" that have attempted the 500 Punch Club.
7 700 Punch Club Member
@ 600 Punch Club Member
# 500 Punch Club Member
400 Club must register 400 punches
**Questionable Punches
Name Punch Count
1. Tony Ashbrook # @ 7 709
2. Kaitlyn Ashbrook # @ 603
3. Daryl Davis 578
4. Taelor Severings # 525
5. Jon Jennings 498
6. Rita Ashbrook 418
7. Alex Fout 413
8. Katherine Calo 392
9. Molly Bennett 352
9. Murtada Jabbie 352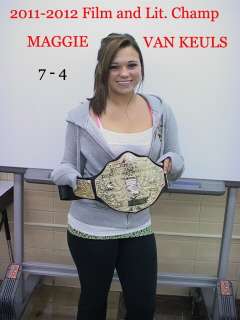 NEW CHAMP
Thursday, May 10
THE BRAWL TO END IT ALL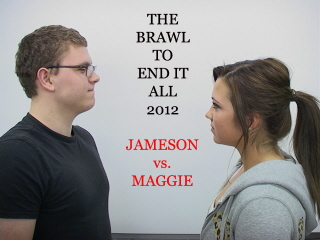 WHO WANTS IT?

Jameson and Maggie fought it out today as many onlookers could not believe the toggle skills of Jameson. His toggle was fast and furious. Maggie had a left hook that landed like a mule kick and in the end Maggie won by KO. Maggie will take on David, from last year,to see who is tough enough to become WORLD CHAMP.



Film and Lit. Champions?
Monday, May 16


THE MAIN EVENT 2011


Wednesday May 18th Josh and David will clash to see who will become the Film and Literature Heavyweight Champion. Both fighters have made their way to the final match through the WILD CARD slot. The winner will face Mark Hensley the current World Champion. That match will take place Friday May 20th during 6 th period.



THE WORLD CHAMP
Monday, May 16
WORLD CHAMP READY TO RUMBLE
Mark Hensley has waited a full year to defend his title and this year he is ready. When asked what his prediction is for the fight on the 20th of May he stated, "PAIN."
Mark has one goal: "I break people."
Good luck to David or Josh they just may need it.

Tony's 416 Bench
Monday, February 22
BENCH RECORDS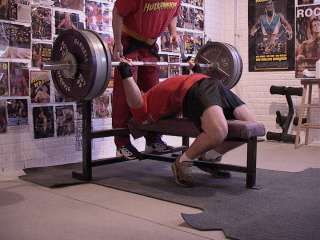 Nick's 410 Bench
SINBAD'S GYM BENCH RECORDS
RAW BENCH SHIRT BENCH
1. Nick Ashbrook 390lbs. 2008 1. Mike Wigglesworth 500lbs. 2004
2. Mike Wigglesworth 385lbs. 2003 2. Tony Ashbrook 416lbs. 2010
3. Tony Ashbrook 376lbs. 2010 3. Nick Ashbrook 410lbs. 2008
4. Greg Wentzel 295lbs. 2002
5. Daryl Davis 145lbs. 2009
5. Dana Mills 145lbs. 2007