Alexandra Crawford : My Team History
Sunday, February 3
Raiders Win Ontario Indoor Cup 1-0 over Erin Mills Mighty Eagles !!!
RHSC RAIDERS 2008 Ontario Indoor Cup Champions !
Sunday, February 3
Provincial Indoor Champions Crowned
Sunday, February 3
The Winning Goal
The 2008 Indoor Cup Winning Goal !
Tuesday, February 19
Indoor Cup Video
Ontario Cup Winning Goal by Mike Crawford
Tuesday, March 11
Raiders finish 3rd in March Break Tournament 11 vs 11
The Raiders went 2 and 1 to finish 3rd in OSA March Break 11 vs 11 indoor tournament Tuesday March 11th at the Ontario Soccer Centre!
Saturday, April 12
Raiders finish 2nd at the Hangar and take Silver
A great game against Hearts Azzurri with our Raiders controling most of the play during the game. Jamie Smith shut out the Azzurri in regular time and was stellar in net during penalty kicks. We lost 1-0 to take 2nd place in the division.
Tuesday, April 15
RAIDERS enter the Novi, Michigan Jaguar Invitational Tournament May 9 to 11th
"RAIDER STRONG"
Monday, May 12
Raiders Take Silver Trophy In Novi Michigan
Raiders went 4 and 1 to capture the Silver Trophy in Novi Michigan Jaguar Invitaional Tourment on Sunday May 11. The girls played great all weekend and had to dig deep and deal with the weather on Sunday as it rained all day and was cold.
Congratulations Girls
Monday, May 12
Raiders Enter The Laval International Soccer Cup
Raiders enter Laval International Soccer Cup Tournament July 4th to July 6th - Laval Quebec
Go Raiders!
Sunday, July 6
Raiders Go Undefeated to win the Laval Quebec International Cup! July 6, 2008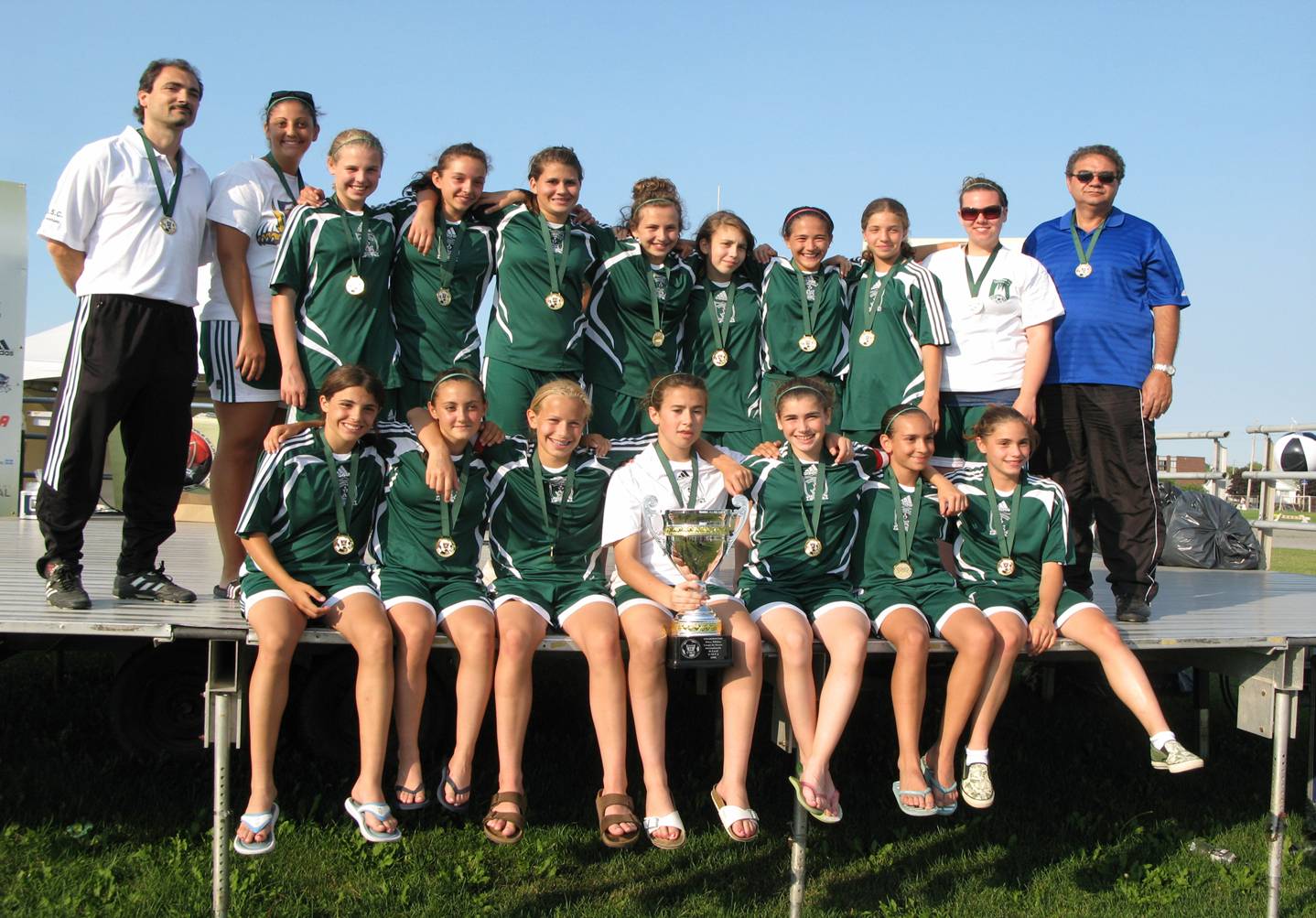 2008 Laval Champions
The Raiders travelled to Laval Quebec on July 4th to compete in the 2008 Laval International Cup. The girls shut out each team they faced to go 5 and 0 to capture the Cup! They scored a total of 28 goals to Nil.
Way to go Girls and Coaches!
RAIDER STRONG!

Thanks Danone!
Thursday, August 7
Raider Girls attend the Toronto FC Open Practice on August 5 2008 hosted by Danone
Our girls attended the first ever Toronto FC Open Practice on August 5th compliments of Danone Canada. With approx. 3000 fans in attendance, the girls where able to observe a professional practice at BMO Field and watched the TFC players work on skills, conditioning, shooting and had a scrimage. The highlight undoubtedly was the girls meeting the players, collecting countless autographs and getting pictures of their favourite players!
Thanks goes Danone Canada for the tickets and great outing!
RAIDER Strong!
Monday, September 15
Your Raiders finish in 3rd to advance to the OYSL
Congratulations go out to the girls who finshed a strong 3rd to advance to the OYSL next year.
Well done RAIDERS!
2008 Richmond Hill U14 Challenge Cup Champions
Monday, September 15
Raiders win 2008 Richmond Hill Challenge Cup U14 Division
On Sunday September 14 the Radiers completed a 4 game winning streak to capture the 2008 Richmond Hill Challene Cup. The girls competed in the U14 division and out scored their 0pponents 11-0. They beat the Woolwich Whitehawks 1-0 Sunday to capture the Cup!
Congratulations Girls
RAIDER STRONG!
Thursday, May 21
RAIDERS Win Cincinnati 2009 Elite Invitational
Raiders win the 2009 Cincinnati Elite Cup in Cincinnati Ohio beating the Warren County United Blue 94 girls from Warren Ohio ranked 50th in the United States. Well done girls!