Shorewood High School: 2014 CC Season
Saturday, November 1
On the podium - boys take 2nd at state!
The Grehound boys had an impressive race at the WIAA 2014 State Cross Country meet in Wisconsin Rapids on November 1. They came in 2nd behind Wisconsin Lutheran and ahead of Lakeland. Whoops of joy came from the team when they heard they would take home the 2nd place trophy - which happens to be the 10th trophy Shorewood has earned at the state meet - more than any other D2 school. Sam Kuhlmann came in 6th to be on the podium for the top 10 individuals.
Photos from the meet and a video of the award ceremony can be found and downloaded at this icloud site: State XC meet photos 2014
Complete results can be found at the WIAA site: Individual Results Team Results
Friday, October 24
Boys team qualifies for State with a strong performance at the Sectionals meet
The Varsity Boys delivered strong results Friday at the Sectional meet at McCarty Park - giving them a 2nd place finish and a ticket to the State cross country meet at Wisconsin Rapids on November 1!
1 3 Sam Kuhlmann SR 16:30
2 12 Gus Wettstein JR 17:01
3 13 Mayan Essak SR 17:04
4 15 James Douglass SR 17:09
5 18 Dylan Larson-Harsc SR 17:27
6 ( 20) Sam Shields SR 17:32
7 ( 22) Johnnie Papineau SR 17:35
Full results from the race can be found on the PT Timing Site
Photos from the race and from the Papineau Pasta Dinner can be found at this link.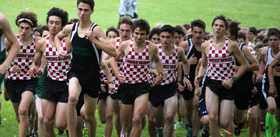 JV boys run as one
Friday, October 17
JV Boys win Conference - Varsity boys take a close second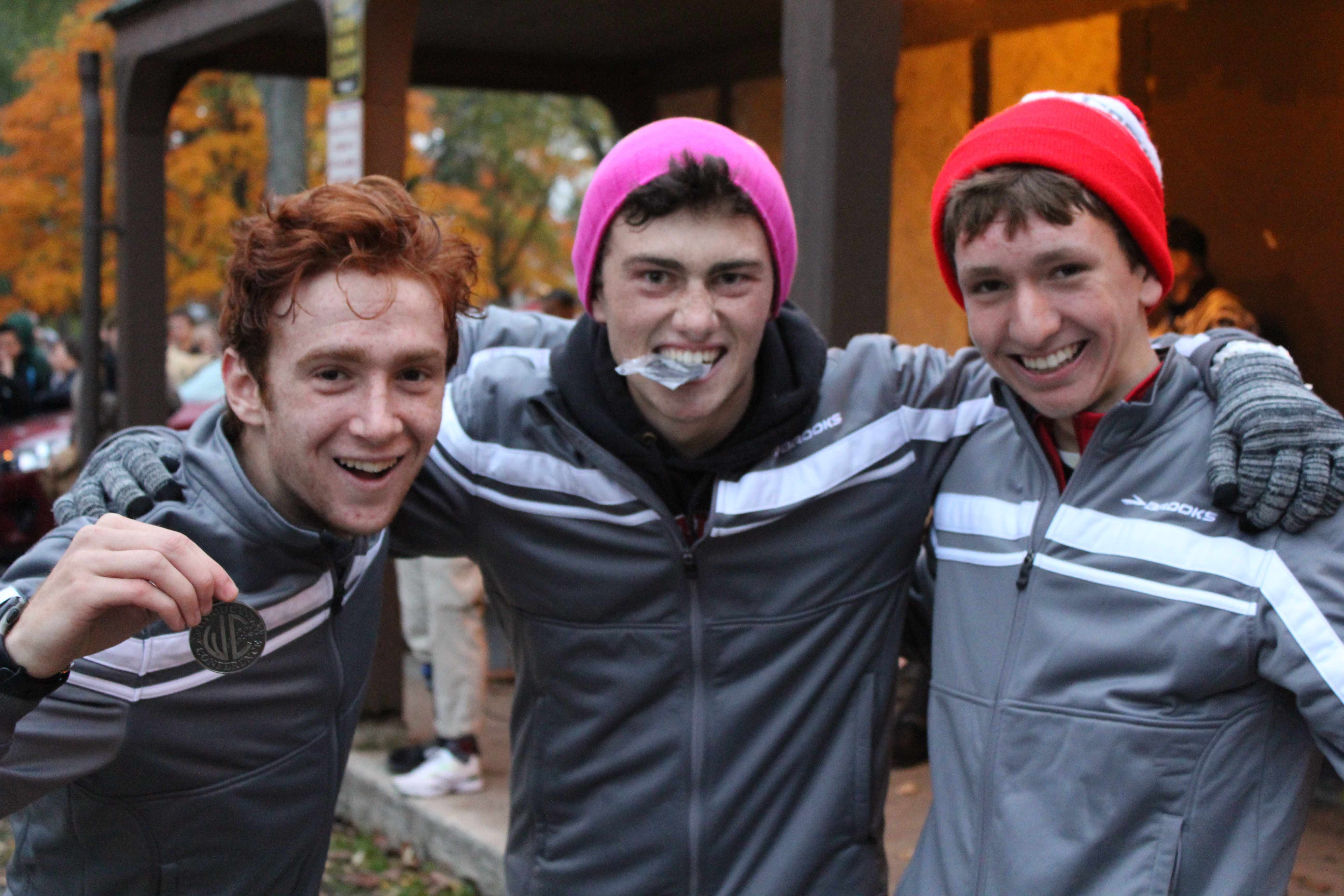 Second team all-conference winners
Great to see the Shorewood boys JV team sweep the conference race. Varsity boys ran as one with a great pack of boys finishing together for a close 2nd - 61 to 64 points to Pewaukee. Check out the slo-mo videos!
Check out the photos and slow-mo videos as this link.
PT Timing results for the Conference meet PT Timing link
Thursday, October 16
Boys prep for conference meet despite rainy week
A rainy week did not slow down the Grehounds' prep for the Conference meet. Check out this link to see pictures of Tuesday's workout at Lake Park. Thanks to Dom for the cool autumn rain pictures!
Autumn rainy workout photos
Conference race schedule for Friday, October 17th at Kern park:
2:45 JV Boys 5k
3:20 JV Girls 5k
4:10 Varsity Boys 5k
4:40 Varsity Girls 5k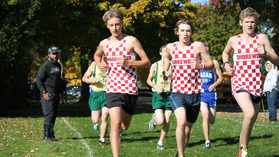 JV boys on the run
Saturday, October 11
Shorewood Invite brings a Shorewood Sweep! Girls/Boys JV and Varsity all win our Invite at Kern!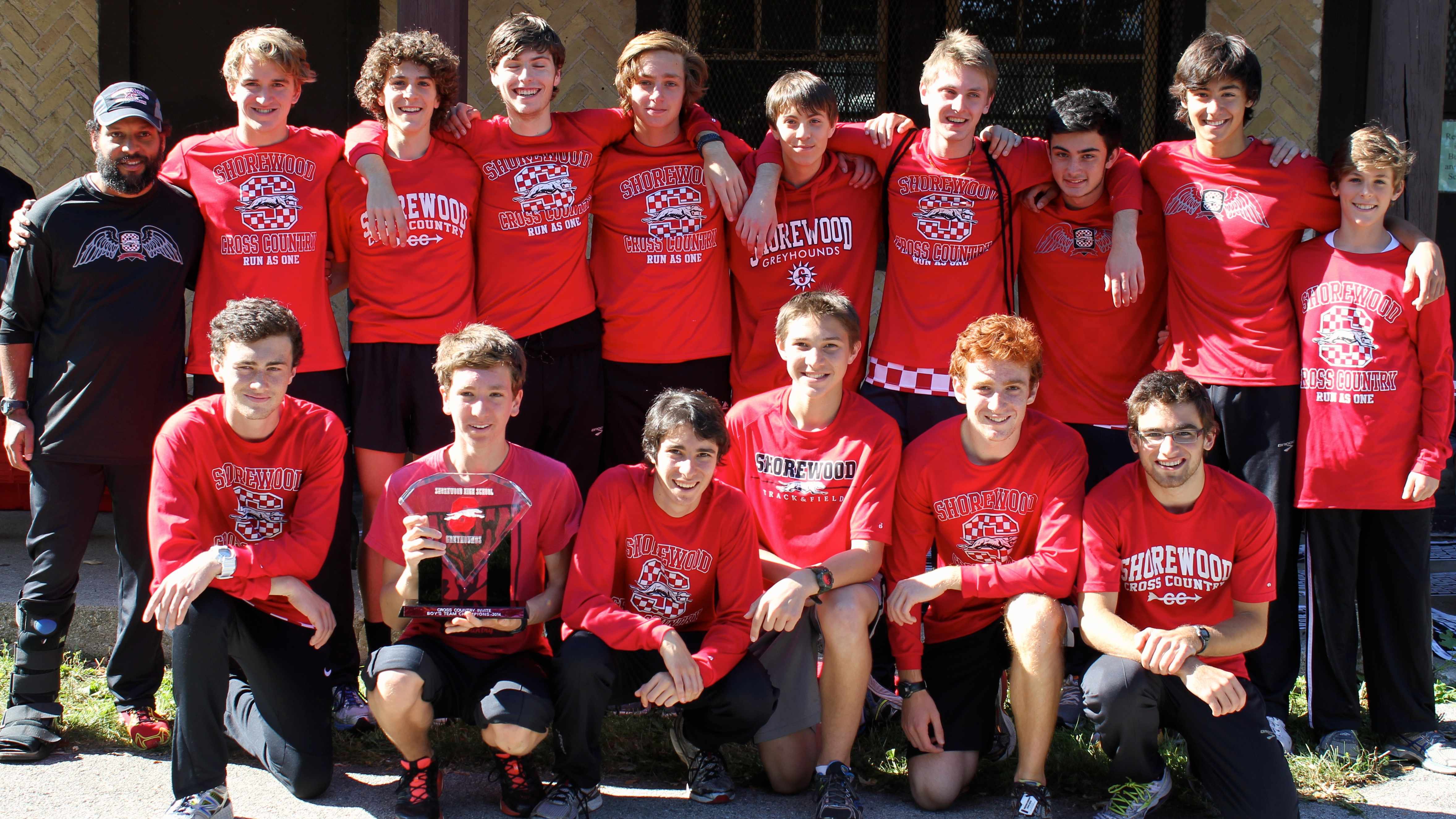 Varsity teams
A beautiful Fall day brought great scores for our Greyhounds. Boys and Girls JV and Varsity all came away with wins.
JV Girls swept the race with 9 out of 10 of the top 10 racers (all top 7 positions). Boys JV won 33 to 41 to Kenosha Bradford. Boys Varsity won with 43 points over Kenosha Bradford's 57. Girls Varsity won handily over DeForest - 32 to 91.
Race results can be found at: Shorewood Invitational results
Photos from today are available at: https://www.icloud.com/photostream/#A15ON9t3mVvdh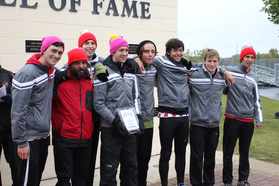 Varsity boys
Saturday, October 4
Varsity and JV win the Burlington Chocolate City Invitational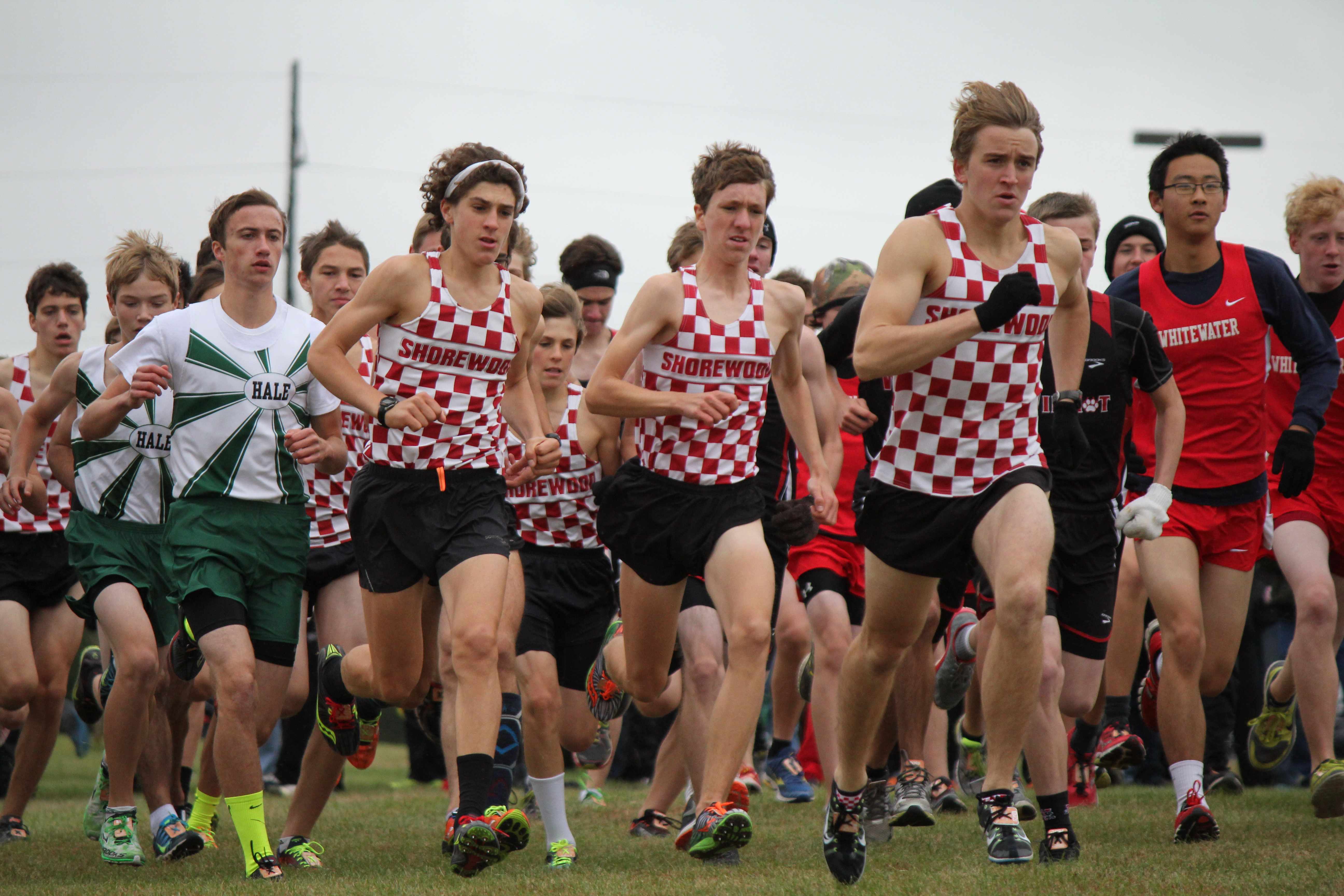 JV boys start the race
The Shorewood boys ran well together today - winning both Varsity and JV on a blustery cold morning despite a week where a large number of the boys had days off sick. Varsity boys "ran as one" with less than a minute split between the first and 7th runner. The JV boys took command with a slam - taking positions 1-5 for a perfect 15 score. Many PRs were recorded today 3 Varsity and 16 JV!!
Dom's recap from the Burlington race:
There's a reason why Shorewood boys cross country is ranked high in the state, and they won at the Chocolate City Invite over the weekend. As a team, Shorewood (54) defeated Janesville Craig (65). The weather was much like what we would see later in the season. It was cold, windy and drizzly! I was happy to see that the boys were well prepared physically and mentally for the the conditions. It's amazing how our new team tent can change the mood! The Eskimo tent was nice and toasty and I can't wait for our second one to come in.
The plague.......early last week we had a large number of athletes out with a variety of illnesses. By Tuesday we had 16 of 40 athletes out with some form of illness. I was going to scrap the meet but slowly we started to increase our numbers as the week went on. I told the boys that we would need to change our goals for the meet. They felt that we were deep enough to win the varsity and JV meet. So I trusted them. The goal was to go out a bit more controlled the first 1 mile. Sam Kuhlmann convinced me to race him and we agreed that he would sit back to the 3200 meter mark and if he felt good he could drop the hammer. Sam sat back for a bit to long as he closed with a 5:02 mile moving from around 22nd place to 3rd place! Following Sam:

3 3 Sam Kuhlmann SR Shorewood 16:24.42 5:17
7 7 Mayan Essak SR Shorewood 16:45.38 5:24
9 9 Gus Wettstein JR Shorewood 16:52.40 5:26
13 13 James Douglas SR Shorewood 17:05.57 5:31
22 22 Johnnie Papineau SR Shorewood 17:15.74 5:34
29 29 Max Gietzen SR Shorewood 17:18.61 5:35
32 32 Joey Flegel-Mishl SR Shorewood 17:20.59 5:35
The JV TEAM showed their depth! The Greyhounds took the to 5 places! I heard a few coaches question why are these guys not running at the varsity level? Not fair to the JV runners. Well I tried to run 2 varsity teams! The school would not allow us. On paper it looks like the JV team would have placed 4th in the varsity race! That's really impressive!! We had 17 PR's today on this course!

1 1 Sam Shields SR Shorewood 17:05.26 5:30
2 2 Dylan Larson-Harsc SR Shorewood 17:19.46 5:35
3 3 Henry Fowler JR Shorewood 17:22.46 5:36
4 4 Alex Luger JR Shorewood 17:32.06 5:39
5 5 Cole Bauman JR Shorewood 17:33.22 5:39
12 12 Mario Fregoso JR Shorewood 18:17.36 5:54
13 13 Pip Schiro FR Shorewood 18:19.26 5:54
14 Leo Fowler FR Shorewood 18:22.59 5:55
19 Jake Woyak JR Shorewood 18:44.85 6:03
20 Gus Pendleton SR Shorewood 18:53.58 6:05
21 Reed Falkner 8 Shorewood 18:55.31 6:06
27 Will Sandy JR Shorewood 19:08.71 6:10
40 Max Kramer FR Shorewood 19:39.49 6:20
48 Eric Noble-Macher SO Shorewood 20:00.27 6:27
51 Jack Andritsch JR Shorewood 20:02.42 6:28
55 Luke Whittman SO Shorewood 20:08.22 6:29
61 Henry Dellutri SO Shorewood 20:25.03 6:35
80 Brendan Nagle SR Shorewood 21:09.93 6:49
96 Wesley Vuorinen FR Shorewood 21:44.25 7:00
114 Lars Walterman FR Shorewood 22:16.88 7:11
125 Nilesh Abraham SR Shorewood 23:09.52 7:28
127 Michael Mercuri FR Shorewood 23:17.66 7:29

The depth on the team this year is vital to our success! At any time the order of our top ten can change dramatically, and if they all continue to work together and run for each other they can accomplish some tremendous feats!

**I am impressed with the overall performances of the team as we had a number of athletes achieve personal bests after what seemed like a plague hitting the team. They are all working hard and it showed at the meet!

Next meet will be the Shorewood Invitational at Kern. Can Sam Kuhlmann challenge the course record?
Follow this link for the PT Timing results: Varsity Junior Varsity
Link to photos from the meet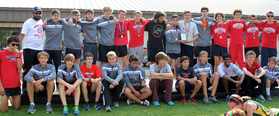 JV boys win Lourdes Academy Invite
Saturday, September 27
Strong showing for Shorewood Boys at Oshkosh Lourdes Academy invite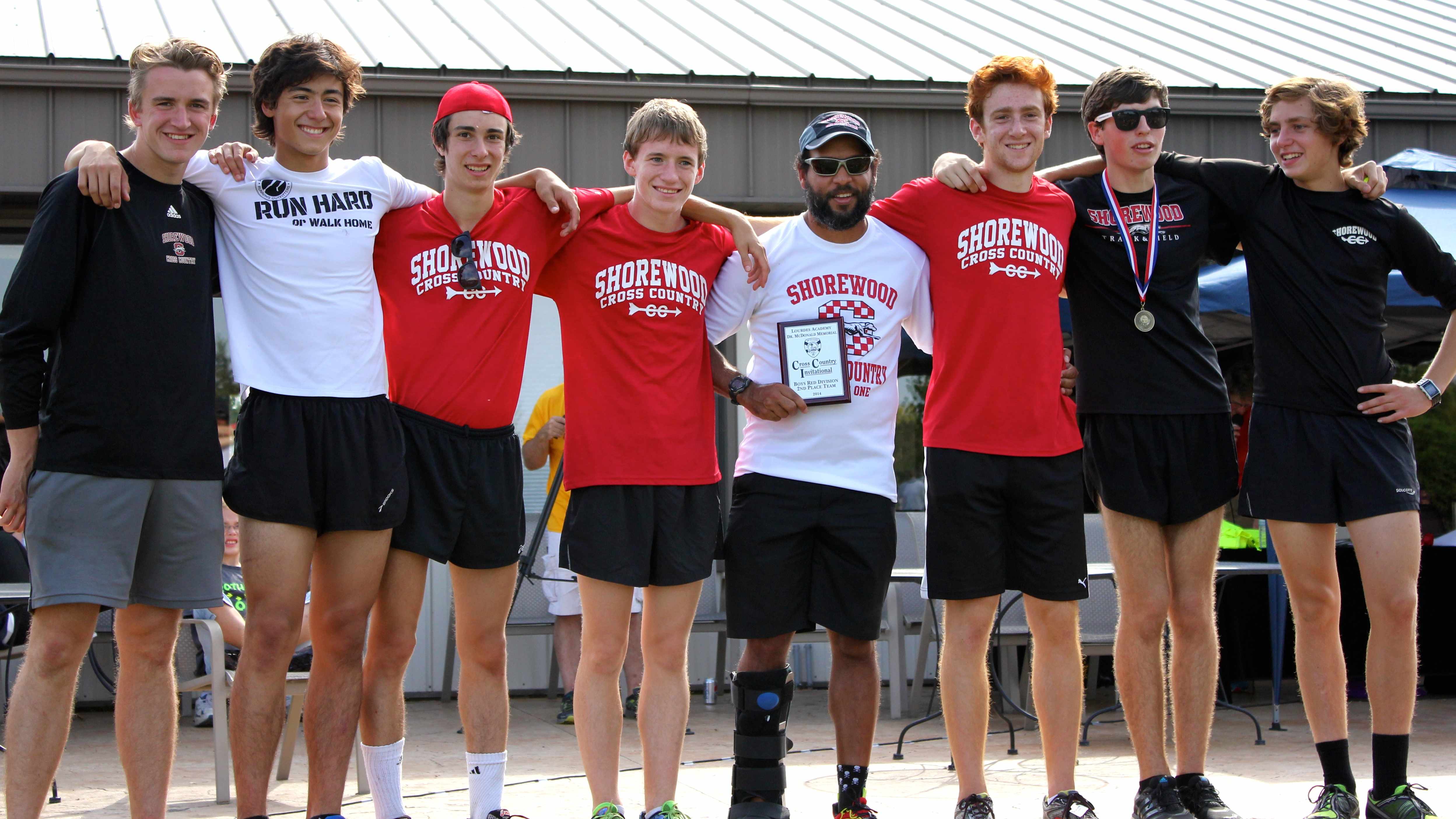 Varsity boys take 2nd place
Looking for results? See below. Pictures can be found at at this icloud site: Lourdes Academy Invite Photos
Varsity boys ran well and took 2nd place in the Large School category: Team Results and also Individual results
2. Shorewood - 78 Points
1 1 #31 Sam Kuhlmann 12 16:00.73
13 2 #34 Gus Wettstein 11 16:52.43
17 3 #29 Mayan Essak 12 16:56.07
18 4 #509 Johnnie Papineau 12 17:02.15
29 5 #30 Joey Flegel-mishl 12 17:23.30
(36) 6 #500 Max Gietzen 12 17:42.10
(37) 7 #33 Sam Shields 12 17:45.57
JV Boys won the Large School category! Team Results and also Individual Results
2 2 32 Dylan Larson-Harsc Shorewood M 12 17:44.71 5:42
3 3 495 Henry Fowler Shorewood M 11 17:49.61 5:44
6 6 488 Cole Baumann Shorewood M 10 18:02.34 5:48
7 7 496 Leo Fowler Shorewood M 9 18:02.47 5:48
8 8 505 Alex Luger Shorewood M 11 18:10.12 5:50
9 (9) 510 Gus Pendleton Shorewood M 12 18:12.38 5:51
11 (11) 504 Henry Kuhlmann Shorewood M 9 18:19.68 5:53
15 (n/a) 497 Mario Fregoso Shorewood M 11 18:43.19 6:01
19 (n/a) 513 Pip Schiro Shorewood M 9 18:49.39 6:03
34 (n/a) 498 Kai Gietzen Shorewood M 9 19:35.68 6:18
37 (n/a) 511 Will Sandy Shorewood M 11 19:43.81 6:21
43 (n/a) 494 Reed Falkner Shorewood M 9 19:53.34 6:24
46 (n/a) 501 Victor Gould Shorewood M 10 19:55.62 6:24
54 (n/a) 518 Jake Woyak Shorewood M 11 20:12.77 6:30
81 (n/a) 487 Jack Andritsch Shorewood M 11 21:03.60 6:46
96 (n/a) 508 Erik Noble-Macheray Shorewood M 10 21:24.01 6:53
97 (n/a) 517 Luke Wittman Shorewood M 10 21:25.82 6:53
110 (n/a) 507 Brendan Nagle Shorewood M 12 22:00.21 7:04
135 (n/a) 516 Lars Walterman Shorewood M 9 22:46.15 7:19
165 (n/a) 490 Antanio Chappat Shorewood M 9 23:57.13 7:42
179 (n/a) 514 Wesley Vuorinen Shorewood M 9 24:42.23 7:57
187 (n/a) 486 Nilesh Abraham Shorewood M 12 25:33.70 8:13
202 (n/a) 489 Jacob Burnham Shorewood M 9 26:46.18 8:36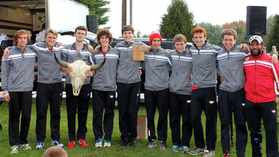 Varsity Boys at Smiley
Sunday, September 21
Another decisive Smiley win for Shorewood Varsity & JV Boys

JV Boys win with a perfect 15 score!
On a beautiful Fall morning in northern Wisconsin, the JV boys started out the day with a commanding win of the race - taking positions 1-5 for a perfect 15 score. All of the boys ran well, though the times seemed slower compared to the speedy, flat Arrowhead race the week before. A perfect reminder how each race course and day is different.
The Varsity boys then took their turn - with a few boys sick, it felt that the race was a bit of a struggle, but the strong early-season training and determination of the boys resulted in a decisive win - with the Varsity boys taking the race with 54 points over the second place Little Chute who had 89.
Photos from the meet (including a few from the merry-go-round they found en route to Wausau) https://www.icloud.com/photostream/#A15n8hH4OwYsr
PT Timing results from the meet:
1. Max Gietzen18:10.69
2. Leo Fowler18:41.24
3. Cole Bauman18:53.20
4. Gus Pendleton18:58.72
5. Henry Kuhlmann 19:17.24
8. Pip Schiro19:42.34
9. Jake Woyak19:46.55
11. Reed Falkner19:54.46
12. Kai Gietzen20:08.18
13. Victor Gould20:08.91
18. Will Sandy20:17.37
25. Will Vuyk20:29.09
30. Max Kramer20:53.75
52. Philip Creighton21:28.66
53. Jack Andritsch21:29.83
76. Luke Whittman22:17.04
77. Erik Noble-Macheray22:17.11
99. Brendan Nagle23:02.94
124.Lars Walterman23:58.22
139.Michael Mercuri24:34.36
143.Nilesh Abraham25:05.37
4. Sam Kuhlmann 16:25.95
17. Mayan Essak 17:40.90
19. James Douglas 17:48.08
20. Sam Shields 17:48.16
22. Joey Flegel-mishl 17:48.96
24. Gus Wettstein 17:51.51
37. Henry Fowler18:12.29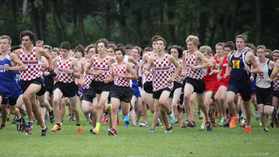 Start of Arrowhead JV race
Thursday, September 11
Shorewood Varsity boys finish 2nd at the Arrowhead Invite, JV Boys finish 5th.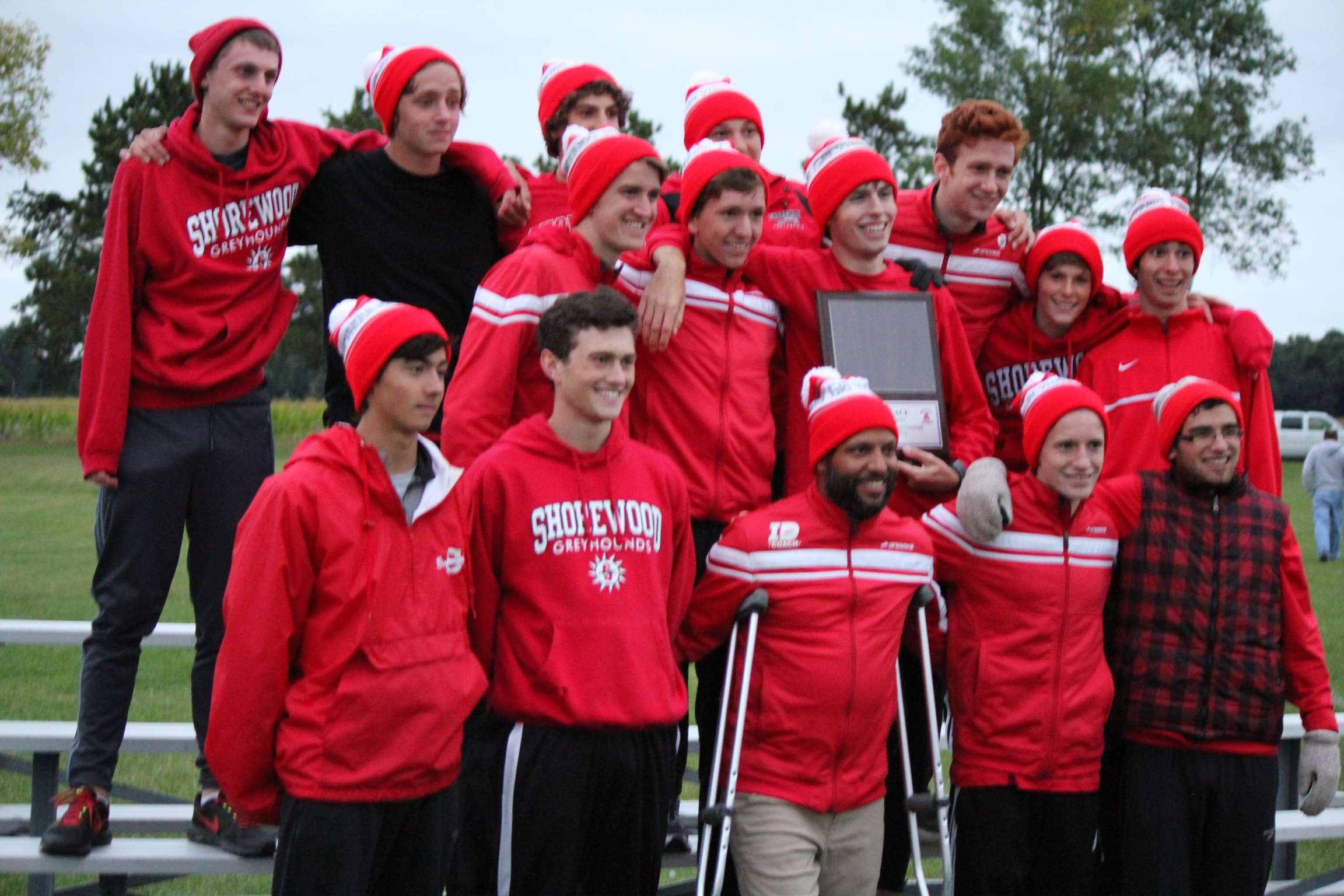 Varsity Boys on the Podium at Arrowhead Invite
Follow this link to see Arrowhead Invite meet photos.
It Was That Kind of Day for Shorewood....
Start with perfect running conditions with cool temperatures and a slight breeze; with lots of guts, heart, belief in themselves and enthusiasm. What do you get? A very special day for Shorewood Cross Country runners and the fans watching. PRs were the name of the game at Arrowhead this year! Sam Kuhlmann broke the school record with a blistering time of 15:33.29 to take 2nd place.


We decided to run two Varsity teams as I felt that everyone could have a BIG day. I contacted Coach Mike Mulrooney to see if I could run 2 varsity squads because this team is so deep and many of our runners beyond the top 7 would be varsity for past Shorewood teams. Both squads had runners under 18:00 minutes. Many of these athletes have limited varsity experience and they are running like season veterans. I was really impressed with all the runners but a few stand out. James Douglass second race ever and he takes off nearly a minute from last weeks race to run 16:37. Sam Shields ran 16:44 for a 30+ second life time best. Dylan Larson-Harsch just misses the sub 17 mark. Alex Luger, Cole Baumann and Leo Fowler for rookies ran like champs! A few lessons were learned about going out in a blistering pace the first mile and we will take that lesson and apply it to our future races. Congrats boys on your second place finish!

********** Boys Varsity **********
2 2 Sam Kuhlmann SR Shorewood 15:33.29 5:01
18 18 James Douglass SR Shorewood 16:37.36 5:22
22 22 Sam Shields SR Shorewood 16:44.34 5:24
24 24 Mayan Essak SR Shorewood 16:47.37 5:25
26 26 Joey Flegel-Mishl SR Shorewood 16:52.79 5:26
28 28 Gus Wettstein JR Shorewood 16:54.87 5:27
34 34 Dylan Larson-Harsch SR Shorewood 17:04.76 5:30
42 Johnnie Papineau SR Shorewood 17:18.69 5:35
43 Henry Fowler JR Shorewood 17:19.46 5:35
52 Alex Luger JR Shorewood 17:29.11 5:38
53 Max Gietzen SR Shorewood 17:30.06 5:38
59 Cole Baumann SO Shorewood 17:37.88 5:41
69 Leo Fowler FR Shorewood 17:46.69 5:44
73 Gus Pendleton SR Shorewood 17:49.06 5:45

JV boys had some solid runs as well, particularly our Freshman. According to our stats man Johnnie the 2018 class would have just out scored the 2015 class based on the Arrowhead freshman times. Leo Fowler has run one of the fastest times for a Shorewood Freshmanclass since Sam Kuhlmann. " It was a very close score, 56-58 in favor of this year's freshman. If the freshman continue to work hard over the next 3 years the doors could be wide open. It was also great to see Sandy, Woyak and Fregoso step up
as the new leaders for the JV team.
From Johnnie:
So for those of you who read Charles Stahl's email he attached freshman times at arrowhead over the past 7 years wondering if this years class could be the best. I added in our times from Thursday and scored it as a meet, top 5 freshman from each class score. It was really only a contest between the class of 2015 (this year's seniors) and the class of 2018 (this year's freshman). It was a very close score, 56-58 in favor of this year's freshman. The seniors had 3 front runners that made them hard to beat but the pack running and Max Kramer and Will Vuyk each displacing the seniors #5 guy gave them the 2 point victory.


Arrowhead Invitational
********** Boys Junior Varsity **********
22 22 Mario Fregoso JR Shorewood 18:30.29 5:58
24 24 Ari Schermer JR Shorewood 18:30.48 5:58
33 30 Pip Schiro FR Shorewood 18:42.74 6:02
51 42 Kia Gietzen FR Shorewood 18:54.10 6:06
56 45 Victor Gould SO Shorewood 18:58.11 6:07
57 46 Reed Falkner 8 Shorewood 18:58.87 6:07
58 47 Jake Woyak JR Shorewood 18:58.91 6:07
75 Will Sandy JR Shorewood 19:13.69 6:12
76 Henry Kuhlmann FR Shorewood 19:13.73 6:12
115 Max Kramer FR Shorewood 19:54.00 6:25
118 Will Vuyk FR

Shorewood

19:55.69 6:25

170 Philip Creighton FR Shorewood 21:06.04 6:48
188 Luke Whittman SO Shorewood 21:30.61 6:56
226 Antanio Chappat FR Shorewood 22:27.00 7:14
230 Brendan Nagle SR Shorewood 22:30.88 7:15
240 Lars Walterman FR Shorewood 22:43.54 7:19
257 Nilesh Abraham SR Shorewood 23:23.99 7:32
274 Wesley Vuorinen FR Shorewood 24:58.57 8:03
JV results:
http://67.23.19.61/system/files/12332/original/BJV_Final.pdf?1410475814
Varsity results:
http://67.23.19.61/system/files/12334/original/BV_Final.pdf?1410478234
(On PT Timing site, scroll down past team results to see individual results)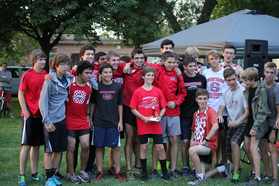 JV Boys win the Bulldog Invite!
Friday, September 5
Shorewood sweeps the West Allis Bulldog Invite!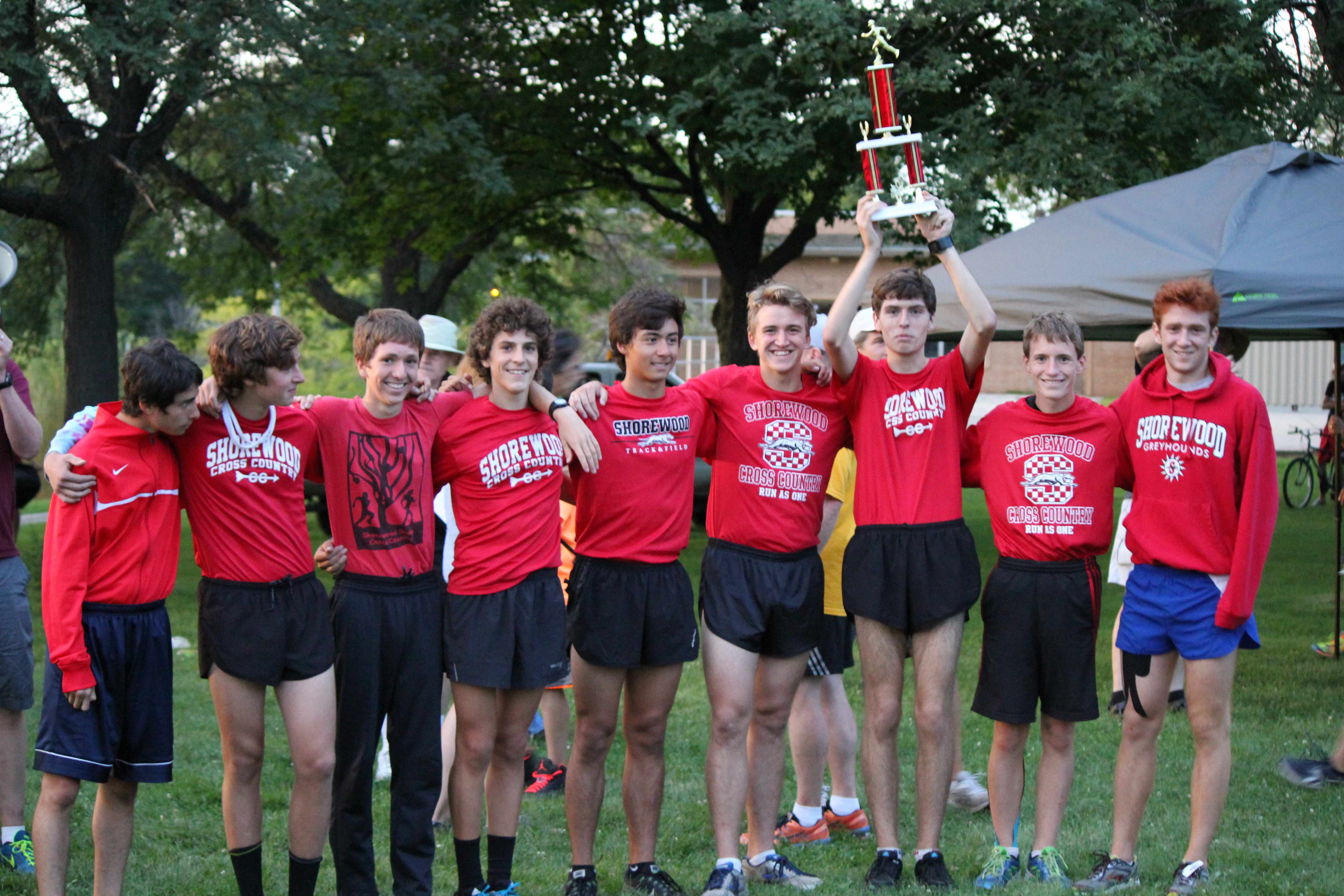 Varsity Boys win the Bulldog Invite!
Boys and Girls JV and Varsity teams all took first place at the Bulldog Invite. Congratulations Greyhounds!
Link to Bulldog Invite Photos (download, print photos for free)
Link to results at PT Timing
Monday, September 1
Bulldog Invite coming up Friday, Sept 5 @ McCarty Park
* Remember that you will be excused from class at 1:45 for 2:00 bus departure! Talk to your teachers before hand and turn in assigned school work!
Link to Bulldog course map, what to pack in your Meet Bag, race preparation tips
Girls Teams Boys Teams
Arrowhead Germantown
Grafton Grafton
Greendale Greendale
Greenfield Greenfield
Kenosha Bradford Kenosha Bradford
Milwaukee King Milwaukee King
New Berlin Eisenhower New Berlin Eisenhower
Oak Creek Oak Creek
Pius XI Pius XI
Shorewood Shorewood
Waukesha North Waukesha North
Waukesha West Waukesha West
West Allis Central West Allis Central
Race Times
4:10- Girls JV 4:55- Boys JV 5:30- Girls Varsity 6:00- Boys Varsity
Chip Distribution:
At the beginning of the meet, each school will receive a bag of chips which contains a roster of their entered athletes that specifies which athlete receives which chip. The chips are labeled with numbers that correspond to the number on the Print-out. The roster will also list what race the athlete was entered in by their coach (Varsity, JV, etc). Any changes need to be reported to the PTT Staff member to ensure the athletes show up correctly in the results.
Awards: A team trophy is given to the winning JV school (both boys and girls) and the top three varsity squads. Medals are awarded to the top thirty athletes at the varsity level. A "runner of the meet" trophy will be given to the top male and female athlete, as voted upon by the meet management staff.
Concession/T-Shirts: Both will be available beyond the finish line area.
Due to "heat" a water station will be provided at the 1.25 mile mark. Athletes are encouraged to feel free to take water if they feel necessary. (Station located ten feet from course markings on the runner's left) A water station will not be set-up if the temperature is below 75 degrees at the start of the girls JV race. Coaches are reminded they are allowed to pass water to athletes.
Shoes: Spikes are allowed but flats are encouraged due to small areas of concrete.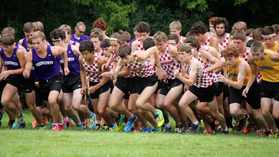 Start of the 2014 Kern Early Bird meet
Thursday, August 28
Great season opener at the Kern Park Early Bird meet
The Greyhound boys finished 2nd with 58 points to Division 1 Marquette's 53 points on Thursay in their season opener at Kern Park.
Race recap from Dom:
Sam Kuhlmann took charge of the race and ran to an early season meet PR of 16:35 to win the the individual title. Sam was followed by a 8 teammates who closed within 18 seconds of each other 2nd runner to 9th runner. We had a 4 second spread from 3rd runner to 9th runner. It is great to see such a small gap but we need to decrease the gap to our first runner! Most of our runners have limited varsity experience and they should improve quite a bit with each race. Many of the athletes ran faster times from the 2013 season at this time. It appears that we will be a deep team. Many of our rookies gained valuable experience racing for the first time this season. Leo Fowler was our top rookie placing 42nd in a time of 18:39. Everybody improved and our freshman put up some solid times!! I listed the time improvements for our varsity runners. Most Improved goes to Cole Baumann who took off 4:58 from last years early season invite time! CONGRATS Cole!
Shorewood Early Season Invite Kern Park
1. 53 Marquette ( 17:20 1:26:40 1:10)
====================================
1 4 Jack Heinrich SR 16:49
2 7 Riley DeMeulenaere JR 17:01
3 8 Will Cappon JR 17:19
4 10 Ryan Mauk JR 17:32
5 24 Andrew Idarraga SR 17:59
6 ( 26) Keegan Von Estorff SR 18:03
7 ( 29) Leo Ehrlich JR 18:12

2. 58 Shorewood Grey ( 17:25 1:27:01 1:04)
====================================
1 1 Sam Kuhlmann SR 16:35 (-17)
2 9 Mayan Essak SR 17:29 (-31)
3 15 Max Gietzen SR 17:39 (-1:21)
4 16 Gus Wettstein JR 17:39 (-2:27)
5 17 Joey Flegel-Mishl SR 17:39 (-42)
6 ( 19) Johnnie Papineau SR 17:40 (-7)
20 Dylan Larson-Harsc SR Shorewood Grey 11:16 6:25 17:40.45 5:42 (-34)

21 Sam Shields SR Shorewood Grey 11:21 6:21 17:40.59 5:42 (-1:55)
23 Henry Fowler JR Shorewood Grey 11:26 6:17 17:42.29 5:42 (-28)
34 Alex Luger JR Shorewood Grey 11:36 6:49 18:23.98 5:56 (-1:16)
38 Gus Pendleton SR Shorewood Grey 12:02 6:29 18:30.55 5:58 (-1:22)
42 Leo Fowler FR Shorewood Grey 12:04 6:37 18:39.53 6:01
46 Cole Bauman JR Shorewood Grey 12:12 6:44 18:54.70 6:06 ( -4:58)
55 Mario Fregoso JR Shorewood Grey 12:22 6:54 19:15.24 6:12 (-53)
68 Ari Schermer JR Shorewood Grey 12:54 6:54 19:47.46 6:23
75 Reed Falkner 8 Shorewood Grey 12:57 6:59 19:54.71 6:25
76 Pip Schiro FR Shorewood Grey 12:56 7:00 19:54.79 6:25
87 Kia Gietzen FR Shorewood Grey 13:01 7:07 20:06.41 6:29
89 Will Sandy JR Shorewood Grey 12:54 7:16 20:08.93 6:30 (-61)
103 Henry Kuhlmann FR Shorewood Grey 13:27 7:18 20:44.41 6:41
111 Max Kramer FR Shorewood Grey 13:28 7:30 20:56.62 6:45
112 Marcus Hagstrom SO Shorewood Grey 13:23 7:37 20:58.20 6:45
120 Henry Dellutri SO Shorewood Grey 13:23 8:01 21:22.52 6:53
130 Philip Creighton FR Shorewood Grey 14:00 7:57 21:56.76 7:04
136 Jack Thauer JR Shorewood Grey 14:18 8:06 22:22.82 7:13
140 Luke Whittman SO Shorewood Grey 14:33 8:01 22:32.85 7:16 (-1:31)
157 Brendan Nagle SR Shorewood Grey 15:06 8:16 23:21.14 7:31
182 Lars Walterman FR Shorewood Grey 15:39 9:41 25:18.70 8:09
184 Nilesh Abraham SR Shorewood Grey 16:11 9:28 25:38.29 8:16
Wednesday, August 27
Season kicks off with Early Bird meet at Kern Park August 28
See "Meet - bus schedules and addresses" tab at left for more info on the Kern Early Bird meet time and location.
See 2013 cc season tab at left to see 2013 results.
Monday, August 18
2014 Season kicks off Monday, Aug 18
The team's first practice was this morning - rounded off the day with a game of Ultimate Frisbee in the afternoon.