Shorewood High School: 2009 CC Season
Thursday, November 11
Coach Newman Named 2010 Journal Sentinal Coach of the Year
This was also in the Journal Sentinal Sports Section on Wednesday, November 10, 2010.
Congratulations to Coach Newman!
Cross Country
By DAN MURPHY
Nov. 9, 2010 (0) Comments
Coach of the Year: It doesn't seem to matter who is on the Shorewood roster, coach Dominic Newman just finds a way to win.
Shorewood lost the top three runners from last year but still managed to repeat as the Division 2 state champion. This time it was Joseph Pendleton leading the way for the Greyhounds.
The senior placed 20th for Shorewood, which scored 146 points to win the title. Newman has guided the Greyhounds to five state titles since he took the head coaching job in 2004.
Friday, November 5
"The Checkerboard Dynasty Wins Again"
"The Checkerboard Dynasty wins again" - www.shorewoodnow.com
Shorewood boys run to another state title
By STEVEN L. TIETZ Posted: Nov. 5, 2010 7:32 a.m. Shorewood — When you lose your top three runners from an impressive state championship effort from a year ago and see high hopes for 2010 take a big hit when a long conference winning streak comes to a surprise end three weeks ago, what do you do if you're the Shorewood boys cross country team?
You, of course, turn to family.
Not the mom and dad and brother and sister kind of family, whom you naturally love, but the vast extended family of fellow Greyhound runners and coaches, who make up what one of your team recently dubbed "The Checkerboard Dynasty."
It's the vast collection of Shorewood runners and followers who stay connected by a circuitous e-mail network who have sent supportive messages and congratulatory notes to the various Greyhounds teams for more than a decade now.
That have participated and then watched with pride as Shorewood has won seven WIAA state Division 2 titles in the last 11 years, including a most improbable one Saturday at the Ridges Golf Course in Wisconsin Rapids.  
"You proved your worth and deserve those accolades. You all ran with love and max effort the day of October 30th. Now you're rewarded with fruits of your labor, celebrate now Hounds, you deserve to." - John Taylor, member of the 2009 state championship team, sent Oct. 31  
This collection includes current competitors like Joe Pendleton and Aidan Mazur, who have been true believers of the faith that was begun a decade ago by then-coach Tim Kenney and runners like Dennis Walsh and carried on by champions like last year's leaders Peter Drews and Ben Tyler.
Pendleton was the top returning runner this fall coming from the fourth position on the 2009 team. It was up to him and people like Mazur to make sure that the Shorewood ethos of "MAX effort" was carried on, that whether a state title was won or not again this year, that everyone could hold their heads high at the end of the season.
He made himself the team's top runner.
"I wasn't necessarily the leader per se, because I believe we have a whole team of leaders," Pendleton said. "It was a little weird. Last year, we were such an old team (in terms of experience). This year, it was so young. It was quite a different dynamic."
That's because the family knew it would have to welcome everyone, old and new, true believer or not, if success was going to continue. Take Peter Morris, a talented track runner, who became the team's second runner, but who didn't join the squad until after the first meet in late August.
"I went to the meet, watched them run and it really struck a chord," he said. "The next day I went to practice, ran and talked a little with Coach Dom (Dominic Newman) and I realized that I needed to be a part of this."
  "Congrats boys. You stepped it up on a day when a lot of other teams didn't. You found something inside of you that led you to keep fighting for every place." - Nat Froiland, Class of 2006, Oct. 31
  And Newman himself knew that he would need every supportive e-mail, every good wish from the extended family, if something good was going to happen Saturday, because there was no clear cut favorite in Division 2 this season. It was going to be a matter of heart and who wanted it more. He knew every little cyber-message sent to his team was going to have an impact on this year's state race.
"I've been trying to wrap my head around this legacy thing for a few years now," Newman said, "and in my mind, it's like playing baseball and having the home-field advantage. It's like the eighth man on a cross country team or the strong fan base at a football game that serves as a twelfth man.
"It's that home-field advantage of everyone sharing and telling their stories. The current guys don't know a lot of them, but they know these stories and what they stand for."
And as this group gathered together in the finish chute on that bright, sunny Saturday morning after the race in Rapids, they wondered what kind of ending their tale would have. They had a good feeling about their race, but no one knew if the team was first or sixth (just 26 points separated the first six teams).
"The scores took forever to come up," Newman said, "and what was worse, they were coming in reverse order. Then we saw that we were on top … ."
"It was happiness," Pendleton said. "An explosion of happiness."
That in some ways had already been achieved because the basic family goal was met.  
"And standing in the finish chute, oblivious to the actual results that had not been finished yet, we were already happy because we knew we had won, we had given max effort and ran for each other, and really that was all that mattered." - Mazur, sixth runner on the 2010 team, Oct. 31  
For Newman, he was now put in the place of being the proud parent of an overachieving and large brood of children.
Last year's team was a golden child, a talented team that did everything it was supposed to with grace and power. This year's team was the group that cut the lawn, lifted the weights, looked in the mirror time and again to see if it matched up and found that it belonged.
"My wife asked me which one means more," Newman said, "but I told her that all the paths are different, just that the goal is the same.
"I like the saying that goes: 'People say good luck to me. I just say be ready when the opportunity comes.'
"This team was."
And so will have a fine story to tell when the family gathers again.
Greyhounds repeat as state champs
TEAM SCORES (top 10 of 16): Shorewood 146, Dodgeville/Mineral Point 154, Port Washington 155, Ashland 156, Monroe 169, Pewaukee 172, Viroqua 181, Wisconsin Lutheran 182, La Crosse Aquinas 191 and Little Chute 231
SHOREWOOD FINISHERS: Pendleton, 11th in the team standings, (20th overall out of 148) 17:00; Morris, 18th, (33rd) 17:17; John Papke, 22nd, (42nd) 17:24; Jacob Goldberg, 47th, (76th) 17:43; Gavin Schroeder, 48th, (77th) 17:44; Mazur, 65th, (100th) 18:07; and Keith Dodd, 68th, (103rd) 18:08.
SHOREWOOD TITLES: 2000, 2003, 2004, 2005, 2006, 2009. Second in 2007.
Saturday, October 30
Boys Repeat as D2 State Cross Country Champs!!
The boys were able to repeat as Wisconsin Division 2 Cross Country State Champions in what looks like an extremely competitive meet. Shorewood won with 146 points, followed by Dodgeville/Mineral Point with 154, Port Washington with 155, Ashland with 156, Monroe with 169 and Pewaukee with 172.
More details to follow as they become available.
Here is the link to Brian Schermer's post race pictures:
http://www.flickr.com/photos/badger_penn/sets/72157625281800186/
Here is the link to Mr Drews' pictures from state:
http://picasaweb.google.com/lh/sredir?uname=david.drews53&target=ALBUM&id=5534399708859601601&authkey=Gv1sRgCMag5cWdp_voCw&feat=email
Big thanks to Mr Schermer & Mr Drews!!
Wednesday, November 3
Congratulations Dom on your 5th State Title!
Coach Newman has found himself with 5 big State trophies, and 1 medium State trophy, in his first 7 seasons as a head coach.
You are the greatest legacy this program will ever have.
-"Coach" David
Saturday, October 23
Boys Heading to State, Girls Follow Suit!!!
The boys took first in the Port Washington Sectional with three runners placing in the top ten as Joe Pendleton took 2nd, Peter Morris took 5th and Aidan Mazur took 9th. Gavin Schroeder and John Papke were next in 12th and 15th, respectively, followed by Jacob Goldberg in 17th and Keith Dodd in 22nd.
The boys edged Port Washington by a margin of 43 to 69.
Not to be outdone, the girls followed up with a second place finish in the sectional, so both the boys and girls move on.
NOW ON TO STATE!!!
Saturday, October 16
Alumni Sighting - SHS XC Kids Travel to Oshkosh
Dom and a couple of parents caravaned up to Oshkosh to root on a couple of alumni - Chloe Staub and Ben Tyler. The meet included six of the top 10 DIII teams and represented over 550 runners for the boys. Grinnell came in 14th overall, Ben representing their six runner, placing 151st with a PR time of 26:23.95. Chloe, running for Illinois Wesleyan came in 205st place out of a field of over 500 women with a PR time of 24:32.64.
Friday, October 15
Varsity Takes 2nd at Conference & Looks Forward to Sectionals, JV Takes 1st
The Varsity Squad had mixed results tonight as the team finished second to Pewaukee at the Woodland Conference Meet. Joe Pendleton won the race with a PR time of 16:25, followed by Peter Morris in 7th with a 17:04, John Papke in 13th with a 17:36, Gavin Schroeder in 14th with 17:37 and Jacob Goldberg in 19th place with a time of 17:42. Finishing out the results were Keith Dodd in 24th with a 17:49, Aidan Mazur in 36th with a 18:02 and Tom Treacy in 37th with an 18:08.
The JV Squad has been stellar all season and wrapped up their season in a similar fashion as they took the conference meet for the 2nd year in a row. Oliver Heywood won the race with a time of 18:06, followed by Michael Dellutri in 2nd with a PR of 18:07, Charles Stahl in 3rd with a PR of 18:09, Jack Mauer in 5th with a 18:28 and John Traudt in 12th with a 18:53. Finishing out the results were Dominic Triliegi equaling a PR of 18:56, Dan Vrobel with a PR of 19:02, Jacob Schermer in 19:09, Spencer Heywood in 19:43, Zac Clingaman in with a PR of 20:15, Devin Howling in 20:45, and Connor Erickson in 23:32.
Saturday, October 9
Boys Varsity Wins Shorewood Invite, JV Follows With a Slam!
The Varsity Boys were led by Peter Morris (with a PR) with a 2nd Place finish, followed by a trio of seniors running their final race at Kern, Joe Pendleton in 5th, Aidan Mazur in 7th, and Gavin Schroeder in 9th (with a PR). Rounding out the Varsity was John Papke in 13th, Jacob Goldberg in 16th, Keith Dodd in 24th and Oliver Heywood in 27th.
The JV Squad was led by Tom Treacy in first, followed by Charles Stahl in 2nd (with a PR), Michael Dellutri in 3rd (with a PR), Jack Mauer in 4th and John Traudt in fifth to complete the slam. Rounding out this great effort by JV was Jacob Schermer in 7th, Dominic Triliegi in 9th, Dan Vrobel in 16th, Spencer Heywood in 17th (with a PR), Devin Howling in 27th, Story Sandy in 36th, Connor Erickson in 81st (with a PR) and Adam Medley in 103rd.
ON TO CONFERENCE!!
Here again is the link to Brian Schermer's pictures, including those from the Shorewood Invite:
http://www.flickr.com/photos/badger_penn/sets/72157625129678720/
Despite an off-day by top runner Joe Pendleton, The Greyhounds cross country team was able to win the Shorewood Invitational on Saturday at Kern Park. Peter Morris was able to step up and help lead the Greyhounds to a first place finish while finishing second overall in a time of 16:37.69! The Greyhounds placed four of its runners in the top 10 and 6 in the top 20! Kenosha St. Joseph was was just 10 points behind to take a close second place.

1. 36 Shorewood ( 17:06 1:25:28)
====================================
1 2 Peter Morris JR 16:38
2 5 Joseph Pendleton SR 16:58
3 7 Aidan Mazur SR 17:09
4 9 Gavin Schroeder SR 17:15
5 13 John Papke JR 17:28
6 ( 16) Jacob Goldberg FR 17:45
7 ( 24) Keith Dodd JR 17:57
8 ( 27) Oliver Heywood SR 18:05

The Greyhounds JV runners out ran the competition and SLAMMED the meet with 5 runners taking the top 5 spots and 7 runners taking the top 10 spots. The Junior Greyhounds was lead by sophomore Tom Treacy who lead from start to finish in a time of 17:53.99. Tom earned a spot back on the varsity TEAM that will compete on Friday at Pewaukee HS for the Woodlands Conference Championships. PR perfromaces where had by Charlie Stahl, Michael Dullutri, Spencer Heywood and Connor Erickson!


1. 15 Shorewood ( 18:18 1:31:30)
====================================
1 1 Thomas Treacy SO 17:54
2 2 Charlie Stahl FR 18:15
3 3 Michael Dellutri SO 18:24
4 4 Jack Mauer FR 18:27
5 5 John Traudt SO 18:30
6 ( 7) Jacob Schermer SO 18:55
7 ( 8) Dominic Triliegi SO 18:58

Dan Vrobel (16) 19:24
Spencer Heywood (17) 19:30
Devin Holling (27) 20:04
Story Sandy (36) 20:36
Connor Erickson (81) 23:21
Collin Brusnahan (90) 23:55
Adam Medley (103) 32:54

Thank you parents for helping with the meet set up, take down and the concessions! A BIG Thanks goes out to Alterra for the Coffee Donation! It was also great to see so many alum's at the meet! Thanks for attending!


Saturday, October 2
Boys Varsity Wins DII/III Competition at Wisconsin Addidas!
The Boys Varsity took a step forward today and won the DII/III competition at the Wisconsin Adidas meet today. They took 6th overall in a very competitive 30 team meet!
Joe Pendleton continued his excellent season with a DII/III place of 3rd (22nd overall) in a time of 16:29. Joe was followed by Peter Morris in 8th place with a time of 16:51 (a PR), Aidan Mazur in 11th with a time of 17:05, John Papke looked strong today in shaking off his injury in taking 21st place with a season best time of 17:22, and Gavin Schroeder in 23rd place with a PR time of 17:27.
Jacob Goldberg broke through today with a huge PR time of 17:38, followed by Keith Dodd in 17:53, Oliver Heywood in 17:56, Tom Treacy in 17:59 and Jack Mauer in 18:08 (a PR).
Here again is the link to Michael Dellutri's pictures, including the Adidas Meet. Thanks Michael!
http://www.flickr.com/photos/michaeldellutri
Saturday, September 25
Boys Varsity Takes 3rd at Muskego, JV Takes Second- 9/25/10
The Boys Varsity took third today at a very competitive Muskego Invitation. Many D1 teams that will be in the mix for running at state were at the meet. Joe Pendleton led the way in the ninth place with a PR of 16:26, followed in 15th by Peter Morris with a huge of PR 16:54, Aidan Mazur in 28th place with 17:17, Keith Dodd in 38th with a time of 17:31, Gavin Schroeder in 41st with a PR of 17:33, John Papke in 44th place in 17:40, Tom Treacy in 51st place with a PR of 17:50 and Oliver Heywood in 65th place in 18:18.
The JV squad had an impressive outing with many PR's set! Jake Goldberg took second with a huge PR of 18:00, Jack Mauer took 8th with a huge PR of 18:20, John Traudt took 10th with yet another huge PR of 18:24, Michael Dellutri took 12th with 18:28, Charles Stahl finished 23rd with a PR of 18:44, Jacob Schermer took 25th with a PR of 18:47 and Dominic Triliegi took 31st with a PR of 18:56. Story Sandy toughed it out an injury with a 18:58, Dan Vrobel finished in 19:29, Devin Holling finished in 19:55 (tied a PR), Zac Clingaman finished in 20:24 (a PR), Spencer Heywood finished in 21:23, Connor Erickson finished in 24:39 (a PR) and Adam Medley finished in 31:24 (a PR).
Keep up the great work!
The Shorewood boys cross country team found the course at the Lake Denoon to be to their liking. The Greyhounds boys again put together a strong showing and were rewarded with a second place finish for the JV and 3rd place finish for the varsity at the Muskego invitational on Saturday.
Shorewood JV finished with a team time of 1:32:01(18:25 average) finishing behind Muskego by 7 points. Muskego won the boys competition with a team time of 1:31:38 (18:20 average)
Leading the Shorewood JV boys was Jacob Goldberg who was second in the boys race with a time of 18:01. Not far behind him was the triple threat of Jack Mauer 18:21, John Traudt 18:25 and Michael Dellutri 18:29. Rounding out Shorewoods top seven was Charlie Stahl 18:45, Jacob "Sushi" Schermer 18:48 and Dominic Trillegi 18:57. Story Sandy was our 8th runner under 19:00 minutes with a time of 18:58. Dan Vrobel ran 19:29, Devin Holling 19:55, Zac Clingaman 20:24, Spencer Heywood, 21:23, Connor Erickson 24:39 and Adam Medley 31:24.
The Shorewood Boys Varsity ran strong to place 3rd in the Muskego Invite averaging 1:25:46 (17:10). The Greyhounds was lead by Senior Joesph Pendleton with a time of 16:26. This is a new PR for Joe. Another stellar performance was had by Peter Morris who now is Shorewoods 3rd runner this season to break 17 minutes 16:54. The more runners you get near that magical 17:00 minute mark the stronger your team is. Could we have 4 or 5 this year? Aidan Mazur was next in a time of 17:17, Keith Dodd 17:31, Gavin Schroeder 17:34, John Papke 17:40, Thomas Treacy 17:50 and Oliver Heywood 18:18.
We had 14 season PR's at this meet! The top ten runners will gear up for the Adidas Cross Country Invitational to be held in Madison this weekend. The rest of the team will take a much needed break and gear up for our home Invitational in 2 weeks.

Jon Bassen & Ben Tyler at Griak
Sunday, September 26
John Bassen & Ben Tyler Run Together at Griak
Alums Jon Bassen ('07) and Ben Tyler ('10) returned to their old running grounds at the Griak Invite to once again run with each other. Reminiscence of when John was a senior at SHS and Ben was a frosh, you would see the two of them run stride for stride together as John took Ben under his wing. This year is no different. John as a senior at Macalester and Ben a frosh at Grinnell, the two of them are running similar times. They were able run together during a portion of the very competitive, crowded and muddy race. Ben was the fifth man for Grinnell, finishing 49 overall with a PR time of 27:06 and John was the number one man for Mac, coming in 101st out of a field of over 300 with a time of 28:03 (Jon was under the weather).
Ben was particularly excited to have such a strong fan club with the SHS XC girls team cheering him on during the race - and received a fair share of flak from teammates.
Tuesday, September 28
TEAM PHOTO's
You all can see the photos taken at various meets by my Michaels Mother at this web address:
http://www.flickr.com/photos/michaeldellutri
On the side bar of the web page there will be "sets" of pictures, simply click on the set entitled "CC Muskego 2010" to view the set of pics taken there.
You can also just scroll through the main pages, but i find that harder to do...
Thursday, September 16
Boys Sweep Badger Invite!
Yes, both the boys varsity and JV placed first at the ten team Badger Invite in Lake Geneva this evening! Congratulations to the entire team for a great effort tonight! Times were for the most part slower than the blazing fast Arrowhead meet as the boys twisted and turned their way through the trails that made up almost all of the course.
For each of these races, us spectators waiting anxiously to see who was going emerge from the trails first. For the varisity, it was Joe Pendleton emerging first and winning the race with a time in the 16:40's! He was followed by teammates Aidan Mazur, John Papke, Peter Morris and Gavin Schroeder, who all finished in the top ten of the race. Tom Treacy and Oliver Heywood were 22nd and 26th respectively to round out this solid effort.
For JV, it was Jack Mauer, John Traudt and Micheal Dellutri finishing in the top five and earning medals for their efforts! I believe Jacob Schermer, Dan Vrobel and Charlie Stahl came in closely grouped together to help the JV team win the meet. Spencer Heywood, Devin Holling, Zac Clingaman, Collin Brusnahan, Connor Erickson, Anton Sorenson and Adam Medley ran with solid efforts as well.
Not sure if the race results will be posted online but certainly someone will post a link if they are available.
Congrats on your winning efforts tonight!
The Greyhounds showed a glimpse of how special the season could be after winning their first meet of the season in Lake Geneva at the Badger Invitational. The Greyhounds had 5 runners take the top 10 places led by senior Joseph Pendleton who won his first HS race ever with a time of 16:44. Followed by a Strong pack of Hounds of Aidan Mazur, John Papke, Peter Morris and Gavin Schroeder. To round out the top 7, sophomore Thomas Treacy and senior Oliver Heywood finished strong after a hard week of training. This is a great confidence boost for the team going into the middle of the season. The boys will need to continue to RUNSTRONG and RUN-AS-ONE pack to be able to achieve their season and TEAM goals.
After being inspired by the Varsity runners the JV athletes also

RAN-AS-ONE
at the Badger
Invitational
. The JV runners won their first
invitational
of the season while holding out their top 3 runners do to injuries and prior commitments.
They Greyhounds placed 6 runners in the top 10 led by Jack

Mauer

18:43 for Second place, John

Traudt

18:44, Michael

Dellutri

19:00, Jacob

Schermer

,19:33, Dan

Vrobel19:38

and 9th place Charles

Stahl19:39

. Spencer Heywood 20:05, Devin

Holling

20:53,

Zac

Clingaman

21:16, Collin

Brusnahan

23:31, Connor

Erickson 24:56, Anton Sorenson 24:57 and Adam Medley 33:37.
Monday, September 20
Muskego Invite
Muskego Warrior Cross Country Invitational 2010
When: Saturday, September 25th 2010
Where: Lake Denoon Middle School – w216s10586 Crowbar Drive Muskego, WI 53150
From I-43, exit on Racine Ave and go south (FYI - this may still be under construction)
At Kelsey Road turn right (this is the roundabout intersection after the High School)
At Crowbar Road Turn left (stop sign intersection)
Turn left into the school's parking lot
* Please notify parents/fans that are driving to the meet to follow the directions of our parking lot workers. There will be parking in the back, paved playground area. So please do not set up your team camp in that paved area.
Distance: Girls races will be 4000m; Boys races will be 5000m
Schedule: Meet at the HS by 7:45am Bus will leave by 8:00 am
9:10am Coaches meeting by the finish line
10:00am JV Boys Race
10:40am JV Girls Race
11:20am Varsity Boys Race (8 varsity runners max)
12:00pm Varsity Girls Race (8 varsity runners max)
12:45pm Awards (we will start these earlier if possible)
Teams and Box Assignments: 1) Shorewood (boys) 1) Homestead (girls) 2) Brookfield Central
3) Greendale 4) Cudahy 5) Franklin 6) Bradford 7) Waterford 8) Racine Horlick 9) Oak Creek
10) Brookfield Academy 11) Muskego 12) Germantown (boys) 12) West Allis Hale (girls) 13) Badger 14) Racine Park 15) Kenosha Tremper 16) West Allis Central (girls)
Concessions and T-shirts: There will be a concessions area selling various food and drink items, as well as T-shirts (tie dyed short sleeve $15; regular long sleeve $15)
Awards: JV top finisher in both the boys and girls race will receive a medal.
Top 20 in each varsity race will receive medals, and the top two teams in each varsity race will receive a plaque.
Course Records:
Boys Varsity – Tim Trapp Germantown 16:00 2009
Girls Varsity – Lindsay Fons Franklin 14:43 2009
Sunday, September 12
John Taylor & Ben Tyler at Grinnell's Home Meet
John Taylor and Ben Tyler's first college meet was at Grinnell's home meet, the Annual Les Duke Invite. Thanks to a team with a lot of depth (3 in top ten and eight in top 30) Grinnell won the meet, inching out Division II Truman. St. Thomas' lead runner dominated the meet, coming in first with the team finishing in 4th overall. Running their first 8K, Ben had a PR of 27:14 for 23rd place (7th man for Grinnell) and John Taylor had a PR of 30:37, placing 130th overall out of 204 runners. Fun to watch our kids run their first college race together!
Click on the headline to link to the Purple Roos blog if you are interested in results, pictures, coach's comments, etc.
Mr. Tyler
Thursday, September 9
Here's a link to the results of the Arrowhead meet- 9/9/10
Great job guys! Both the varsity and junior varsity continue to show an incredible amount of potential. Keep up the hard work.
Photo's from Brian Schermer: http://www.flickr.com/photos/badger_penn/sets/72157624819479425/
Sunday, September 12
Arrowhead Thoughts from Coach Hanson
TEAM WOW!
Many Greyhounds had an excellent night. The conditions were prime and the course was blazing fast.
You knew this was an opportunity to see what you had and take the chance to really test your MAX EFFORT.
The coaches and parents are very proud of the TEAM's performance.
Though not everyone had a PR or "great" race, each race is a TEAM effort. Some of you may feel disappointed by your performance, but many of you contributed to your TEAM's overall performance at this meet. Not everyone will have a great race or PR at each meet, but the combined MAX EFFORT of each individual will lift the TEAM to its MAX EFFORT and potential for that specific race. Many of you know that it doesn't take a PR from everyone at a meet to win, but IT DOES TAKE COLLECTIVE MAX EFFORT. Your TEAM's potential is obviously much greater when the sum of the TEAM's "little things" from each individual can be maximized. The collective sum of the TEAM's "little things" will produce the maximum potential and lead to your success. Performance executed to the TEAM's collective potential will produce success.
You as a TEAM truely showed you have depth and great potential. This meet was a very exciting and memorable with many PRs, but this is still "race training" in my mind. Your TEAM GOALs are still weeks away. YOU MUST STAY HEALTHY TO ACHIEVE YOUR GOALS. If you are hurt or sick, do what you can to recovery quickly and safely. Please share how you are feeling with your coaches - we can't mind read. We'd rather that you talk with us about pain or sickness now so we can help you and have time to still build you up with the limited time left in the season. To risk or push through an injury now (for a race with little meaning for the TEAM) could end your season or severely impact your TEAM's potential. Do the "little things" and make a personal checklist as Aidan suggested. Your dedication to your checklist, routines and rituals will make you better and help you learn about yourself. Learn now and add all you can to the "little things" for your TEAM's collective goal. Think of your "little things" as deposits to your TEAM's training account. A collaborative, collective account that you will check in - in a few short weeks. Your TEAM account will be greater with EVERYONE's EFFORTs NOW and daily dedication.
Let's see you use this time now to really show what you have as a TEAM. It's time to get smart and learn to optimize your potential. This is the challenge of any great team. Hard smart work can surpass undertrained talent. Talent plus dedicated training, disciplined focus, health and positive attitudes will take you to unforeseen heights.
Believe that this is your time to shine. Happy, but not satisfied. Your TEAM goals still stand and can be reached with your commitment to those goals EVERY DAY. Believe in yourselves, teammates and TEAM. Do NOT let other voices, negative thoughts/attitudes cloud your focus. Listen to yourself saying your goals and visualize that they will come true. Believe that you can achieve your TEAM goals with your focus and determination. Visualize your success and your TEAM goals.
RUN-AS-ONE
Chris
Other post race thoughts...
I was expecting and happy to see:
Story and Michael working up into the front of the JV pack,
JV runners in groups of 2-3 or within reach to help push/pull one another - NICE TEAM WORK!
Varsity runners 3-6 (Peter, John P, Keith, and Gavin) in a pack at mile 2,
Oliver and Tom push/pulling one another to PRs, and
Did I mention the PRs? !!!
VERY EXCITING GUYS!
Give rest, nutrition and hydration the same discipline you give to running. These combined = your training and collective "little things". Rest, nutrition, hydration and running add up EVERY DAY. Many of you already know that managing your school work with time management and preparation is also essential. Be prepared and show initiative in the classroom. Be a leader and ask for assignments early (now) in preparation for the next day you will miss class. Then submit your assignments before you miss class. Talk to your teachers now.
Do not be fooled by the TEAMS place at the Arrowhead Invite! They had a great meet and competed well against some highly rated D1 schools. Arrowhead #4,King #3 and soon to be Ranked Janesville Craig.
Arrowhead Invite
September 9th, 2010
Mike Mulrooney Cross Country Course
5. 151 Shorewood ( 17:06 1:25:28)
===================================
1 10 Joseph Pendleton 16:29
2 22 Aidan Mazur 16:49
3 37 John Papke 17:17
4 38 Peter Morris 17:17
5 44 Keith Dodd 17:36
6 ( 55) Gavin Schroeder 17:50
7 ( 60) Thomas Treacy 17:55
Place 1 Mile 2 Mile 2 Split Last1.1 Time Pace
10 10 Joseph Pendleton SR Shorewood 5:15 10:30 5:16 5:59 16:28.70 5:19
22 22 Aidan Mazur SR Shorewood 5:16 10:43 5:28 6:07 16:48.70 5:25
37 37 John Papke JR Shorewood 5:27 11:07 5:40 6:11 17:16.60 5:34
38 38 Peter Morris JR Shorewood 5:27 11:05 5:39 6:13 17:17.00 5:34
44 44 Keith Dodd JR Shorewood 5:27 11:09 5:42 6:28 17:35.80 5:40
56 55 Gavin Schroeder SR Shorewood 5:19 11:09 5:51 6:41 17:49.30 5:45
62 60 Thomas Treacy SO Shorewood 1:06:02 1:11:47 5:46 6:32 17:54.80 5:46
63 Oliver Heywood SR Shorewood 5:38 11:28 5:50 6:29 17:56.60 5:47
Arrowhead Invite
September 9th, 2010
Mike Mulrooney Cross Country Course
4. 102 Shorewood ( 18:51 1:34:11)
===================================
1 17 Michael Dellutri 18:44
2 19 Jacob Goldberg 18:46
3 20 Jack Mauer 18:51
4 22 John Traudt 18:52
5 24 Dominic Triliegi 18:58
6 ( 37) Jacob Schermer 19:18
7 ( 41) Dan Vrobel 19:20
Arrowhead Invite
September 9th, 2010
Mike Mulrooney Cross Country Course
Arrowhead High School, Hartland, WI
Boys Junior Varsity
Place 1 Mile 2 Mile 2 Split Last1.1 Time Pace
===== ==== =================== ==== ================= ======= ======= ======= ======= ======== =====
18 17 Michael Dellutri SO Shorewood 5:51 11:47 5:56 6:56 18:43.10 6:02
21 19 Jacob Goldberg FR Shorewood 5:54 11:59 6:06 6:46 18:45.50 6:03
25 20 Jack Mauer FR Shorewood 5:55 12:08 6:13 6:43 18:50.10 6:04
27 22 John Traudt SO Shorewood 6:02 12:10 6:08 6:42 18:51.90 6:05
29 24 Dominic Triliegi SO Shorewood 5:55 12:02 6:07 6:56 18:57.50 6:07
45 37 Jacob Schermer SO Shorewood 6:02 12:15 6:13 7:03 19:17.70 6:13
50 41 Dan Vrobel SO Shorewood 6:02 12:21 6:20 6:59 19:19.90 6:14
56 Charlie Stahl FR Shorewood 6:03 12:21 6:19 7:12 19:32.90 6:18
63 Spencer Heywood SO Shorewood 6:03 12:20 6:18 7:18 19:38.10 6:20
107 Devin Holling SR Shorewood 6:15 13:02 6:47 7:35 20:36.90 6:39
138 Zac Clingaman SR Shorewood 6:18 13:17 7:00 8:29 21:45.50 7:01
186 Tim Brusnahan SR Shorewood 6:58 15:04 8:06 8:56 23:59.70 7:44
188 Anton Sorenson FR Shorewood 7:33 15:36 8:03 8:40 24:16.00 7:49
196 Connor Erickson FR Shorewood 7:43 16:21 8:39 9:19 25:39.70 8:16
206 John O'Brien SR Shorewood 8:25 17:57 9:33 10:10 28:06.70 9:03
207 Adam Medley SR Shorewood 10:30 23:04 12:35 14:55 37:59.30 12:14
208 Story Sandy SO Shorewood 5:51 11:44 5:53

Saturday, September 4
Link to 2010 Rebel Invite Results- 9/4/10
Here is a link to the results from the 2010 Rebel Invite!
Photo's from Brian Schermer: http://www.flickr.com/photos/badger_penn/
Photo's Jennifer Mauer: http://picasaweb.google.com/106277767527637260549/RebelInvite02?authkey=Gv1sRgCKfBrea40qH3mQE&feat=email#
Monday, September 6
Arrorhead Invite
The following is information for the 25th annual Arrowhead Cross Country Invitational
on Thursday, Sept. 9.
1. Time Schedule:
2:15 Bus Leaves
4:15 Boys Freshman 4,000 M. Run
4:40 Girls JV 4,000 M. Run
5:10 Boys JV 5,000 M. Run
5:40 Girls Varsity 4,000 M. Run
6:10 Boys Varsity 5,000 M. Run
2. Participating schools are: Arrowhead, Cedarburg, DSHA (girls), Fort Atkinson, Germantown(boys), Janesville Craig, Kettle Moraine (girls), Milwaukee Hamilton, Milwaukee Rufus King, Milwaukee Vincent Co-op, Nicolet (girls), Oconomowoc, Shorewood, Watertown, Waukesha North (girls), Waukesha South (girls), Waukesha West, West Bend West
3. The start and finish lines are northwest of the north campus building. There is limited bus parking in the new lot near the start or you should park in the lot east of the north campus building. The team tent area will be south of the roped finish line area.
6. Awards will include 1st and 2nd place trophies for the varsity and 1st place trophies for JV &
Frosh races. The individual awards will be:
Varsity - medals 1-25
JV – medals 1-10
Freshman – medals 1-10
7. You may run 8 runners in the varsity race while the JV and Frosh races are unlimited entries.
8. Meet T-shirts will be sold for $10. Please let your teams know about this.
9. Race maps can be found at this website: http://runrazor.webs.com/arrowheadcoursemaps.htm
Sunday, September 5
Early NCAA DIII Rankings
The NCAA DIII Early Season Rankings are out. Two of our own or on ranked teams. See rankings below. I would also like to extend or well wishes to Brendan Vorpahl who will be running for Beloit College, John Taylor who will be running for the University of St. Thomas and Nat Froiland who will be joining his former Teammate Jon Bassen at Macalester College. Not to forget Dennis Walsh who is running for Princeton.
WashU
North Central
Allegheny
Haverford
NYU
SUNY Geneso
UW-Platteville
Calvin
Brandeis
UW-La Crosse
Carnagie Mellon
St. Lawrence
Williams (Peter Drews)
Claremont-Mudd-Scripps
UW-Whitewater
St. Olaf
Willamette
UW-Stevens Point
Grinnell (Ben Tyler)
Elizabethtown
Thursday, August 26
2010 Early Bird Results
Here is a link to the results of the 2010 Early Bird. It was great to see friends, fans, families and alumni out to support the team!!
The 3rd annual Shorewood EarlyBird Invite was a great way to get the engines warmed up and for coaches to get a good sense of how the runners are going to develop throughout the course of the season. This meet is unique as both the varsity and junior varsity ran together. Six teams participated in the boys meet, with Marquette taking control and placing 7 runners in the top 10. Shorewood Joe Pendleton fought hard to keep the Marquette harriers from scoring a perfect score. Which is a score of 15, it is often called 'SLAMMING" a meet with the first 5 places. The Greyhounds placed 2nd overall while holding off their Conference rival Whitnall who placed third. The varsity TEAM will now consist of the top 8 runners.

To those who worked the meet I give a BIG THANKS!! It was also GREAT to see many alums, teachers and administrators at the meet! Thanks for coming!

Up coming meet will be held on Saturday, September 4th at UW-Parkside. Map on TEAM page.

Many Greyhounds had personal records (PR's) which will be in bold print:
2. 55 Shorewood ( 17:38 1:28:08)
===================================
1 3 Joseph Pendleton 16:53
2 9 Keith Dodd 17:29
3 11 Gavin Schroeder 17:38
4 14 Aidan Mazur 17:46
5 18 John Papke 18:22
6 ( 22) Thomas Treacy 18:27
7 ( 26) Oliver Heywood 18:42

Several of the freshman and sophomores looked strong given the season just got underway. There's some potential talent with this group of young harriers and I'm excited to see how the season will pan out for them.

33 Story Sandy SO Shorewood 18:47.25 6:03
34 Jack Mauer FR Shorewood 18:50.59 6:04
35 Jacob Goldberg FR Shorewood 19:03.84 6:09
38 Dominic Triliegi SO Shorewood 19:09.17 6:10
40 Jacob Schermer SO Shorewood 19:32.92 6:18
41 John Traudt SO Shorewood 19:33.58 6:18
48 Charlie Stahl FR Shorewood 20:23.91 6:34
49 Dan Vrobel SO Shorewood 20:29.35 6:36
54 Spencer Heywood SO Shorewood 20:52.18 6:44
82 Connor Erickson FR Shorewood 28:45.07 9:16
84 Adam Medley SR Shorewood 31:41.20 10:12
| | | | |
| --- | --- | --- | --- |
| | 2010 time | 2009 time | Difference |
| Joeseph Pendleton | 16:53.00 | 17:23.6 | -30.6 |
| Keith Dodd | 17:29.00 | 18:44.0 | -75 |
| Gavin Schroeder | 17:38.00 | 18:25.3 | -47.3 |
| Aidan Mazur | 17:46.00 | 18:11.0 | -25 |
| John Papke | 18:22.00 | 17:50.6 | 31.4 |
| Thomas Treacy | 18:27.00 | 21:30.9 | -183.9 |
| Oliver Heywood | 18:42.00 | 19:05.8 | -23.8 |
| Story Sandy | 18:47.00 | 21:30.7 | -163.7 |
| Jack Mauer | 18:50.00 | X | X |
| Jacob Goldberg | 19:03.00 | X | X |
| Dominic Triliegi | 19:09.00 | X | X |
| Jacob Schermer | 19:32.00 | 21:33.3 | -121.3 |
| John Traudt | 19:33.00 | X | X |
| Charlie Stahl | 20:23.00 | X | X |
| Dan Vrobel | 20:29.00 | 21:30.00 | -61 |
| Spencer Heywood | 20:52.00 | 23:58.7 | -186.7 |
| Connor Erickson | 28:45:00 | X | X |
| Adam Medley | 31:41.00 | X | X |
Monday, August 23
Shorewood early Bird Invitational@Kern Park
Race Schedule:
2:45pm Boys report to Kern
4:00pm Girls
4:45pm Boys

TEAMS:
Deforest (B/G), Divine Savior/Holy Angels (G), Marquette (B), Muskego (G), Shorewood (B/G), USM (B/G), Wauwatosa West (B/G) and Whitnal (B/G)
Running a Cross Country meet will require a great deal of HELP before, during and after the meet. We will need several volunteers to help with the set up and take down of the meet.
On Thursday, August 26
th
the parent helpers should meet at the pavilion by 3:00pm at Kern Park.
If you are able to help stake the start/finish area, I will be at the course by 2:00pm.
I do not expect you to be there at that time. But if you can offer some help at 3:00 please let us know. Thanks for your help! (I will update when I have all the names) We have a projected number of 7 teams this year.
I'm sure that this will be another successful year and we can hopefully receive our Bid to host the Sectional meet in the next few years.
The Senior boys and I have already lined the course and cleared down branches. Mr. Haury and I will set up the finish chute on Wednesday. Since the first meet is small we may not need to rope the course off. We doubled lined it for now.
Tuesday, August 24
JS Online Area Rankings
1. Arrowhead: Junior Russell Sandvold leads a team that returns five runners from last year's seventh-place Division 1 squad.
 2. Milwaukee Marquette: Seniors Tim Zellmer, Alex Baumgartner and Jack Porritt all placed in the top 80 at state.
 3. .Brookfield Central: The defending state champs are led by senior Sam Poser but must replace the top three runners from last year.
 4. Pewaukee: Seniors Josh Martin and Chris Czech are two of the top returners in Division 2.
 5. Milwaukee King: The Generals return their top 10 runners, including senior state qualifiers Sebastian Van Oudenallen (11th) and Eric Anderson (29th).
 6. Kenosha Tremper: An outstanding junior class includes junior Zach Hansen, Daniel Ball, Kyle Nottingham and Mike Jaros. Tremper returns all but one runner from last year's state qualifier.
 7. Waterford: Aaron Derner is back as are five other runners with state experience.
 8. Shorewood: Seniors Joe Pendleton and Aidan Mazur lead a solid team.
 9. Germantown: The Warhawks, who placed 17th at the state meet, return Timothy Trapp and three other contributors.
10. Waukesha North: Five runners return from North's state qualifying team.
Dan Murphy
Thursday, August 19
3200 TT
Congrats to the harriers that completed their first hard effort of the season! It is not easy to jump in and run a hard 2 mile effort just 2 days into practice. The reason for the hard effort is for the coaches to asses where the athletes are at. This way we can write workouts that are appropriate for them to do for the next couple of weeks.

If you did not hit your goal time or if you did not place where you thought you should, do not worry about it. There are many things that may have affected your performance. Just learn from it and try to perform better the next time.
Sheet1
| | A | B | C | D | E | F | G | H |
| --- | --- | --- | --- | --- | --- | --- | --- | --- |
| 1 | | Place | 2009 Name | 2009 TT | 2009 Best (5k) | Place | 2010 Name | 2010 TT |
| 2 | | 1 | Ben Tyler | 9:58 | 15:51.0 | 1 | Joe Pendleton | 10:39:00 |
| 3 | | 2 | Peter Drews | 10:25 | 15:47.0 | 2 | Gavin Schroeder | 10:59:00 |
| 4 | | 3 | Joe Pendleton | 10:49 | 16:52.0 | 3 | John Papke | 11:48:00 |
| 5 | | 4 | John Taylor | 11:31 | 16:40.0 | 4 | Oliver Heywood | 11:48:00 |
| 6 | | 5 | Gavin Schroeder | 11:33 | 17:45.0 | 5 | Aidan Mazur | 11:48:00 |
| 7 | | 6 | Brendan Vorpahl | 11:40 | 17:30.0 | 6 | Jake Goldberg | 11:52:00 |
| 8 | | 7 | John Papke | 11:47 | 17:11.0 | 7 | Jack Mauer | 12:02:00 |
| 9 | | 8 | Oliver Heywood | 12:11 | 18:24.0 | 8 | John Traudt | 12:06:00 |
| 10 | | 9 | Aidan Mazur | 12:18 | 16:53.0 | 9 | Tom Tracey | 12:06:00 |
| 11 | | 10 | Tom Tracey | 13:48 | 18:48.0 | 10 | Jacob Schermer | 12:15:00 |
| 12 | | 11 | David Stern | 14:05 | 18:51.0 | 11 | Charlie Stahl | 12:28:00 |
| 13 | | 12 | Nat Froiland | 14:31 | 19:07.0 | 12 | Dominic Triliegi | 12:31:00 |
| 14 | | 13 | Dan Vrobel | 14:45 | 19:15.0 | 13 | Story Sandy | 13:03 * |
| 15 | | 14 | Collin Brusnahan | 17:07 | 21:53.0 | 14 | Spencer Heywood | 14:27:00 |
| 16 | | 15 | Spencer Heywood | 17:34 | 21:15.0 | 15 | Seth | 16:46:00 |
| 17 | | 16 | Devin Holling | 18:18 | 19:56.0 | | | |
| 18 | | 17 | John Traudt | 18:21 | 20:56.0 | | | Not Timed: |
| 19 | | | | | | | | Devin Holling |
| 20 | | | 2009 1-5 AVG. | 10:40.0 | 2009 1-7 AVG. | 11:01.0 | | Michael Delutri |
| 21 | | | 2010 1-5 AVG. | 11:24.0 | 2010 1-7 AVG. | 11:33.0 | | Keith Dodd |
| 22 | | | | | | | | Zac Clingaman |
| 23 | | | 2009 1-5 Gap | 1:35 | 2009 1-7 Gap | 1:49 | | Adam |
| 24 | | | 2010 1-5 Gap | 1:09 | 2010 1-7 Gap | 1:23 | | Connor |
| 25 | | | | | | | | Ben P. |
| 26 | | | | | | | | Collin Brusnahan |
| 27 | | | | | | | | |
| 28 | | | | | | | | |
| 29 | | | | | | | | |
| 30 | | | | | | | | |
Wednesday, August 11
Parent Meeting
Dear Parents,
We are nearing the start of the Cross Country season and like most years there will be a changing of the guards! This year we are taking hit as we have lost 7 seniors, not only that we have also lost the leadership of their parents and the help that they have given to the Greyhound Program over 4 years. We have a TEAM quote "RUNASONE"!! The TEAM is not made up of only just the runners it is also the parents that contribute to the program in a variety of ways. They may include the pasta dinners, website maintenance, meet volunteers, cheering section, photographers, fund raising and writing race summaries. All of these things are what makes this TEAM special! If you have an interest or a specialty in any of these areas please let me know. SOON!!
We will also have a parent Meeting at Jill Eder's home on Tuesday August 17th. The meeting will start at 6:45pm. This meeting will only be for the parents not the athletes!
There will also be a Booster Club Meeting the day before on August 16th in the SHS library at 7:00PM.
Please make sure that you get in all of your paper work and fee's in. Please do not hand them in to me!! Mr. Haury has a mail box at the HS and at SIS.
Tuesday, August 3
Shorewood XC 2010 Underway - Want the Website?
Someone needs to volunteer or it will expire and go away for good on August 10th! Talk to Dom if you are interested in helping out. The cost is about $150.00 a year to renew.
Monday, November 16
Peter First Team All-State; Ben Second Team All-State; Dom All-State D2 Coach
Peter Drews made First Team All-State for his strong 2nd placing showing at the D2 State Meet. His performance broke the SHS XC course and meet record and is one of the all-time fastest eforts listed on the State's Honor Roll.
Ben Tyler repeated his Second Team All-State for his 10th place showing at the D2 State Meet.
Coach Dom was also selected as the D2 Coach of the Year thanks to his effort of getting his team to the top of the podium!
Congrats!
Handout:
All-State 2009
Monday, November 16
Checkout This Spreadsheet of Individual Results!
Nat compiled a listing of everyone's individual results for every meet...thanks Nat!
Handout:
2009 Individual Runners Times Per Meet
Tuesday, November 3
Shorewood Now Article
Link to article on Boys XC at state in Shorewood Now: http://www.shorewoodnow.com/sports/68958882.html
Sunday, November 1
Enough Said!
Chariots Of Fire
Thursday, November 5
Nice TV Clip on SHS XC
Link to a TimeWarner piece done on our kids:
http://www.youtube.com/watch?v=vAxNt7nAlH0
Monday, November 2
Message From Dom...Says it All! WOW!
Here is my take on State Meet:
I'm not sure where to begin? I guess that it all kind of started when the veteran runners started a conversation on why I always talk about previous teams and their legacy? Especially the 2000 Cross Country team (I was the assistant coach then). I would not say that they were annoyed as these are the runners that they wanted to emulate. It was more of a statement that this years team wanted to define their own legacy, yet they also wanted to earn this title for the ones before them. The TEAM wanted to end this decade the way it was started with the 2000 team. A chance to be on the Podium with a State Title! So we set out to write our TEAM philosophy, TEAM goals and then our Individual goals. As you can see we emphasize TEAM as we feel this is the most single important aspect of our program and then your individual goals will help you to reach your TEAM goal.

So with a lot of mileage logged over the summer with each other and with our Alumni who has been part of 6 state titles and a runners up trophy a plan was set in place. We had quit a few bumps a long the way, but we kept going back to our written goals. What we wanted to achieve as a TEAM? This was put to the test going into the final week of the season.

1st we lost our normal 6th runner John Papke to a knee injury.
2nd Aidan Mazur called a week before the state meet saying that he had flu like symptoms
3rd Ben Tyler called and said that he took a spill on his bike and bruised his hip and he had a hard time running
4th Brendan Vorpahl called on Sunday and said that he had the flu like symptoms.

We were not sure who was going to run and and how well we would finish? We had a TEAM meeting after everybody was healthy last Wednesday; after not seeing Brendan and Aidan since the Sectional meet. (Boy did that boost the TEAMS spirits!) We sat down and talked about if we needed to change our Season goals? And they said no!! They reminded me that I often said that it was better to "Aim High and miss, then to aim low and Hit". Right there, I knew that the guys Peter, Ben, Joe, Aidan, Brendan, Gavin and John were ready to but forth their MAX EFFORT for their TEAMMATES and for the Shorewood Harriers before them.

Saturday the guys woke up and our Motto should have been said: "these conditions are Great for me" or 'it is a Beautiful day to be a Greyhound". This sets the tone for how the guys will look at the weather conditions as it did not look like a perfect day to run. We travel to the Course and the guys are welcomed by Dennis Walsh who flew out from his Conference meet out in New York as he felt there was something Special with this TEAM. This is HUGE as Dennis has been a part of 4 state titles and he currently runs for Princeton University. With him was Nick Pierson who also has been a part of 3 State titles and my assistant Coach David Salmon who also knows what it is like to stand on the podium 3 times. Not to mention Tim Kenney our former coach who was the main force in jump starting the Shorewood Legacy! This meant a lot to the boys! Not to forget Matt Joynt our HS Principal and all of the parents, fans and future Shorewood harriers there to Cheer on the boys.

The Gun goes off and the Greyhounds charges forwards with the field making sure that they run the first mile smart, Peter and Ben sit comfortably in the second pack at the 1000 meter mark. John, Joe and the rest hits their 1000 meter mark being patient yet ready to pounce. I do not see the boys until the down hill after the mile, my buddy in the lead cart yells that the leaders goes by in 4:55ish. Ben and Peter are moving up and so are the rest of the guys. Here is where the boys begin to run with their hearts. I see the boys just before the 2 mile mark and Peter and Ben are working with each other. Peter encourages Ben to keep pressing with him for as long as he can knowing that Ben's hip is still bothering him. I believe that Ben encourages Peter to press on without him and that he will try his best. John and Joe are screaming past with a look of determination. Our goal is to pass as many Blue jersey's as possible! Different shades of blue seems to be the main color of our rival schools. Brendan, Gavin and Aidan finally pass by. I see them one more time past the 2 mile and it looks like we are in pretty good shape before we hit the "roller coaster" perhaps the most difficult portion of the course. At this point the TEAM motto is to run (with their manhood!!) Ok this is the clean version. Peter breaks the field, followed by the Catholic Memorial runner. Ben follows suit in about 8th place. I sprint to the last 400 meters of the course where they begin their gradual up hill battle to the finish.

Peter comes screaming past chasing the CM runner realizing that he may have a chance on the podium. Ben comes by in about 8th or 9th place holding on for dear life because of his hip. John and Joe with fire in their eyes realizing that they are having a GREAT race rush by. We have 4 runners a head of Nekoosa's 2nd runner. It looks like we may have it. We wait... and wait... and wait... there guys Nekoosa's 3rd, 4th, and 5th runners before our 5th runner. OH boy this is going to be close. We wait... and wait..... and wait, finally Gavin emerges as our 5th runner I scream that you need to pass as many runners as you can so that we can reach the podium. We can WIN Gavin!! Brendan and Aidan appear soon after and I encourage them to keep pushing. Once they pass, I quickly ask Tim Kenney what he thinks? He said a close one. I go to the finish chute to congratulate the guys on putting out their MAX EFFORT and we wait to see the scores on the Board. It shows that we had won. Not only that; Peter has put himself in the record books as the fastest run by a Greyhound at Ridges. We just missed having 4 runners under 17 and we fought our way through our sickness/injuries and we managed to get to the podium on top! This WIN means a lot to me and I really wanted this TEAM to earn it more then others. Not sure why? But I knew that there was something special with this TEAM when they started their freshman and sophomore years. I would also like to THANK the parents! They have been great and very supportive. I want them to know that they should share in the teams accomplishment. The younger runners that did not make the State meet should also also revel in this WIN! They are the future of the program and they will want to take what they have learned from this TEAM and define what they would like their legacy to become!!
Thanks to David and Chris! This could not have happened without your help and your great words of encouragement to the runners. Skelly and Raney thanks for your coaching advice and nice job with the team and runners that you got to state! I should not forget to thank Keysha and Birk. As this did take a lot of time away from them! But I know that they would not want it any other way.
All I can say is WOW!!
Dominic


Wednesday, October 28
Shorewood Harriers Make Shorewood Now Section
Click on link to great article: http://www.shorewoodnow.com/sports/66237457.html
Saturday, October 31
Shorewood Boys are State Champs! Deliver on Commitment to Alumni! Girls Place 4th!
Results: http://www.wiaawi.org/results/crosscountry/2009/d2boys.pdf
Boys Pictures from Mr. Drews: http://picasaweb.google.com/david.drews53/20091031WIAAStateChampions?authkey=Gv1sRgCKLFutXbta6kpAE&feat=email#
Awards Pictures from Mr. Drews: http://picasaweb.google.com/david.drews53/PostRaceAndAwards?authkey=Gv1sRgCKCxxJL8s-DpUA&feat=email#
Girls Pictures from Mr. Drews: http://picasaweb.google.com/david.drews53/2009WIAAStateGirls?authkey=Gv1sRgCMKth5ah94DHVw&feat=email#
Decade of Dominance Delivered; Peter Places 2nd With SHS Course Record
It's hard to imagine anyone being able to write the script and get this one right! Primed coming out of conference...everyone healthy...Winning state looks solid. Then over the course of two weeks everything unwound; season ending injury to our #6 runner (Papke), swine flu trashes our #5-4 (Aidan) and #7-6(Brendan) runner; right after a command perfporfance at Sectionals; Ben comes up a a hip strain that worsens through to day of state. Did that demoralize these boys? Apparantly not, because they went out there and did what they needed to do! They got the job done!
Huge Run by Peter; Command Performance by JT & Joe; Gavin Delivers in Pinch
It was a roller coaster race with astounding performances from boys that were fresh, and unbelievably gutsy runs by boys that were running on empty tanks. Regardless, each put all they had into it and came out with quite a surprising win.
Peter had this look of focus and determination on his face as never seen before...as we worked his way through the course battling back and forth 1-2 positions with Lauderbach. Peter broke an old course record of 16:03 set by Ben Schmekpepper with a great time of 15:55 (especially in these conditions). JT scared everyone away with his buzz cut as he went flying through the course, coming in 14th overall; Joe, in his usual way, kept making his way through the pack, finishing very strong in 24th with a time of 17:02; Gavin, our top JV guy ended up being our 5th man, filling in for Brendan and Aidan, ran his heart out, placing 94th with a time of 18:02.
Ben, nursing some form of hip injury that would not go away and began progressively worse, committed to run for the team knowing that his shot for the podium was lost with the injury, placing 10th overall with a time of 16:35. Aidan and Brendan in bed with the swine flu the first half of the week, toed the starting line and tried to do what the could for the team. It was a heroic effort on their part by this nasty stuff took it out of them big time.
Nerve wracking week for kids, coaches and parents! What way to end the season...exhausted...and yes, happy AND SATISFIED!
THANK YOU TO ALL PARENTS, ALUM & FRIENDS!
It really was amazing to see how many kids, parents, alum and friends made the journey to come watch our Shorewood girls and boys! Quite a commitment and effort! It means a lo to the kids and families with kids that were participating. Classy! Thanks so much.
Which I could give a play by play, but increasingly tough to do with one finger!
Wednesday, October 28
What's a Shoelace Got to do With The Harrier's State Legacy?
Link to Map of Course:
http://www.wiaawi.org/maps/cccourse.pdf
Link to Parking Info:
http://www.wiaawi.org/crosscountry/shuttleparking.pdf
Link to WIAA Press Release Highlighting the Competition:
http://www.wiaawi.org/releases/2009-10/ccrelease.pdf

Link to D2 Competition Roster: http://wiaawi.org/x-countryboys/d2boysrosters.pdf
Link to Google Map Directions:
http://maps.google.com/maps?f=d&saddr=1701+E+Capitol+Dr,+Shorewood,+WI+53211+(Shorewood+High+School)&daddr=2311+Griffith+Ave,+Wisconsin+Rapids,+WI+54494+(Ridges+Golf+Course+%26+Supper+Club:+Pro+Shop)&hl=en&geocode=FY18kQIdi-zC-iGiE9vaLfmq4g%3BCRgYU68GUHLUFVDApAId6Myl-iFWh6Fq5gG4ZQ&mra=pe&mrcr=0&sll=43.74002,-88.845808&sspn=1.430715,2.460938&ie=UTF8&ll=43.687736,-88.843689&spn=1.431947,2.460938&z=9

Note that these directions suggest about 3.5 hours.

A Shoelace Says it All About Who We Are
Why a shoelace? Because at the state meet four years ago a little shoelace made all the difference in the world. Though it was less about the shoelace and more about the heart and soul of the boys on that team that made the shoelace famous. Because, you see, Shorewood won state by a mere two points...thanks to the effort of all the teammates, but in particular, thanks to the gut wrenching, soul burning final effort of Shorewood's #4 runner during the agonizing sprint up the gauntlet to the finish line. It was David Salmon's final grasp for the impossible at the finish line that made it possible to beat out Monroe's #3 runner...by a shoelace...that gave Shorewood the edge by two points over Monroe (94 to 96).
That's What "Happy, But Not Satified" Means
David ran a great race and could have been happy finishing strong; that's not good enough for our harriers. David would not have been happy, nor satisfied, had he not put it all out there...as that whole team did in 2006. It's part of the legacy and it's what our boys will bring forth on Saturday.
What to Watch For as the Gun Sounds
Find our team in Box 16. I belive that will be toward the inside of the course. Nekoosa will be in Box 23, Tomahawk in Box 19 and Wisco in 5. The start of the race comes toward the crowd, running along the tent area and out to the outer reaches of Ridges, around the northwest edge of the course. As the runners turn right, going west back toward the main area, the fans will be lining up at about the two-thirds of a mile mark, right before a very steep but short hill, or back across the course near tent city at the one mile mark. In both cases you will not see much of any definition of any clear leaders, but rather one constant stream of very fast elite runners.
We know that Nekoosa and Wisco will be pack running; we are told that Nekoosa starts slow and builds momentum. By the mile mark you should see Ben & Peter in the top ten group, JT not far behind and Aidan, Joe, Brendan and Gavin in the middle of the pack. As in last week, we would hope to see them mingled in with the Wisco boys and ahead of most of the Nekoosa runners.
The runners come off the mile mark and sweep left to a easterly direction headed down a long hill. This is just about 1.2-3 miles and you will begin to see some separation of the lead pack from the main pack. Peter and Ben should be in this pack, not in the lead, but ahead of any Nekoosa or Wisco runners. JT should be within range with the lead Nekoosa and Wisco runners a shout away. Aidan needs to be showing command of the pack of Nekoosa and Wisco runners with Joe up there to support him. We would hope to see Brendan working the competition as well, helping Joe and Aidan.
Around the Pond, Through the Sandbox and Up the Staircase
The fans lose site of the runners as they work their way east to south as they approach the pond. On the horizon we will beable to see the leaders as they have seperated from the pack. As they loop around the pond, through the sandbox into the hall of pines watch for the checkered jerseys to be in the mix with Nekoosa and Wisco. This will be gut check time as they make their way west, up the hill, climb the staircase into the woods and sweep past down into the fans in a big downhill arc toward, but past, the pond for the final mile. We would hope to see our kids in good position at this point with everything they can do to hold it as they turn north and then back west making their way to the gauntlet. Find a strategic spot about 50 yards from the finish that will allow you to see them come up the hill as well as through the finish chute.
Where Do We Stand?
Since there are so many individual runners that are not running for a team, it will be hard to know how we are doing. Most of the individual runners will be in front. Benchmark our kids to the Wisco and Nekoosa runners. Peter and Ben will need to be in front of them; JT should be either in front of their lead runners or directly behind them. Aidan and Joe must be solidly within the pack of Nekoosa runners for us to have a shot at the podium. Brendan and Gavin are our insurance, picking off any and all runneres - especially Wisco and Nekoosa. There will be lots of wins and losses on the quantlet! Watch the scoreboard and keep your fingers crossed!
Run-as-One!
(Course Map in Handout Below)
Handout:
State XC 5K Course
Tuesday, October 20
Webmaster Thinks Being a Cowboy is More Exciting
Why hang out in my dreary basement working as the webmaster for SHSXC when I can be a real cowboy and make a decent living at bull riding? Oh yeah, bull riding is dangerous! I wish someone would have told me before I ruptured my bicep...guess I'll be content as a webmaster!
Wednesday, October 21
Sectional Preview - What to Watch For...
For Parents and Fans
Sectionals are traditionally challenging for Shorewood because of the fierce competition. This year is no exception though all things being equal - which they never are - our Shorewood boys would be well positioned. My count tells me that we have 19 teams competing for the top two positions to move on to the state meet. Additionally, the top 5 individuals not part of the qualifying teams will qualify for state.
How Tough is Our Sectional?
For starters, three of the top five ranked teams are in the sectional. That means that one of these great teams will not have the opportunity to advance. That is exactly what happened to WISCO last year. They were the top ranked team going into sectionals and came in third losing to Shorewood by 2 points (our 4th and 5th runners edged out their 5th runner). So anything goes at sectionals...with lots of heartache and joy!
Battle Will Be Between Port and Wisco - But Be Careful
Most assume that the real competition is going to be between Port and Wisco as they battle it out for second with Shorewood gliding to first. Not so! Everyone is tapered to run their meet of a lifetime in an effort to get to state. Nothing is left behind...there will be huge surprises and upsets. Shorewood boys, as they always do, will have to run smart...knowing how they are faring throughout the entire race and respond accordingly.
Here's What to Watch During the Course of the Race
Count on Alec Houglin of Cudahy to hit it hard early on, taking the lead into and around the pond. Ben and Peter may choose to let him go, recognizing that there key goal is to get no more than five points for SHS. By the stats we should be seeing JT in fourth place but look for a Wisco runner (Sam Kitzrow) and a Cudahy runner (Zach Plachinski) to give him enough heat to keep him on his toes. From there, you will want to watch closely how are pack is doing relative to Wisco and Port runners. Joe and Aidan are strong finishers so it is likely to look scary to the first mile marker and it will be important for them to be well positioned ahead of the Wisco and Port runners by the time they come back around the tennis courts and along the water drainage. To give you an idea of how tight this pack is, there are 7 Wisco and Port runners with times between 17:15 and 17:31. If our core pack run the race they did last week, we should be well positioned; but we know that these 7 competitors are running to get to state and they are likely to have huge PRs. That's what makes it fun!
What We Need to Do to Advance to State
At the finish we will want to see Peter and Ben in top three or four; we will want to see JT in at least top 7; we will want to see Aidan and Joe in top 10-15 with only a sprinkling of Wisco and Port runners. Brendan and Gavin need to focus on knocking out number 5 runners because every point is going to huge. Again, by pure stats our guys show much better than this - and they should do better - but anything goes and this is Wisco's home course. This will be no cake walk.
Handout:
Bulldog Invite CC Course
Friday, October 23
Run-as-One - Much More Than a Slogan
Results: http://results.pttiming.com/raceresults/101264-TeamBoys.pdf
Pictures From Mr. Drews:
http://picasaweb.google.com/david.drews53/2009WIAASectionalBoysSelected?authkey=Gv1sRgCPHFnJP6jujs4AE&feat=email#
Pictures From Mr. Drews for Girls Varsity: http://picasaweb.google.com/david.drews53/2009SectionalGirls?authkey=Gv1sRgCM7bruvvjf2K7AE&feat=email#
Boys Win Sectionals; Girls Runner-up: Both Headed to State
Our Sectionals are one of the most challenging to get through and both the boys and girls ran-as-one and are headed to WI Rapids for the BIG event. Congrats girls and boys, we are tremendously proud of you.
Boys Place 5 in Top 9; Score 27 Points T Wisco's 53
It was a mudder's kind of day and our harriers lavished in it...wind, rain, mud, pools of water, slick grass...bring it on...the greyhounds relish it! Between Shorewood, Wisco and Port, this sectional had three of the top 5 ranked teams. Anything could have happened but it was Shorewood that stepped it up again. Peter and Ben ran a beautiful race together letting Alec run out ahead as they ran stride for stride through the first 1.5 miles. Mile split was sub-5 minutes. You could tell they were running with there head. Shortly behind them was John and at the mile mark he was right at about 5 minutes and in 3rd or 4th place. Aidan was right behind John but in front of a pack of the 2-4 Wisco runners at .75 miles and held his position at the mile. Joe was getting warmed up and was well positioned to start making his move after the mile. Gavin move up to Brendan at the mile mark and kicked him in the butt.
Tennis Courts Corner Thinks Looked Real Positive
As the harriers made their way out away from the crowd we all waited to see how the lead was shaping up. Off in the distance we spied the checkered jerseys running stride for stride in front of Alex...but not by much. JT was somewhere around 5th fighting it out withe the lead Port guy but within a shot at getting to Wisco's lead runner. Aidan had maintained his solid position ahead of the Wisco pack and by the time they came back around the pond Joe had over taken them and was right behind Aidan. The Wisco kids were fighting to catch our giuys but the would not let that happen.
Peter is Sectional Champion; Ben Runner-up
Running a smart race doesn't mean you have to let it go. The last third of a mile was hotly contested between Peter, Ben and Alex. The boys held there 1-2 position and prevented Alex from making any move at the end; same for JT and in particular Aidan and Joe, whom had to feel the heat of the Wisco runners.Brendan held off a Port runner at the very end.
All for now..my hunt and peck is ou of gas!
Monday, October 19
Message from Dom re: Conference
WOODLANDS CONFERENCE MEET 2009
Today we ran like a team that had something to prove and today we looked pretty good. OK we looked FANTASTIC!!!! We ran with focus, emotion, and for our seniors. It is ironic that our seniors had an opportunity to end their conference races at the very same site that they started their conference running career. Many of them were JV runners that year; we had a very strong team that eventually went on to win the State Championship. This was an outstanding effort today and clearly our best race to date. The J.V. race got us off to a great start. I couldn't be more proud of how well our guys responded, the level of effort was off the charts. We have been talking all week that we have to learn how to put out our MAX EFFORT and the JV guys did that. This lead us to win our first JV title in the Woodlands Conference Meet. I really enjoyed watching Keith Dodd, Oliver Heywood and Micheal Dulutri with a 1-2-3- punch! 7 in the top 20 and a TEAM average time that would have placed them 7th or better in the varsity race! They along with their TEAMMATES finished up their season with a BANG! Our Future looks BRIGHT for next year. I'm proud of your effort.
Results:
1. 20 Shorewood ( 18:35 1:32:53
====================================
1 1 Keith Dodd SO 18:21
2 2 Oliver Heywood JR 18:26
3 3 Michael Delutri FR 18:27
4 6 Tom Treacy FR 18:48
5 8 David Stern SR 18:51
6 ( 16) Daniel Vrobel FR 19:15
7 ( 20) Jacob Schermer FR 19:48
29. Devin Holling 19:55
44. Nat Froiland 20:24
55. John Traudt 20:55
64. Spencer Heywood 21:14
74. Collin Brushnahan 21:52
104. Ben Pagenkopf 29:01
We have a long history of running well at conference and today was no exception. This was our 12th consecutive varsity title and one of our lowest point totals in recent memory. We scored 27 points out distancing Whitnall by 45 points. I never expected to score 27 points, nor placing 5 runners in the top 9 and 8 runners in the top 25. We also had 7 runners earn either First Team, Second Team or Honorable Mention. Gavin just missed Honorable Mention by one place. I also did not expect us to run the kind of times we ran today. It was a great effort. These guys can make us a very good team when they run like this. Our front dual Tyler and Drews can help us generate the low score that we need along with Taylor, Mazur, Pendleton, Papke and Vorphal rounding out the field with less then a minute gap. This will certainly help us. We will still need to try to close the gap from our second runner to our 3rd runner. If that happens the rest will follow and we will have a very strong finish to the season We won a meet together JV and Varsity. We accomplished our goal that we set out to do from the beginning of the season. We had fun together as a team and that's what this is all about. We didn't just win, we made it a special day AS-ONE!
1. 27 Shorewood ( 16:26 1:22:09)====================================
1 2 Peter Drews SR 15:472
3 Ben Tyler SR 15:513
5 John Taylor SR 16:414
8 Aidan Mazur JR 16:535
9 Joseph Pendleton JR 16:576
( 14) John Papke FR 17:117
( 20) Brendan Vorphal SR 17:3025.
Gavin Schroeder 17:44
FYI, here's the freshman times from 3 years ago on this course 2006. I also listed the Conference results from 2006-2008. The point is look at the improvement that we can have if we put our heart, sweat, tears and the like into the program. Nice JOB last week!
Brendan Vorphal FR 20:08
John Taylor FR 20:38
Collin Brushnahan FR 25:31
Ben Tyler FR 18:15** (not sure)
Peter Drews (not out for the team)
David Stern (not out for the team)
Nat Froiland (not out for the team)
Conference 2007 (Whitnall):
1. 42 Shorewood ( 17:12 1:25:57)
====================================
1 1 Andrew Erickson 16:21
2 4 Kevin McCollow 16:47
3 9 Peter Drews SO 17:22
4 12 Ben Tyler SO 17:28
5 16 Brian Lee 17:59
6 ( 19) Brian Valusek 18:12
7 ( 21) Aiden Mazur FR 18:14
8 ( 33) Joseph Pendleton FR 18:50
JV 2007 (Whitnall) 2. 43 Shorewood ( 19:34 1:37:46)====================================
1 5 John Taylor SO 19:08
2 6 Gavin Schroder FR 19:20
3 8 Brendon Vorpahl SO 19:33
4 10 Sam Dupuis 19:37
5 14 Joe Hackett 20:08
6 ( 17) Andy Tisdel 20:12
7 ( 21) Nishan Abraham 20:37
2008 Conference (Kern)
3. 65 Shorewood ( 19:02 1:35:07)====================================
1 1 Gavin Schroeder So. 18:10
2 14 Oliver Heywood So. 19:00
3 15 David Stern Jr. 19:03
4 16 Nat Froiland Jr. 19:09
5 19 John Johnson So. 19:45
6 ( 26) Devin Holling So. 20:13
Varsity 2008 (Kern)
1. 33 Shorewood ( 16:42 1:23:29)====================================
1 1 Ben Tyler Jr. 15:442
3 Peter Drews Jr. 16:123
8 Aidan Mazur So. 17:044
9 John Taylor Jr. 17:085
12 Brendan Vorphal Jr. 17:216
( 13) Joseph Pendleton So. 17:247
( 27) Keith Dodd Fr. 17:48
8 ( 42) Sam Dupuis Sr. 18:22

--
Dominic Newman
Lake Bluff Elementary PE
Cross Country/Track
WCCCA President
Friday, October 16
JV Boys Trounce Competition With 1,2,3,6 & 8th Position; Varsity Boys Dominate Conference Meet
Click here for results: http://results.pttiming.com/raceresults/101229-BV_Team.pdf
Click here for great shots from David Drews: http://picasaweb.google.com/david.drews53/2009WoodlandConfBoysVarsityPlusJVAwards?authkey=Gv1sRgCIfG0suix-Ck4wE&feat=email#
Click here for great shots of girls XC from David Drews: http://picasaweb.google.com/david.drews53/2009WoodlandConfGirlsVarsity?authkey=Gv1sRgCPKc--WAq96u3gE&feat=email#
JV Boys Come Close to Perfect Score
Who would have thunk at the beginning of the season that we would close off the core season with such solid depth in the JV ranks? Talk about what the future holds for this great running organization! The Shorewood JV boys stepped up once again and absolutely dominated their Woodland Conference competition. Just a couple positions away from an impossible perfect score, the JV boys put a measley 20 points up on the board compared to second place D1 Pewaukee with 40 points.
Keith Dodd led the way, striking out on his own immediately followed by Oliver Heywood right behind him. Both maintained their position throughout the race as Michael Delutri continued to build strength through the race moving up to a third place position coming into the chute. I will try to fill in some of the blanks later, but our top 7 runners included Keith coming in first at 18:21, Oliver Heywood, second at 18:26, Michael Delutri had another PR at 18:27 for third, Tom Treacy finished 6th with a PR time of 18:48, David Stern placed 8th with a PR time of18:51 (I think this was by quite a margin), Dan Vrobel at a PR of 19:15, Jacob Schermer 19:48.
Varsity Boys Follow Suit and Win Big With 27 Points
JV Boys set the table and Varsity boys chowed down. Peter and Ben took the lead immediately with Cuday's Alec Holguin right along side them. John Taylor was a short distance behind, followed by Aidan Mazur and the rest of the pack.
By the 1.5 mile mark Alec Holguin decided to make this his meet and surged leaving Peter and Ben trailing. I don't know the splits but I suspect the first mile was fast but the last two miles were even faster. When it was all said and done, Alec dominated the meet with a course record time of 15:35.52 - a 33 second PR. Peter came in second with a huge PR time of 15:46.71, followed shortly behind by Ben who placed third with a time of 15:50.64. John Taylor matched his time from last week, placing 5th, followed by Aidan Mazur, who was very focused and came in 8th with a huge PR of 16:52.93, followed direction behind him by Joe Pendleton in ninth place with a time of 16:56.60. John Papke was our 6th man placing 14th with a PR of 17:10.92, Brendan Vorpahl placed 20th with a time of 17:29, a season PR and Gavin Schroeder rounded out our varsity boys coming in 25th with a PR of 17:44.
How Strong Were We?
A couple of quick stats:
boys varsity scored 27 points to runner up Whitnall's 72 points

we had two runners under 16 minutes - a first

we had five runners under 17 minutes - I suspect that's a first

we had our 7 scoring runners below 17:30 - I suspect that's a first

we have 2 on All-Conference Second Team and 3 on All-Conference First Team

overall average team time was 16:26 which may be a team record

we had 5 JV runners under 19 minutes
More to come I hope.
Saturday, October 17
XC Boys Make a Run to the Breach
David Stern, Dan Vrobel and Jacob Schermer picked up where some of our other boys left off a few weeks ago by visiting Repairers of the Breach to give a helping hand. The boys were welcomed by "sister" Mckenna and other homeless volunteers and were quickly put to work. After dropping off our traditional 8 dozen donuts for the homeless, and the wonderful bags of clothes and shoes donated by our generous families, they were escorted into the "medical clinic" where Mckenna gave them an overview of what the Breach is all about. The Breach's newly hired office manager, Robert, looking sharp in a white shirt (one that I donated?) and a tie (that would not be mine!) sat down with the boys and gave them a little bit of color of his life as a homeless drug and alcohol addict before he started working his way back up thanks to the resources at the Breach. The boys then rotated helping with security at the front door, sorting clothes in the basement or participating in the group activities.
Thanks boys for helping the Breach out! I hope it was a great experience for you. By the way, the homeless volunteer staff was real excited to maybe watching our Shorewood harriers at sectionals. Will talk to Dom about this idea to see if it might make sense. It would be quite an experience for them...we've got all sorts of fans out there!
Saturday, October 17
1st Bridge Crossed...On to Sectionals!
2009 WIAA Cross Country Championship
Division 2 Section 8
@ McCarty Park, West Allis
Hosted by Wisconsin Lutheran
4:00pm Girls 4000 Meter Championship Race
4:45pm Boys 5000 Meter Championship Race
5:15pm Awards Presentation
Teams: Brown Deer, Cudahy, Dominican, Grafton, Messmer, Milwaukee Lutheran, New Berlin West, Port Washington, Racine St. Catherine's, Saint Francis, Saint Joan Antida (Girls), Saint Thomas More, Shorewood, Union Grove, University School of Milwaukee, Wisconsin Lutheran (15/16)
Awards: Plaques to the Champion and Runner-Up teams in each race.
Medals go to 7 members of the champion and runner-up teams, and to the top 5 individual finishers who are not members of a qualifying team.
Qualifiers: Top two teams in each race and the first five individuals who are not members of a qualifying team.
T-Shirts: A limited number of long sleeved T-shirts will be available for sale at the meet. The cost is $12.
Saturday, October 10
Cross Country Awards Banquet on Monday, November 18th!
Yes, Families,
The time of the year is near for the Cross-Country Awards Banquet! Please save the date for Monday November 18th, 6:00 pm at the SIS commons. Details for this not-to-be-missed event will follow!
Moya Mowbray (Schroeder) and Jill Eder (Mazur)
Saturday, October 10
Kern Park....It's a Beautiful Place in the Fall
Click here for results: http://results.pttiming.com/raceresults/101221-BV%20ALL.pdf
Great pictures of Boys Varsity from Mr. Drews: http://picasaweb.google.com/david.drews53/VarsityBoysShorewoodInvite20091010?authkey=Gv1sRgCI6d1dC06-27Sw&feat=email#
Girls Varsity: http://picasaweb.google.com/david.drews53/VarsityGirlsShorewoodInvite?authkey=Gv1sRgCM7KptDu-YaPAg&feat=email#
Alarm goes off at 6:00 am Saturday morning...kick the cat, fall out of bed, get dressed and step outside; 32 degrees?! Is this something I really want to do? Oh yeah, there's a XC meet. As I hop into my car to go to the course so I can pretend that I am helping Mr. Haury and Dom, I am wondering, "Do they ever cancel meets because it's too cold?" I show up at the course only to find...dedicated parents and coaches working diligently in getting course in tip top shape. I bring my rake to try to rake the frozen leaves off the course; they're frozen solid to grass but I pretend to do my best. Off to the east, on the horizon I see some bright thing that looks like the sun breaking through the trees. It's actually clear skies and as the sun works it's way up above the trees the temperature rises to a balmy 33 degrees. Meet on.
Rufus King is the Big Competition for Shorewood Varsity Boys
The Shorewood Invite brings together an assortment of D1, D2 & D3 teams from around the metro area. Big competition is D1 Rufus King as the have come on very strong toward the tail end of the season. The teams line up at the start, official counts down 10, 9, 8, 7, 6, 5...ka-bang...what happened to the other 5 seconds? Shorewood boys were wise to this official and got out of the blocks fast in anticipation. As they approached the base of the hill slopping upward to the west the Shorewood boys were smack in the center and up front.
Leaders Determined by Top of Big Bertha
Even with the cold weather, Shorewood fans were out to support our harriers and as they dashed over to the top of Big Bertha the shape of the meet began to develop very quickly. Peter and Ben took their usual position leading the way, but instead of hanging back, they established their dominance immediately. John Taylor and Aidan Mazur were in the remaining lead pack followed by Joe Pendleton, Brendan Vorpahl and John Papke. At this point it looked like it was going to be a very close match up. Fans ran back to the Pavillion as the runners ran down Big Bertha, around the tennis courts and up the hill. As they popped over the hill by the Pavillion, Ben had the lead, Peter right behind and JT in 5th fighting it out with three other runners. Could JT hold them off? Aidan and Joe are running together as Brendan and John are doing the same, but about 25 yards behind. Coach Dom yells out that Peter and Ben are running at a 15:30 pace...yikes...too fast?
Dash Down the Hill to the One Mile Mark
Runners move out to the far west side of the park as the fans take a dash down to the baseball field where coaches from all the teams wait for the runners to blast past the 1 mile mark. Off in the distance to the north through the trees we see checkered jersey with white head band...Peter or Ben? It's Ben coming around the bend with a smile on his face (?) and running a sub-5 minute mile, followed by Peter at about 5:05. JT blasts around the corner 3-wide, all tied for third place. Both Aidan and Joe look strong and determined as John Papke looks like he is very strong but wondering why he's up with the leaders. Brendan, like a work horse, continues on his journey.
First Attack of Big Bertha
As fans tire out and slowly walk up the hill again, you can see in the distance the kids attacking Big Bertha in the first of three brutal climbs. Ben and Peter continue to stretch their one-two lead and as they come down the slope of the northern hill, JT is in 3rd place with three Rufus King runners on his tail. Can JT hold them off? Where are the 4-5 Rufus King runners? Joe Pendleton is on his own, in about 9th place with eyes twittering so you know he is focused. Aidan passes by with a growl on his face and you know he wants it. Papke, color coordinated between his red shoes, black tights and checkered jersey looks like he's still wondering what he's doing up there but he has broken away from Brendan and passing runners left and right. But at this point, it still looked too close to call.
Up to Big Bertha again to break a few more backs of the opponents; fans worn out already and standing in the center of the park watching from afar.
Two Mile Mark and Still Too Close to Call
The two mile mark is on the west end of the park and the leaders begin lapping the lagging runners. Ben stays in command of first place but one fan (me) sees he's not smiling anymore (I don't think I would either). His 2 mile pace seems to have fallen off, best I can tell his two mile split is somewhere around 10:20. Peter is not far behind and looks nice and fresh. Then come the pack of three Rufus King boys with JT trying to stay with them. This is a significant reversal of fortune and puts the meet in play. Where are 4-5 runners for Rufus King?! Joe's eyes continue to twitter as he drafts a runner from Pewaukee; he continues to look good. Aidan runs alongside another Pewaukee runner and a short distance behind Papke looks like he's beginning to understand how to run a 5K. Brendan is close behind in very good position.
I Spit on You Big Bertha!
One more loop around and seniors realize: this is the last time I have to hit this !$%&X hill! They attack as usual and spit on it for good measure (okay, so I embellish a bit). Up the hill, to the southwest corner, along the west side and down the long slopping hill to the corner of the baseball field Ben and Peter look unbelievably strong in 1-2, followed by 3-4-5 of Rufus King, while JT slips two 7th place and Joe Pendleton and John Papke come on strong.
Into the Chute...Checkered Jerseys Everywhere
What a great sight to see....Ben coming in with a strong finish clocking 15:53, the second fastest time on the course, Peter coming in second with a huge PR of 16:02, followed a distance behind the 3-4-5 Rufus King pack, Brookfield Academy's #1 runner, John Taylor with a great PR of 16:39 (a 25 second PR), Joe with a huge PR at 16:51 for 9th place, John Papke with an out-of-the-world PR at 17:18 for 15th place, Aidan in 17th place at 17:22 and Brendan in 27th at 17:41, a season PR. All 7 runners significantly below 18 minutes! But where were the 4-5 runners for Rufus King? We'll have to wait for the final results.
Varsity Boys Beat Rufus King by Wide Margin...Runners 4-5 Lost in Pack
The depth of our team is remarkable in many ways and shows how critical it is to be able to win the big ones. Shorewood won the Invite with a score of 34 against Rufus King's 74. It came down to the depth of our team and really reflects how important all the runners are on the team. Aidan and Brendan, our terrific 6-7th runners, placed ahead of Rufus King's 4th and 5th runners - adding points to their total score.
Bittersweet Shorewood Invite for the Seniors
For the seniors, this was their last hurrah at Kern Park as they begin to take their journey to Conference, Sectionals and hopefully State. Many friends, alumni, family, teachers and school mates showed up for the meet. As an unheralded sport, it was really great to see. Dom invited a couple of parents into their circle of talk after the meet and it was truly a touching experience. These kids have something special that they will take with them through their years. The comments from alumni, coaches, seniors and parents all had a common bond of kinship, support and love. Tears were shed by a few as they reflected what the team and the season has meant to them.
Okay, enough of that...on to the conference!
Saturday, October 10
JV Boys Set the Stage as Well!
Pictures from Mr. Drews: http://picasaweb.google.com/david.drews53/JVBoys_ShorewoodInvite?authkey=Gv1sRgCJL9nq68urOzlwE&feat=email#
Don't know whether the boys were inspired by the varsity or whether they were determined to make their own statement, but they had their day in the sun during this cold winter (fall) day as well. As the gun was shot to get the race underway, the mass of JV runners headed for the upward slope of the hill. Our Shorewood runners were swished in the middle and it was unclear where they were and how they were doing.
Things Begin to Crystalize
By the time the kids made it to the base of the top of Big Bertha things began to shake out with both Gavin Schroeder and Keith Dodd part of the lead pack, followed by David Stern, Oliver and Nat. As the runners popped over the hill by the pavillion it was clear that we had a potential repeat going; Gavin and Keith were one-two followed by a Rufus King runner.
Gavin Takes Command...But Can He Hold On
By the two mile mark, it was clear that Gavin was going to take a shot at being the champion of this JV meet. The 64,000 question way, "Can he hold on?" He's always out fast but will he be able to maintain his position? As the runners made there way up Big Bertha for the second time, it became clear that the Rufus King runner that was drafting him would have to do something special to take this away from Gavin. He was committed and the runner began to cave as Keith Dodd started to become more confident with his injury. There were things going on in the middle of the pack that a casual fan would not fully understand...more to come on that.
Final Stretch...It's All About Gavin and Keith...But Wait...There's More
Okay, Gavin held on and looked unbelievable strong in the last 400 meters as he raced by himself to the finish with a huge PR of 17:46; Keith took the Rufus King runner and came in at a season PR of 17:56; Rufkus King took 3-4 (but not 5), Oliver had a very impressive PR coming in 7th overall with a time of 18:23.
But wait...there's more. There's something about these freshmen. In the middle of the pack there was this one kid by the name of Michael Delutri that decided that it was his day. Working his way through the pack he finished in 10th with a huge PR of 18:34. Check out some freshman times of some Shorewood greats and you'll see what this means.
But wait...there's more. Freshman Tom Treacy decided to come alive with a huge PR as well, coming in 24th with a time of 19:20. But wait...there's more...Jacob Schermer, another freshman had an amazing PR of 19:41, followed by Dan Vrobel's PR ov 19:47.
"We've Never Had This Kind of Depth in a Freshman Class"
According to Assistant Coach David Salmon, Shorewood has never had this kind of depth in a freshman class. "We now have six freshman under 19:46. In my six years with the program, that has never happened." Is this the early signs of an emerging new legacy? One has to think so.
JV Boys Runner Up to D1 Rufus King
With a 1-2-7-10 finish for the JV Boys it looked like it was a possible repeat of the boys varsity, but Rufus King massive sized overwhelmed the results and they won by 8 points.
Great meet guys!
Monday, October 5
Great Griak Meet Pictures from David Drews
Link to Boys Varsity Griak pictures - fasinating for two reasons: they are great sequence shots of the start...and they tell the whole story - kids got out way too slow and got boxed in as result. Nekoosa had them beat in the first quarter mile. Great pictorial! Should make for a terrific history lesson for future teams running in large venues.
http://picasaweb.google.com/david.drews53/2009GriakBoys?authkey=Gv1sRgCJLL2fHB2omTaA&feat=email#slideshow/5389256963825855266
Link to Girls Varsity Griak Pictures - great job Mr. Drews!
http://picasaweb.google.com/david.drews53/2009GriakGirls?authkey=Gv1sRgCNb3g8CHts7iIQ&feat=email#5389264829334529010
Thursday, October 8
WoW! Got to Read this From Mr. Kenney - It Says it All!!!!!!
Dear Team and CC Fans:
Here is a Great recap of the State Meet in 2000. Please take the time to read it and reflect on how the Greyhound Philosophy came about. Remember that your are not only running for your TEAMMATES today, but your are running for the TEAMS of the past. Many of our alums still keep in touch whether they graduated last year or 30 years ago. They all still have a lot of pride in the program!! Mr. Kenney will be at Practice on Monday to to talk to the TEAM. Please be on time!
Shorewood Boy's Cross Country
2000 Season
I am thrilled that the boy's cross-country team has chosen to dedicate this season to those who came before them. This is truly the spirit of the program that has been created and a testimony to why we CHOOSE to be successful every year.
Prior to starting my recollection of the 2000 season, it is important to note that the founding fathers of the program run much deeper than that which has made Wisconsin State History by Tim Kenney and Dom Newman. The program had been developing for years, with Mark Corliss working hard during the Fall season to provide a positive environment of team cohesiveness and John Jacobson taking the helm during the Spring Track and Field season to ensure that the team spirit continued.
I inherited a gifted team of athletes in 1997 that were craving for success. This team provided the first Conference Title and State berth in many years. A particularly driven 9th grader by the name of Ben Schmeckpeper emerged as a contender early on and he became a driving force behind the success that we experienced.
1998 represented the last year to the present that Shorewood has not had a team represent the school at the State Championship level. It was a tough year as we had considerable talent that was offset by a vicious Sectional Championship race. In 1999, we finished 6th at the State Championship, our best finish ever, which left the relatively young squad hungry for more. Summer running began as we kept an eye on the upcoming 2000 season.
The year 2000 was a big year for all Wisconsin Sports. Up to that point, there was a private school league called WISAA (Wisconsin Independent School Athletic Association), which hosted State level championships for all of the parochial schools. WISAA had dissolved and the year 2000 represented the first time that there would be ONE state champion. This was the year that the mindset solidified which has propelled the Shorewood Boy's Cross Country to the forefront of State Level competition on an annual basis.
August 2000
After a strong summer of training, 24 boys went to the West Bend Grade Level Challenge meet prior to the start of the 2000-01 school year. The Shorewood Boy's team was bringing back a strong squad from the 1999 season and had added a competitive 12th grader by the name of Ricky Epps and several new 9th graders. At West Bend, the team posted a strong showing, surprising many Division I contenders with a first place finish. The Shorewood Boy's Team had made a statement!
The Varsity Team of Ben Schmeckpeper, Ricky Epps, Andy Kashian, Stuart Jones, Jonas Berge, Nick End and Lee Kidd emerged as our team leaders. Ben and Lee were the team captains. Ben was a vocal leader and Lee was downright gritty in his efforts and had little time for complaining or whining. These guys were true captains in every sense of the word.
We traveled to Mequon the following Friday to compete in our first "full team" competition, ready to take on powerhouse Homestead on their home course. The temperature was in the 90's and a breath of wind was not to be found. During the JV race, Senior Alex Davis took an early lead and expended too much energy early on for the condition that he was in. About 300m from the finish, he collapsed and ended up being taken to the hospital by ambulance. He had suffered heat stroke and was in rough shape. Three races had run with the Varsity Boy's race the only one left. The meet was cancelled due to the unbearable heat. I couldn't believe it! I went up to the Marquette High School coach and asked him what his plan was. He had a team competing the next day at UW-Parkside. He got me in contact with the Meet Director and I managed to get us entered in the meet. Then it was off to the hospital. Alex was ultimately ok.
Unfortunately, Ricky Epps was already scheduled to leave town for a family trip and was unable to participate the next day. We ran into stiff competition from Waukesha West and ended up finishing 4th, 20 points out of 1st place. The guys were hungry for more.
At this point, it became apparent that we were going to have to focus on our team, rather than the competition. The reason for this was that the Parkland Conference and WIAA Sectional assignment did not offer much competition that year. We didn't want to get complacent at a crucial time in the season.
We traveled to the Bill Smiley Invitational in Wausau, Wisconsin for our overnight trip. We knew that we would be facing some tough competition, included perennial powerhouse Stevens Point. Again, we posted a strong showing, losing only to Lacrosse Central High School. The meet was "broken-out" into a Large School and Small School Division, with Shorewood falling into the Small School range. We won easily! The Stevens Point coach (who is a former coach of mine) just kept shaking his head in disbelief as he looked at the results. "You guys killed us," he stated repeatedly. I walked on air back to the bus.
The aches and pains began. The rigorous training and high-level competition was keeping us on the edge with sore knees and shins. Junior Andy Kashian was struggling, but doing everything that he could to hang in there with the team. He was an inspiration to us all. We pushed through.
The remainders of the regular season meets were a series of convincing victories. We were consistently placing all 8 varsity runners in the top 20 of each race and winning with remarkably low point totals. The JV team was placing 5 runners in the top 10 of each meet and the future was bright. The best part was watching the team come together as a true TEAM. The guys were friends and had fully grasped the idea the "no individual is bigger than the team". These guys understood that every choice and every action that was taken by the individual had a direct impact on the success of the team. We were operating as a powerful unit and seemed unstoppable. That is what scared me.
I put a ban on Internet surfing and stat checking. We no longer talked about rankings or what other schools were doing. The focus became EFFORT. The fact of the matter is this: if you put forth your best effort on race day then the results didn't matter. If EACH individual did everything that he could to help his team, then there was no reason to feel bad about the outcome. If the effort happened, then the other team was just better and we could live with that. You could walk away with your head held high, knowing that there was nothing more that we could have done. I have often said, the worst phrases in the English Language are "would of, should of and could of". You don't EVER want to have that hanging over your head. Why think about "would of, should of or could of" when you can just KNOW that you gave it your best and the other team was better? The guys absorbed this and made it a reality.
Conference, 19 points. Sectional, 22 points. Time to go to State.
Everybody wants to win a State Championship. We wanted that too, but it became secondary to what we were after. Our goal became to "run the best race that you possible can at the State Championship and let the chips fall where they may". This is a total mind-shift from the norm. We knew that other schools were going to try to match up with us and that the race would be dictated by what we did. That is not a way to win a Championship race. That is already admitting defeat before you race by acknowledging that the other team is better before you even go out, give your best effort, and find out for sure.
We developed our race strategy to fit OUR needs. Recognizing that it is easy to get caught up in a fast start during the flat first mile, we preached patience followed by a concerted effort to roll in the second mile. After a hard charge during the challenging second mile, we would employ surges and pack running in the roller coaster third mile. We went over this strategy time and time again. We could see the race unfolding in our minds. Our bodies would follow suit.
The night before the State Championship, we had an emotional team meeting, realizing that this was the last one for our Seniors and realizing that we had become so close in this venture, soon to part ways. Coach Newman and I said our words and then left the team to have a meeting of just the athletes. It came back to me later that the guys went around and committed themselves and their forthcoming effort to their teammates. This was not done by adult guidance but rather came from the internalization of our team philosophy. They were ready.
The day of the State Championship was a beautiful, sunny day with mild temperatures. We toured the course and reviewed the strategy one last time, citing the specific areas where we needed to employ our race tactics. The nervous energy permeated the entire group as they prepared for the final race.
The gun sounded and I could hardly breathe. I want so much for these guys to succeed that I nearly lost the contents of my stomach. Fortunately, I was so nervous, I hadn't eaten.
Dom and I sprinted for the ½ mile mark. Upon our arrival, the athletes were coming through and we were losing badly. My heart sank and I wondered aloud if I had done the right thing with this strategy. The boys moved through the mile and came around the long straightaway into the 2nd mile. Ben and Ricky were side-by-side in about 40th place and I screamed "NOW!!!!! MOVE!!!!!!!" The rest of the team was not far behind and I screamed the same instructions to them.
They disappeared out into the 2nd mile and I ran to the top of the "stair-case" to wait for them to come through. The lead vehicle came up to the top, followed by Ben, a runner from Beloit Central, Ricky and a runner from Luther Prep. I almost fell over. Ben actually passed me with a smile on his face. The rest of the crew had moved up into the top 50 and were on the move.
Dom and I ran out to the point where there was about 400m left in the race. The race for 1st place had come down to Ben and the runner from Beloit and Ricky was doing battle with the runner from Luther Prep and another runner who had surprisingly moved up in the last mile. We waited for the rest of the guys to come through and they did shortly after. It was obvious that they were spent and were living up to the commitment that they had made. With so many runners out there, it was difficult to tell where we stood. We saw may athletes pass by from other schools in groups of twos and threes and we didn't know what the outcome was at that point. Chalk that up to young, inexperienced coaches!
I went to the finish line and learned that Ben had been slightly outkicked by the Beloit runner but he had finished 2nd and Ricky had finished 4th. The 1st and 3rd place finishers were individual athletes, so we had scored a 1-2 punch with regard to the point total. I anxiously awaited the finishes of Stuart Jones, Andy Kashian, Nick End, Jonas Berge and Nick Sandoval. The finish was a blur. I saw the runners pass but I had no idea what place anyone was finishing. My stomach was still churning and the adrenaline was pumping harder through my body than it did at the start of the race.
I vividly recall talking to John Jacobson who had kept a running record of the numbers of the athletes who came through the finish line. He told me that the only athlete that he had not accounted for was number 145, since a placeholder walked through the line instead of the athlete. That means that somebody went down at the finish and couldn't walk. I grabbed a program and found that 145 was Stuart Jones. He had run so hard that he couldn't walk through the finish! It looked like we had accomplished an amazing race, but we still had to wait for the individual finishers to be separated from the team finishers. In 2000, the computer automation was not the same as it is today. We had to wait for the awards ceremony to find out how we did.
Shorewood and Two Rivers were called to the awards area. I sneaked a peak at the results sheet that the official was holding and saw that we had finished first. I couldn't read anymore because the official caught me peaking and hid the sheet. When the final results were read, we had scored 35 points and Two Rivers had scored 115 for 2nd place. The reality of what we had done would take weeks to sink into my brain.
We had won the 2000 State Championship! Upon reflection, this was an outcome that is secondary to the lessons that were learned during this historic season.
Here is what matters:
1) The team is greater than the individual. Individual success will be realized at a level that cannot be achieved unless you are committing yourself to something bigger than yourself.
2) It is all about effort. Leave nothing to chance, but rather go out there and MAKE the other guy be better than you.
3) It doesn't matter what background you have. You are all in this together. That is life. Get used to it and make a difference for those around you. Be friends.
On a final side note: The best part of the season is that 24 guys started the season at West Bend and 24 guys ran at the Conference Championship (the last race for JV). We went the duration without a season-ending injury. What an accomplishment!
Saturday, October 3
Boys XC Make Pulp Out of Competition at Kimberly Papermaker!
Click here for results: http://results.pttiming.com/raceresults/101211-BV.pdf
Varsity Boys bounced back from the great Griak collapse by taking 5 of the top 19 spots, including 1st and 2nd to overcome Brookfield East and Kimberly. It was a damp and cold morning so the conditions were about what you would expect this time of year. Shorewood boys had 53 points to Brookfield East's 96. The varsity boys all had solid races while the JV boys had about 6 PRs. The girls came in 5th overall with Emily coming in third and Hally tenth. More news to come.
Check out the poor pictures in the album...hopefully Mr. Drews will have mercy on us and send him his!
Quick Recap on Boys Varsity
Co-captains Peter Drews and Ben Tyler were determined to make amends for their slow start at Griak and that they did. The two of them took a quick command of the lead as the pack came around the first turn at the tennis courts. John Taylor was a short distance behind, followed by Aidan, Brendan, Joe, John and Oliver. As the boys ran along the width of the school and the parking lot you could see the two checkered jerseys beginning to pull away from the pack, followed close behind by one runner. Peter and Ben turned the corner on the horizon, followed by the pack as they made their way into the wooded trail. That was the signal for the fans to make a scramble down a steep slope to the edge of the woods where the trail opened up - about 300 yards past the one mile mark in the woods. The fans waited for the first sign of the leaders as the time clicked past five minutes. Ben was first to burst out of the woods followed close behind by Peter; we gauged that both of them must have gone out at about 5:00 minutes for their first mile. John Taylor followed, wizing past us with a smile on his face, followed by the remaining core.
As the runners made their way through the woods and up a steep, wet and winding hill, the fans made a dash back up the hill alongside the school to catch the action as the boys made their way out of the woods and into a loop-da-loop along the tennis courts and back toward the school. Both Ben and Peter were clearly committed to this race by the looks in their eyes, form and their commanding lead. Ben maintained his lead along the school, followed by Peter as both of them by now had a signficant gap from the rest of the pack. JT continued to be in the hunt in the main pack and both Aidan and Joe, as well as Brendan began to move up in position. It was great to see such a concentration of red & white checkered jerseys running together.
Off into the woods again, fans scrambling down the hill waiting for the leaders to show themselves along the edge. It was a long, quiet wait when finally Ben broke through the woods and into the open, followed by Peter. Up the winding hill once more, along the tennis courts, out across the baseball fields and out to the far corner before they headed into the finish chute. Ben finished strong at 16:25, followed by Peter at 16:39, beating the third place runner, Matt Vandehei of Green Bay Preble by almost 20 seconds. JT was 15th at 17:35, followed directly by Joe at 17:41 who had a very strong finish, Aidan in 19th at 17:46. Brendan came in at 18:02. John Papke had a ton left in his tank, passing several runners at the very end, followed by Oliver.
While the times weren't tremendously fast, given the conditions and the challenges of last week, Coach Dom seemed to be happy with the results.
Thursday, October 1
Click on Headline for Cool Article on Girls XC Team and 1st Place Finish at Griak!
Sunday, September 27
Shorewood Girls Are Griak Champions!
Link to video: http://www.flotrack.org/videos/coverage/view_video/235653/202179
The Shorewood cross country girls put the hammer down big time and sent a huge message to the running community by winning the Griak Maroon Girls Cross Country Meet. This is a huge milestone for the girls and the Shorewood cross country program.
The team was led by Emily Bachhuber, who placed 7th and freshman upstart Haly Holan who placed 10th - both making All-Griak. More to follow, with pictures, but the girls are well positioned for a terrific state meet.
Colassal Collapse at Griak by Shorewood Boys
I'll let coach Dom fill in the details on this one, but leave it to say that this had to be a top ten of all-time collapses. There is no doubt that the kids have it in them...and that they will recover from this...but some happened along the way on to this meet! Peter was the only one on the team that virtually matched his time of last year; everyone else was considerably off when the conditions and this year's performance would have pointed to major course PRs.
Check out all results: http://www.gophersports.com/ViewArticle.dbml?SPSID=38706&SPID=3309&DB_OEM_ID=8400&ATCLID=204801937
Muskego JV Boys Have Solid PRs
Will have to look to coach Dom for this, but it appears as though some of the JV boys had solid PRs at the Muskego Invite. Results: http://www.pttiming.com/page/show/65867-race-results
Sunday, September 20
Message from Coach Regarding Hell Week....
Congrats Greyhounds and surviving "HELL" week! I'm quite impressed with how you handled the 2 very hard workouts, managed to run one of the fastest 1600 meter time trial in the middle of practice and then you come back and run some solid times at the Marquette Invitational. We finally have broken a string of poor performance there. I can not wait see how you guys run on fresh legs.

Our Freshman chose not to run in the Freshman race to help our JV team place 5th. Our highest place in the meet ever. Story Sandy, Michael Dellutri and Tom Tracey would have placed in the top 10 in the freshman race. It is nice to see the young guys make sacrifices for the good of the whole team.

Once again Don Tyler gives a great job in describing how the meet played out. I will not even try to touch his great race recap. Perhaps Mr. Tyler should retire and start announcing big meets on TV or at the college races. Watch out Phil Ligget as I think I know somebody who may take over your spot announcing the bike tour and the track circuits. Thank you very much Mr. Tyler!
A big thanks also goes out to Mr. Drews for his action shots. Combined with Mr.Tyler's race recap we all get a pretty good picture on how things turned out. I often get caught up with the coaching side of things that I see races differently. I enjoy reading and seeing how things looks from a spectator point of view. I'm sure that it is not easy as a parent watching, but trying being a coach and watching. Here is the list of times starting from your first race. I'm entering the data into a program to see where you may fall on the All Time List. I will try to get those up in the next few days.



Varsity averaged 17:03 for a 5K and the JV squad averaged 19:19.



Looking a head, we will have the Griak meet this Saturday for the top 10 runners and the Muskego Meet for those who are interested in racing. Mr. Haury will be taking the team to the Muskego meet. I will have the meet info soon.



Order of Meets: Shorewood Early Bird, McCarty Park, Arrowhead and Marquette

Peter Drews:16:26/16:19/16:10/16:23
Ben Tyler:16:36/16:09/16:18/16:19
John Taylor:17:04/17:11/17:22/17:27
Joe Pendleton:17:23/17:15/17:26/17:27
John Papke: 17:50/DNR/17:43/18:06
Brendan Vorpahl:17:54/18:00/17:53/17:52
Aidan Mazur:18:11/17:33/17:51/17:42
Gavin Schroeder:18:25/18:39/18:50/18:25
Keith Dodd: 18:44/18:35/18:09/18:50
Oliver Heywood:19:05/18:59/19:02/19:08
Nat Froiland:19:51/19:26/19:06/DNR
David Stern:19:57/19:26/19:28/19:37
Dan Vrobel: 21:30/21:09/22:12/22:04
Story Sandy:21:30/20:25/DNF/19:44
Tom Treacy: 21:30/19:48/20:04/20:02
Michael Duletri:21:33/20:25/19:28/19:45
Jacob Schermer: 21:53/21:22/21:18/21:58
Zac Clingaman: 23:57/22:11/DNF/25:48
Spencer Heywood: 23:58/24:37/24:09/23:34
Collin Brusnahan:26:05/24:13/24:49/24:02
Ben Pagenkopf: 25:54(4K)/35:32/31:24
Devin Holling: DNF/21:03/21:03/21:15
John Traudt: 24:52/25:47/25:45


Monday, September 21
Checkout Great Pictures from Marquette Meet in the Links Below

Boys Place Second
Friday, September 18
Hell Week Doesn't Get Any Better...Bring It On Coach!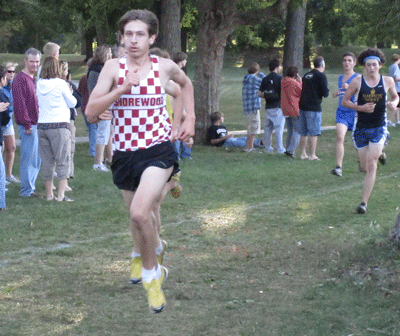 Gavin Pushes to the End
Click here for results: http://www.wisconsinrunner.com/wccca/individual_result09.php?id=88
Link to Pictures from David Drews - especially some great finishing shots:
Marquette Invite Boys Varsity plus post race
Marquette Invite Girls Varsity
Okay, maybe it was hell (sorry for the language) for the kids this week, but as a dedicated Shorewood XC fan, I was in heaven watching these JV and Varsity boys competing at the most challenging meet of the season - at the end of one of the toughest weeks. Not much details to share at this point, but will try my best.
JV Boys Place 5th Overall in a Meet Dominated by Waves of D1 Boys
Our JV boys did unbelievably well - the best ever at this meet - against the waves of boys from Marquette, Madison West, Cedarburg, Oshkosh, etc., etc. Even with our checkered uniforms it was hard to find our boys in the midst of the "thousands" of Marquette and Madison West kids coming out out of the jumbo schools. Regardless, our little rag tag team proved to be a worthy competitor, in part, thanks to the freshman whom decided to help out our JV team, as they began the race running in packettes....Gavin and Oliver, etc. If my memory serves me right, Gavin and Oliver hung together through the first mile and at about the 1.5 mile mark Gavin made a significant surge and was out with the lead pack with Oliver a short distance behind followed by David Stern. The final stretch Gavin hung in there strong...and closing very strong, ending up placing 4th or 5th overall, followed by Oliver and then David.
Make sure you take a look at the picture where Story Sandy running alongside Michael Duletri, pointing down to his spike-less foot with a frantic look on his face (spells trouble at home for losing his shoe?). Maybe he should run barefoot...he came away with a huge PR!
Needless to say, our JV boys made Shorewood proud. Freshmen should be particularly proud of their performance and the sacrafice they made to support the JV team results.
Varsity Meet Was "Best Ever" to Watch From One Fan's Perspective
So maybe a slight "rounding up", but this had to be up there as one of the most exhilerating meets to watch. Why is that? Due to a combination of things. First, this team continues to deliver on their Mission Statement (see Docs & Stats); they clearly believe in the five points outlined in the statement; they ran-as-one, working together in small packs. Peter encouraging Ben on when he felt like he was going to puke at the 1-1/2 mile mark; and Ben helping Peter gain confidence when he needed it; trading off on surges, building each other up. That seemed to be the case with Joe and John as Joe worked his way up to John; and Aidan and Brendan working together throughout the whole race. We'll get Papke (our young freshman) and Keith working together as well. John had a great race given the fact that he took a sharp spike in the leg at the first part of the race. All in all it was great to see everyone putting it out there, either going after the guy ahead or fighting for position to give the team a critical point here and there.
The Rundown....
By my account, the big dogs were going to be out fast...and they were. I am not sure of the splits but from where I was, it appeared that the top three runners, Jake Erchen of Marquette, Abdou Seye of Lafollette and John Luterbach of Catholic Memorial were at about 5:05 at the mile, followed by Peter and Ben at maybe 5:10. Ben and Peter hung together working their way to the 1.5 mile mark as the leading pack of three stretched the lead out by perhaps as much as 50-75 yards. By the time the leaders turned the corner for the drop down the steep hill, Ben and Peter closed the gap to about 20 yards. It was amazing to see this group of five runners moving as fast as they did along the course. I believe Peter and Ben had a two mile split of about 10:23 and as they worked their way around the tennis courts maintaining their proximity to the leading pack of three. It appeared at that point our two top harriers were in great shape to hold their current position, but not likely to be able to make a surge for the top. In middle of the pack - around 15-20th place was John Taylor with Joe Pendleton working his way up just behind John.
A fast dash to the south edge of the pond, fans and coach awaited the first sign of the leaders to sprint down the hill one last time and come our way. At first it looked like it was a checkered jersey in the lead, but wait...no, it turned out to by Jake Erschen of Marquette followed by John Lauderbach and Abdou Seye. At the point the trail met the southwest edge of the pond you could tell that Jake was history, as John kicked it into another gear (where does he get that?!) and blew past Jake and never looked back. By the time Peter and Ben came around the pond both were running for their life, with absolute resolve, clearly in command of their race with tremendous confidence. It's my understanding that Ben had a huge surge in the final 200 yards, moving his way up to reaching and passing Abdou but could not quite hold on in the final split second. Lauderbach finished first with a PR of about 16:01, followed by Jake Erschen, and then Abdou and Ben finishing 3rd and 4th with times of around 16:18 and 16:19, followed by Peter in fifth at about 16:23.
In the meantime, Joe kept moving up and bringing John along with him as they finished strong trying to overtake runners from Madison West. Joe came in 19th with a time of 17:27, followed by John Taylor in 20th at a virtual tie. We had four kids medal in this meet! Aidan broke away from Brendan during the final 1/2 mile or so and both had a strong finish, followed by John Papke and Keith Dodd.
Final Score...Marquette Dominates with 50 Points; Shorewood Takes Second with 80 points!
No surprise that number #1 ranked Marquette would take their home meet, but to think a small school like Shorewood could be a runner-up against these large schools is quite a testimony to what this team is all about. It's not about Division; it's about running as one and doing they best you can for the team; and that they did, beating out some highly ranked successful teams. This has to be a huge confidence booster for the team as they make their way to Griak.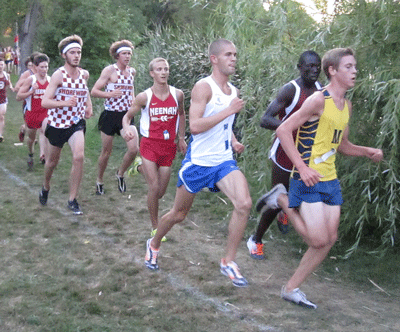 Peter & Ben in Lead Pack
Sunday, September 13
Message from Dom re: Arrowhead Meet
Here's your race times from the last meet. The 3rd time is from the Arrowhead meet. Names in Bold means season Pr or lifetime PR.

The Shorewood Now as has a nice article on the team: http://www.shorewoodnow.com/sports/58769037.html

Peter Drews:16:26/16:19/16:10
Ben Tyler:16:36/16:09/16:18
John Taylor:17:04/17:11/17:22
Joe Pendleton:17:23/17:15/17:26
John Papke: 17:50/DNR/17:43
Brendan Vorpahl:17:54/18:00/17:53
Aidan Mazur:18:11/17:33/17:51
Gavin Schroeder:18:25/18:39/18:50
Keith Dodd: 18:44/18:35/18:09
Oliver Heywood:19:05/18:59/19:02
Nat Froiland:19:51/19:26/19:06
David Stern:19:57/19:26/19:28
Dan Vrobel: 21:30/21:09/22:12
Story Sandy:21:30/20:25/DNF
Tom Treacy: 21:30/19:48/20:04
Michael Duletri:21:33/20:25/19:28
Jacob Schermer: 21:53/21:22/21:18
Zac Clingaman: 23:57/22:11/DNF
Spencer Heywood: 23:58/24:37/24:09
Collin Brusnahan:26:05/24:13/24:49
Ben Pagenkopf: 25:54(4K)/35:32/31:24
Devin Holling: DNF/21:03/21:03
John Traudt: 24:52/25:47


Sunday, September 6
Comments from Dom on Meet Results
Message from Dom:
Nice Job guys! We had 18 season PR's. I can not remember a time where we have had that many season PR's in one race. This is the fastest 2nd race of the season that we have ever had. If you did not improve upon your times do not despair. There could have been many factors that could have affected your race. Write them down. It is also hard and nearly impossible to improve every race. We need to close the 1-5 gap for both the JV and the Varsity Teams. You will need to do all you can to stay healthy! As you can see how that affects the team when you are not feeling well. There was a good chance that we could have won this meet if we were at full strength. But I like how Aidan stepped up to the challenge in becoming our new 5th runner. At times you may still have to compete when you do not feel well. (not when you have temperature of 103) You may be surprised at how well you may run when your not feeling well. Ask Coach Salmon about his State Meet experience while sick. We had positive results. Mr. Tyler has typed up a great race summary. Please take the time to read it. If you are interested in typing up a race review please feel free. It is nice to see all the different perspectives. If you have any pictures that you would like to have posted please send it to Don Tyler or myself and we will make sure that it gets up on the site. Athlete's as a Coach I like reading your race reports, if you are comfortable please type up your race report and share it on the site. We will put a lock on it so that only the parents and athletes may look at it. Please keep this race in your mind as this is our Sectional course. You may want to put more stock in your race report, so that we make adjustments in 7 weeks.
GREAT RACE!!
Dominic
First time is from Kern the second time is from the Bulldog Meet!
Peter Drews:16:26/16:19



Ben Tyler:16:36/16:09


John Taylor:17:04/17:11


Joe Pendleton:17:23/17:15


John Papke: 17:50/DNR
Brendan Vorpahl:17:54/18:00


Aidan Mazur:18:11/17:33


Gavin Schroeder:18:25/18:39


Keith Dodd: 18:44/18:35




Oliver Heywood:19:05/18:59




Nat Froiland:19:51/19:26




David Stern:19:57/19:26




Dan Vrobel: 21:30/21:09




Story Sandy:21:30/20:25




Tom Treacy: 21:30/19:48




Michael Duletri:21:33/20:25




Jacob Schermer: 21:53/21:22




Zac Clingaman: 23:57/22:11


Spencer Heywood: 23:58/24:37


Collin Brusnahan:26:05/24:13




Ben Pagenkopf: 25:54(4K)/35:32
Devin Holling: DNF/21:03
John Traudt: 24:52 First race of the season!
Tuesday, September 8
Great Pictures of Bulldog Invite by David Drews!
These pictures do a great job at telling the story of a fantastic meet! Thanks Dave!
Click on headline or link for great pictures of the Boys Varsity: http://picasaweb.google.com/david.drews53/20090904BulldogWAInvite?authkey=Gv1sRgCLSM3df7_p3cQg&feat=email#
Here is the link for the Boys JV: http://picasaweb.google.com/david.drews53/2009BulldogInviteBoysJV?authkey=Gv1sRgCIf9rLPEjfTTiQE&feat=email#
And Here's the Girls Varsity: http://picasaweb.google.com/david.drews53/2009BulldogInviteGirlsVarsity?authkey=Gv1sRgCJ-N_Y-Pi8LDcg&feat=email#
Thursday, September 10
Boys Varsity Mixed It Up With Best and Place Third at Arrowhead
Click on headline for link to results or click here: http://www.pttiming.com/page/show/65867-race-results
Click here for some great finish line shots from David Drews! http://picasaweb.google.com/david.drews53/20090910_ArrowheadInvite?authkey=Gv1sRgCL7r_sTZyM3-bA&feat=email#
Click here for team picture at awards ceremony: http://www.freewebs.com/runrazor/apps/photos/album?albumid=6961874
Brief synompsis: warm - around 79-80 degrees, light breeze and sunny made for good running weather if not just a tad to warm. Boys were encouraged to not take it out too fast...which looked scary because at the mile mark Peter and Ben were at 5:25 and still in the pack; same at about the 1.3 mark. Somewhere into the woods Peter and Ben made a significant move and as they were coming through the woods at the end before the turn up the slight hill to the two mile mark they were side by side and in the lead with the pack right behind them.
I am told that they were at about 10:25 at the 2 mile mark, in the lead, stride for stride - which means they ran a 5:00 minute split. John Taylor was running along behind them, would have to say that his mile split was probably 5:35 or so and two mile around 11:00; Joe looked very good and was moving his way up the pack and was getting close to John. Aidan, John Papke, Brendan and Keith were running pretty close to each other at this time.
At some point between the 2 mile mark and the 2.75 mile mark both Peter and Ben took command of the race and stretched things out. Ben established the lead and kept it as they headed around the northeast corner of the course but the lead Arrowhead runner advanced strong passing Peter and then fighting for first with Ben as they crossed the street toward the final stretch to the chute. Ben fought hard for position while Peter came up upon the two of them. For a short time the three of them headed to the shoot together but Peter poured it on passing both Ben and the Arrowhead runner and finishing as the Arrowhead champion with a PR of 16:10; Ben came in third at 16:18.
John Taylor finished with a time of about 17:22 in 24th if I recall and Joe Pendleton was 25th with a time of about 17:26. Freshman John Papke finished very strong with a time of 17:43, a PR by about 7 seconds; followed by Aidan, Brendan and Keith Dodd.
Shorewood finished third (87), two points behind Arrowhead (85) and Waukesha West (78) took it all. We knew it was going to be tightly contested, but wow, one or two positions could have made the difference in any of these teams being at the top.
Great race guys....will be out of town so don't know how much more I can add at this point.

XC Boys with Breach Volunteer Security
Sunday, September 6
XC Boys Take Second Journey to the "Breach"
Another Saturday morning without a meet meant another group of XC boys making the journey down to the Repairers of the Breach in an effort to help out the Milwaukee homeless. Led by coach Dom and senior Nat Froiland, Gavin Schroeder, Keith Dodd, Story Sandy, Tom Tracey and John Traudt hit the ground running by heading into the basement to sort clothes and other donated items. They took a break in shifts to participate in the weekly La-shock-a-boom community session of pick-me-ups and success stories. I had a couple of really amazing conversations with some of the homeless:
Last week, we heard from a women that told her story about growing up in an abusive household, getting into drugs and prostitution at a very early age, losing one of her boys to a shooting, and all the while still living on the street - stays at Salvation Army; she's been free of drugs for 11 months now and taking one day at a time. During the discussion last week, her family came up. It was interesting to me to see how proud she was of her grandkids - she passed around a picture of her grandkids just like our parents would of our boys; made me realize that even homeless people can be proud parents and grand parents (this was/is a common refrain I have noticed in my conversations); as it happens, she stopped by the Breach yesterday with two of her grandkids; I introduced myself and told her grandkids how strong I thought she was; wouldn't believe how she beamed. Wierd to think that she is living on the street and has grand kids to visit.
Also talked with one young man named Nick; could be any of our sons ten years forward. Grew up in Sussex in regular family environment (so he says). Went off to college, dropped out to join a religious cult in Colorado Springs, got heavy into drinking and ended back in Milwaukee working at Kohl's customer service center. Lost his job and ended up on the streets. Has not talked to his parents...sleeps on a park bench because he does not like the shelters. Feeling pretty positive at this point because he hasn't had a drink for three months. Comes to the Breach to take a shower once a week.
Talked to another kid - would say he is in mid-20s. Was there for the first time. Didn't get much out of him but got the impression he was with the "504" in New Orleans (showed me tattoo) and ended up on street in Milwaukee. Was there to get a pack back to keep his clothes together; stopped in the day before and was really happy to get a brand new sleeping bag.
Stories go on and on....grapevine on street is that Milwaukee is a very tough city for homeless...lots of crime coming up from Chicago...talk of St. Paul the place to be...where you get put up in a hotel while you wait for housing; from their mind seemed like St. Paul was a far away place and some place almost unattainable...just a couple of them talking...interesting. Anyway, this is what the kids are seeing as they are helping sort and handout clothes. So far so good...hope kids are giving you favorable feedback. The volunteers at the Breach are quickly embracing the Shorewood XC kids for their good work.
Our Donations are Coming in Strong
Thanks for your financial support to the XC Program! We are at 140% of our $1,000 (of $2,000) goal thanks in part to a very large anonmyous contribution. Let's try to cover the full $2,000 to tide us over into next year! You can still donate through the website or make a direct contribution to the Shorewood Booster Club - XC Program. We apprecite your help!

Conference Meet 2008
Sunday, August 16
Checkout "Docs & Stats" Section for Listing of SHS XC All-Time Runs
Want a nugget? Got to "Docs & Stats" section and click on the SHS XC Top 100 Times Excel file...and a listing of PRs and results on each runner from 2008. Our kids are going to blow the times away this season.
ALUMNI ALERT: GOT A TIME TO ADD? LET ME KNOW AT DTYLER@WI.RR.COM. OUR DATA IS BAD FROM 2006 AND LATER. WE WANT TO RECOGNIZE YOU!

Learning to Prepare for a Meet
Thursday, August 27
Girls are Champs of Shorewood's Early Bird Invite! Boys Place 2nd!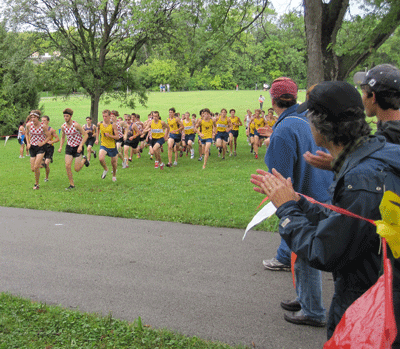 Boys are off....
CLICK HEADLINE FOR LINK TO RESULTS!
More to follow, but highlight reel of the first meet of the season has to include the rock solid performance of the girls team, beating a very competitive Musego with solid, gut-it-out running by the girls. Emily was solid from the start and commanded the lead the whole way while Jenny Vrobel and freshman Hailey Holan ran together just behind a Muskego twosome. Morgan Baker was on her own inbetween Jenny and Hailey and another pack of Shorewood girls that included Chloe Staub, Nora Waters and Laura Schroeder.
The boys looked strong from the very begining with Ben and Peter running stride for stride with Marquette's star Jake Erschen. Jake broke from Ben at about the 1.5 mile mark and set his own pace while Peter took command of second. Behind Peter and Ben the core pack of John Taylor, Joe Pendleton, Brendan Vorpahl, Aidan Mazur and freshman John Papke ran together. As the race developed Peter solidified his second place position while Ben slipped to fourth; John Taylor had a stunning run, breaking out of the pack going out on his own and ending up finishing 7th overall with a PR time of 17:04. Joe Pendleton was directly behind him in 11th with a time of 17:23 following by a super solid run by John Papke, finishing 14th with an outstanding time of 17:50. Brendan Vorpahl came in at 17:54, followed by Aidan Mazur at 18:11 to wrap up the 7 top runners for Shorewood. I'll have to do some checking but I think having 6 of our 7 runners under 18 minutes at the first meet is a very promising sign.
All in all it was a very solid start for the girls and boys on this cool and rainy day.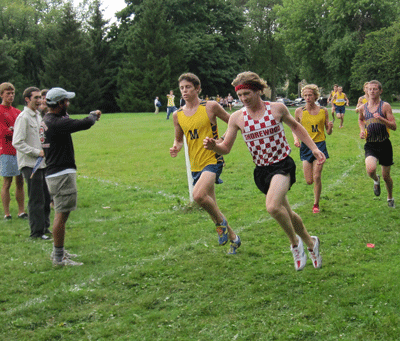 JT Floating by Coach
Sunday, August 30
Link to Tom B's Video of Early Bird Invite
Click on the link below to go to the videos that Tom Bachhuber produced for the girls and boys meet last week. Thanks Tom...pretty cool!
http://www.youtube.com/view_play_list?p=D4B31E421E3C0ED0
Wednesday, September 2
Cick on This Headline to Link to Shorewood Early Bird Invite Pictures from David Drews!
Friday, September 4
Shorewood Varsity Boys Runner Up to D1 State Contender Brookfield Central
(Click headline for link to results)
Going into this meet as a new entry, we knew that this was going to be a very competitive D1-level meet for the kids to take on. Results from last week suggested that they had a shot at being a contender, and they certainly proved they were, as they came in right behind Brookfield Central, placing second overall. This team seems to be indifferent to D1, D2 and D3 competition; it's simply that they are going to do what it takes to be one of the best in state - period. The last two meets prove that's a clear posibility.
Top 5 Shorewood Runners Took Medals Home
Not only did the varsity boys take a trophy and medal home, but all five scoring varsity runners medaled individually, placing within the top 30. From the top of my watch tower, Peter, Ben and John Taylor took it out together along with the lead pack of Tim Peterson and Will Casey (welcome back Will) both from Brookfield Cental and a very talented runner from Oshkosh West, Sam Penzentadle. Aidan, Joe and Brendan ran together, as Keith and Gavin came along shortly behind. At about the 1 mile mark Peter and Ben were in with the front with the pack at about 5:06-7 with John just behind them. It was great to see so many checkered jerseys up in the top 5!
Leaders Spreadout Around the Parking Lot
Somewhere around the 1.5 mile mark Ben decided to make his move and by the time the lead pack circled around the tennis courts parallel with the drainage ditch Ben began to take a commanding lead with Tim, Sam and Peter packed together. Ben seemed to stretch his lead out as the runners looped around to the northeast corner of the course and maintained his lead back along the drainage ditch and across the bridge. Peter looked very strong but so did Tim and Sam as they broke from Peter and went after Ben with about 600 meters to go. Ben couldn't hold them off as Tim and Sam had a hotly contested battle for first place in the final stretch to the finish chute, both at about 16:04. Ben came in third with a time of 16:08.12 and Peter finished strong in 4th with a time of 16:18.46.
Not far behind was John Taylor, who continues to look like he is just getting started, is going to have a great season. Joe Pendleton had an unbelievably strong second half of the race and worked his way up the pack in a steady and determined fashion, finishing right behind John Taylor with a significant PR of 17:14.76 - beating his best from last year of 17:23.0. Aidan is getting himself back in shape and had a significant improvement over last week, coming in 29th with a time of 17:33. Brendan just broke 18 minutes with a time of 17:59.91. Keith Dodd and Gavin Schroder rounded out the varsity crew with times of 18:34.86 and 18:39.16 respectively.
Bottomline: 16:54 Average vs 17:04 Last Week
Yes, this is a fast course - and so is Kern Park...but by all accounts, this is a very good start to the season. We now have 7 kids running below 18 minutes and virtually three at below 17 minutes. The season is early, everyone is reasonably healthy and we are off to a very good start thanks to a dedicated and focused bunch of kids.
JV Boys Rock - Placing in Top Ten in Very Tough Competition; PRs Everywhere
These D1 schools have more kids out for their cross country team than Shorwood has in total students! Given the masses of runners these big schools have to field, Shorewood did terrific, thank you very much, placing 6th overall behind such giants as Grafton, Homested, Germantown and Brookfield Central.
Oliver Heywood led the way for Shorewood, taking command from the very beginning and finishing strong at 20th overall and a PR time of 18:59. He looked rock solid out there with great form and focus. David "Rookie" Stern also had a solid run, placing 30th overall with a time of 19:26 which by my account is another PR. Nat Froiland was right behind him placing 31st matching his time and coming in with a PR. Freshman Tom Treacy struck out on his own and made a mark by placing 37 and had a very impressive PR of 19:48, breaking the critical 20 minute milestone. Story Sandy and Michael Dulutri stuck together to ensure mutual PRs of 20:25 and improving their times over last week by over a minute; next stop, breaking 20 minutes!
Junior Devin Holling continues to improve with a PR of 21:03. Bring up the pack was Dan Vrobel with a time of 21:09 (PR), Jacob Schermer at 21:22 (PR), Zac Klingaman at 22:11 (PR), Colin Brusnahan at 24:13 (PR), Spencer Heywood at 24:37, John Traudt at 24:52 and Ben Pagenkopf at 35:32.
Great race guys!