Shorewood High School: 2013 CC Season
Thursday, August 29
Early Bird Meet
Early Season Invitational
THANK YOU parents for ALL your help with the races! Congratulations Shorewood Harriers for racing so hard! Our team as a whole had a lot of great performances. I feel that our season got off to a pretty good start. I believe that we put our selves in a good to position reach our goals by the end of the year. If your race didn't quite go the way you wanted it to go, use it as an opportunity to become better. Evaluate your race, know what went well, know what you can do better and know what you are going to do during practice to help better prepare you for the races. Writing a race report will help you put the pieces together.
CROSS COUNTRY SCORING 101: For those of you who are new to the game, scoring works by adding the places of our top 5 runners. The 6 and 7th runners acts as pushers if they can beat other teams 5th runners. Team Time works by adding the top 5 times together. We won our event with 33 points. Marquette was second with 80 points and Grafton was 3rd with 103 points. Full results can be found on this link: http://67.23.19.61/system/files/9791/original/Boys_Varsity.pdf?1377817273
The top 8 runners will compete at the Varsity level in the Highlander Invitational. The rest will run the JV race. All JV runners can compete for a varsity position by running a faster time on the same course.
Top 8 Runners (Varsity): 2 985 Charlie Stahl JR Shorewood 16:28.26 5:19 3 973 Sam Kuhlmann SO Shorewood 16:52.49 5:26 7 969 Jacob Goldberg JR Shorewood 17:36.50 5:41 9 976 Jack Mauer JR Shorewood 17:40.82 5:42 12 979 Johnnie Papineau SO Shorewood 17:47.50 5:44 13 963 Mayan Essak SO Shorewood 18:01.41 5:49 18 966 Henry Fowler FR Shorewood 18:10.75 5:52 19 974 Dylan Larson-Harsch SO Shorewood 18:14.88 5:53
JV Runners: 23 965 Joey Flegel-Mishlov SO Shorewood 18:21.94 5:55 29 968 Max Gietzen SO Shorewood 19:00.84 6:08 39 980 Gus Pendleton SO Shorewood 19:22.45 6:15 984 Sam Shields SO Shorewood 19:35.08 6:19 48 975 Alex Luger FR Shorewood 19:36.60 6:19 61 967 Mario Fregoso FR Shorewood 20:08.68 6:30 63 986 Gus Wettstein FR Shorewood 20:15.06 6 76 972 Graham Hartlaub FR Shorewood 20:53.28 6 81 982 Will Sandy FR Shorewood 21:09.98 6 83 970 Victor Gould FR Shorewood 21:19.91 87 960 Frankie Cortez FR Shorewood 21:35.62 6:58 89 991 Ethan Woyak FR Shorewood 21:41.45 6:59 104 981 Max Rawling SO Shorewood 22:28.73 7:15 106 977 Eli Miller SR Shorewood 22:43.05 7:19 110 962 Connor Erickson JR Shorewood 23:09.94 7:28 116 964 Balen Essak FR Shorewood 23:24.92 123 957 Sam Balistrieri SO Shorewood 23:47.03 7:40 124 987 Lucas Whittman FR Shorewood 23:51.37 7:41 125 958 Cole Baumann FR Shorewood 23:52.93 129 983 Ryan Shanahan SR Shorewood 24:22.78 7:51 149 978 Peter Olson SO Shorewood 25:44.73 8:18 153 959 Olajuwon Cawthorn JR Shorewood 27:00.89 8 157 990 David Wolfe JR Shorewood 28:49.52 9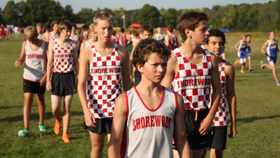 JV team preps for the race
Friday, September 6
Tendick
Tendick Results
Boys JV took 1st!
Boys Varsity took 2nd
Photos from Tendick: https://abeswebsite.shutterfly.com/pictures/2252
Planning for Tendick
We have a meet this week. We will leave Friday at 2:00. You will be excused at 1:45 to change and get to the bus. Please inform your teachers that you will be missing class and that you would like to make up the work. It is best to turn in all assignments the day before or early in the day if they are due. Trust me you will earn some respect from your teachers if you do this.
Course Video: http://www.youtube.com/watch?v=84mj87EwnKg
Course Map: http://www.co.ozaukee.wi.us/planningparks/Tendick_CC_Course.gif
http://www.mapmyrun.com/routes/fullscreen/1095958/
1. Please be prepared physically and mentally. Make sure you're eating and drinking right and going to bed at an appropriate time. This is not just the day before but every day of the week. Shoot for around 8-9 hours of sleep.
2. Make sure that you have a GAME PLAN and you know your race strategies. Make sure your game plan is made up of things that are controllable. Controllable race goals might consist of, but are not limited to the following: Saying positive things to myself during the race, Pushing the uphills, Using the down hill, finish the last mile faster than my first two, giving it my all, push through the pain, run together as a group, etc.
3. Each race can help set the tone for the season. Let's go show ourselves what The Greyhounds can do! Many of you have put in some hard work this summer. What will be your rewards?
4. Take risk - These early races are the times to take risks. Growth happens when we take risks, you don't find out anything about yourself if you always stay in your comfort zone. Try running with a person you haven't ran with. Try surging mid race. Try kicking from further out. Do this and you will see your running ability develop much faster. YOU CANT WIN UNLESS YOU TRY.
5. Believe in the possibilities, Believe in yourself, expect the unexpected. DON'T let anyone make you believe that you can't achieve greatness, especially not yourself.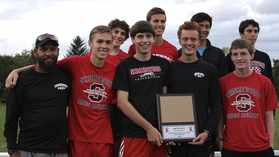 Boys Varsity team takes 2nd
Thursday, September 12
Arrowhead Invitational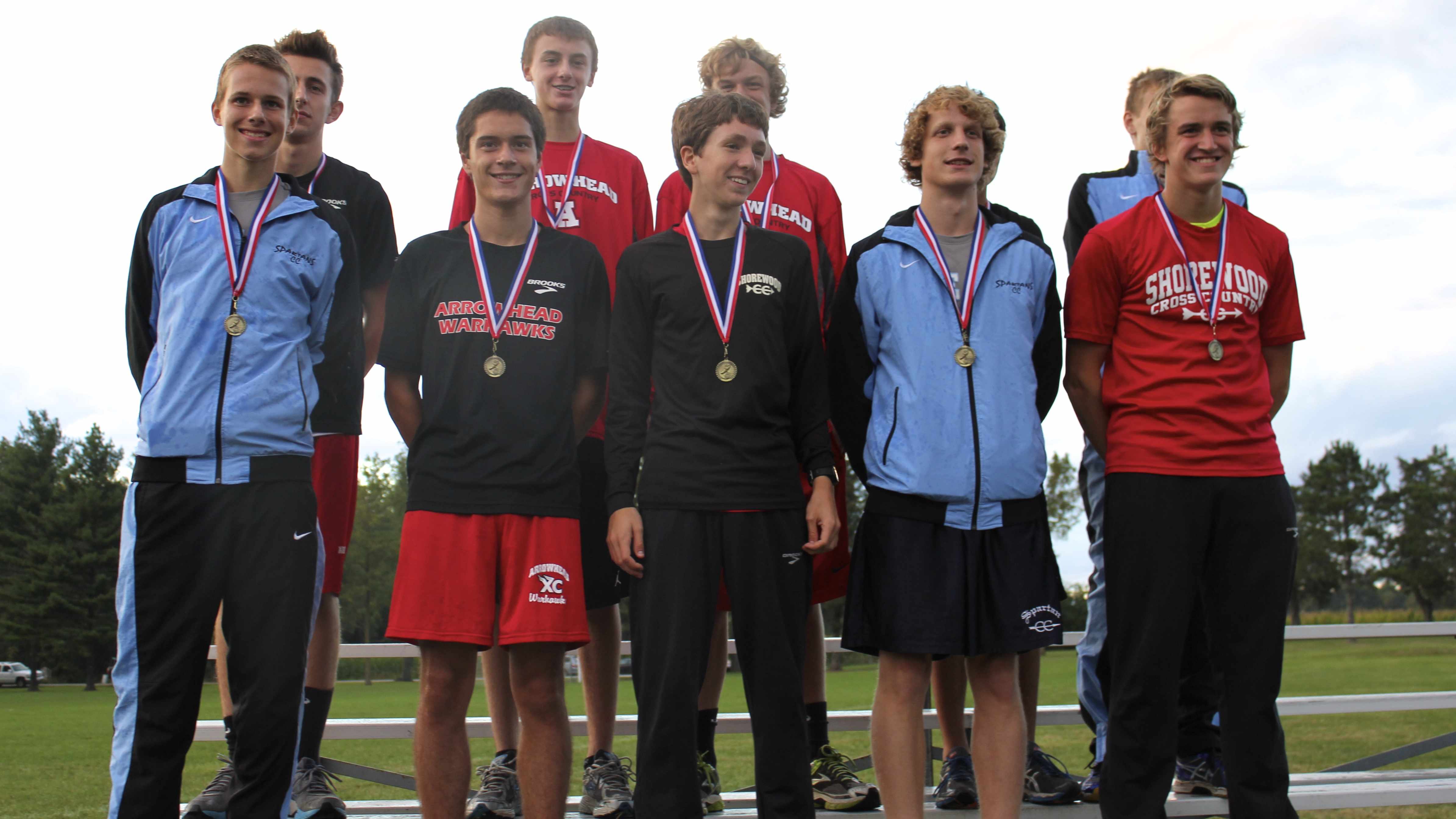 Boys JV top 10 - Sam Shields Takes 1st, Dylan Larson-Harsch takes 3rd!
Cross country running/racing is supposed to be uncomfortable, you have to make friends with the 'discomfort" and from that, the times will come. Personal motivation is a great thing, but it has to be found. Everyone seemed to bring their A game last night! Connor Ericson started the morning by making a simple statement "It's a great day to be a Greyhound" Going off that statement it sure was a GREAT day for our athletes. Many PR's (Personal Record) were set! We do not see such times until the Championship phase of the season. I have not finished comparing times, but I would say that we had over 20 lifetime bests this evening.
There's many story's of the day and I do not have the time to write them all down. But a few short snip its:
1. This is the fastest team average for our runners in school history!
2. Sam Shields won the JV race with an impressive time of 17:27
3. Multiple athletes have told me that they took off over 30+ seconds from their PR's
4. Charlie Stahl running the fastest time (course) by a Shorewood Athlete for 2 meets.
5. We are starting to see athletes emerge and take risks ( Woyak, Luger, Mishlove, Shields, Larson-Harsh and Pendleton)

The possibility for greatness this year is huge, but we have to be hungry. We have lost 11 key runners from last years TEAM but looking at this years results you would not think so. However, we're going to have to ramp it up if we want to do more than appear at WIAA Finals and hope for a State Title. Last night, we saw the first glimpse of that happening. We'll have to really stay on top of everything, new shoes, aches and pains, nutrition and sleep (AHYGIS) but if you guys want this - it's there for you and we would be the surprise of the season after graduating so many. In the next week, we'll start ratcheting up the pace a bit in keeping with what we need to do and you will see your times all drop even more. As we said earlier, this is our starting barometer, take with it what you will. We need to build monsters, and we started with a sold race. The drive will have to come from all of you. I'm looking forward to the Championship phase where we may see a huge improvement over last nights times.
Link to Arrowhead photos: http://share.shutterfly.com/action/welcome?sid=0CbMW7NwzbMnIw
Link to results: http://www.pttiming.com/page/show/65867-race-results
Mike Mulrooney Cross Country Course
Place TmPl Name Year School Time Pace
===== ==== =================== ==== ================= ======== =====
2 2 Charlie Stahl SR Shorewood 15:47.82 5:06
9 9 Jacob Goldberg SR Shorewood 16:21.06 5:16
10 10 Sam Kuhlmann JR Shorewood 16:28.89 5:19
19 19 Jack Mauer SR Shorewood 16:56.15 5:28
21 21 Johnnie Papineau JR Shorewood 16:56.99 5:28
42 42 Henry Fowler SO Shorewood 17:18.18 5:35
60 60 Joey Flegel-Mishlov JR Shorewood 17:38.63 5:41
74 74 Max Gietzen JR Shorewood 18:12.15 5:52
Mike Mulrooney Cross Country Course
Place TmPl Name Year School Time Pace
===== ==== =================== ==== ================= ======== =====
1 1 Sam Shields JR Shorewood 17:27.75 5:38
3 3 Dylan Larson-Harsch JR Shorewood 17:41.53 5:42
13 13 Ethan Woyak SO Shorewood 18:09.89 5:51
14 14 Gus Pendleton JR Shorewood 18:11.26 5:52
24 23 Mario Fregoso SO Shorewood 18:31.32 5:58
29 Evan DeBoth SO Arrowhead 18:36.53 6:00
30 28 Mayan Essak JR Shorewood 18:36.72 6:00
33 Gus Wettstein SO Shorewood 18:38.67 6:01
68 Victor Gould FR Shorewood 19:15.11 6:12
93 Connor Erickson SR Shorewood 19:36.17 6:19

101 Graham Hartlaub SO Shorewood 19:46.28 6:22
111 Max Rawling SO Shorewood 20:02.81 6:28
117 Will Sandy SO Shorewood 20:05.53 6:29
130 Cole Baumann FR Shorewood 20:14.83 6:32
134 Frankie Cortez SO Shorewood 20:20.01 6:33
143 Eli Miller SR Shorewood 20:26.26 6:35
153 Sam Balistrieri JR Shorewood 20:32.18 6:37
189 Ryan Shanahan SR Shorewood 21:23.14 6:53
191 Balen Essak SO Shorewood 21:27.33 6:55
200 Lucas Wittman FR Shorewood 21:40.51 6:59

224 Henry Dellutri FR Shorewood 22:25.70 7:14
225 Marcus Hagstom FR Shorewood 22:27.32 7:14
248 Olajuwon Cawthorn JR Shorewood 23:12.16 7:29
267 David Wolfe SR Shorewood 24:10.17 7:47
285 Matthew Williams FR Shorewood 26:53.96 8:40


***Sam Lenz completed a mile in 12:13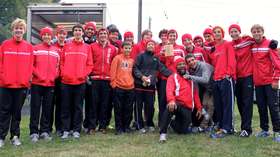 JV Boys
Saturday, September 21
JV and Varsity win Smiley meet 2nd year running! JV scores perfect 15!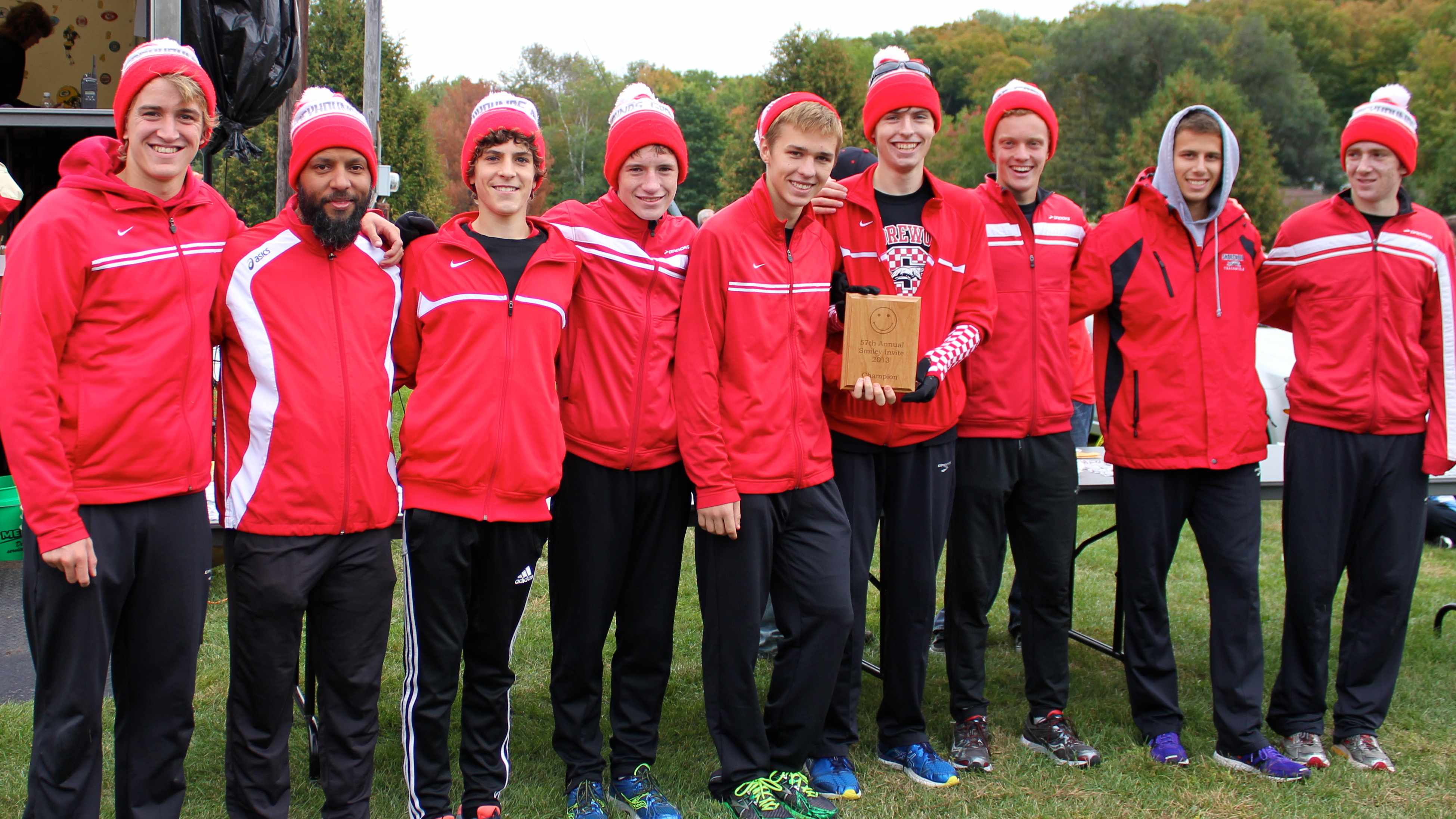 Varsity Boys
Smiley Invite - Wausau, WI
A beautiful fall day was the setting for an exciting meet in Wausau. Varsity and JV Boys both place 1st in team competition. JV Boys took 1st through 8th place - easily scoring a perfect 15 points. Alumni Alex McKowski and Ben Kuhlmann were there to cheer the team on!
Varsity PT Timing Race Results: http://67.23.19.61/system/files/10095/original/BV2.pdf?1379775723
JV PT Timing JV Race Results: http://67.23.19.61/system/files/10093/original/BJV23.pdf?1379773722
Check out the photos from rom the meet: http://www.shutterfly.com/share/received/welcome.sfly?sid=0CbMW7NwzbMnMg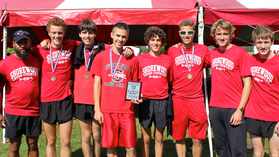 Varsity Boys at Oshkosh
Saturday, September 28
Varsity Boys take First in Oshkosh, JV Team races both Varsity and JV in Muskego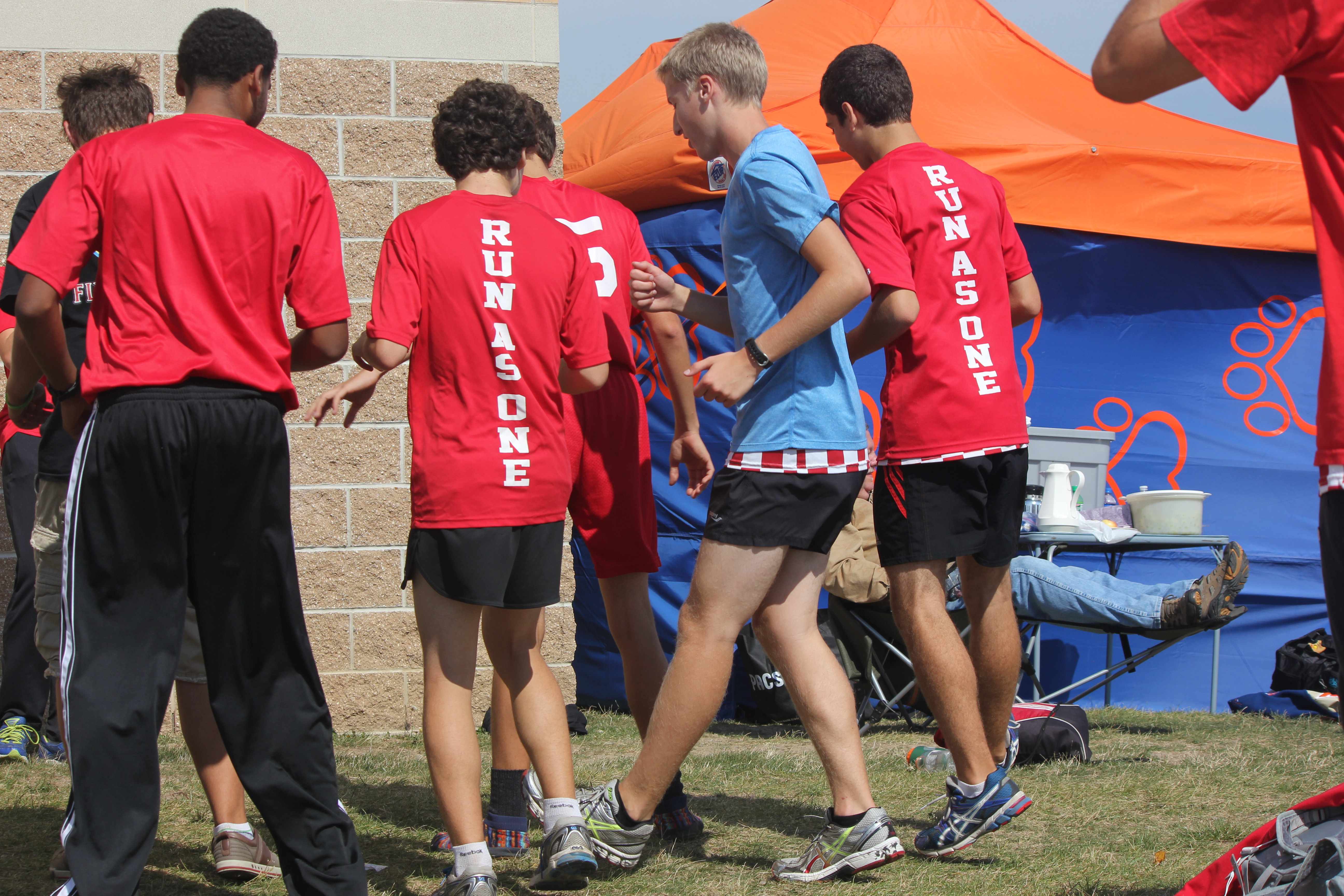 JV Boys dancing as one
Lourdes Academy hosted the 4th Annual Dr. McDonald Memorial Cross Country Invitational at Lake Breeze, Oshkosh on Saturday September 28. The location lived up to its name on this warm and windy day.
The Shorewood Varsity boys took 1st place with 52 points over the second place Oshkosh W (66 points) and Little Chute (95). Charles Stahl took first place in a photo-finish battle, followed by Jacob Goldberg in 6th, Sam Kuhlmann in 7th, Jack Mauer in 12th, Johnnie Papineau in 28th, Henry Fowler in 30th and Sam Shields in 59th.
Oshkosh Varsity Race (Varsity Boys):
Link to Varsity Oshkosh race-day pictures: http://share.shutterfly.com/action/welcome?sid=0CbMW7NwzbMnVA
Link to Oshkosh Race Results: http://athleticdirectorsedge.com/images/L_Large_Boys_TeamResults.pdf
Muskego Warrior Invitational
The JV boys raced in Muskego Saturday - running in both the Varsity and JV races there. Our JV boys had a good showing in the Varsity race - taking 9th out of 17 Varsity teams. The Boys took 7th in the JV race. ]
Link to JV race-day pictures: http://share.shutterfly.com/action/welcome?sid=0CbMW7NwzbMnqw
Link to Muskego Race Results: http://www.pttiming.com/page/show/65867-race-results
Saturday, October 5
Impressive results at UW Parkside race!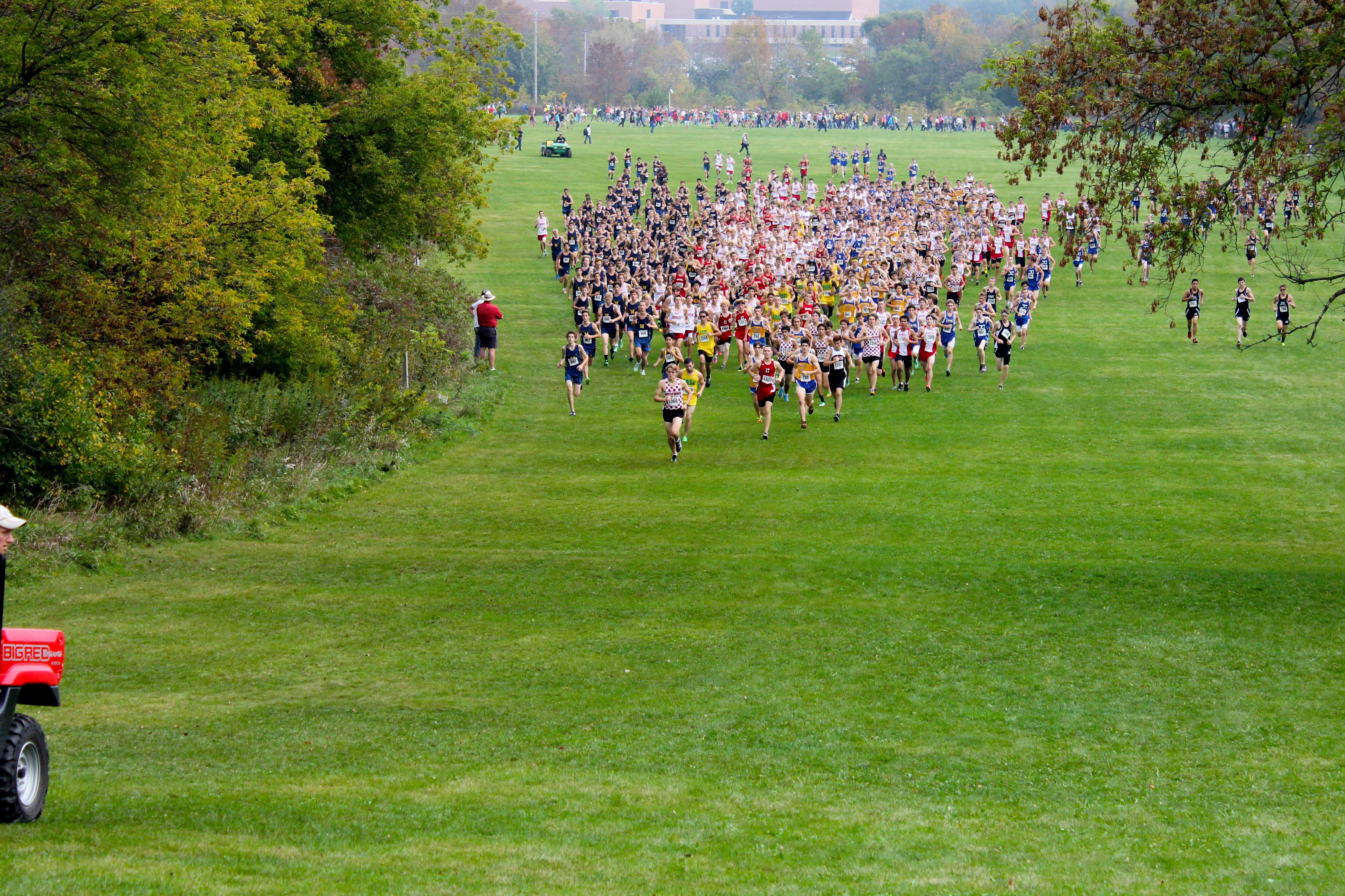 508 racers starting the JV Race
Check out the article in the Sunday Journal/Sentinel praising the team's strong performance: JS Article
Links to Photos from the day: http://share.shutterfly.com/action/welcome?sid=0CbMW7NwzbMnRQ
Varsity boys came in a close 2nd at the Eagle invite - within 4 points of (and with a faster average time than) the #1 ranked Division 1 team - Madison West. 19 Varsity teams and 162 runners competed.
JV finished with a strong 3rd place finish against 14 other teams - many division 1.
Varsity Team tool 2nd overall with 62 points - results below:
O'all Adj
Place Place Bib No Name Team Time Pace Grade
2 2 1367 Charles Stahl Shorewood 15:57.6 3:11/K 12
4 4 1353 Sam Kuhlmann Shorewood 16:17.5 3:15/K 11
13 13 1348 Jake Goldberg Shorewood 16:51.8 3:22/K 12
20 20 1357 Jack Mauer Shorewood 17:02.0 3:24/K 12
27 27 1361 Johnnie Papineau Shorewood 17:07.5 3:25/K 11
48 48 1345 Henry Fowler Shorewood 17:26.0 3:29/K 10
58 58 1354 Dylan Larson-Harsch Shorewood 17:36.9 3:31/K 11
64 (> 7) 1344 Mayan Essak Shorewood 17:45.3 3:33/K 11
JV took 3rd overall also with 62 points - results below
O'all Adj
Place Place Bib No Name Team Time Pace Grade
8 8 1366 Sam Shields Shorewood 17:53.4 3:35/K 11
11 11 1356 Alex Luger Shorewood 17:58.7 3:36/K 10
13 13 1368 Gus Wettstein Shorewood 18:00.1 3:36/K 11
14 14 1346 Mario Fregroso Shorewood 18:01.3 3:36/K 11
16 16 1347 Max Gietzen Shorewood 18:14.7 3:39/K 11
76 45 1351 Graham Hartlaub Shorewood 19:17.9 3:51/K 10
80 47 1349 Victor Gould Shorewood 19:21.1 3:52/K 9
107 (> 7) 1337 Sam Ballistrieri Shorewood 19:39.4 3:56/K 11
125 (> 7) 1338 Cole Baumann Shorewood 19:51.5 3:58/K 9
137 (> 7) 1342 Connor Erikcson Shorewood 19:55.9 3:59/K 12
142 (> 7) 1362 Gus Pendleton Shorewood 19:57.8 3:59/K 11
165 (> 7) 1365 Ryan Shanahan Shorewood 20:08.7 4:02/K 12
166 (> 7) 1358 Eli Miller Miller Shorewood 20:08.9 4:02/K 12
207 (> 7) 1363 Max Rawling Shorewood 20:34.5 4:07/K 10
209 (> 7) 1364 Will Sandy Sandy Shorewood 20:35.1 4:07/K 10
211 (> 7) 1350 Marcus Hagstrom Shorewood 20:35.7 4:07/K 9
260 (> 7) 1370 Luke Wittman Shorewood 21:14.8 4:15/K 9
323 (> 7) 1343 Balen Essak Shorewood 21:57.8 4:23/K 10
Links to UW Parkside race results:
2013_Eagle_Invite_V_Boys_Team.htm
2013_Eagle_Invite_V_Boys_Overall.htm
2013_Eagle_Invite_JV_Boys_Team.htm
2013_Eagle_Invite_JV_Boys_Overall.htm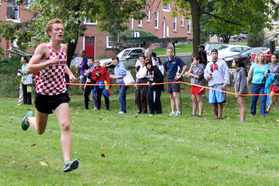 Charles Stahl beats Shorewood's record for the Kern course
Saturday, October 12
Charles Stahl beats school record at home course - strong Shorewood results all around!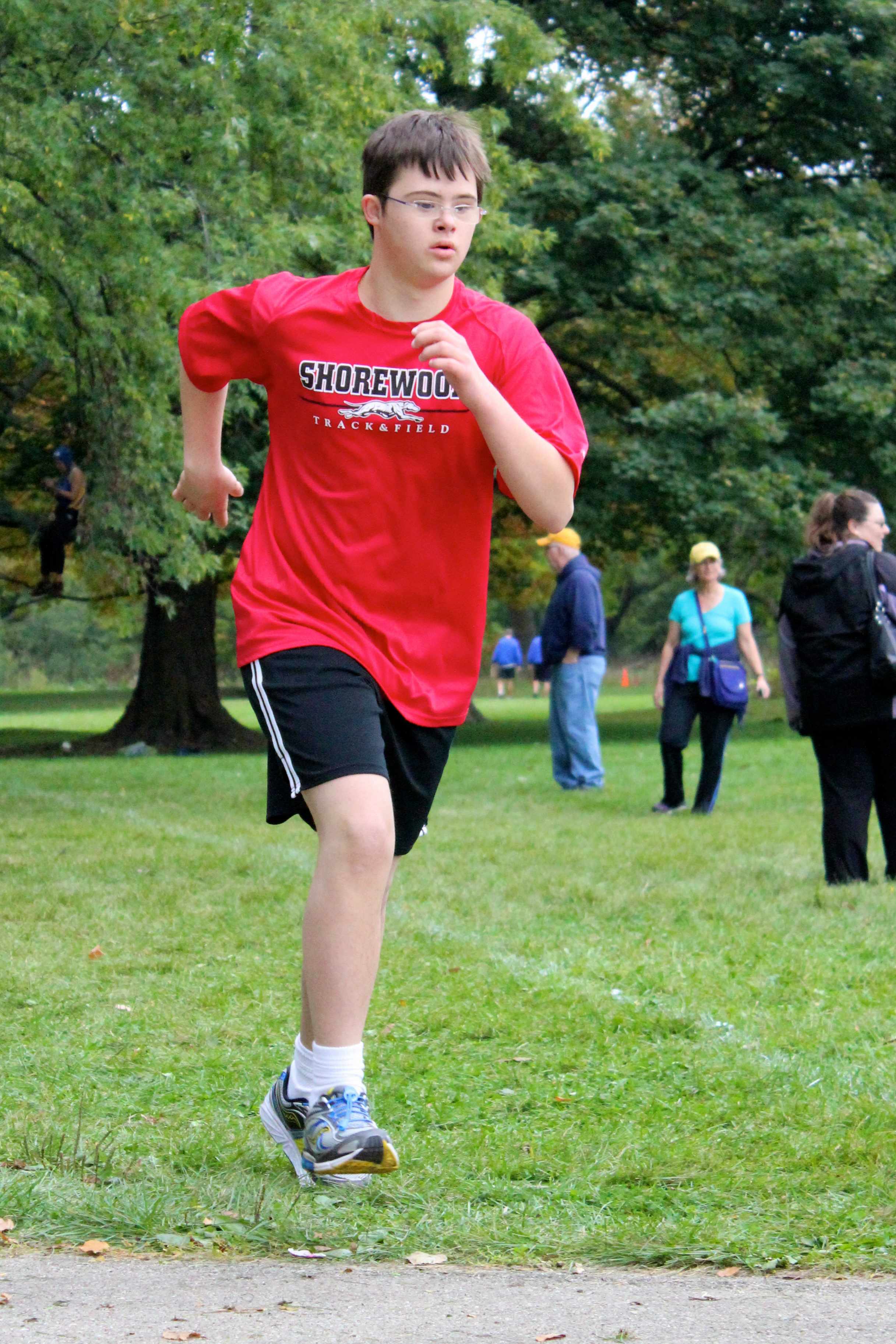 Sam Lenz running strong
Charles Stahl beats Ben Tyler's 2008 Kern course record of 15:44 with a blazing 15:42 finish to lead the Harriers to a 1st place Varsity finish. Varsity Boys team 1st, JV team ran as Varsity "Gray" team (2nd team) and finished an impressive 4th. JV boys ran a strong race and finished 2nd.
Link to photos from today's race on a beautiful fall day: http://share.shutterfly.com/action/welcome?sid=0CbMW7NwzbMnmA
Link to Race results at PT Timing: http://67.23.19.61/system/files/10404/original/boysv.pdf?1381606408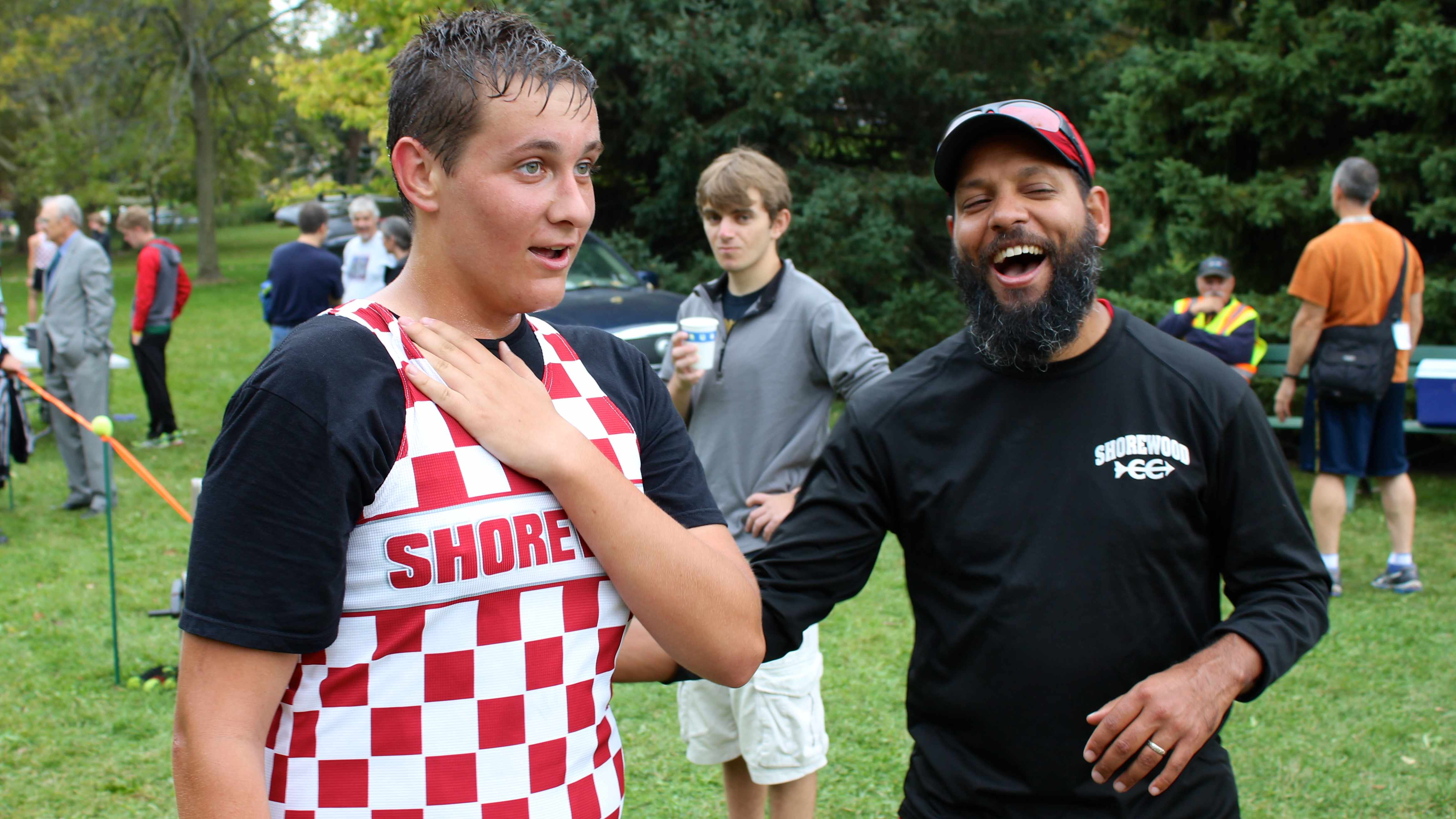 Alec Krzecki and Dom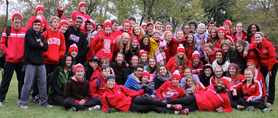 Boys' and Girls' teams celebrate conference wins together
Friday, October 18
Shorewood JV and Varsity win the Sheridan Conference meet!
Conference Recap from Dom:
It Was That Kind of Day for Shorewood....
Start with perfect running conditions with cool temperatures and a slight breeze; and sprinkle with lots of guts, heart, belief in themselves and enthusiasm. What do you get? A very special day for Shorewood Cross Country kids and the fans watching.

JV Boys Set the Tone..
JV boys kicked things off by making clear that this last meet of the season was going to be one for the memory books. The big dog of this race was Gus Wettstein but it seems like everyone had a big day in their own right. The Greyhounds got out fast at the gun and kept a group of 13 runners close, changing leads at time throughout the race. Eventually Wettstein took the lead over Mishlove the last 1200 meters and he went on to dominate the rest of the race, finishing with an impressive PR of 17:45

However, this wasn't just Wettstein's race. Up toward the front of the pack Shorewood had Flegel-Mishlove, Gietzen, Luger and running together Woyak, Fregoso and Pendleton trailing slightly behind. We took the top 7 places slamming the meet (perfect 15) and placing 10 boys in the top 25. I know that many of the runners want to close the door with a PR but after comparing times from an early season race I was surprised that our times were not faster. So I went back to the course on Sunday to measure it and I came up with it being about 40 meters long. This would add about 10-12 seconds on to a runners time. The boys had PR efforts and that is a good way to end the season even if your time does not reflect that! Congrats JV runners and thanks for inspiring the Varsity athletes.



Quick Stats on JV Boys:


1 1 Gus Wettstein SO Shorewood 17:45.96 5:44
2 2 Joey Flegel-Mishl JR Shorewood 17:58.42 5:48
3 3 Max Gietzen JR Shorewood 18:02.43 5:49
4 4 Alex Luger SO Shorewood 18:10.26 5:51
5 5 Ethan Woyak SO Shorewood 18:20.10 5:55
6 6 Mario Fregoso SO Shorewood 18:24.49 5:56
7 7 Gus Pendleton JR Shorewood 18:29.95 5:58
9 Graham Hartlaub SO Shorewood 18:54.62 6:06
13 Sam Balistrieri JR Shorewood 19:04.78 6:09
22 Connor Erickson SR Shorewood 19:24.94 6:15
28 Cole Baumann FR Shorewood 19:32.25 6:18
29 Frankie Cortez SO Shorewood 19:34.65 6:19

34 Will Sandy SO Shorewood 19:48.41 6:23
37 Eli Miller SR Shorewood 19:53.35 6:25
39 Ryan Shanahan SR Shorewood 19:54.51 6:25
41 Henry Dellutri FR Shorewood 19:55.08 6:25
44 Marcus Hagstom FR Shorewood 19:59.62 6:27
46 Max Rawling SO Shorewood 20:00.20 6:27

64 Balen Essak SO Shorewood 20:30.31 6:36

80 Luke Wittman FR Shorewood 21:13.95 6:51
90 Olajuwon Cawthon JR Shorewood 21:49.53 7:02
104 Peter Olson JR Shorewood 22:35.48 7:17

126 David Wolfe SR Shorewood 25:24.43 8:11
133 Alex Krzecki SR Shorewood 31:10.34 10:02
Varsity Boys Chow Down
JV boys wowed the fans at the Woodland Conference meet. Can the Varsity boys take the JV's lead?? The race started fast as the top two contenders, Floyd-Mews from Tosa West and Charles Stahl from Shorewood were out around 5 minutes at mile. Stahl had to decided how badly he would like to make this race an upset! Meanwhile, Kuhlmann maintained his strategy of remaining in the next pack back and began to make his move shortly after the mile mark as well. By the two mile mark Kuhlmann was in a battle for 3rd place. This battle continued to the finish line where the two of them fought it out the last 20 yards in true grit fashion. Kuhlmann came out on top!! I have never seen him kick like that in my life. Perhaps lesson learned from Sectionals last year track??


Back a bit was the powerhouse that will be the critical backbone of this Shorewood TEAM. This foursome, made up of Mauer, Essak, Shields and Papineau, scored the critical points that make this such a solid team. Each leaped forward to help fill the gap because we were missing Goldberg! As typical of their strategy they ran, together as a pack during the first half of the race. As the race progressed it was clear that they had something to prove. That they did. By the time it was all over, Mauer and Essak were within shouting distance of breaking 17 minutes while Shields and Papineau worked as one unit to earn Second Team All Conference. Larson-Harsch earned Third Team All Conference and running a PR.

I suspect that Fowler wanted to have his conference race finish a bit better. But our hat's off to him for making the next group push to be better. It's been great to watch Fowler's progress this years, he's a twitchy underclassman but the boys brought him in under their wings and encouraged him to surge forward and to compete at the Varsity level.

When it was all said and done, Shorewood dominated the meet, taking 2nd, 3rd, 10th, 11th, 14th, 15th, 21st and 21st.


Quick Stats on Varsity Boys:



First Team All Conference:
2 2 Charlie Stahl SR Shorewood 15:55.53 5:08
3 3 Sam Kuhlmann JR Shorewood16:19.20 5:16
Second Team All Conference:
10 10 Jack Mauer SR Shorewood 17:05.39 5:31

11 11 Mayan Essak JR Shorewood 17:06.51 5:31
14 14 Sam Shields JR Shorewood 17:13.43 5:33
15 15 Johnnie Papineau JR Shorewood 17:15.75 5:34


Third Team All Conference:
21 20 Dylan Larson-Harsc JR Shorewood 17:24.82 5:37

*30 Henry Fowler SO Shorewood 17:46.91 5:44


Seniors! WOW the time is here and I hope that you will spend sometime to reflect on your HS running experiences. Take the time to reflect and perhaps write a short summary of what you got out of it. Thanks for your leadership! Whether you ran 1 year, 2 years or 4 years you are always a Greyhound Harrier!!
Link to race pictures from today: http://share.shutterfly.com/action/welcome?sid=0CbMW7NwzbMnug
Link to PT Timing with Race Results: Woodland Conference race results
Friday, October 25
Shorewood Boys are heading for the State meet after strong Sectionals finish!
Having their #3 man out sick didn't hold back the strong Shorewood Boys team. They finished a hard-fought second after Wisconsin Lutheran and are heading for the state meet in Wisconsin Rapids next weekend.
Charles and Sam fought a tough battle against the top Wisconsin Lutheran runners and took 2nd and 3rd place, respectively. Stepping up in Jacob Goldberg's absence, Sam Shields carved over 40 seconds over his last race at Kern for a 12th place finish. Mayan and Johnnie rounding out our top 5. Dylan Larson-Harsh and Jack Mauer in 6th and 7th. Congratulations TEAM on making it to state!
PT Timing results from today's race: http://67.23.19.61/system/files/10513/original/BV_Team.pdf?1382740175
Photos from today's race: Sectionals Meet @ Kern 2013
Friday, October 25
Shorewood Places Second at Sectionals! Girls win on a tie Breaker! (recap from Dom)
Shorewood Boys takes second to Wisconsin Lutheran at Sectionals.
Though rated second in state by coaches coming out of last week's great performance, everyone in Shorewood knew what the reality was: that this Sectional Meet was going to be the tough. Wisconsin Lutheran was consistently ranked top 1 or 2 in state, with Grafton being ranked in the top 5-6 all season. Going into the Sectionals we all knew that we had to fire on all 7 cylinders to sneak a second place out of perhaps the toughest of all D2 Sectionals. Wisc. Lutheran and SHS may have looked like a lock; but we can never underestimate others teams taper/peak (Grafton). We were also running without Goldberg. I still wanted him to recover from his sickness. Dylan Larson-Harsch was ready to fill in.
The forecast called for cool weather, and winds up to 12 mph. The weather was near perfect with low 50s temperature and a mild breeze from the south. The starting gun went off at 4:45 and 14 varsity teams bolted from the long white starting line with 70+ boys fighting for placement as they blasted toward the first turn into a gradual hill going west. The course sweeps left to the south and then another turn to the east as the course snakes through the Kern Park. Spectators run through the trees to catch a glimpse of the boys. As the fans settled near BIG BERTHA the Greyhounds began maneuvering to the front; Stahl and Kuhlmann stuck with the ranked Wisco runners, The pack of 3-7 was a bit behind the first group, pacing the Wisco and Grafton runners for the first half of the race.
As the runners came up near the 1000 meter mark, our core group of runners, Shields, Essak, Papineau, Larson-Harsch and Mauer, were mixing it up with a pack of Grafton and Wis. Lutheran boys. At the base of BERTHA it was anybody's race. By the halfway point it looked like Shorewood had a chance of knocking off Wisco, Looking relaxed and confident, Shields was establishing himself the leader of the second group chasing little Lueck down. Essak was doing what he could to stay with Shields and working on trying to catch as many runners in front of them as they could. The Shorewood Core was fracturing as a pack battling to make sure that they maintain whatever position that they could to the finish.
The big question was whether we could hold our positions and take a few more Wisc. Lutheran's boys over the last 1000 meters? Stahl and Brown surged ahead trying to see who will dominate the course the last 950 meters. Kuhlmann overtook the older Lueck as we had hoped. The Shorewood Core blasted one last time off the to of the hill with a bunch of Wisco runners they needed to beat. Dylan encouraged Mauer to hang on for one more lap!! In the end we managed to qualify for our 15th straight trip to the WIAA State Cross Country meet. It was not a our best performance and we will need to make some adjustments if we would like to see the podium next week. The score could be a lot closer if we had Goldberg and if a few greyhounds would have stuck to our race plan.
Happy but Not Satisfied: The boys circled up and agreed that while they could have done better, they did what they could. We know were to make adjustments and we will have a solid race plan going into next weekend. We will be in box 16 at the Ridges Golf Course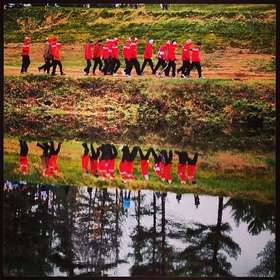 Boys walking the course at the State meet
Saturday, November 2
Shorewood Boys take 3rd place at the 2013 state meet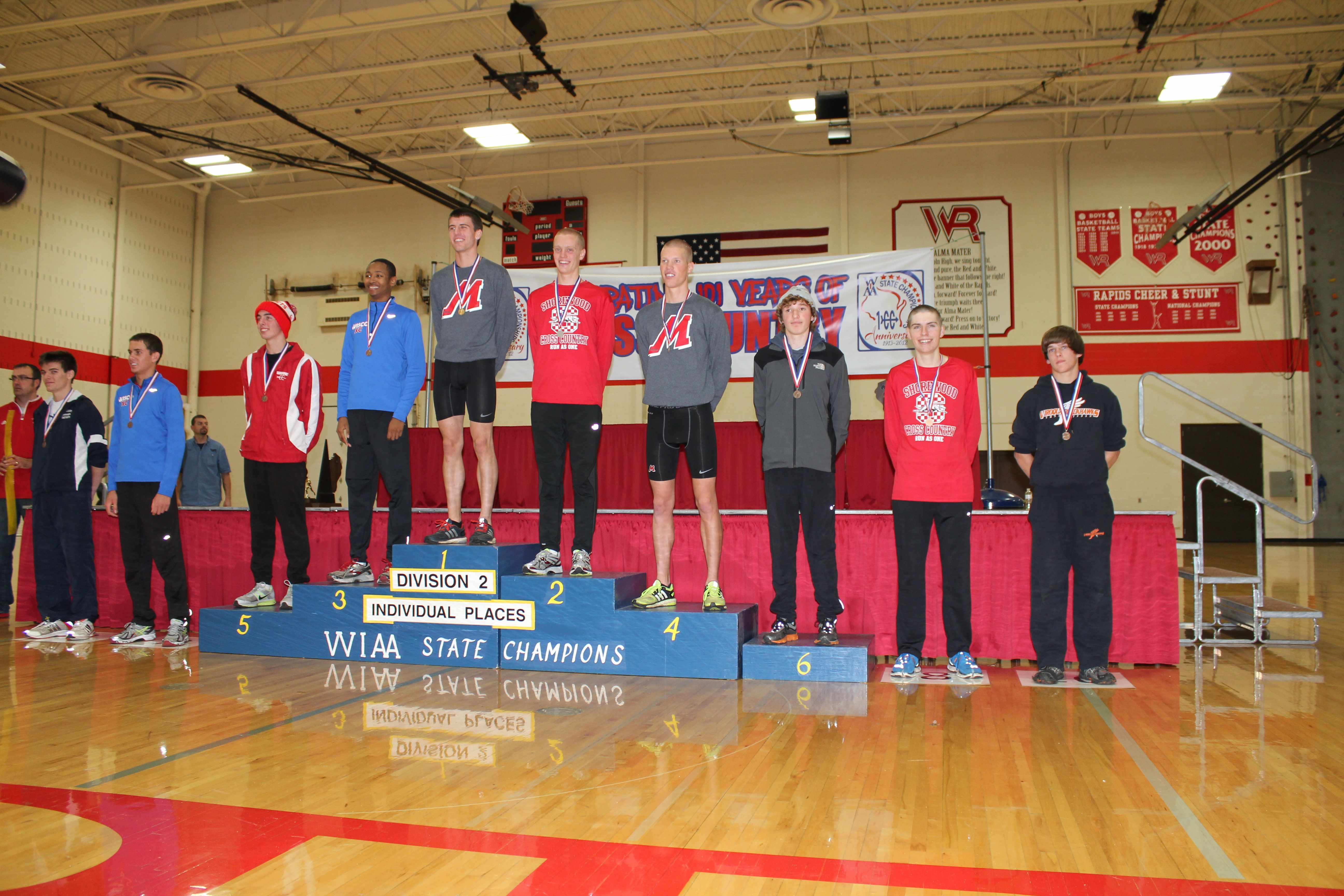 Charles and Sam on the podium of top-10 finishers
2013 State Cross Country Championships
Saturday, November 2
Ridges Golf Course, Wisconsin Rapids, Wis.
Shorewood Harriers finish off the season with a 3rd place finish at the State Cross Country meet. Charles Stahl (2nd) and Sam Kuhlmann (8th) finished in the top 10.
Recap from Dom, followed by links to photos & results:
The Greyhounds made their 16th straight state meet appearance at the Ridges Golf Course this past weekend. This may be the longest streak in recent D2 history. The boys finished 3rd out of 16 teams. With chilly and wet conditions they were led by Charlie Stahl (16:07) and Sam Kuhlmann (16:27) to a 2nd place and 8th place finish. Both podium spots this year! Charlie and Ethan Moehn of Monroe battled up front the whole way. John Chandler who was driving the lead cart said it was the most enjoyable race to watch as these two would not give one inch! Sam Kuhlmann is establishing himself as a contender for next year! https://www.youtube.com/watch?v=L0DVw6JpA0g

Sam Sheilds had a great race as our 3rd runner 52nd place (17:27). He took charge of our 3-7 pack and kept his head in the game at his first state meet appearance! Sam has been determined and consistent the last 4 weeks of the season. Jacob Goldberg finished his last state meet in 56th place (17:30). I know that this is not how Jacob wanted to finish his high school cross country career! But he fought through 2 weeks of sickness and we thought he was ready to come back to compete. I'm sure that Jacob gave everything that he had to help his teammates but it was not his day. Jacob has had an immediate impact on this program since his freshman year! I'm sure that he has inspired many of his teammates to just go out there and compete and not worry about the competition! Just get from point A-B as fast as you can. Something can be said about Jacob's simple approach! Jack Mauer fought through some sickness to place 70th (17:40). Jack will be missed as he had a laid back fun approach to every meet. He helped to soften the mood when everybody can be very tense. Yet when the gun goes off he means business. Mayan Essak placed 112th (18:16). I know that this is a far cry from what he wanted to accomplish. Mayan may have placed higher his freshman year and ran faster but our ultimate goal was to get him through the season healthy and possibly run at the state meet! Mayan accomplished both and he should be proud of himself for achieving these goals. Mayan kept an open line of communication and we both worked out a program that we felt would get him ready for the end of the season. Johnnie "Stats Man" Papineau rounded out the top 7 for 118th place (18:25). I know that he is not satisfied with his race but Johnnie has made huge gains from last year and and I know that he will use this years race to help motivate him for the 2014 season. Johnnie even pulled up some stats to show that we may be in the hunt next year :)



Today we didn't run quite as well or as fast as we'd hoped but I'm pretty sure

that we all but forth our BEST EFFORT! We made the other teams earn their place and that's all we can do! I really believe that we helped to elevate the D2 Competition! Other teams are thinking that if you want to beat Shorewood you have to work harder and race faster!


Over the past 16 seasons our J.V. teams have been successful because of our seniors. Our seniors stick around, contribute, and are proud to be part of our program whether they or Varsity or JV. They are happy to be leaders and willing to set a good example for our younger guys. There is no substitute for the leadership of a good senior class and we found that out this year.

Thank You Seniors for your Leadership!!


We've had a great season, worked hard, overcome difficulties and built a TEAM we can be very proud of!
Link to WIAA Race Results
Link to race photos: http://share.shutterfly.com/action/welcome?sid=0CbMW7NwzbMn3A
Monday, August 18
Use the red menu options to see current XC News or to see track and cross country news from different years, alumni news, etc.