Monday, November 24
Kevin Koehr's Backstroke Start in the 2005 State Championship Final
· Entries Now Posted for Woodberry Forest's Relay Carnival on Dec 6th. Only "A" Relays and Seniors are attending this meet.
· Practice lane assignments are now posted under Meet & Team Information.
· National Catholics is back on! It's January 24-25 at Loyola University in Baltimore. Only those hitting the meet qualifying times are eligible. Qualifying times are now posted.
· A second Team Apparel order will be placed with forms and checks received by Mrs. Heim before December 1st. Items will arrive before Christmas.
· Former Seton Captain and record holder Bridget Wunderly has been honored by Catholic Athletes for Christ (CAC) - Congratulations Bridget! Read about it here.
· Click here is think you want to hit that snooze button.
· Check out this example of courage as shown by current FCS Assistant Coach and former swimmer Joey Pleban by clicking here and here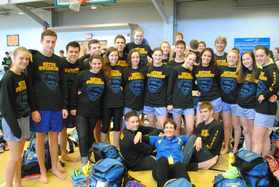 Seton's State Championship Team
Monday, February 17
Seton's Girls Win Division II State Championship Runner-Up!
Last weekend (Feb 14-15, 2014), we took 18 swimmers into the VISAA State Swimming and Diving Championship here in Manassas, and our Girls came home with the Division II State Runner-up trophy! The swimming I saw from our team was amazing, as it seems to be every year at States. In the language of swimming, when we train for a meet like this, we build a "taper" (i.e. reduce distance and increase intensity) into our practice schedule in an attempt to get swimmers to "pop" (i.e. a dramatic drop in time). Well our taper this year, as designed by Coach Lowell, really worked well because we had some huge pops!
The meet just seems to get more competitive every year. Imagine a meet where State records get broken ten (10) times and Jameson Hill's 500 Free record gets smashed by almost 4 seconds! Or imagine a sprinter swimming 50 Free is 20.39! I could tell countless stories of incredible feats of athletic prowess, but the theme is all the same: Virginia is becoming one of the premier swimming hotbeds in the country, and it sure is fun to watch.
Here's an excerpt from the scoring of a very exciting meet – particularly on the men's side where the meet came down to the final relay:
Girls
1. Collegiate School 353
2. Trinity Episcopal 346
3. Hampton Roads Academy 227 – Division II Champ
4. St. Catherine's School 218
5. Madeira School 155
6. Bishop O'Connell 141
9. Bishop Ireton 115
10. Seton School 76 – Division II Runner-up
11. Paul VI 69
20. John Paul the Great 18
Boys
1. Fork Union Military Acad. 267
2. St. Christopher's School 266
3. Hampton Roads Academy 194 – Division II Champ
4. Woodberry Forest 215
5. Norfolk Academy 200
6. Trinity Episcopal 187
7. Bishop O'Connell 155
12. The Covenant School 51 – Division II Runner-up
13. Fredericksburg Christian 41
18. St. Michael the Archangel 34
20. John Paul the Great 32
21. Paul VI 28
22. Bishop Ireton 25
So you can see from the scores that our young team has a ways to go to get back to the form that won both the boys and girls four (4) state championships each. But from what I saw this past weekend, we have a shot to return to that level, particularly on the girl's side. Hampton Roads Academy has a strong group of junior girls that have been competing with the top teams in the State all year, but our strong group is mostly sophomores, so we may have an opening here if we can keep getting faster.
Anna Kenna Sets Two New Team Records
Anna Kenna was nearly unbelievable this weekend, and our record board at Seton is going to show it! She had so many great swims that I hardly know where to begin:
· Leading off the medley relay, Anna drew a lot of attention with those big underwaters. Her previous best 50 Back was 28.33, which was also our team record. In preliminaries, she "popped" a 27.90 to swim the 3rd fastest split in the meet and set a new Seton record. Then in the Championship finals (top 8 in the entire state), she swam a lead-off split of 27.34, another new Seton Record! (See race here)That was the fastest split in the fastest heat with the fastest backstrokers in the meet! In the end, she had crushed her own record by nearly one (1) whole second! But she wasn't done with her amazing feats.

· Anna's 100 Free swim was about as exciting as it gets at States. She came in with a PR 56.57, but in Prelims, she went 55.71 – tied for 8th! The way a championship meet works, is that the top 8 are in the Championship Final (or "A Final") and the next 8 are in the Consolation Final (or "B Final") – so a swim-off was required. If you are in the "B" Final, you can't place higher than 9th, no matter how fast you swim, so the swim-off was key. In the swim-off, Anna faced a sophomore from Walsingham Academy who I knew had gone :54 earlier this season, but Anna gave her the race of her life. In the swim-off after everyone else except the two teams involved had left, Anna swam an unbelievable 54.77! Even though she lost by .30 seconds, we were all screaming as we stared in disbelief at the scoreboard. How do you drop almost 2 seconds when you are already swimming that fast? In the end, Anna swam the 7th fastest time in State, but took 9th place. (see her B Final here) But she still wasn't done

· In 100 Back, Anna came into the meet with a 1:01.73 and a goal to break 1:01. In prelims, she finished 9th with a PR 1:01.48, so once again she was on top of the "B" Final. In the Consolation finals on Saturday, she took control from the center lane and pulled away underwater. When I saw that 28.62 50 split (normally 29 high), I knew something special was about to happen. On the 2nd 50, she continued to pull away until she threw her head back, reached for the wall, kicked her feet up and touched the pad hard. We all looked at the board and saw a new Seton Team Record 59.79! (Click here to see the race) So much for beating 1:01! That time was the 4th fastest time in the State, but she again took 9th. The record that she broke was set way back in 2008 by one of Seton's all-time greats, Jessica Dunn who went 1:00.04 at a meet at Woodberry Forest that January.

· In her final swim leading off our 400 Free Relay in the Consolation Final, she had by far the fastest lead-off split with her 55.41 and gave a relay a great job start on their 9th place PR swim.

· So for the meet, Anna had a 7th place and three (3) 9th place finishes and two new team records. Not a bad weekend's work!
Other Swimmers Who Made it Back to Finals Individually
Every year, this meet gets faster, so it is no small feat to qualify individually in the top 16 during Prelims, but we had two other girls do it:
· Alex Sinner had her swim of the year in the 200 IM, particularly in the prelims where she cut 2.90 seconds from her PR to qualify 15th with an impressive 2:20.99. She took it out very fast in Fly and that seemed to feed the rest of her race. She ended up 16th overall. Alex also had some great relay swims and a great swim in 100 Breaststroke that I'll talk about below.

· Kimberly Rector had two great swims in the 500 Free. In Prelims, she swam a 1.15 second PR to go 5:36.57 and qualify 15th in a very fast field. Then in the Finals, she cut another 1.59 seconds to establish her new PR at 5:34.98 – good enough for 16th place and easily the fastest on our team. Kimberly also had some good relay swims that I'll talk about below
Our Girls State Championship Runner-up Status was Earned with our Relays!
The relays in this meet were simply incredible, so I was so pleased to have all three of our Girls relays emerge from preliminaries in the top 16 and earn a spot to compete in the finals later that night. Of Seton's 76 points, 56 of them were scored with these three (3) relays which will give you an idea of why I often put top swimmers in only one individual event and three (3) relays – relays score double points and where these championship meets are won:
· Our Girls 200 Medley Relay of Anna Kenna, Emily Heim, Kimberly Rector and Claire Kenna scored the most points for us with their 7th place finish after they came "back to music" (i.e. the top 8 finalist march to the blocks and get introduced to music). You already read about Anna's split, but the other three were stellar also. Emily swam the two best splits of her life in prelims and finals, 31.97 and 31.96 respectively – in finals, we were actually tied for the lead when Emily touched! Kimberly swam two very good fly legs with a PR split of 28.63 in the prelims and Claire totally rocked with splits we haven't seen since Lauren "the Machine" Donohoe was on the back end of our relays. How about a 25.12 in prelims and a 25.08 in the Finals!? Wow! To put all of these improvements in perspective, we entered the meet seeded 10th with a PR of 1:56.54 and left the meet 7th with a new PR of 1:53.62! That's an average improvement of .75 seconds per girl! Our team record is 1:50.25, and at the time it was swum, it broke the previous State record. I think these four girls may be able to make a run at this record.

· Our Girls 400 Free Relay of Anna Kenna, Alex Sinner, Kimberly Rector and Claire Kenna improved on their 11th place seed time of 3:57.76 to ultimately take 9th place by a wide margin with an amazing 3:50.62 – an improvement of nearly two (2) seconds per girl! Anna started off in the center lane of the Consolation finals with yet another sub-56 split that put us in the lead for good. Then Alex extended our lead with a lifetime best split of 58.26 – she was deservedly excited after the race in Finals. Kimberly also had lifetime best splits in both prelims and finals with the lowest at 59.09, and Claire once again rocked the anchor at 57.31. We have to feel pretty good about this relay coming back to music next year!

· Our Girls 200 Free Relay of Claire Kenna, Dani Flook, Kimberly Rector and Alex Sinner held their 10th place seed, entering the meet with a 1:49.73 and leaving with a new PR 1:46.77 – yet another relay where the girls averaged a .75 second improvement per girl – really amazing stuff. Claire led-off with a .37 second PR split of 26.09 in the Consolation Finals and actually gave us the lead. Dani had the most impressive split I've ever seen out of her. Her standing start PR is 28.20 and she popped a 27.61! Kimberly had a similar pop with a 26.55 split on a standing start PR of 27.72! And Alex completed the festival of great pops with a 26.13 split on a standing start PR of 27.35. It was great to see all four girls hit it so right, all at the same time.
There Were Plenty of Other Great Swims
Just because we didn't always make the finals doesn't mean that we didn't have some other great swims:
· Alex Sinner had an incredible swim in 100 Breaststroke, breaking her previous PR by .66 seconds to go 1:13.35, the fastest time on our team this year. That great swim came out of Prelims at 17th place, just out of the Finals, but I know Alex had to be happy anyway!

· Claire Kenna had an outstanding swim in Girls 50 Free, cutting .37 seconds from her PR to go 26.09 – oddly enough, that was exactly the same time she swam leading off our 200 Free Relay in the Finals. That time got Claire the 2nd alternate spot for Finals at 18th place. The girls 50 Free was very tight with a 25.49 qualifying for the Championship Finals, so I'm excited for Claire's prospects at next year's States.

· Emily Heim hit a lifetime best, by a huge .74 seconds, in 100 Breaststroke with a 1:14.01. I hope Emily was pleased with the way she swam in this event and her relay because I sure was!

· Joe Kosten ended her senior year with a 28th place 200 IM after a near PR 2:13.60. It was fun to watch the joy that he put into the final individual race of his great career at Seton.

· Our other Relays performed very well also:

o Our Boys 400 Free Relay of Joe Kosten, Tommy Flook, Cris Salas, and Brian Koehr went from obscurity to nearly qualifying for the Consolation Finals with a 11 second PR to take 17th place after prelims. It was an amazing swim! Joe started the train rolling with a .42 second PR lead-off 54.70 followed by Tommy's 55.95 (standing start PR of 56.81). Cris hit a 57.74 and then Brian really rolled up the anchor with a lifetime best split of 56.29!

o Our Boys 200 Free Relay of Joe Kosten, Cris Salas, Tommy Flook and Brian Koehr swam so well that they jumped up to the 2nd alternate position (18th place) with a season best 1:38.83. Joe had a solid lead-off, then Cris rocked a 25.09 (PR of 25.91), Tommy hit a 24.27 (PR of 24.94) and Brian rolled to a 25.20 (PR of 25.31). It was some very fine swimming from these boys.

o Our Girls "B" 200 Medley Relay of Dani Flook, Jillian Ceol, Meghan O'Malley and Sally Marrazzo cut nearly 3 seconds from their season best and finished with the 28th fastest time in the meet. All of the splits looked like lifetime bests!

o Our Boys 200 Medley Relay of Brian Koehr, Joe Kosten, Tommy Flook and Cris Salas cut .39 seconds from their season best with Joe and Tommy swimming particularly fast splits.

o Our Girls "B" 200 Free Relay of Jillian Ceol, Sally Marrazzo, Madeline Snider and Emily Heim beat their seed time by nearly 2 seconds with some great splits, particularly Sally's 27.80 and Madeline's 27.88

o Our Boys "B" 200 Free Relay of Andrew Bishop, Patrick Pennefather, Joe Zapiain and Mark O'Donohue actually swam 12 seconds faster than their seed time! Andrew led-off with a .29 second PR swim of 26.52, then Patrick split 26.22 (standing start PR of 26.96), Joe split 26.33 and Mark hit a big 26.17 (PR of 26.91). This relay gave these guys a taste of States that I hope they will want more of next season!
The Spirit of Seton Volunteerism Shines Again
We weren't the primary host of this meet, but as the meet date approached, we seemed to be picking up more and more responsibility – and our parents took it all in stride. It would be hard to thank everyone, but here's a partial list:
· Mr. Sinner and Mr. Rector for running the CTS and serving as the head timer during the meet.

· Mrs. Latimer (Snider), the O'Donohues, and the Heims for tackling the very challenging job of Meet Marshal in the Watch and Go seating area. Sometimes a Swim-Mom or Swim-Dad can be quite a hand-full I have come to learn.

·

Mr. Given

for tearing down the sound equipment late Saturday night – and he didn't even have a kid in the meet!

· Mrs. Kenna and Mrs. Heim for arranging for those great t-shirts

· The Sinners and the Rectors for the fabulous hospitality between sessions

· Mrs. Heim and RJ Kenna for jumping in as the Runner at the last minute

· Mrs. Pechie for setting us up at City Tavern and supplying all of the supplies we needed to run the meet

· Mrs. Kenna for taking such great pictures

· Ceili and Connor Koehr for such a great job leading the top 8 finalists to the blocks – and for looking so darn cute! (he says without an ounce of bias ;-) )
Awards are All That Remain
Mrs. Dalrymple is coordinating our Awards with Mrs. Pechie for Sunday, March 2nd at the All-Saints Performing Arts Center (the old Church) starting at 1:00 p.m. I think she's planning a slide show and ice cream, but I'll put out more details as plans develop.
Final Thoughts
It certainly has been another great season for Seton, even if it was different from some past years – I'm quite encouraged by our future here. I've written in past blogs of the great joy that comes from achieving things that you never thought possible by working hard, believing in yourself and taking a risk. I saw countless examples of that this season, and I'll tell you true – you swimmers are not the only one who get great joy out of it.
Coach Jim Koehr
Sunday, January 5
Hey Coach, Does Winning Really Matter Anyway?
Blessed are the meek: for they shall inherit the earth Matt 5:5 
I've heard it said at Seton that winning doesn't really matter, and some people have asked me if my emphasis on personal records means that I believe that myself.  I don't.  And I certainly don't think that our faith teaches us that. 
Our faith does teach us to be "meek", but many people completely misinterpret the term "meekness" in the way that Christ meant it.  According to St. Thomas Aquinas, "meekness is a virtue which moderates the passion of anger according to the dictates of reason, and calms the desire for revenge".  I don't know about you, but I didn't see anything in that definition that implies the capitulation or timidity often associated with the term "meek".  Quite the opposite in fact. 
To demonstrate the spiritual strength to be truly meek, you need to be in complete control of your passions and direct them toward good – so called "righteous anger".  And to be truly meek in competition, you have to have the strength of character to turn your anger inward to maximize the gifts that God gave you rather than trying to tear down your competition.  So being meek actually requires incredible strength of character. 
If you really want to take "meek" to the next level, you compete is such a charitable way that you actually make your opponent better too.  Taken this way, if you don't try to win, you are actually doing your competitor a disservice!  
This is why winning matters.  I will wonder aloud: if we did not have such a long history of winning at Seton, would some of those great FCS swims have been perhaps a bit less inspired?  Would Jack Rutherford have had that ridiculous swim in the 50 Free?  Or would Brandon Chang, Noah and Garrett Ross, or George Tryfiates have swum the way they did?  Certainly there is some excellent coaching going on down there, and they certainly would have improved without competing against Seton – but all of us who compete know that we like to beat the best.  And Seton has been the best for a long time. 
Now the shoe is on the other foot.  They are the ones who need to be meek.  They are the ones who need to push us to be better stewards of the gifts God gave us by being even better stewards themselves - and when that happens, all of DAC Swimming benefits.  I doubt they are going to happy with just one DAC Championship – at least I hope not.  
To me, being "meek" is synonymous with being a great sport.  I never liked it that, by default, the worst team in a league always seems to get the sportsmanship trophy.  Being happy about losing is not good sportsmanship – it is the opposite of good sportsmanship because those who are content with losing are not making anyone with whom they compete any better.  In their victory yesterday, I think that FCS, particularly their coaches, were a great example of meekness in Christian sense – and the Seton boys are going to return the favor next season ;-) 
Christian Meekness in athletic competition is not capitulation or timidity. 
Christian Meekness is the spiritual strength to help your competitors over the bar that you raised by winning.
- Coach Jim Koehr