Saturday, February 13
Matt and MaryAnn Hassan watching Patrick and Bernadette at Seton's Dec 4th Meet
DAC Champs is tomorrow (February 13th) at St. Michael the Archangel are now posted
Be on deck ready to stretch before 11:09 a.m.

I've posted a final update to today's relays. They've been adjusted to make sure that everyone that I project going to States has a chance to officially qualify
Another UPDATED DRAFT of Seton's 2016 State Team and Entries are now posted.
I cannot finalize the team until after DAC Champs

You should have your hotel room out of our block by now. The block goes away tomorrow.

UPDATED: "Everything You Need to Know About States" is now posted
Check out a re-post of an excerpt of one of last year's blogs about a talk I heard by former Seton Captain Ray Bennett. I've posted it below.
Analysis, Results, Scores and Records Now Posted for the VISAA Division II Invitational at the Freedom Center from February 6th
Seton Boys Take Back DAC Championship!

With the meet rescored as a dual meet to determine DAC standings, Seton tied FCS!

So with the prior 4 point victory, Seton is the conference champion!

New VISAA Division II Meet Records and new DAC Records also posted.

Updated PRs are posted under Team Information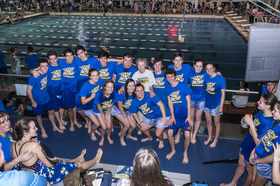 The Chief (aka Mrs. Carroll) with all of her Seton Seniors at NoVa Catholics
Wednesday, February 10
Seton Boys Take Back Conference Championship!
Last Saturday, we hosted our 10th annual VISAA Division II Invitational. The meet was originally conceived as an opportunity for all of the smaller schools in the State to build a sense of community with a championship-style meet before we join all of the big schools at the State Championship meet two weeks later. In those ten (10) years, the meet has grown to 20 teams and a real preview of some future State Champions. The music, the medals, and the friendly teams all combine to make it a great experience every year.
Going into the meet, I was definitely worried about the outcome because we were missing three (3) of our scoring boys, including our top breaststroker, to the Blue Crab Bowl in Virginia Beach. A lot of people left the meet thinking that our boys had lost the meet to Fredericksburg Christian, which was true, but that didn't mean that we lost the conference. Let me explain: Several years ago, when Wakefield AD Paul Sipes was the DAC Commissioner for swimming, we got together and determined that the conference champion would be determined by the scores of the first two meetings of each team in the conference. If, for some reason two teams did not meet twice, then we would re-score the Division II Invitational as a 3+ Dual meet (i.e. everyone against everyone else like our regular season meets) and use those scores to determine the conference champion.
Well we rescored the meet and the Boys meet between Seton and FCS was a tie – 143 to 143! Back on December 19th at our homecoming meet, our boys beat FCS by only 4 points. So across two meets, with nearly 600 points scored, the Seton Boys win the conference by only 4 points! Last year, our boys lost the conference to FCS by only 8 points, so it has been amazingly close competition between our two teams for the past two years. I'll illustrate just how close with some examples below.
For the VISAA Division II Invitational Championship, Hampton Roads Academy (HRA) was awesome – both their boys and their girls. At their second appearance at this meet, their Captains hoisted both of the Championship trophies, winning by very wide margins. A newcomer to the meet, Trinity Christian's girls took 2nd place by just 10 points over Seton, and Fredericksburg Christian's boys took 2nd place by 55 points, again over Seton. Recall that the Seton girls won this meet for the first eight (8) years in a row, so this was quite an accomplishment for Trinity Christian in their first year fielding a swim team.
I'd also like to congratulate the two swimmers who took home Swimmer of the Meet honors: Reni Moshos of Highland and Jared Norton of Hampton Roads Academy. They both swam incredibly well, individually breaking four (4) meet records between them.
Of the 20 teams involved, here's how the meet scores looked for the top finishers when it was all over:
Girls
Hampton Roads Academy 355

Trinity Christian 230

Seton School 220

Millwood School 109

Fredericksburg Academy 101

Highland Hawks 78

Fredericksburg Christian 73
11. Holy Family Academy 22
So Holy Family, with just Dani Flook of Holy Family Academy, beat seven (7) other girls teams entered in this meet!
Boys
Hampton Roads Academy 388

Fredericksburg Christian 240

Seton School 185

Trinity Christian 152

The Covenant School 93

Highland Hawks 68

Wakefield School 42
So How Close Was the Dual Meet Against the FCS Boys Anyway? Because of the way the meets are scored, what it takes to win a championship meet can be quite a bit different than what it takes to win a dual meet. In a championship meet, we score the top 12 finishers – all together, no matter what team they are on. If we look at the Boys 50 Free for example, the top finisher scores 16 points, the 12th place finisher scores 1 points, and the next 37 finishers don't score at all – in other words, there is a premium on having even a few very fast kids.
In a dual meet, each team has four (4) scoring entries and 7 out of 8 will score some points – in other words, there is a premium on having a lot of pretty good kids.
FCS has four (4) boys that are all faster than the fastest boy on our team. If you look at the their splits in the 200 Free relay, they had three boys go :23 and one boy go :21. We don't have a single boy this year who has been under :24. However, we also have 20 boys who can swim 50 Free in under :28 and 13 boys that can do it under :27. With dual meet scoring of 8-6-5-4-3-2-1, they can get first, and we can win the event by taking 2nd, 3rd and 4th. So that is why they beat us in the championship meet and we beat them in the dual meet – their top kids scored hugely with the championship scoring, but weren't enough to overcome our string of 2nds, 3rds and 4ths.
But no matter how you score it, four (4) points is not very much – say you swap a 6th and 7th place in two events and you just altered the score by four (4) points. That means that everyone on the team had a chance to make a difference in the outcome of the conference championship! A win like this is most definitely a team effort, but here are some of the kids who can literally say that their swim made all of the difference for a conference championship for Seton:
David Flook (8) and Tim Costello (SR) swam PRs in their backstroke and breaststroke lets of our "B" Medley relay. David was .39 seconds faster and Tim was .32 seconds faster than ever before – and our "B" Medley relay only beat their "B" Medley relay by .38 seconds! Had we lost that race, we would have lost the first event 13-3 rather than only 10-8, so those swims saved us 8 points!

Alex Ceol (SO) joined us in spite of a conflicting VEX robotics competition and we are all glad he did! In the 200 Free, he cut 3.49 seconds and jumped up from the 3rd seed to 2nd place resulting in a 2 point swing for Seton.

Patrick Hall (12) had the meet of his life on Saturday – he had two (2) conference winning swims! In the 200 Free he cut 2.94 seconds from his PR to take 6th place on a 7th place seed – that was a 2 point swing for Seton. Then in the 500 Free, he cut 8.44 seconds to jump up to 5th on a 6th place seed – another 2 point swing. So it is no exaggeration to say that, had Patrick Hall not put his heart and soul in his swims the way he did on Saturday, Seton would not have won the Boys conference championship!

Drew Dalrymple (8) was stunning in the 500 Free on Saturday, completing blowing away my expectations of what he could do. He had never swum the 500 Free, so I estimated that he would go 7:15 based on the times of other kids with whom he was competitive in the 100 and 200. That seed time had him seeded in 8th place – and he finished in 4th! Drew swam a 6:36.74, beating my projection by almost 40 seconds. It was a great swim and got us four (4) more points than he was supposed to – those four (4) points made all the difference!

Shane Koehr (8) just blew his heat – and his father – away on Saturday with a 9.62 second PR in 100 Back. Watching his 50 Back the previous week and knowing that Coach Kevin Koehr had worked with him one-on-one after practice last week, I suspected that something good was going to happen, but I had no idea it would be this good. He was seeded 6th coming into the meet and ended up taking 3rd place from slow heat – which he won by several body lengths. I had a gush of memories watching Kevin in races like that during the years up to 2006 – and boy was it fun for me! So Shane scored 5 points versus FCS the 2 he should have scored – he even beat FCS's top backstroke entry, a senior and a great kid named Ivan Jones, by .09 seconds. So Shane was responsible for a 6 point swing! Combined with David Flook, Matt Fioramonti, and Joe Fioramonti, Seton took 1st, 2nd, 3rd and 5th to win this event versus FCS 22 – 7.
Medal Winners for Seton
Like most championship meets, we gave gold, silver and bronze medals, and, even though the competition from HRA, Trinity Christian and FCS was stiffer than ever before at this meet, Seton Swimmers definitely took home their fair share of the hardware:
Emily Heim (SR) took home two Silver medals and a Bronze medal in 100 Breaststroke and two relays. In 100 Breaststroke, she swam her best time and of the year – and the 2nd best time of her life – to take the Silver medal in a very close race where 5th place was only .61 seconds behind her! It was so tight that, had she swum her previous best time this season, she would have gotten 4th. In addition, she took a Silver medal as part of the 200 Medley Relay and a Bronze medal as part of the 200 Free Relay. Emily also got 5th in 200 IM with a 1.49 second PR.

Anna Kenna (SO) took home a Silver medal and two Bronze medals in 100 Backstroke and two relays. Her backstroke event featured the nearly inevitable State Champion plus another probable State finalist so it was easily the most competitive race in the meet. In addition, she took a Silver medal leading off the 200 Medley Relay and a Bronze medal as part of the 200 Free Relay. Anna also took 4th place in 100 Fly.

Claire Kenna (SR) took home a Silver medal and two Bronze medals in 100 Breaststroke and two relays. Her Bronze medal in breaststroke was just .08 seconds behind Emily Heim. A good swim at States could get both Claire and Emily into the Consolation Finals at States – last year they were 17th and 18th, respectively, so the top 16 could be within reach! In addition, Claire was part of the same Silver medal and Bronze medal relays as Emily and Anna. Claire also took 4th in a very fast 100 Free event.

Meghan O'Malley (SR) swam the butterfly leg for an injured Kimberly Rector in our 200 "A" Medley relay and really made the most of the opportunity. Her 29.93 split was easy her best split time of the season and help Seton secure the Silver medal!

Bridget O'Malley (SO) anchored our Bronze medal 200 "A" Free Relay and brought it home with a very fine swim.
Personal Records
The 37 swimmers that we had in this meet swam 37 Personal Records, a number that is really outstanding for this point in the season – especially considering how much practice that we've missed. In addition to some of the Conference-Championship-altering PRs already mention, some of the other PRs were also really amazing:
Katie Albin (8) was a late addition to the Varsity team, but she definitely took full advantage of the opportunity! She had opportunities in the 200 Free and 500 Free and swam huge PRs in both. In the 200 Free, she cut 10.58 seconds and in the 500 Free, she cut 8.82 seconds. Great way to end the season Katie!

Patrick Dealey (SR) had a big 2.01 second PR in 100 Free – what a great way to go into DAC Champs! He also cut another .12 seconds in 200 IM.

Bryanna Farmer (SR) had a super swim in 100 Fly. In an event that she swims quite often, she cut 1.44 seconds. I was so pleased for Bryanna.

David Flook (8) had a three (3) PR day. In addition to his PR leading off the medley relay (above), David also cut 2.61 seconds from his 200 IM PR and .74 seconds from his 100 Free PR leading off the 400 Free relay. I can't wait for him to grow!

Caroline Griffin (8) continues to improve with another three (3) PRs on Saturday. In the 200 IM she cut .69 seconds, in the 100 Back, she cut .38 seconds, and in 50 Back leading off a medley relay she cut .24 seconds. Caroline has had quite a season for sure.

Mary Heim (FR) had a really big drop in 100 Back, lowering her previous best time by 2.47 seconds.

Janey Olohan (8) is a new swimmer to our program representing Chelsea Academy in Front Royal. The "Captain of Chelsea" had two PR swims including a huge 3.32 second drop in 100 Back and a .40 second drop in 100 Free. I can't wait to get her in the water with us next season!

Bridget O'Malley (SO) had a great swim in 200 Free, scoring in 9th place after a 3.53 second PR!

Meghan O'Malley (SR) followed her great Fly leg in the medley relay with a great 100 Fly – she cut 1.51 seconds from her PR in the event. Meghan also cut .21 seconds from her 50 Free PR.

Andrew Quinan (SR) scored in 4th place in a very competitive 200 IM event after a 3.14 second PR. Andrew has shown that he can be competitive in all four (4) strokes – something that should be a goal for all Seton swimmers. He also cut another .03 seconds from his 50 Free to get within .04 seconds of the State Championship cut.

Vivian Zadnik (SR) was so excited after her 100 Breaststroke – she dropped 1.77 second and hit the State cut! Great work Vivian!
Here are the rest of the 37 personal records that I have not already mentioned:
Will Arnold (12) had a real race on his hands in 100 Fly and stepped up to place 4th overall with a .25 second PR

Ashley Cackett (SO) cut another .10 seconds from her 50 Free PR.

Ben Ceol (SO) had a very fine swim in 100 Breaststroke, lowering his PR by .12 seconds.

Reilly Cuccinelli (JR) cut another .45 seconds from her 50 Free PR. That's a pretty good sized drop for this point in the season.

Joe Fioramonti (SO) had two (2) PRs on Saturday. In 100 Back, he cut .81 seconds and in the 200 IM, he cut .72 seconds.

Matt Fioramonti (SR) had a great lead-off leg for our 200 Free Relay when he swam a .30 second PR.

Kevin Geiran (SO) managed to cut another .10 seconds from his 50 Free PR even with the bandaged finger from a recent surgery.

Kathleen O'Malley (8) had two PRs on Saturday. In 50 Free, she dropped 1.02 seconds and in 100 Free, she dropped .25 seconds.

Michaela Pennefather (SR) sure had a nice swim in 100 Back where she beat her best time by 1.67 seconds.

Dominic Wittlinger's (SO) hard work in practice paid off again with a .44 second PR in the 200 Free. That swim was particularly impressive because he's been sick.
Seton Parents Make This Happen
One of the reasons this has become such a great meet is because the depth of volunteer talent that we bring to this enterprise. Of course we have our stalwarts like Mr. Seltman, Mrs. Pechie, Mrs. Dalrymple, Mr. Flook, Mr. Rector, Mr. and Mrs. Griffin, Mrs. Hall, Mr. Konstanty and so many others who make these meets run, but I'd really like to highlight a few other volunteers here who made major contributions on Saturday:
Mrs. Anne O'Malley has become a huge help with the dry deck officials. With so many times flying across screens and so many timer cards coming up from the 60 different volunteer timers we used at the meet, she has become a huge help for Mr. Dealey with the scoring.

Even though he didn't have any children in the water on Saturday, Mr. John Kleb was fabulous as our announcer and maestro of all things musical. He was in a unique position to make the atmosphere special, and he took full advantage of the opportunity. If I didn't know any better, I'd also say that Mr. Kleb was having a pretty good time in the process!
Next Weekend's DAC Championship Meet
Next weekend is our annual conference championship meet. While the actual team declared conference champion is determined by the regular season (our girls were undefeated again and the conference champion for the 22nd straight year), this meet is still a big meet for us. Anyone who finishes in the top 3 will be designated All-Conference. I hope to work on the entries on Monday, and my goal will be three-fold: 1) win, 2) get the maximum number of Seton Swimmers designated All-Conference, and 3) finalize our state team.
Our warm-up is at 11:40 p.m. so we all need to be on deck stretching by 11:09 a.m. There is always traffic on I-95 South, so let's make sure we all leave plenty of time to arrive. The last time we were down there, many people arrived late.
The State Championship Meet is Friday and Saturday, February 19-20th at the Christiansburg Aquatic Center in Christiansburg, VA near Virginia Tech
Vivian Zadnik became a new individual State qualifier with her great swim in 100 Breaststroke. Andrew Quinan looks like he is very close to qualifying individually in the 50 Free, but other than that, it looks like our individual entries are pretty close to set.
There are still some opportunities for the relays to change though. The fastest splits swum this year will earn spots on our State relays. I published a draft of our State entries last week, and I updated them again earlier this week from an Amtrak train to Philly. I think they are pretty close now.
I've e-mailed everyone on the State team with hotel information already. The challenge is that the block of rooms that I have will expire this weekend. If you are on the State team, please claim a room from the Seton Swim Team block before then by calling (540) 381-8100. And remember, a parent needs to be in every room.
We have a house this year for team meals and as a hang-out between sessions. Mrs. Heim and Mrs. Lowell are helping me put together all of the food for the trip, so a big thank you to both of them. As soon as we get all of the details of the trip together, I'll publish them for you all in one place.
Three (3) more good practices left – let's make the most of them!
Coach Jim Koehr
Sunday, February 1
Am I Too Cool?
This past week (back in January 2015), I had the good fortune to hear former Seton Captain Ray Bennett speak to The Chief's senior religion classes about how great it is to be Catholic in the real world. I was struck by so much of what he said, but one part of his talk struck me in particular – especially after watching how some of us let how we feel about some our fellow swimmers affect our attitudes and actions.
Ray told a story of how, in his classes, everyone wanted to sit in a particular row where the "cool" kids sat. It sort of reminded me of watching how the seating arrangements shook out on the bus trip we took down to Richmond this past year. Well one day, Ray noticed a kid in his class who was decidedly uncool. Getting tired of competing for a seat with the cool kids, he decided to step out of his comfort zone and befriend this kid. In the process, Ray learned some valuable lessons:
He was much happier for being true to himself and serving others. If you have to sit in a certain seat to be accepted into a group, it makes you wonder.

He was able to have a profound impact on this kid's life. I don't know who he was, but Ray described a kid who came out of his shell and started to excel, even socially. In fact, Ray ended the story by saying that this kid eventually got Seton's top award for living what it means to be a Seton student.
Ray got me thinking about what happens when you pick at least some of your friends based on what you can do for them versus what they can do for you. Even us Coaches and Teachers could do well to remember that, the kids upon whom we can have the most profound impact are not always the most talented. A top student is probably going to be a top student whether or not they have us as a teacher, coach or friend, but the kids who are struggling in some way – maybe academically, maybe athletically or maybe socially – now those are the kids upon whose lives we can have a truly profound impact. But it sometimes takes Courage, and it almost always takes Charity.
Even at a school as Catholic as Seton, you don't have to look very far to find examples of where the virtue of Charity is trumped by Pride - or Self-Righteousness. Sure, for you swimmers there are kids on the team that bug you for one reason or another, but that doesn't mean that we shouldn't be friendly with everyone on the team. You never know who's life you are going to change forever – just by even small acts of selfless kindness.
So in these last two weeks of the season, let's all make an effort to talk to someone with whom we've never talked. Let's sit next to someone with whom we've never sat. Let's eat lunch next to someone with whom we've never eaten. Then let's ask ourselves how it feels. I think you'll find that it feels pretty darn cool.
Monday, February 8
Coach Koehr Announces UPDATED Draft of 2016 State Championship Team
I will not be able to definitely announce who has made the State Championship team until after DAC Champs next week, but I realize that for planning purposes I need to provide all of you with my best possible projection based on our results through the VISAA Division II Invitational this past weekend.
A draft of our entries for the VISAA State Championship is now posted under Meet & Team Information. Please let me be clear that these entries still could change based on swimmer performance at DAC Champs next Saturday. Here are the names that I currently project for Seton's 2016 State Team:
2016 Seton State Team

Girls

Boys

1. Ashley Cackett, 10

2. Reilly Cuccinelli, 11

3. Caroline Griffin, 8

4. Bryanna Farmer, 12

5. Emily Heim, 12

6. Mary Heim, 9

a. if qualifies in 200 FR Relay

7. Anna Kenna, 10

8. Claire Kenna, 12

9. Bridget O'Malley, 10

10. Meghan O'Malley, 12

11. Cat Pechie, 11

12. Kimberly Rector, 12

13. Julia Rowzie, 10

14. Vivian Zadnik, 12

1. Will Arnold, 12

2. Alex Ceol, 10

3. Tim Costello, 12

a. if qualifies in 200 FR Relay

4. Matthew Fioramonti, 12

5. David Flook, 8

6. Kevin Geiran, 10

a. if qualifies in 200 FR Relay

7. Brian Koehr, 12

8. Seamus Koehr, 10

9. Grant Mantooth, 11

10. Josh Miller, 11

11. Andrew Quinan, 12

12. Martin Quinan, 10

13. Cris Salas, 12

14. Dominic Wittlinger, 10

a. if qualifies in 400 FR Relay
All seniors are welcome to join us and participate in the Senior Parade on Saturday night. I need to know if you are coming by Tuesday, February 9th
DAC Champs Could Change Our State Entries
I've rearranged the relays for DAC Champs to help give everyone who has earned a chance to get on what I think will be our fastest State Relays their shot at qualifying. Here are the swims that are most likely to impact the make-up of our State Team:
Meghan O'Malley and Mary Heim still need to qualify for the 200 Free Relay. Meghan is in other events, but Mary needs to qualify to be on the team. I expect this to be doable.

Grant Mantooth and Dominic Wittlinger still need to qualify in the 400 Free Relay. Grant is qualified in other events, but Dominic needs to qualify here to be on the team. I expect this to be doable.

Kevin Geiran and Tim Costello need qualify in the 200 Free Relay along with previous qualifiers Josh Miller and Matt Fioramonti to be on the State Team. All four (4) of them are going to have to swim their best to hit the cut.

Andrew Quinan is leading off the 200 Free relay so he can have one last shot at the state cut for 50 FR of 24.49.

You'll see in the entries for States an event for 13-18 50 Free. That is really the Bonus 50 Free event. Any boy who has swum a 26.49 or girl who has swum a 29.53 – and who is otherwise in the meet – is eligible to swim the Bonus 50 Free also. We've added this event this year to get kids who have traveled all the way to Christiansburg an additional chance to swim. No points will be scored in this event. From what I can see, Mary Heim and Josh Miller have the best chance of adding this event to their schedule.

Get Your Hotel Rooms Right Now!
We have a warm-up from 5:00 to 5:30 p.m. at the Christiansburg Aquatic Center on Thursday night, February 18th. Then the meet is Friday and Saturday, February 19th and 20th with Preliminaries in the mornings and Finals at night.
I will publish a detailed itinerary for the trip after DAC Champs, but everyone on the team needs to arrange for lodging before I will have the chance to get you those details. Here's how that will work:
Everyone will probably want to come in for Thursday warm-up. If you want to stay for Saturday night Finals (which is when we have the Senior Parade), you can decide if you are going to try to drive home that night or stay until Sunday morning. I am definitely staying until Sunday morning.

Every swimmer must travel with either a parent or another adult designated by their parent. Not kids should drive themselves or travel alone. I personally am the co-host so I won't be a position to chaperone – I may even need some help with my own kids – so you can count on me to coach, but not to watch your kids.

Every hotel room must have a parent in it. It does not have to be the swimmer's parent, so if you are a parent and cannot go, I encourage you to make arrangements with another parent of a swimmer on the State Team.

I have a block of 18 hotel rooms at the Holiday Inn in Christiansburg. Each parent going needs to call 540.381.8100 and reference the group code SST or Seton Swim Team to claim a room out of the block. Hopefully 18 rooms will be enough, but please don't wait so long that you are the one who finds out we needed more rooms.

The hotel is at:

Holiday Inn Christiansburg/Blacksburg

99 Bradley Drive

Christiansburg, VA 24073

I have rented a house through AirBnB for our team meals and as a place to relax between sessions. Breakfasts will be at the hotel.

I will distribute complete details on logistics after DAC Champs.
Congratulations to all of you who have made the list. Some of you still have some work to do, but I know you can do it if you throw yourself into the task this last week.
It is an honor to have been included on the State Team. Let's all act like it when we are at practice.
Coach Jim Koehr