Monday, November 16
Seton Swimming's 7th Grade Girls back in 2011 - Recongize anyone?
· Meet Announcements Now Posted for the Icebreaker Invitational on Dec 4th and our Homecoming Invitational on Dec 19th. Both meets are at Central Park
· Updated attendance records are now posted. Please e-mail me any corrections
· See the Varsity Letter criteria for this season below. Attendance is a key component.
· The deadline for one final custom apparel order (to arrive by Christmas) is November 30th for everything except Boathouse Jackets and Pants.· Here are some key upcoming dates:
· Tuesday, January 19th after the last Mid-Term Exam: Seton Swimming Private Movie Screening of a movie about high school swimming called "Coach of the Year" - at the Manassas Stadium 14 Theater (Regal Cinemas by I-66)

· Check out a preview clip by clicking here.
· Check out Seton Swimming's new YouTube site where I will gradually post Seton's all-time great races. Click here to relive some great history.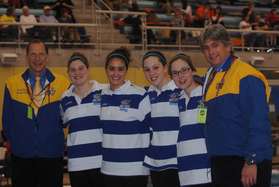 Seton's Girls 200 Medley Relay - Championship Finalists at the 2015 State Champs
Saturday, November 14
Seton Swimming Varsity Letter Criteria - '15-'16 Season
The Varsity letter criteria are designed to ensure that a moderately talented, yet hardworking sophomore, junior or senior can reasonably earn a letter. In some circumstances, by virtue of exceptional talent or hard work, freshmen or 8th Graders may be able to meet the criteria.
Seton Swimming is a Varsity Sport. All swimmers in the Seton Community are eligible and encouraged to participate. Unlike recreational sports, however, varsity sports are competitive. Like all good competitive organizations, the Seton swimming team does not seek equality of outcome, but rather equality of opportunity. Committed participation, while a prerequisite, does not guarantee performance worthy of a Varsity Letter. Therefore, committed participation is not enough to earn a Varsity Letter.
In order to earn a Varsity letter for the 2015/2016 Swimming season, a swimmer must achieve the following milestones:
1. 8th Grade or Above – VISAA restricts swimmers eligible to score in a VISAA sanctioned meet to those in 8th grade or above. 7th graders will swim in all of our meets as exhibition (i.e. non-scoring)
2. Practice Attendance – A swimmer must not miss more than six (6) schedule practices during the season. There are only two exceptions:
a. Swimmers who are attending an established practice at least three times per week with a USA Certified coach will be credited for practice provided they submit a form signed by their coach confirming practice attendance.

b. Swimmers who are competing in the conference or state championship for a Fall Seton Varsity sport will receive credit for practice attendance if they attend practice for that sport.

c. There are several opportunities to earn a bonus practice point to counteract a missed practice, including:
i. Christmas break practices

ii. The Cystic-Fibrosis Swim-a-thon

iii. A practice on the day of the March for Life
3. Meet Attendance – A swimmer must not miss more than two (2) schedule meets during the season. Any unexcused absence will disqualify a swimmer for a letter.
4. Entry DAC Champs and the VISAA Division II Invitational – Once we reach the championship season, there will be no more exhibition (i.e. non-scoring) entries allowed so Coach Koehr will publish a list of swimmer's eligible for the post-season prior to January 20th. All of the swimmers on that list will be eligible for a Varsity letter provided they have achieved the other milestones required.