Wednesday, October 18
Girls from our 2017 Team accepting the Division II State Runner-up Plaque
To give anything less than your best is to sacrifice the gift
- Olympic Runner Steve Prefontaine
There's alot of good waiting for you on the other side of tired. Get yourself tired.
- Former Tennis Pro Andre Agassie
Registration for the '17-'18 Season is now open by clicking on the Registration menu to the left.
Don't worry, the multi-child discount is applied at the end of the process

Be careful not to accidently sign-up for "Active Advantage" when it asks at the end.
You can get the latest Seton Swimming handbook under Meet & Team Information or by clicking here.
New Family Orientation Meeting: Tuesday, October 17th at 7:00 PM in Aquinas
Next Practice: Tuesday, November 7th at 6:04 a.m. See you there.
Updated Schedule for the '17-'18 Swimming Season Posted under Meet and Team Information
Check out the house that we've rented for team gatherings between sessions at States next year by clicking here.
Congratulations to those swimmers selected to be our '17-'18 Team Captains
Girls: Anna Kenna, Ashley Cackett, Kalli Dalrymple, Julia Rowzie

Boys: Kevin Geiran, Seamus Koehr, Alex Ceol
Coach Koehr's Awards Banquet notes are posted under Meet & Team Information
Click here from some great photos by Mr. Holmes. Many more photos by Mrs. Kenna are posted in the Gallery
Seton's Girls are the VISAA Division II State Runner-up!
Meet Results for DAC Champs on Saturday February 11th at the Fitch WARF are now posted
The Seton Boys won both the regular season and Conference Meet Championship

The Seton Girls won the Conference Championship for the 23rd straight year
Click here to see Anna Kenna's National Catholic Championship 100 Backstroke on the Seton Swimming Highlights YouTube Channel
Click here to see how Marine's do pull-ups and push-ups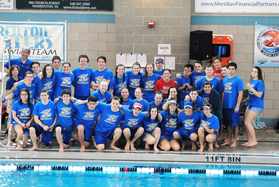 Seton and Wakefield Country Day at DAC Champs
Sunday, February 26
Seton's Girls Unexpectedly Jump Up to Take Division II State Runner-up!
655 Swimmers from 50 Teams, Seton Alum Paul Pechie leading the roller coaster cheer, music blasting, kids singing and dancing, Seton and Wakefield Country Day families gathering between sessions at our rental house for fresh lobster and a Chinese food feast, and most importantly, loads of huge PR times from our Swimmers – these were just a few of the highlights from the 2017 VISAA State Swim and Dive Championship hosted by Seton School and Woodberry Forest School at the beautiful Christiansburg Aquatic Center in Christiansburg, VA.
Last weekend (Feb 17-18, 2017), we took 24 swimmers and a like number of parents and siblings from Seton and Wakefield Country Day School into this incredibly fast meet - and the swimming I saw from our team was beyond my expectations. Our kids always seem to excel on the big stage every year at States, but even I was amazed by the results. Before the meet, I had no real expectation of earning any of the team awards, but we left with our girls surprisingly winning the Division II State Runner-up and with our boys being recognized by the other coaches with the both the Sportsmanship and Spirit Awards!
Seton co-hosted the meet for seventh time since 2008 and the second time with a very talented group from Woodberry Forest School led by Coach Greg Guldin. I was so proud to watch Bill Dealey working with Ginger Schmidt of Trinity Christian School to manage all of the timing and scoring systems and Charles Seltman who served as one of the Starters and Deck Referees. I was especially proud of the great job Katie Dealey did as assistant Meet Secretary. The meet required about 125 volunteers, and little Seton was able to fill many of the key roles. Seton definitely shined last weekend, both in and out of the water.
It was an incredibly fun trip for our team. For the third time, we tried renting a house off of VRBO so we had a place to gather between sessions for comradery and team meals. Thanks to the leadership of Mrs. Dalrymple, we had wonderful team meals that didn't require long waits for restaurants to serve drinks and take orders. Every family pitched in to provide meals including the Geiran's, Griffin's, Cacketts, Pechie's, Santschi's, and Cuccinelli's. The Miller's provided a wonderful Saturday night Chinese feast, the Wittlinger's provided the party (surprise, surprise ;-)), and a special thank you to the Kenna's and Lobster Maine-ia for supplying fresh caught lobsters and Scallops! I'm quite sure no other team was eating like we were at States this year!
It was also great to see Seton Alumni like Paul Pechie, John Bartolozzi and Kimberly Rector, all students at Virginia Tech, during the course of the weekend. Paul Pechie was a huge hit leading the roller coaster cheer with not just the Seton team, but all of the teams around us. I also really enjoyed watching John Bartolozzi "hold court" with the Seton Mom's at the house. The kid's got the gift.
Scoring
Here's an excerpt from the scoring of a very exciting meet – particularly on the girl's side where a nearly 4 second PR in the 200 Medley Relay and a more than 7 second PR in the 400 Free Relay flipped the expected Division II results in our favor (more on that below):
Girls
1. St. Catherine's School 285
2. Trinity Episcopal School 254
3. Madeira School 253
4. Collegiate School 231
7. Bishop O'Connell 147
9. Bishop Ireton 125
10. Hampton Roads Academy 103 – Division II Champ
11. Seton School 61 – Division II Runner-Up
13. Paul VI 57
15. John Paul the Great 40
16. Trinity Christian School 27
Boys
1. St. Christopher's School 301
2. Trinity Episcopal School 270
3. St. Stephen's/St. Agnes 256
4. Fork Union Military 225
5. Collegiate School 161
6. Norfolk Academy 153
7. Hampton Roads Academy 131 – Division II Champ
8. Woodberry Forest 122
9. Bishop O'Connell 106
10. Potomac School 101
11. North Cross School 70 – Division II Runner-Up
12. Paul VI 66
14. Wakefield School 42
18. John Paul the Great 30
19. Wakefield Country Day 27
23. Trinity Christian School 15
Recall that our State Championship is scored like one big championship meet. The team with the highest point total is declared the "Overall" State Champion, and the Division II team with the most points is declared the "Division II" State Champion. For the 6th year in a row, Hampton Roads Academy took both of the Division II Championships.
It Happened with Anna Kenna and our Girls Relays
As we headed down mid-last week, I was hoping for some great PR swims from our kids, but I wasn't expecting to bring home any team awards. That didn't stop me from lining things up for the best possible chance though.
State Championships for Division II are won with relays because there are so many points available. That is why I entered Mairead Geiran, Reilly Cuccinelli and Dani Flook in all three relays and just one individual event. Unlike Anna Kenna (much more on her later), they weren't like to score many points individually, but together, they could get our relays into Finals and score a lot of points. That strategy proved its worth from the very first event – and it was aided substantially by a number of lifetime best swims.
The first event on Friday was the Girls 200 Medley Relay where Anna Kenna, Reilly Cuccinelli, Mairead Geiran and Dani Flook entered the meet seeded 16th with a PR 1:58.92. Trinity Christian entered the meet seeded 11th. For those of you paying close attention, you'll notice that this order is different than the one we've swum all season. Reilly Cuccinelli opened the door for the change with a late season surge that dropped her 50 Breaststroke split from 36.40 to 34.91. That enabled me to move Mairead to Fly and Dani to Free, strokes in which they were faster.
In Prelims, our girls qualified 12th with a blazing 1:56.40, beating Trinity Christian for the first time this season - by 1.35 seconds. Reilly dropped again to 33.69 and Mairead had a PR split of 28.14. HRA qualified 10th with a PR 1:55.26.
In the Finals, our girls were on fire! Anna Kenna went out with the 2nd fastest 50 Backstroke split in the entire meet, 27.08, to get us a big lead in the consolation finals. Reilly followed with yet another drop, to 33.42 (that's 3 seconds faster than her PR split coming into the meet!), then Mairead rocked a PR 27.87, and Dani held on with a very strong swim to out-touch HRA by .03 seconds and jump up to 11th place to score 12 points! We beat HRA! That hasn't happened since 2011!
Our other big opportunity to score on the first day was in Girls 50 Free where Anna Kenna entered the event seeded 4th at 24.65, qualified 4th after prelims at 24.72, and finished 4th in a very fast Championship Final at 24.51.
Anna scored 15 points on that swim alone, so we finished the first day with HRA, Seton and Trinity Christian in 11th, 12th and 13th place overall, respectively, and 1st, 2nd and 3rd for Division II. The point totals were still tight (43 to 27 to 13), especially considering that Saturday's events featured two (2) more relays.
After a good night's sleep, the spirit of the team was sky-high going into Saturday's prelims. We knew our Girls 200 Free Relay of Mairead Geiran, Julia Rowzie, Reilly Cuccinelli and Dani Flook were going to have to do better than their 18th seed (16 places score) if we were going to stay ahead of the strong sprinters that Trinity Christian was likely to put in the water. In Prelims, our girls dropped from their 1:48.48 seed time to 1:47.11 to qualify 13th – definitely a good start. Mairead led off with a PR 26.34 followed by three more PR splits from Julia, Reilly and Dani. Continuing her trend, Reilly Cuccinelli's split was 1.71 seconds faster than her previous PR split! She swam an amazing 25.44 – where have you been all my life Reilly!
In Finals, I knew that Trinity Christian had loaded up their 200 Free Relay and we weren't going to beat them, even had we used Anna here, so I told the girls that we just had to finish close in the standings. Our girls delivered the goods - they repeated those blazing times, dropping another .02 seconds to 1:47.09 to score six (6) points in 14th place – just what the doctor ordered – since Trinity only scored 10 points in 12th place.
Then Anna Kenna had her second crack at an individual Final in 100 Backstroke where she was seeded on top among a packed and very fast field. In Prelims, Anna took it out in 27.56 for the first 50 (the fastest 50 split I'd even seen from her, remember her team record in 50 Back is 27.03) and finished in a very fast 57.21 to qualify 3rd for that evening's Final. That night, Anna again took it our very fast, this time in 27.55, and brought it home to finish in another very fast 57.27 to claim the Bronze medal and All-State honors. With that swim, Anna scored another 16 points, and the State Runner-up title for Seton was within sight - if we could swim well in the 400 Free Relay.
For the final event and for the first time in the meet, we had a relay actually seeded ahead of Trinity Christian. Our 400 Free Relay of Mairead Geiran, Dani Flook, Reilly Cuccinelli and Anna Kenna came into the meet seeded 14th at 3:52.82 (Note to the reader: note that time, because you are not going to believe the next times I write down here). TCS was seeded 15th and they had to beat us to have a chance.
In Prelims, I almost couldn't believe what I saw. Mairead Geiran had a great lead-off, keeping us close to HRA and well ahead of TCS. Then Dani swam her best split of the season by 1.21 seconds, followed by Reilly's PR split of 57.29 and Anna's PR split of 52.37.
Hold it – let's rewind the tape here. I casually mentioned Reilly's 57.29, but you may want to know that her lifetime best split to that moment was 59.53 – she swam 2.24 seconds faster than ever before! And I was even more casual with Anna's split – 52.37 – are you kidding? Her best split for the season was 53.30 – she swam almost a whole second faster – and she swam a 52!
With those amazing swims, our girls qualified 11th with an incredible 6.06 second PR time of 3.46.76! But they weren't done.
In Finals, all four girls swam PR splits – again – to score 12 points in 11th place. Their Finals time was an amazing 3:45.47, a time that was 7.35 seconds faster than the best time they swam all season. And the closing act was left to our superstar Anna Kenna who brought the relay home in 52.04. I'm getting goosebumps just typing that time. To put that split in perspective, Anna's High School PR is 53.85 and our team record, set by Alex Doonis in 2012 while winning the National Catholic High School Championship is 52.91 – in other words, that is really fast!
The Seton Girls were the VISAA Division II State Runner-up for the fourth time to go with their four (4) State Championships since 2006 – and I think there's a lot more where that came from.
Our Boys Relays Showed What the Future Could Bring
Although I boys relays weren't able to make it back to Finals, I was very encouraged by the swimming I saw, particularly from the strong group of boys who will be returning next season. I've included the grade level of each swimmer I mention so you can see why I'm so encouraged by the ones that are coming back next season:
Our Boys 400 Free Relays were the most impressive, so I will start with the last event first. We entered the meet with only two of boys able to split a :56 or better (Alex Ceol would have been the third), and we left the meet with six (6) out of the eight (8) boys in our "A" and "B" relays splitting :56! In fact, the time drops were so large, that our "B" relay actually ended up beating our "A" Relay by almost 3 seconds.

Our "A" Relay of Kevin Geiran (JR), Jerry Dalrymple (8), Drew Dalrymple (FR) and Grant Mantooth (SR) ended up placing 26th overall with two big PR splits from Drew Dalrymple (.52 second PR to split 56.63) and Grant Mantooth (.27 second PR to split 56.46).

Our "B" Relay of Jack Santschi (8), Dominic Wittlinger (JR), David Flook (FR) and Josh Miller (SR) had four (4) incredibly impressive swims, beginning with 8th grader Jack Santschi lead-off PR 56.60, a time that was 1.44 seconds faster than his previous lifetime best. Then Dominic went 56.87 (1.48 seconds faster than his previous best split), David went 56.55 (2.15 second PR split), and Josh went 56.95 (2.27 second PR split) – that's a combined time drop for the relay of an incredible 7.34 seconds!

Our Boys 200 Free Relay was our highest placing relay.

Our "A" 200 Free Relay of Grant Mantooth (SR), Drew Dalrymple (FR), Kevin Geiran (JR) and Josh Miller (SR) finished 19th overall, just out of the Consolation Finals. Grant had a .46 second PR on his lead-off (24.13), followed by Drew's 24.71, Kevin's 25.26 and Josh's 24.99.

Our "B" 200 Free Relay also had some very strong swims including Seamus Koehr's (JR) lead-off 26.45 (.19 second PR), Jack Santschi's (8) 25.37, Matthew Kelly's (SO) 26.69 and Ben Ceol's (JR) 24.74 anchor leg. Ben's split was a .45 second PR!

Our Boys 200 Medley Relay kicked off the meet on the first day a few impressive splits:

Our "A" 200 Medley Relay of David Flook (FR), Seamus Koehr (JR), Kevin Geiran (JR) and Grant Mantooth (SR) gook 23rd place overall. Seamus Koehr had an tremendous Breaststroke leg, splitting 31.36 on a previous PR split of 32.00. Grant also had a strong 23.59 anchor leg.

Our "B" 200 Medley Relay of Shane Koehr (FR), Josh Miller (SR), Jerry Dalrymple (8) and Drew Dalrymple (FR) was DQ'd for an early take-off, but that didn't keep me from being impressed by Shane Koehr's 31.36 50 Backstroke lead-off, .23 second PR for him.
Lucas DuMez of Wakefield Country Day Came Back Twice!
Among the blue and white stripped Seton rugby shirts was a red and white one. It was worn by Lucas DuMez (SR), who has become one of the most beloved swimmers on the Seton team, even though he swims for our sister team, Wakefield Country Day.
Lucas has seen a Championship Final before, but never has he ended up so high on the medal stand:
In 100 Fly, Lucas qualified for the Championship Final with the 5th seed after swimming a very fast 53.54 in the Friday Prelims. Then in the Finals on Friday night, Lucas held his seed and took 5th place in the State with a 53.29.

On Saturday, in 100 Back Lucas was even more impressive, qualifying for the 6th seed in Finals with a .58 second PR 53.98. Then in Finals, Lucas dropped another .4 seconds in a very fast heat down to 53.53! He finished in 6th place in the State.
I know all of the good folks at Wakefield Country Day were cheering for Lucas, but it was even more fun for me to watch the entire Seton team at the end of his lane for both races. Everyone seems to love Lucas!
There Were So Many Other Great Swims
Most of our team was in Christiansburg to swim in Relays, but we did have five (5) other individual qualifiers who competed for points, four (4) of them were our top young swimmers who will have many more opportunities to swim at States:
Reilly Cuccinelli (SR) qualified for both 100 Free and 100 Breast, but because we needed her that 400 Free Relay, she only swam 100 Free – and she really made the most of it. From a flat start, she dropped 2.06 seconds from her PR to finish 23rd overall with a lifetime best 57.47.

Mairead Geiran (8) took 24th overall in the 200 IM with a solid swim. I'd expect Mairead to score in this event next season. Mairead qualified in six (6) of the eight (8) individual events, but only swam one of them so she could score for us in three (3) relays.

Caroline Griffin (FR) had a great swim in 100 Back, lowering her PR by .64 seconds to go 1:06.18. That was good enough to put her at 28th place in the State. Because this meet was USA "observed" that time counted for a Junior National cut also! Caroline also swam the 200 IM where she finished 34th.

Jerry Dalrymple (8) gained some valuable experience as an 8th grader when he qualified in the 500 Free. He ultimately finished in 38th place overall.

David Flook (FR) also gained valuable experience as a young swimmer on the big stage with a nice swim in the difficult and competitive 200 IM. David finished 29th overall.
We had some really tremendous splits on our Girls "B" relays last weekend too. With many of these swimmers coming back next season, it is getting me sort of excited for the possibilities:
Our Girls 200 Medley "B" Relay of Caroline Griffin (FR), Ashley Cackett (JR), Maria Tozzi (8) and Julia Rowzie (JR) swam a excellent 2:10.72 led by Maria's .57 PR 50 Fly split and Julia's .19 second PR 50 Free split.

Our Girls 200 Free "B" Relay of Caroline Griffin (FR), Katharine Rowzie (FR), Kathleen O'Malley (FR) and Cat Pechie (SR) featured three freshman who will be the leaders of the future for our team. It also featured some very strong swimming especially Caroline's huge 1.23 second lead-off PR.

Our Girls 400 Free "B" Relay of Katharine Rowzie (FR), Ashley Cackett (JR), Kathleen O'Malley (FR) and Julia Rowzie (JR) all swam well. I was particularly pleased with Ashley Cackett's .82 second PR split of 1:05.86 and Julia Rowzie's .04 second PR anchor split of 1:03.29.
One unique feature to the meet this year was the ability for kids who had otherwise qualified for the meet to get an extra swim in the Bonus 50 Free event. We had ten (10) qualify to take advantage of that opportunity and six (6) of them hit big PRs:
Kathleen O'Malley (FR) cut .49 seconds to go 28.69

Katharine Rowzie (FR) broke the 29 second barrier with a .36 second PR to go 28.97

Grant Mantooth (SR) ended his career with a lifetime best 50 Free of 24.50, a .09 second PR

Drew Dalrymple (FR) cut another .14 seconds from his 50 Free PR to go 24.63. That's a very good time for a freshman

Jack Santschi (8) lowered his PR by a huge 1.02 seconds. His new PR of 24.88 is very impressive.

Ben Ceol (JR) dropped .05 seconds to end the season with a 50 Free PR of 25.44.
Sunday, February 26
Seton's Girls Unexpectedly Jump Up to Take Division II State Runner-up! - Part II
Next Season, State Champions again?
In the years just prior to this HRA winning streak, Seton won the girls four (4) years in a row and won the boys three (3) years in a row (plus 2006). Since then, our Girls have been runner-up three times….
….But it has been awhile since we have been this close to HRA. I've posted the results of the girls meet showing only Seton, Hampton Roads and Trinity Christian. If you look at the grade levels of the swimmers, you will see that we losing seniors Reilly Cuccinelli and Dani Flook, but HRA is losing some seniors too.
Now recall what we saw all season from our fast improving younger swimmers, including a very fast crop of 7th graders like Emily Flynn, Theresa McGrath, and Isabelle Luevano who will be eligible to score next season. If swimmers like Mairead Geiran, Caroline Griffin, the Rowzie girls, Kathleen O'Malley and Ashley Cackett continue to improve, if some of our older girls come back to the team, and if we can find a breaststroker who can split :33 or better in Medley and another sprinter or two (or three) who can split :25 in 50 Free, we could win this thing next year!
Does anyone reading this blog who want to be one of those girls?
Awards are All That Remain
Mrs. Dalrymple is coordinating our Awards for Friday, March 3rd at Seton School starting at 6:00 p.m. I know she has a Lenten Soup Supper planned featuring seafood chowders from Lobster Maine-ia. I'm traveling a lot this week and next so I'm not exactly sure what is planned beyond that, but I think it may involve ice cream. I'll put out more details as plans develop.
Final Thoughts
It certainly has been another great season for Seton, even if it was different from some past years – I'm quite encouraged by our future here. I've written in past blogs of the great joy that comes from achieving things that you never thought possible by working hard, believing in yourself and taking a risk. I saw countless examples of that this season, and I'll tell you true – you swimmers are not the only one who get great joy out of it.
At the end of recent seasons, I also spent a lot of time writing about the power of being a team that has a commonality of purpose, which mutually supports one another, that identifies with each other's struggles, and that encourages one another to do their best. I feel particularly good about the fact that we were able to tap into that power this year – and the results speak for themselves.
So even though the season it over, we are still a team. I look forward to seeing you all support each other for the rest of the year outside the water the way our State Team supported each other this past weekend in the water.
Coach Jim Koehr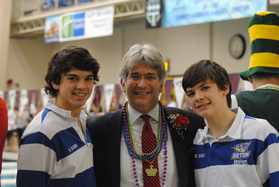 Coach Koehr with his sons, Seamus and Shane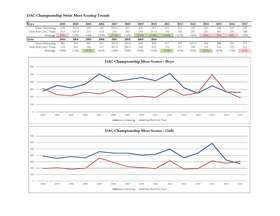 Scoring Trend for the DAC Champs - Seton vs. Next Best
Sunday, February 12
This is Not Your Father's DAC Anymore
Last Saturday, we went out to the beautiful Fitch WARF in Warrenton, VA for the annual Delaney Athletic Conference championship meet, and once again, it was a very competitive meet for both our boys and our girls.
For the first time, the meet was hosted by Trinity Christian School, who certainly ran the best Conference Championship meet that I have been a part of – and I've been a part of DAC Swimming since 2001. It turned out to be a great team effort with Seton and WCDS for many aspects of the meet, but with the great parent volunteers that we have at Seton, the TCS/Seton/WCDS team was unbeatable in the meet-running department. I was so pleased to watch Charles Seltman, Bill Dealey, Hank Konstanty, John Kleb, Robin Given, Therese Griffin, Alex DuMez (WCDS) Chris Caron and Carole Pechie step up to help wherever it was necessary. It was also great to have Mr. Westhoff on deck supporting the effort!
Last year, our boys lost to Fredericksburg Christian by only four (4) points, but this year, we were able to avenge the lost with a 72 point victory. The reverse happened for our Girls - last year, our girls beat the very strong new-comer, Trinity Christian School, by 51 points. This year, Trinity Christian come back with an even stronger team and beat us by 42 points. That doesn't mean that Seton didn't swim well though. Prior to the meet, I scored the psych sheet and we were looking at a 64 point loss. So we outswam our seeds to the tune of 22 points – pretty strong.
For our girls, this was the first time in the 23 year history of DAC Swimming that our girls were beaten in the Conference Championship meet. The loss of so many seniors last year plus the loss of three key upperclassmen on the girl's side left us unable to handle the talented – and young – TCS girls team. But, as anyone who watched our middle school girls this season knows, we'll be back!
Congratulations Trinity Christian School Girls! All of us who watched their Coach, Andy Gingrich, their Athletic Director, Cheryl King, and their DAC Champs meet host, Jennifer Fletcher, work last Saturday night could have nothing but admiration for what they have put together in such a short time. I think they can give Hampton Roads Academy a run for the VISAA Division II title and, at a minimum, I don't see anyone who can keep them from winning the State runner-up – except maybe Seton ;-)
Fortunately for us though, the Athletic Directors decided earlier this year that the actual DAC conference champion would be determined by the results of everyone's first meeting during the regular season. By virtue of the fact that we were undefeated against all conference teams during our first regular season meetings, both our Boys and our Girls are repeat conference champions.
For the Seton's Girls, it is our 23nd consecutive DAC Conference championship in swimming. For Seton's Boys, this was our 20th DAC Conference championship.
Here's how the final scores looked on Saturday.
Girls
Trinity Christian School 311
Seton 271
Fredericksburg Christian 165
Highland 159
Fredericksburg Academy 124
Wakefield 79
Chelsea Academy 21
Wakefield Country Day 17
Randolph-Macon 5
Boys
Seton 260
Fredericksburg Christian 188
Wakefield 180
Fredericksburg Academy 168
Trinity Christian School 139
Highland 121
St. Michael the Archangel 85
Chelsea Academy 43
Randolph-Macon Academy 41
Wakefield Country Day 32
The DAC is Getting More Competitive
One thing is for sure, DAC Swimming has gotten a lot more competitive, and I don't think that is going to change anytime soon. Here's a trend of the DAC Championship Meet scores since 2003. You can see that for many years, we would regularly double or nearly double the 2nd place team's score – but not any longer.
I was looking back at 2010. At the DAC Championship meet, we won every single event except for the Girls Medley relay, which had just won by more than a length of the pool but was DQ'd (I'll never forget that! ;-)). That year, we also held every single DAC Short-course yard record except the 50 Free – we had three girls that year who could all go much faster than the record but didn't get the chance because DAC Champs was held in a meter pool.
But those days are behind us. With the emergence of Trinity Christian and Fredericksburg Christian, we are going to have to earn every victory for the foreseeable future.
And that's OK because it is just going to make us better. We do our best when we are pushed, and we are now being pushed. If you've been watching many of the younger swimmers on our team this year, I think you are going to see that we are up for the challenge!
Medal Winners and All-Conference Swimmers for Seton
One unique form of recognition available to our swimmers at this meet was the possibility of being designated "All-Conference". All-Conference recognition goes to any swimmer that gets a gold, silver or bronze medal in an individual event.
One thing that you will notice is that we only had a single Gold medal in the entire meet, yet we won the girls handily and almost won the boys. That's what happens when so many different swimmers can score, even our younger swimmers. It is very cool to have two (2) 8th graders on this list!
Here are Seton's and Wakefield Country Day's All-Conference Swimmers for 2016-2017:
Lucas DuMez (SR) is a 2X DAC Champion and a 2X All-Conference swimmer after winning both of his individual events by very wide margins. In 100 Fly, Lucas came in just .02 seconds off of Alec Morin's (St. Michael) 2014 meet record of 53.33, but he was up to the challenge. Lucas popped a 53.18, broke the record and won the Gold Medal by almost 3.5 seconds. Then in 100 Back, Lucas again crushed both the field – this time by nearly 7 seconds – and his personal record to go 54.51 and take his second Gold medal of the night. For his great swimming, Lucas was voted by the Coaches the co-Swimmer of the Meet with another superstar from Wakefield School, Nick McGrath. Nick also an Alec Morin meet record, in the 50 Free with a blazing time of 21.66.

Anna Kenna (JR) is a DAC Champion and 2X All-Conference swimmer! In spite of the fact that Anna wasn't feeling well, she smoked the 50 Free field to win the Gold medal by 1.68 seconds, and she took the Silver medal in 100 Back against the eventual swimmer of the meet while fighting off a migraine. That race seemed to fire Anna up a bit, because her anchor leg on our Gold medal 400 Free Relay was the highlight of the night for me. The anchor for the Trinity Christian girls took off 1.19 seconds ahead of Anna, and that lead was nearly gone by the first wall. Anna's relay start, underwater and breakout was so powerful that, even though she was racing a very talented TCS girl, the race almost didn't look fair. In the end, she split a season best 53.30 with a small fever and a big headache. I think she's ready to head to States!

Mairead Geiran (8) has been sick in bed for much of the past week and a half, but that didn't stop her from becoming the DAC Champion and All-Conference in 100 Free! It was a very close race the whole way against TCS superstar Junior Laurel Schmidt, but sick or not, Mairead was not going to let Laurel take the Gold. Mairead also took 4th in 100 Fly. (I literally just noticed as I am writing that I entered a girl who I knew had been sick nearly up to the day of the meet in two back-to-back 100 yard sprints. Not a very good job on that coach's part, but somehow, she still won the second of those sprints!)

Reilly Cuccinelli (SR) may have had the meet of her life on Saturday night, and that performance got her a Silver medal, All-Conference honors, two new State cuts and two huge PRs! In 100 Free, Reilly broke the 1:00 minute barrier (59.53) with a 2.86 second PR to take 4th place, and later in 100 Breaststroke, she swam a huge 2.78 second PR to jump up from her 5th seed all the way to the Silver medal! Incredible swimming Reilly!

Alex Ceol (JR) was awesome in the 200 Free while young Jerry Dalrymple (8) gave him all he could handle. Alex ended up popping a 4.69 second PR with a very strong 2:04.03 to take the Bronze medal and the accompanying All-Conference honors. Alex also swam a blazing 54.03 in 100 Free to take 4th place behind a very fast field. We're going to miss Alex at States this year, but I'm looking forward to him showing me a State Championship trophy from VEX States!

Dani Flook (SR) made the most of her senior season with two medals and 2X All-Conference honor with a Silver medal in the 500 Free and a Bronze medal in the 200 Free.

David Flook (FR) also brought home All-Conference honors with a Bronze medal in the 200 IM after a 3.31 second PR. That swim also got David his first individual State cut. Three of the top 4 finishers in that race were Freshman or younger, so I think we're in for some good races in the future. David also took 8th in the 500 Free, just missing the State cut after a .84 second PR.
Shaking Up the State Meet Entries
The State Championship Meet is this Friday and Saturday, February 17-18th. I have submitted our State Meet entries, and they are now posted. We are bringing 23 Seton swimmers and one (1) Wakefield Country Day swimmer to the Christiansburg Aquatic Center this year.
I published a draft of our entries prior to DAC Champs knowing that some good swimming this past weekend could changes things – and it definitely did. I've made numerous changes and didn't do a good job of keeping track of all of them, so if I missed one, please don't hesitate to let me know:
Jerry Dalrymple's (8) entries changed quite a bit. His 4.26 second PR in the 500 Free got him the cut so he's now one of only three boys that hit an individual cut. Jerry also rocked his 50 Fly leg on the "B" medley relay with a 28.02 and jumped onto the "B" medley relay for States. He missed the "A" relay by only .02 seconds!

David Flook (FR) is now swimming in the 200 IM, as previously mentioned

Reilly Cuccinelli (SR) got two individual state cuts this past weekend in 100 Free and 100 Breast with the two huge PRs I've previously mentioned. Because Reilly is swimming in three (3) "A" relays and 100 Breaststroke is right before the 400 Free Relay, she won't be swimming 100 Breaststroke at States.

Dani Flook (SR) had a plan going into the 500 Free and it worked – she got the cut! That made Dani our 5th individual qualifier for the Seton girls.

Kevin Geiran (JR) absolutely rocked his leg of the 400 Free relay going 55.97. That's the fastest split this season (other than Alex Ceol who is not going to States) so it jumped him from the "B" 400 Free Relay to the "A" Relay. It was really an amazing swim considering that his PR is 57.69.

Katherine Rowzie (FR) and Kathleen O'Malley (FR) both had a good night, starting with them both qualifying on the 200 Free Relay. That gave me enough qualified swimmers to enter a "B" relay for the Girls 200 Free Relay. Kathleen also hit the cut for the Bonus 50 Free – so she now has two more swims at States.
Personal Records
We had 40 personal records on Saturday which means that exactly 50% of our individual swims resulted in a lifetime best – not a bad way to end the conference season! And remember as you are looking through these notes that finishes up through 12th place scored points in this meet.
Here are the personal records that I have not already mentioned:
Anne Kontanty (FR) finished the season where she began it – with huge time drops. Incredibly, Anne dropped another 6.18 seconds in the 500 Free to score in 7th place – she's now very close to breaking that 7:00 barrier. And also dropped 8.60 seconds in the 200 IM. Can't wait to see what she can do next season!

Josh Miller (SR) was all smiles after his 100 Fly. How about a 2.83 second PR to jump up to 7th place!

Katharine Rowzie (FR) had a breakout season for sure, and she ended it with a bang. How about a 6.04 second PR in the 500 Free and a 6.26 second PR in the 200 Free. Those swims were good enough for 4th and 6th place respectively!

Dominic Wittlinger (JR) swam like a very determined young man on Saturday. He scored in 10th place with a 11.32 second PR in 500 Free, and he scored in 6th place with a .69 second PR in 200 IM. Dominic also led off the 400 Free Relay with a .62 second PR in 100 Free.

Christian Ceol's (FR) backstroke never looked so good, so I wasn't surprised at all to see him PR by a whopping 5.36 seconds.

Jeremy Kleb (FR) was awesome in the 200 IM, and it showed in his time – a 4.80 second PR to score in 8th place.

Seamus Koehr (JR) had a tremendous swim in 100 Breaststroke, lowering his PR by 1.10 seconds to 1:12.31, the fastest on the team right now.

Peter Tozzi (FR) had a great meet with two big PRs. In 100 Fly, he cut 3.76 seconds to score in 9th place and in 50 Free, he cut .43 seconds. The kid is getting fast!

Kathleen Phillippe (JR) WCDS took her first shot at the 200 Free on Saturday and sure made the most of it. I was so pleased to see her cut 21.29 seconds from her Personal Record in the event. Kathryn also told me she's been working on 100 Breaststroke, and it definitely showed with a huge 8.62 second PR!

Bridget Larsen (JR) WCDS has been coming all the way from Winchester to practice with us for Wakefield Country Day. She was trying to improve her 100 Fly – and she did. I was so pleased to see her cut .48 seconds to go a very competitive 1:09.29. She singlehandedly scored all 17 points for WCDS's girls. Bridget was such a joy to coach – I hope she comes back next season.

Katya Konstanty (JR) really had a great swim in 100 Fly, beating her previous best by 6.17 seconds!

Maria Tozzi (8) doesn't swim like she's only in 8th grade. I was so pleased to see her cut 5.92 seconds from her 500 Free PR.

Julia Rowzie (JR) showed her versatility by excelling in the 200 Free on Saturday and cutting 2.49 seconds from her PR.

Ashley Cackett (JR) had a great swim in the 200 IM, cutting 1.77 seconds from her PR to score in 10th place.

Grant Mantooth (SR) pulled out the cool new suit and used it to propel himself to a blazing 56.73 in 100 Free, .64 seconds faster than his previous PR.

Ben Ceol (JR) somehow just keeps getting faster in the 50 Free. On Saturday, he went 25.49 which was .36 seconds faster than his previous best and scored in 9th place.

Matthew Kelly (SO) once told me he was a "sprinter". Well for a sprinter, he sure seemed to do well in the 200 Free. He cut another 1.23 seconds in the event and scored in 8th place. There is no doubt that Matthew can also sprint though, and he showed me that with his .08 second PR in the 50 Free to go 26.37.

Jerry Dalymple (8) did a lot of great things on Saturday, and one that I haven't had a chance to mention yet was his 1.98 second PR in 200 Free. That swim scored in 4th place.

Justin Fioramonti (FR) wrapped up his season in style with a 10th place scoring finish and a .30 second PR in 100 Back. Can't wait to get Justin back next year!

Kalli Dalrymple (JR) got the elusive PR she's been seeking all season – a lifetime best in 50 Free!

Kevin Geiran (JR) didn't just rock his relays, he also cut 1.52 seconds in 100 Back, a swim good enough for 6th place

Kathleen O'Malley (FR) did more than get the bonus 50 Free cut for States. She also cut .22 seconds in 100 Free.

Shane Koehr (FR) took advantage of his extra swim in 50 Free to cut another .06 from his PR
Some Final Notes on States
I've posted a document called "Everything You Need to Know About States" in the hopes that it literally tells you that. I'm continually updating it as plans firm up.
A few things I'd like to highlight from that document:
Our team uniform at States is an embroidered Rugby shirt. If you got one last year, don't forget to bring it. If you are new to the State team this year, you can thank Mrs. Kenna for making the arrangements to get one for you.

By now, ever swimmer that is going should have a ride and a room with a parent or someone a parent designates.
The admission fees set by VISAA are pretty stout: $10/person/day with a $30/day family maximum. I fought it all the way to the top of VISAA, but I lost.

Several of the State Team members are swimming on only one of the two days. I will leave it up to the parents, but they are welcomed to participate in everything with us even on the days that they are not swimming. Seniors are also welcomed to join us.
Two more practices – let's get ready to race!
Coach Jim Koehr