Sunday, August 23
Seton Girls Swimming - 2015 VISAA State Runner-up!
· Did you ever wonder for whom the Delaney Athletic Conference is named? Click here to learn about Joe Delaney. "He made people around him better." Grab a tissue before you watch.
· Check out Seton Swimming's new YouTube site where I will gradually post Seton's all-time great races. Click here to relive some great history.
· The venue for the Feb 19-20, 2016 State Swim and Dive Championship has changed to the Christiansburg Aquatic Center in Christiansburg, VA
o Pool Address: 595 North Franklin Street, Christiansburg, VA 24073

o Check out the house we rented as our team hangout during States by clicking here! It's going to be a blast!

o And check out the hotel where the team will be staying by clicking here
· An Updated Meet Schedule for the '15-'16 Season is now posted.
o We are now making our annual bus trip to a new place - Fork Union Military Academy - next December 12th.

o See you at our first practice for next season on Tuesday, November 3rd at 6:04 a.m. at Central Park
· See Meghan O'Malley's Year-End Video by clicking here
· It was a great '14-'15 Season
§ Girls VISAA Division II State Runner-up for 2nd year in a row

§ Girls DAC Champs for 21st year in a row

§ Boys DAC Runner-up for 2nd year in a row

§ Lost by only 8 points

§ A National Catholic HS Champion

§ Two (2) new team records

§ Nine (9) All-Conference Swimmers

§ Regular Season

§ Girls 22-3

§ Boys 20-6

§ 589 Personal Records
· Seton's Girls are the 2015 VISAA Division II State Runner-Up!
§ State Meet Analysis Now Posted below and in Coach Koehr's Corner

§ Loads of great pictures in both the Gallery and the Hit-Pics Media web site

§ Results and Scores

§ New Meet Records

§ Special Award Recipients

§ Relive the excitement of the meet on the NFHS Network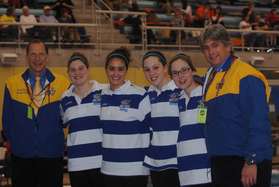 Seton's Girls 200 Medley Relay - Championship Finalists at the 2015 State Champs
Monday, February 16
Seton's Girls Win 2015 Division II State Championship Runner-Up!
Last weekend (Feb 13-14, 2015), we took 18 swimmers into the VISAA State Swimming and Diving Championship at the Collegiate Aquatic Center in Richmond, and our Girls came home with the Division II State Runner-up trophy! The swimming I saw from our team was amazing, as it seems to be every year at States. I was even more pleased with the way the team interacted and encouraged each other.
A big thank to Mrs. Kenna who organized all of our meals and activities between sessions. It was so much fun watching our kids line dance to "Copperhead Road" and play games. I particularly enjoyed watching Mrs. Heim celebrate after she won the right, in a game called "Beat the Odds", to have her daughter Emily Heim thrown in the hotel pool by Paul Pechie and Patrick Pennefather. I was also very pleased with the way that I saw swimmers encouraging each other. Coach Lowell declared Michaela Pennefather his "swimmer of the meet" for the way she encouraged Cat Pechie to swim such a great split in the 400 Free Relay. I'll tell you truthfully that I was as happy about watching our team act like a team as I was about some of the great swimming. I'm looking forward to a lot more of that next season!
The meet just seems to get more competitive every year. Imagine a meet where State records get broken eight (8) times and a girls goes :55 in 100 Back and places 2nd! I could tell countless stories of incredible feats of athletic prowess, but the theme is all the same: Virginia is becoming one of the premier swimming hotbeds in the country, and it sure is fun to watch.
Here's an excerpt from the scoring of a very exciting meet – particularly on the girl's side where the meet came down to the final relay:
Girls
1. Collegiate School 271
2. St. Catherine's School 269
3. Hampton Roads Academy 253 – Division II Champ
4. Trinity Episcopal 231
5. Flint Hill 182
6. Madeira School 152
7. Bishop Ireton 115
10. Seton School 84 – Division II Runner-up
11. Bishop O'Connell 81
12. Norfolk Academy 57
12. Paul VI 87
16. Highland 37
17. Fredericksburg Christian 29
19. John Paul the Great 18
Boys
1. Trinity Episcopal 327
2. St. Christopher's School 255
3. Woodberry Forest 194
4. Fork Union Military 191
5. Hampton Roads Academy 179.5 – Division II Champ
6. St. Stephen's/St. Agnes 148
7. Bishop O'Connell 144
8. Norfolk Academy 118
9. Bishop Ireton 105
12. Fredericksburg Christian 41 – Division II Runner-up
17. Paul VI 24
21. John Paul the Great 19
Hampton Roads Academy has a won the Division II State Champions for the last three years following up on our previous four (4) year streak as champions, and next year, I expect them to be the challenge for the girls once again. They have two tremendous seniors, Payton Baldwin and Nicole Piercy who are graduating, but they have will still have four (4) sprinters under 25.13 and two Breaststrokers under 1:10. We are going to have our work cut out for us next season if are current group of junior stars are to claim another championship banner for the gym during their senior season.
Anna Kenna Medals Four (4) Times!
Anna Kenna was, like last year, nearly unbelievable this weekend, and our record board at Seton is going to show it! She's definitely a big meet swimmer.
In the State Championships, we swim Preliminary sessions in the mornings to determine who will be in the top 16 for the Final sessions in the evenings. The top 8 are designated the Championship Final (or "A Final") and the next 8 are designated the Consolation Final (or "B Final"). Anna had four (4) swims this past weekend and came back for the Championship Final in all four (4) of them!
She had so many great swims that I hardly know where to begin:
· Leading off the medley relay, Anna continued to draw a lot of attention with those big underwaters. Her previous best 50 Back was 27.34, which was also our team record. In preliminaries, she "popped" a 27.28 to swim the fastest split in the meet and set a new Seton record. Then in the Championship finals (top 8 in the entire state), she swam a lead-off split of 27.03, another new Seton Record! That was the fastest split in the fastest heat with the fastest backstrokers in the meet! In the end, she had crushed her own record once again! But she wasn't done with her amazing feats.
· Anna's 100 Free swim was probably her best individual swim of the day. Swimming a PR :54.38 in the prelims, she qualified for the Finals as the 4th seed. Her great start and big underwaters were a real help here, having her at the first turn in 2nd place. In the Finals, she came back and swam a :54.40 to earn the 6th place medal.
· In her lead-off for our 200 Free Relay, she swam right at her PRs, 25.64 in Prelims and 25.77 in the Finals. I often like to put our fastest swimmer in the lead-off spot to build momentum – well Anna certainly did that – our girls once again medaled with a 7th place finish
· In her final swim for 100 Back, Anna came into the meet seeded 4th with that tremendous :58.69 at National Catholics. She found herself in an event with two of the three fastest swimmers in the meet, Reni Moshos from Highland and the eventual Swimmer of the Meet, Kate Nezelek from Trinity Episcopal. She was just a few minutes out of the water from the 200 Free Relay when she hit her heat for the 100 Back. In prelims, she went :59.49 and qualified as the 6th seed for Finals. Then in Finals, she held her 6th place medal with a :59.32. The top 2 finishers both swam All-America qualifying times and both broke the State record in the fastest event of the meet, but Anna showed that, with her big underwaters, she could swim with the best of them.
· Last year, Anna had a 7th place and three (3) 9th place finishes and two new team records. This year, she improved that to two (2) individual 6th place finishes, plus 7th and 8th place finishes in her relays. Not a bad weekend's work!
Other Swimmers Who Made it Back to Finals Individually
Every year, this meet gets faster, so it is no small feat to qualify individually in the top 16 during Prelims, but we had one other girl do it, plus two others who qualified as alternates:
· Kimberly Rector had her two best swims of the year in the 500 Free. In the Prelims, she swam a 2.13 second PR to go 5:32.85 and qualify as the 15th seed. And then she really put it all together for the Finals where she dropped to 5:27.28 to finish in 13th place! Her finals swim was particularly exciting as we watched her 50 splits flash on the board at a remarkably consistent 33.5 after 33.5. It was a beautiful thing to watch.
· Claire Kenna somehow managed to lower her PR once again, this time by .09 seconds, to go 1:12.53 and qualify in 17th place – missing the top 16 by only .07 seconds! That left her as the first alternate, but we were all elated at the quality of her swim
· Emily Heim had the swim of her season in that same 100 Breast preliminary heat where she dropped a whopping 1.30 seconds to go 1:12.64 for 18th place. Emily was only .18 seconds out of the top 16! Emily also had an absolutely incredible Breaststroke leg on the relay that I'll talk about below.
Our Girls State Championship Runner-up Status was Earned with our Relays!
The relays in this meet were simply incredible, so I was so pleased to have all three of our Girls relays emerge from preliminaries in the top 16 and earn a spot to compete in the finals later that night. Of Seton's 84 points, 54 of them were scored with these three (3) relays which will give you an idea of why I often put top swimmers in only one individual event and three (3) relays – relays score double points and where these championship meets are won:
· Our Girls 200 Medley Relay of Anna Kenna, Emily Heim, Alex Sinner and Claire Kenna scored 22 points for us with their 8th place finish after they came "back to music" (i.e. the top 8 finalist march to the blocks and get introduced to music). You already read about Anna's split, but the other three were stellar also. Emily swam the third and fourth best splits of her life in prelims and finals, 32.90 and 32.09 respectively – in finals, we were actually even with the leaders when Emily touched! Alex swam two very good fly legs with a PR split of 28.17 in the Prelims and a 28.31 in the Finals, and Claire totally rocked the anchor with splits of 25.80 and 25.47. These girls came into the meet with a PR 1:54.70, then dropped to 1:545.15 in the Prelims and an incredible 1:52.90 in the Finals. Wow! In the history of Seton swimming, that was the 3rd fastest Girls 200 Medley Relay ever, behind only the Prelim and Finals swim in 2011 of Alex Doonis, Cat Rogers, Bridget Wunderly and Lauren Donohoe who went 1:50.25 and broke the State record at that time.
· Our Girls 200 Free Relay of Anna Kenna, Dani Flook, Kimberly Rector and Claire Kenna "came back to music" once again and ended up scoring 24 points for their highest relay finish of the meet, 7th place. They entered the meet with a 1:45.47 and left it with a new PR 1:44.66. Anna had her normal strong lead-off (25.64) and Claire was her usual powerful anchor (25.90), but it was the middle of this relay that saw the biggest drops. Dani Flook was swimming out of her mind all weekend (more on that below). In this relay, she split 26.51 in Prelims and then 26.47 in the Finals – her standing start PR is 27.50! And Kimberly Rector, taking only one breath on the second length of her 50 split 26.64 in the Finals – her standing start PR is 27.59! These girls qualified in the top 8 by only .22 seconds, so had Dani and Kimberly not beat their PRs by so much, they would have missed the Top 8!
· Our Girls 400 Free Relay of Claire Kenna, Dani Flook, Kimberly Rector and Alex Sinner scored 8 points with a 13th place finish in the Finals to seal the deal for us as the Division II State Runner-up. I was particularly excited about their swim in the Prelims, because the psych sheet had them seeded 15th, just barely in the top 16. Well they really stepped up – so much so that they qualified 10th! Claire led-off in prelims with a strong 100 split and Alex anchored with her best 100 split of the season – a 58.22 on a standing start PR of 58.75, and once again, Dani and Kimberly really shined. Dani's standing start PR is 59.96, but in prelims she split 57.80! Kimberly's standing start PR is 59.29, but in Prelims she split 58.89!
There Were Plenty of Other Great Swims
Just because we didn't always make the finals doesn't mean that we didn't have some other great swims:
· Dani Flook, as I mentioned above, swam out of her mind this past weekend – no one dropped more time than Dani, who was simply stellar every time she hit the water. Her first swim was the 200 Free on Friday morning. The early heats are all seeded by time so you'd expect her to be right with the other girls – so when I saw her a body length ahead after the first 50, I knew something special was happening. The scoreboard was the confirmation. After only 2:07.58, I looked up and saw her 6.79 second PR! Dani had entered the meet seeded 36th and jumped all the way up to 22nd place! She repeated the feat in 100 Back on Saturday morning. Her 3.09 second PR, down to 1:04.19, jumped her from the 31st seed to 25th place!
· Kimberly Rector didn't just swim well in that 500 Free, she also was great in the 200 IM where she cut 1.51 seconds to go 2:24.33 and take 28th place.
· Alex Sinner took advantage of her last ever swim in 100 Fly when she went 1:05.48, .06 seconds faster than ever before. That swim was good enough for 28th place.
· Brian Koehr was our lone individual qualifier, qualifying in both the 50 and 100 Free. In the 50 Free, he swam well and ended up in 34th place. That was his only individual event because, given that he is out top male sprinter and relays score so many points, I opted to give him a shot at all three relays.
· Our other Relays performed very well also, particularly some of our "B" Relays:
o Our Boys 200 "A" Free Relay of Brian Koehr, Andrew Quinan, Mark O'Donohue and Tommy Flook took 19th place, just 1.16 seconds away from qualifying for the Finals. The CTS missed some splits, but I was able to see the final time of 1:38.97. They entered the meet with a seed time of 1:41.03, so someone swam well for sure! I was able to see Mark O'Donohue's split, and he was definitely one of them – with a standing start PR of 25.50, he split 24.66!

o Our Boys 400 "A" Free Relay of Brian Koehr, Paul Pechie, Mark O'Donohue and Tommy Flook finished in 20th place with a 3:43.03. That was more than a 5 second drop from their seed time of 3:48.19! Once again, the first two splits were messed up, but I do know that the average of Brian and Paul's splits was :55.59. The average of their PRs is 56.19 – so they both must have swum very, very well! Mark O'Donohue once again blew his standing start PR (58.81) away in the relay with a split of 56.82 and Tommy split exactly a second faster than his PR with a 55.04! It was a great way for Tommy to end his swimming career at Seton.

o Our Boys 200 "A" Medley Relay of Matthew Fioramonti, Andrew Quinan, Tommy Flook and Brian Koehr took 23rd place overall. Matt led off with a 30.10, very close to his PR, followed Andrew Quinan. Because of Patrick Pennefather's high ankle sprain, Andrew stepped in at the last minute – and boy did he make the most of it. His best 50 Breaststroke split of the season was 33.85, but at States, he split 31.69! That compares very favorably to Patrick's best of 31.56 when he was healthy, so Andrew really got the job done! Then Tommy jumped in for a 26.44, again very close to his PR and Brian rapped it up with a very fast 24.33.

o Our Girls 200 "B" Medley Relay of Bridget O'Malley, Vivian Zadnik, Meghan O'Malley and Michaela Pennefather swam well, particularly Meghan and Michaela. Bridget led off with a strong 34.66 followed by Vivian's 36.02. Then Meghan hit the water and went a very fast 30.66 followed by Michaela's anchor at 29.84. Michaela's standing start 50 Free PR is 30.70 so she really came to play!

o Our Girls 400 "B" Free Relay of Bridget O'Malley, Meghan O'Malley, Cat Pechie and Emily Heim almost all beat their PRs, with Emily right on her PR just a few minutes after exiting the water from her great 100 Breaststroke swim. Bridget led off with a .62 second PR 1:03.53 followed by her sister Meghan who beat her standing start PR by .10 seconds with a 1:09.40. But it was Cat Pechie who really made the most of her last opportunity of the season. With Michaela Pennefather behind the block cheering her on, Cat split an amazing 1:07.61, a truly great time considering that her standing start PR is 1:09.10!

Awards are All That Remain

Mrs. Dalrymple is coordinating our Awards with Mrs. Pechie for Sunday, March 1st at Seton School starting at 6:30 p.m. Sorry that I have to start it so late, but I'll be coming back from a funeral Mass in Naples, FL and it is the only time I can do it. I think Mrs. Dalrymple is planning a slide show and ice cream, but I'll put out more details as plans develop.

Final Thoughts

It certainly has been another great season for Seton, even if it was different from some past years – I'm quite encouraged by our future here. I've written in past blogs of the great joy that comes from achieving things that you never thought possible by working hard, believing in yourself and taking a risk. I saw countless examples of that this season, and I'll tell you true – you swimmers are not the only one who get great joy out of it.

I've also written about the power of being a team that has a commonality of purpose, that mutually supports one another, that identifies with each other's struggles, and that encourages one another to do their best. I know you'll be hearing more about that at the banquet where I hope to set up next year to be the best ever for Seton Swimming in this very important aspect.

Even though the season it over, we are still a team. I look forward to seeing you all support each other for the rest of the year outside the water the way our State Team supported each other this past weekend in the water.

Coach Jim Koehr
Monday, February 2
Voting for Team Captains for the '15-'16 Season
Please Give Coach Koehr Your Input on Team Captains using the survey above
Each season for the past several years, I have appointed team captains prior to the first regular season swim meet. I have always made the appointments in consultation with the other coaches. After discussing it with Coach Lowell, I think the way that I've approached this has two serious flaws:
I have not always taken the time to receive as much input as possible from the members of the team.

I have not done a good job of making clear what I expect from a Captain.
My failure to do these things are, of course, my fault, so I'd like to start to fix both of these problems right now - in advance of next season. I plan to announce next season's Captains at the Swimming Awards on Sunday, March 1st at 6:30 p.m. based primarily on the results of voting by the team.
I've posted a survey, above, for every member of the team to complete one time (and only one time please). If you have an opinion on who would make a great team captain, now is your time to speak up.
Below are some questions that you should ask yourself when deciding who you think would be a great captain. I adapted these questions from the thoughts of Coach Lowell, and they are a great description of what I am looking for. After carefully considering the questions he poses, please participate in the survey.
Normally, I consider both Juniors and Seniors, but if you feel an underclassman would make a great captain, feel free to enter their name in the survey. A team roster is posted under Meet & Team Information/Team Information if you need a refresher. I am anxious to take advantage of your votes.
I am also particularly anxious to hear from the younger swimmers. Many of my expectations deal with how you are treated, so please vote - I know that many of you don't have internet access, so parents, please help them complete the survey. Their votes are very important to me.
Expectations of a Team Captain
(Adapted from the thoughts of Coach Rich Lowell)

Those who want the title of "Captain" should expect to be held to a higher standard, first in their commitment to improve as swimmers, and then secondly to others in their actions for others.

You cannot lead something you are not willing to do yourself, so first ask this about how you approach the task at hand... swimming.
Am I really trying to improve my swimming to the point of being willing to submit to the discomfort associated with an assigned workout, or do I back off, just going through the motions?

Do I have to get out of the pool during swim practice?

Do I try to move to a harder lane, or is the risk of working harder too much for me to do so?

When was the last time I did more than I was assigned?
Leadership focuses on service.

Everyone knows when you are doing something for yourself or when you are doing it for others. What are small, obvious, concrete examples of service for this team...
Do I know the names of everyone on the team. If you don't care enough to know my name, how are you going to convince me that you care about me?

Have I stopped to talk to a team member that seems to be kinda by themselves and not really included, or do I just hang around those I am comfortable with?

When was the last time I initiated the action, beginning the work ahead of being directed, not waiting for the coaches to ask for me to do the obvious?

When did I last begin to move to be down on deck to lead so that all are ready for the exercises begin @ 6:04?

Do I arrive late or just on time?

Do I stay focused on others, encouraging the underclassmen during meets, cheering, offering swimming advice for improvement?

Do I jump in the pool to lead the team into the water?

Do I seek to help other, sometimes less capable, swimmers improve their strokes?

Did I lead by example while raising money for our annual Cystic Fibrosis Swim-a-thon?

Am I willing to come to every meet, particularly the championship meets for which I am eligible?
Some really want the title of "Captain", but do you really want to be held to these standards?
Please tell me who you think really wants to be held to these standards - and judge them by their actions, not their words. I'm most interested in getting Captains that act like Captains when the coaches are not around - you, the members of our team, know best who I am looking for.
Tuesday, January 6
Imagine
You are a 7th grader on the Seton Swim Team.
Not only is it your first year at Seton, it may even be your first year at school.
Maybe you've swum for your summer league team, or maybe you've never swum competitively at all, but swimming for the big, bad perennial champion high school team is a really big deal for you. You may even find it intimidating – you may be worried that you will never be good enough.
But you came out for the team and are starting to find your way. You are starting to see yourself getting better, and you are starting to build a little confidence. You've made some friends, many of whom are on the swim team.
The Coach puts you in an exhibition relay with some upper classmen. They are much bigger than you – you look up to them. It seems like it will be forever before you will be as big – or as good – as they are, but you hope the day will come.
You may be nervous because you're never quite sure when your relay event will come up - so you find them on deck early to make sure that you don't miss the event completely and let them down. The Coach might be mad if you miss your event, so that adds to your worry.
You are entered as the last swimmer in the relay, so you stand by the blocks and cheer for the big boys on your relay while they swim, nervously awaiting your turn. When the time comes, you step up on the block – it seems so high – can't I just dive from the deck? But what will people think? So you climb up and when your teammate comes in, you muster the courage to dive in.
You swim with all of your might – all you hear is the splashing of your stroke and all you feel is your heart beating harder. You finish the race – I did it!
Then you look up and the other swimmers on your relay are already gone.