Seattle Spice Fastpitch: Welcome
Seattle Spice Fastpitch
Seattle Spice
Interested in Seattle Spice for next season? We provide great positive coaching, indoor training, college player access, very reasonable fees, and a strong belief in building a strong Spice community that provides for a wonderful experience for our players and families. We have planned ahead for 2014/2015 season! Teams and tryout information now available! Can't make the tryout dates this August? Please contact the head coach for a private tryout.
2015 Seattle Spice Head Coaches
10U Mark Rose gr8game@gmail.com 206-330-8000
12U Jon Hughes jon_hughes@live.com 206-349-1441
14U Frank Scandiffio franksoftball@outlook.com 206-931-0671
14U Kelly Wieland, kellywieland@live.com 425-457-6358
16U Shawn Metzger amarometzger@yahoo.com 206-819-8969
18U Eric Peterson ericpe@elbk.com 206-660-2402
Seattle Spice Softball Club is a 501c3 non-profit organization and offers and outstanding opportunity for any softball player who wants to enhance her softball skills and compete at a higher level. In addition to being on a great Spice team, players will be a part of a great organization that has a long history, has reputable and respected coaches with a lot of experience, and works diligently to keep player fees reasonable.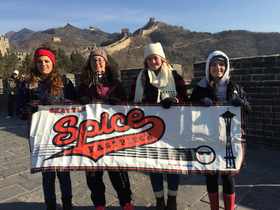 Spice players visiting China as part of a WCE delegation Jan 2015
Wednesday, April 15
Seattle Spice Invite 4/18-19 2015 - Pool Schedules and Brackets released!
Sunday, February 22
Spice 2015 Little League Clinic
SEATTLE SPICE SOFTBALL CLINIC
CALLING ALL LITTLE LEAGUERS!
Seattle Spice Softball Club offers an outstanding opportunity for any softball player who wants to make a commitment toward improving her skills for the upcoming Little League season.
Sunday, March 15th, 2015
1pm – 3pm
Check-in begins at 12:45pm
Please arrive at least 10 minutes early.
PARENT OR GUARDIAN MUST SIGN FACILITY RELEASE BEFORE PLAYER CAN BE PERMITTED TO PARTICIPATE IN THE CLINIC.
The K Center (Columbia City)
5034 37th Ave S, Seattle, WA 98118
Suggested Donation: $15
Pre-registration required. Register by sending an e-mail to Jon Hughes:
hugheslaw@gmail.com
Questions: 206-349-1441.
All participants will have the opportunity to play softball, work hard, improve, make new friends, and have fun. Participants are encouraged to develop new skills and achieve a new level of play and self-confidence.
You'll learn from Seattle Spice coaches, and current high school & select players. They share your passion for the sport of softball, and have made a career of sharing their knowledge and experience. They never lose sight of the fact, however, that great softball players are created one at a time. Who says getting better can't be fun too? At Seattle Spice Clinic you'll meet other young athletes who share your love of softball. On and off the field, you'll take home experiences you will remember forever.
Seattle Spice Clinic is designed to help players age 8-12 develop athletically. Each coach and Spice player does his/her best to accommodate your needs as an athlete, keeping in consideration your experience and desire to improve.
Handout:
Spice 2015 Little League Clinic