Seattle Spice Fastpitch: Welcome
Seattle Spice Fastpitch
Seattle Spice
Interested in Seattle Spice for next season? We provide great positive coaching, indoor training, college player access, very reasonable fees, and a strong belief in building a strong Spice community that provides for a wonderful experience for our players and families. We have planned ahead for 2014/2015 season! Teams and tryout information now available! Can't make the tryout dates this August? Please contact the head coach for a private tryout.
2015 Seattle Spice Head Coaches
10U Mark Rose gr8game@gmail.com 206-330-8000
12U Jon Hughes jon_hughes@live.com 206-349-1441
14U Frank Scandiffio franksoftball@outlook.com 206-931-0671
14U Kelly Wieland, kellywieland@live.com 425-457-6358
16U Shawn Metzger amarometzger@yahoo.com 206-819-8969
18U Eric Peterson ericpe@elbk.com 206-660-2402
Seattle Spice Softball Club is a 501c3 non-profit organization and offers and outstanding opportunity for any softball player who wants to enhance her softball skills and compete at a higher level. In addition to being on a great Spice team, players will be a part of a great organization that has a long history, has reputable and respected coaches with a lot of experience, and works diligently to keep player fees reasonable.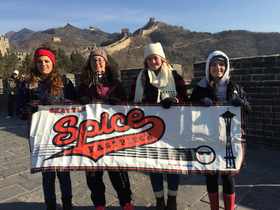 Spice players visiting China as part of a WCE delegation Jan 2015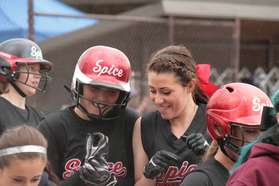 Homerun!
Spice Sunday Night Softball!
SPICE SUNDAY NIGHT SOFTBALL:
What's better then the combination of fastpitch softball and some NFL football?! Seattle Spice is excited to offer Sunday Night Softball this September for 10U to 18U teams at Steve J. Underwood Memorial Park in Des Moines.
Teams will play double-headers on Sunday evenings (after watching some great Seahawks football)! We have three fields each night and will play under the lights. One hour fifteen minute drop dead. One umpire per game.
Sunday Sept 14th GAME SCHEDULE:
3:15 - 4:30 Field 1 10U (Spice vs. Patriots) Field 2 10U (Speed vs. Flame) Field 3 12U (Spice vs. Fury Black)
4:45 - 6:00 Field 1 10U (Spice vs. Speed) Field 2 10U (Patriots vs. Flame) Field 3 12U (Fury Red v. Fury Black)
6:15 - 7:30 Field 1 12U (Spice vs. Fury Red) Field 2 16U (Spice vs. Crushers) Field 3 16U (Speed vs. Reign)
7:45 - 9:00 Field 1 16U (Spice vs. Speed) Field 2 16U (Crushers vs. Reign) Field 3
Each game is Drop Dead after 1 hour 15 minutes No Run rule, however, 10U will be 5 run per inning max
LOCATION: Steven J Underwood Memorial Park - 21800 20th Avenue South, Des Moines, WA 98198
Sunday Sept 21st: 14U and 16U games (3:15, 4:45, 6:15, and 7:45pm start times). All teams will play two games.
14U: Spice Red, Spice Black, WA Synergy 01 (more spots available)
16U: Storm, Crushers, Spice, Reign (possible 16U/18U spots open)
Sunday Sept 28th: 10U, 12U (3:15, 4:45, 6:15, and 7:45pm start times). All teams will play two games.
10U: Patriots, Speed, Flame, Spice, Fury, Acers
12U: Elite Diamonds, Spice (two spots available)
LOCATION: Steven J Underwood Memorial Park - 21800 20th Avenue South, Des Moines, WA 98198
It is first come first serve. Cost is set at $135 per team (2GG) for each date. One umpire. This is not a money making endeavor, we provide this at cost with a small amount going to our scholarship fund. If interested, please send an e-mail to Jon Hughes hugheslaw@gmail.com. Payment must be made immediately to secure your spot.
Friday, July 11
Seattle Summer High School League going strong! Championship Friday night!
Seattle Spice wins the 2014 Summer High School League championship! Congratulations to the girls for a great summer league season. Spice defeated Holy Names in the Championship game. Thanks to 14U head coach Steve Barker and 16U head coach Shawn Metzger for leading the charge for the Spice team this summer.
*****2014 Seattle Spice High School All-League Players*****
Spice Board Members
| | |
| --- | --- |
| President | Jon Hughes |
| Vice President | Steve Barker |
| Ombudsman | Kelly Weiland |
| Treasurer | Kristen Colantuono |
| Secretary | Anne Alfred |
| Development | Mark Rose |