Saugus American Little League: Welcome

God Bless America & Saugus MA
Welcome to Saugus American Little League
Proud Member of Little League Baseball Since 1951.
Article II of the SALL Constitution
(taken from the 2014 League Constitution & League Rules)
The objective of the Saugus American Little League shall be to implant firmly on the youth of the community the ideals of good sportsmanship, honesty, loyalty, courage and reverence, so that they may be finer, happier youngsters and eventually healthy productive adults.
This objective shall be achieved by providing supervised competitive baseball games. League volunteers and parents should bear in mind that the attainment of exceptional athletic skills and/or the winning of games will be secondary to the enjoyment of participation and the molding of the character of our players.
Sunday, January 5
2014 Registration Dates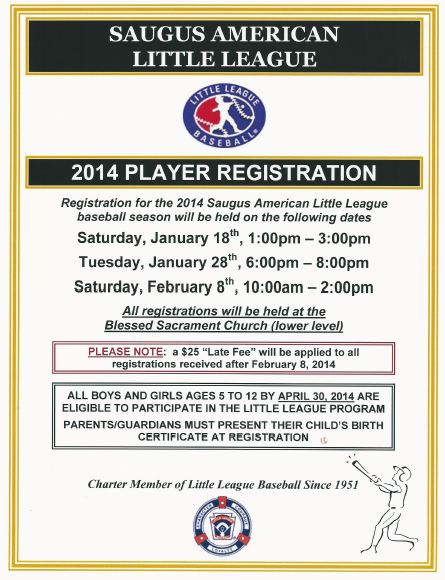 Handout:
2014 REGISTRATION DATES
Saturday, January 25
2014 League Forms for Coaches and Managers
All Coaches and Managers
Please Select the Handout Link Coaches & Managers below to get all 2014 player registration and league forms.
Handout:
COACHES & MANAGERS
Saturday, January 25
2014 Saugus American Little League Registration Fees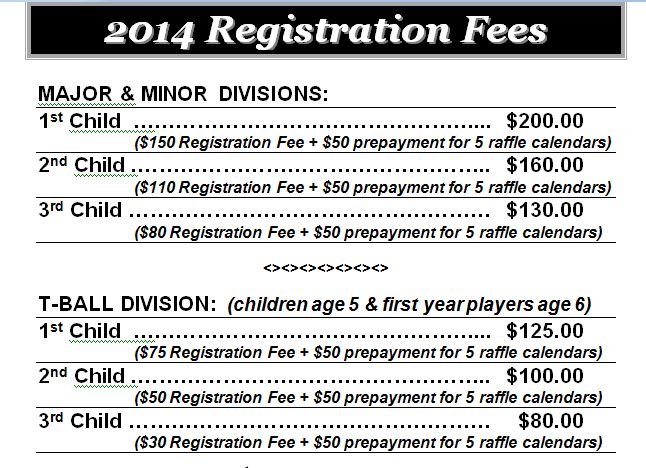 Handout:
REGISTRATION FORMS
Saturday, January 25
2014 Little League Age Chart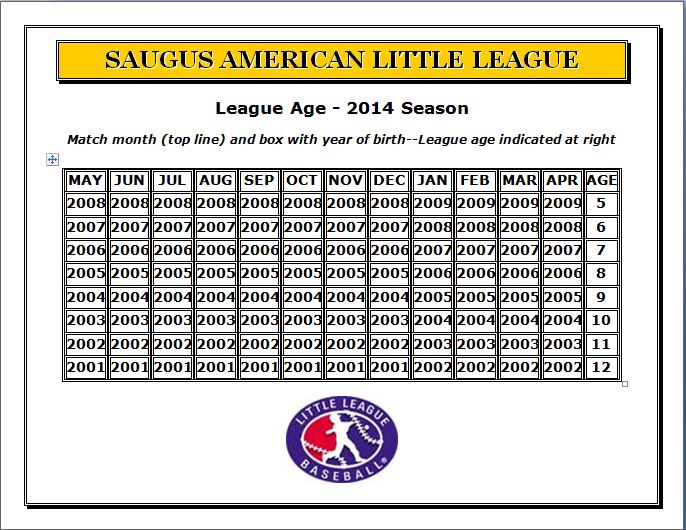 Handout:
REGISTRATION FORMS
Saturday, January 25
2014 Saugus American Little League Tryouts Schedule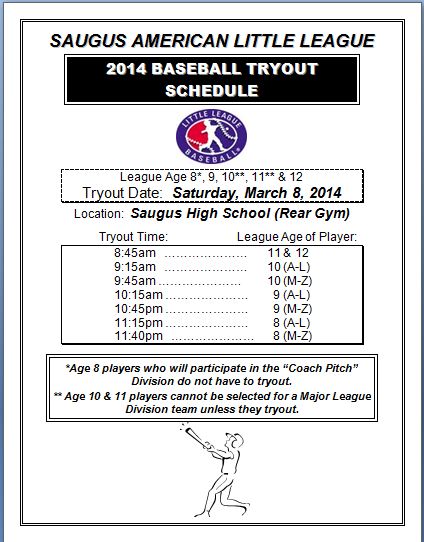 Handout:
REGISTRATION FORMS
Friday, May 18
Saugus American Little League Facebook Page