Sandtown Youth Sports Association: Cheerleading
CHEER REGISTRATION
Register Now for 2013 Cheerleading
$60 Early Bird Registration on or before Saturday, May 4th
$75 Registration - May 5th thru June 30th
$90 Late Registration - July 1st thru July 20th
additional required fees for uniform purchase
NO REFUNDS WILL BE GIVEN AFTER JULY 27, 2013. No refunds on uniform purchases.
2013 REGISTRATION INFORMATION
Registration:
Sandtown Cheer Association registration fees are as follows:
Early Bird Registration - $60
Regular Registration - $75
Late Registration - $90
Required Uniform Fee - $75 (New and Returning Cheerleaders)
New Cheer Uniform Fee - $150 (Required for New Cheerleaders)
Early Bird registration is only available via the website at www.sandtownpark.com. The Early Bird rate is valid until May 4th, 2013. Regular registration rate is from May 5th thru June 30th. You can register online, or selected Saturdays at the park. Late registration starts in July and continues until the registration is closed. Registration for each age group is subject to close at any time in which we fill the available slots for that specific age group. Online registration is available on the league website (www.sandtownpark.com), you can register online at any time before June 30th.
ALL PARENTS MUST TURN IN AN ORIGINAL CERTIFIED COPY OF THE BIRTH CERTIFICATE ONCE PRACTICE STARTS. You can get certified copies from www.vitalchek.com.
Early Bird Registration thru May 4th * On-line registration ONLY
Regular Registration May 4th thru June 30th * On-Line registration and Wednesdays 6:30pm to 8pm at the concession stand. On-site registration will also be held at Sports Authority on Cobb Parkway Saturday, May 18th and June 29th.
Late Registration July * On-Line registration and on-site Wednesdays 6:30pm to 8:00pm.

Formation of Teams:
Cheerleading Teams – All registered participants will be placed on a team per your age division. Based on the number of participants and coaching staff will determine if there is one or two teams per age group. Participants' birthday must be prior to July 31, 2012
Cost:
The registration rate is $75 for cheerleading. The registration fee includes a Sandtown capital improvement fee of $15. There are additional early and late registration periods as outlined above. For each additional child of the same immediate family, there will be a 10% discount per child. This discount only applies to kids living in the same household. Cheerleaders have two separate options for registration. Cheerleaders that are returning to their same team and DO NOT need to purchase a uniform can do so as a returning cheerleader without paying the New Cheer Uniform Fee. All cheerleaders that need to purchase a uniform, whether returning or new, shall register at the full rate.
Online you will have the option to pay all upfront or pay 50% upfront and 50% on or before June 30th. Your card will be automatically charged the remaining amount on June 30th.
Form of Payment:
We accept cash, credit cards or money orders. All monies are due at the time of registration. No checks accepted.
Refund Policy:
The refund policy for Sandtown Cheer Association will be strictly enforced. If a cheerleader withdraws, the parent must notify the Cheer SOC no later than July 27, 2012, at which time the parent will receive a full refund, less a $15 administrative fee. No refunds will be given after July 27, 2013. No refunds on uniform purchases. Refund policy is enforced whether or not your child attends any practices.
Birth Certificates:
All parents must provide the park with an original birth certificate. All birth certificates should be turned in to the child's coach or team mom prior to August 1st.
Practice and Game Schedule:
Practice for Football and Cheerleading will begin on July 8th. Practice is held Monday - Friday until August 3rd. Once school begins, practice will be only three (3) days a week. All practices are held at Sandtown Park unless otherwise directed by the Cheer SOC. Please try to have your child to practice on time. Please remember to be on time to pick up your child after practice. Each team will set its own times for practice not to last later than 8:30pm on school nights.
Games are usually played on Saturdays. The actual days that the games will be played will be determined once the schedule has been finalized by the league. Once the league schedule has been issued, we will issue it to the coaches to pass along to all parents.
Uniform Information
CHEERLEADING
Sandtown Cheer will furnish the cheerleading equipment:
1. Required Cheer Uniform Fee (Cheer Shoes, Poms, Socks & Hair Bows)
2. New Cheer Uniform Fee (Cheer Shell, Skirt, Crop Top Warm-Up & Briefs)
3. Practice Uniform $15 (shorts & t-shirt) **Included in Registration Fees**

Additional items needed for cheerleading that Sandtown Cheer does not provide are:
1. Cheer Bag - $15 Personalized additional $7
Total fees per cheerleader are as follows (based on Regular Registration)
New Cheerleader with cheer bag - $315
New Cheerleader without cheer bag - $300
Returning Cheerleader - $150
Sandtown Cheer Camp
SYSA will host our 2013 Cheer Camp with Resolute Spirit Athletics.

Camp will be held Friday June 7th to Sunday June 9th.

It is highly recommended that cheerleaders interested in cheering participate in Cheer Camp.

This Cheer Camp will focus on the fundamentals of cheering, stunts, a halftime cheer/dance and introduction to tumbling.
CHEER DATES
Cheerleading Dates to Remember
May 4th Early Bird Registration Ends

May 18th Onsite Registration at Sports Authority (11am - 1pm)

June 7th-9th Sandtown Cheer Camp

June 29th Onsite Registration at Sports Authority (11am - 1pm)

June 30th Regular Regsitration Ends

July Late Registration

Wednesdays in May Onsite Registration at Sandtown Park

concession stand (6:30pm to 8pm)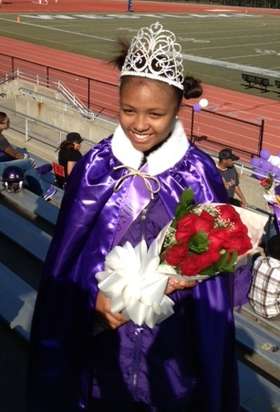 2012 Miss Sandtown
CONGRATULATIONS TO OUR 2012 HOMECOMING COURT
MISS SANDTOWN - Camryn Copeland
MISS 12U - Brenna Wilson
MISS 10U - Breshae Andrews
MISS 8U - Simone McClardy
MISS 7U - Kaylen Emerson
MISS 6U - Soleil Vailes
MISS 4U - Keegan McColley
2012 Sandtown Cheer Online Ads