Saint Gregory CYO: Welcome
Saint Gregory Barbarigo CYO Baskteball
Welcome to the web site for St Gregory Barbarigo CYO Basketball. Where the love for our parish meets love for the game.
*****************************************************
***VERY IMPORTANT NOTE ABOUT SCHEDULES***
PLEASE CHECK SCHEDULES EACH WEEK, AS SOMETIMES THEY CHANGE AFTER THE SEASON STARTS. THIS WILL AVOID ANY CONFUSION
**********************************************************
ST GREGORY BARBARIGO PARISH MISSION STATEMENT:
We, the Parishioners of St Gregory Barbarigo Roman Catholic Church, are called by Jesus to be a community of His disciples, united in Eucharistic worship and growing in Faith, Hope, and Love. Nourished through the sacraments and strengthened by God's transforming love, we are empowered to know the gospel message and to witness it to others. As Christian stewards, we are thankful for God's many gifts and we commit ourselves to share our time, talent, and treasure in Christ-like service within our parish community and beyond. We seek God's blessing and guidance to be faithful in this mission.
Let's Get It Started Again!!!!
Keep watching for new pictures, slide shows, and other fun things!!!
St Gregory's CYO Team Prayer:
Lord God, we thank you for bringing us together today and ask that you watch over and guide us. Help the athletes use their talents to the fullest and remain injury free. Help the coaches to teach these young athletes, not only about the game, but more importantly about being good Christians. Help the game officials to do their best to enforce the rules and remain fair at all times. And help the spectators to be considerate of all players, coaches, and officials and each other. Thank you for giving us the opportunity to put our faith into action today.
LET'S THE GAMES BEGIN....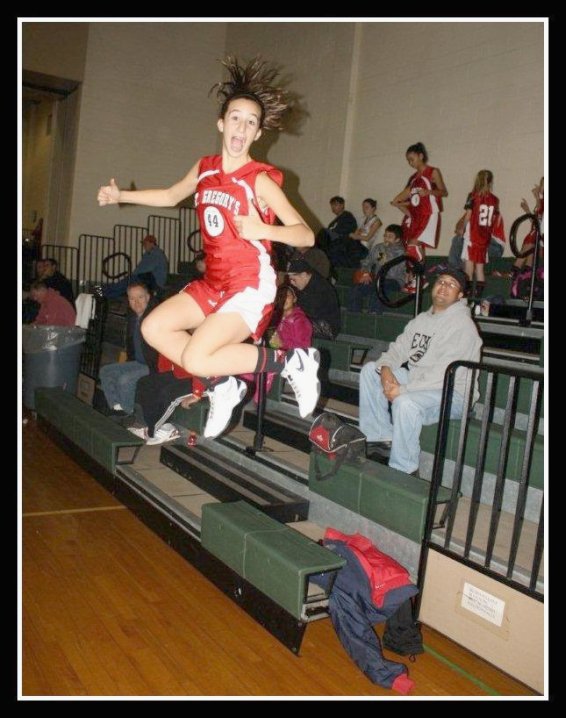 *****************************************************

ST GREGORY'S PROUDLY CONGRATULATES BILL MADDEN'S 7th GRADE BOYS TEAM, FOR WINNING THE STATE CHAMPIONSHIP. THE BOYS DEFEATED ST JOHN'S OF MAHOPAK 47 to 43!!! THE TEAM FINISHED THE SEASON WITH A RECORD OF 36 & 4!!!
CONGRATULATIONS TO THE SAINT GREG'S TEAMS WHO WON THE EASTERN DIVISION ROCKLAND COUNTY CHAMPIONSHIP 2013:
6TH GRADE BOYS
SEVENTH GRADE BOYS
THIRD GRADE GIRLS
TWO TEAMS ARE STILL ALIVE IN THE POST SEASON GAMES!
The 3rd Grade Girls, coached by Mike Gill, will play at the CYO/MIV Center in Staten Island on Saturday, March 17 at 1:00
The 7th Grade Boys, coached byBill Madden, will play for teh Upstate Championship, at Dominican College on Sunday, March 18 at 12:30 against St Mary's of Marlboro
PLEASE COME AN SHOW YOUR SUPPORT FOR OUR ST GREG'S TEAMS!!!
CONGRATULATIONS TO THE FOLLOWING ST GREG'S PLAYERS FOR WINNING THE 2013 COUNTY FOUL SHOOTING CONTEST:
CASSIDY O'BRIEN 7TH GRADE GIRLS
STEVEN TRAVAGLINI 6TH GRADE BOYS
EMILY GILL 5TH GRADE GIRLS
JULIA GILL 3RD GRADE GIRLS
*******************************************************************************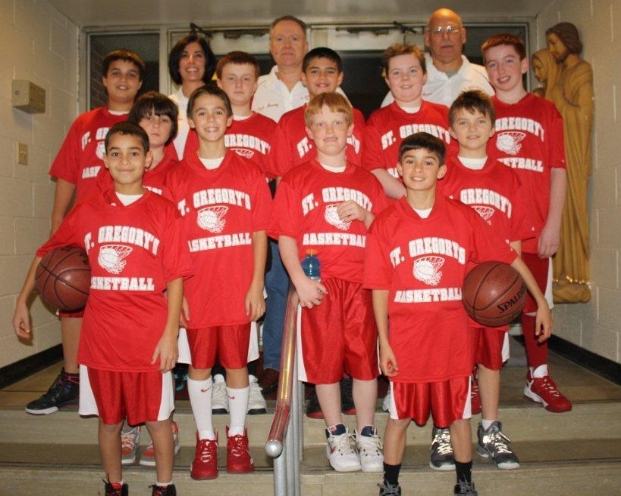 Small Fries Red
Coaches Manny Mavrorasakis, Christine Dwyer, and Kevin Hanley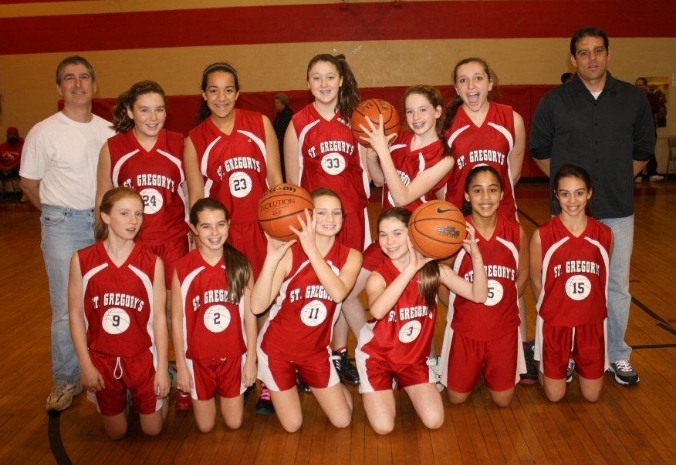 Junior Varsity Girls Red
Coaches Joe Corretjer and Pete Gentile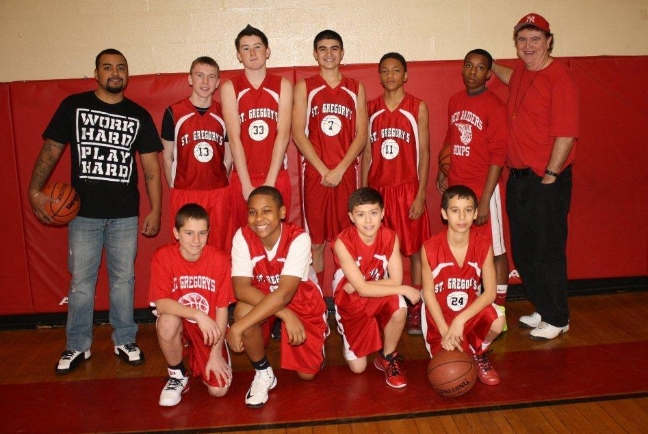 Varsity Boys Red
Coaches Joey Aponte and Jimmy Paterson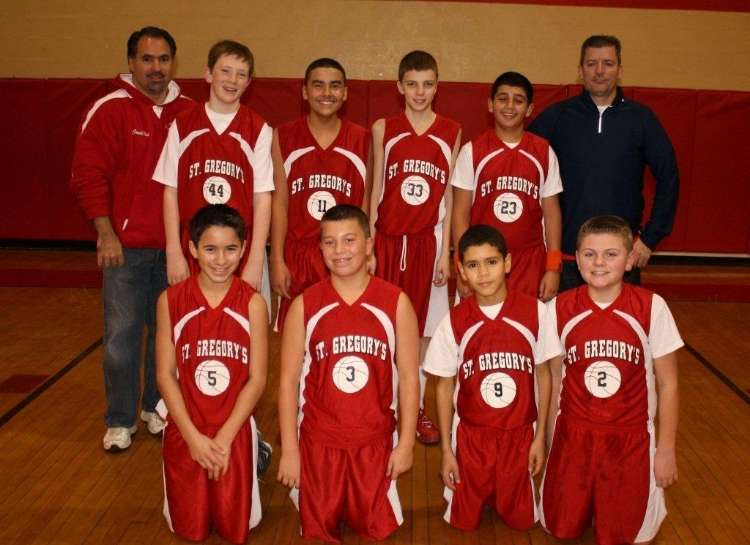 Junior Varsity Boys White Team
Coach Victor Diaz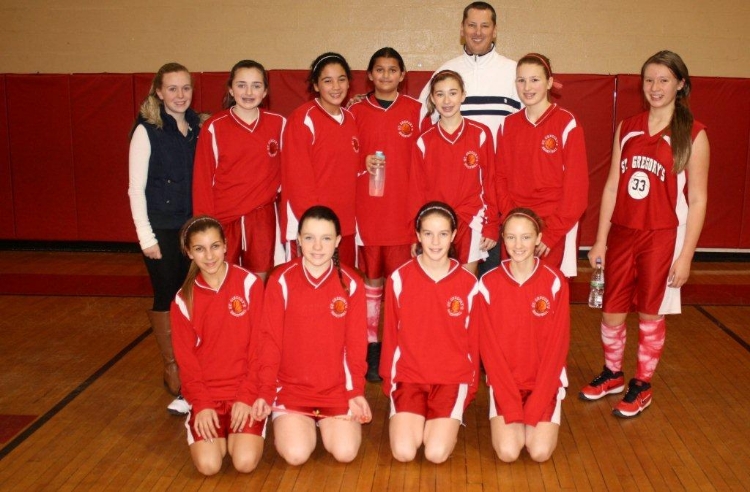 Junior Varsity Girls White
Coach John Obrien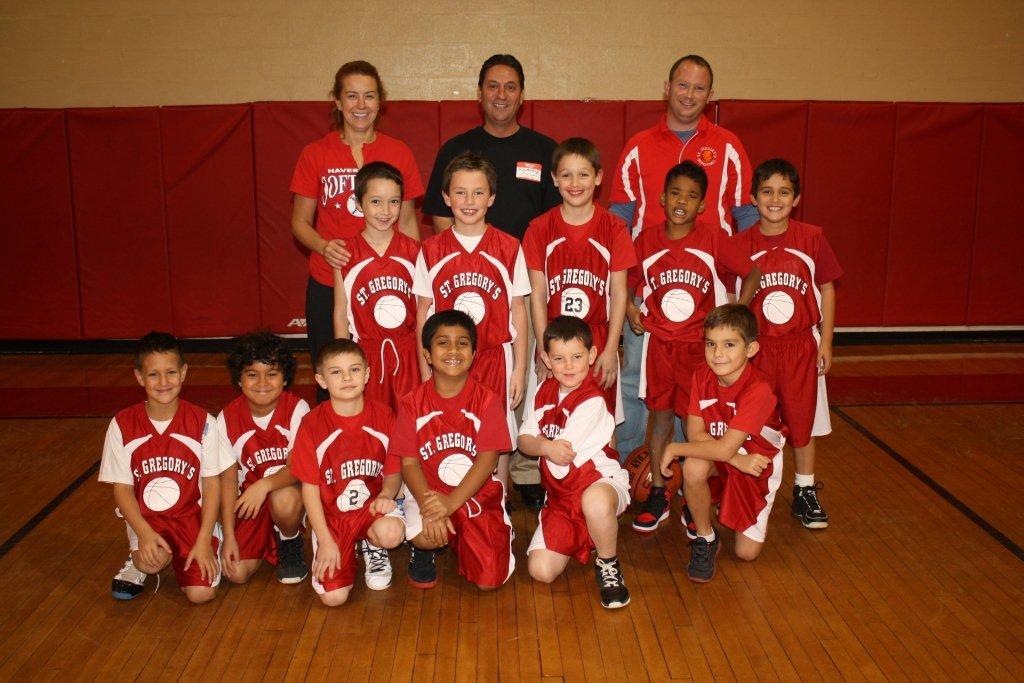 Rookies Red
Coaches Christine Cahill, Dave Garrison, and Kevin Nelson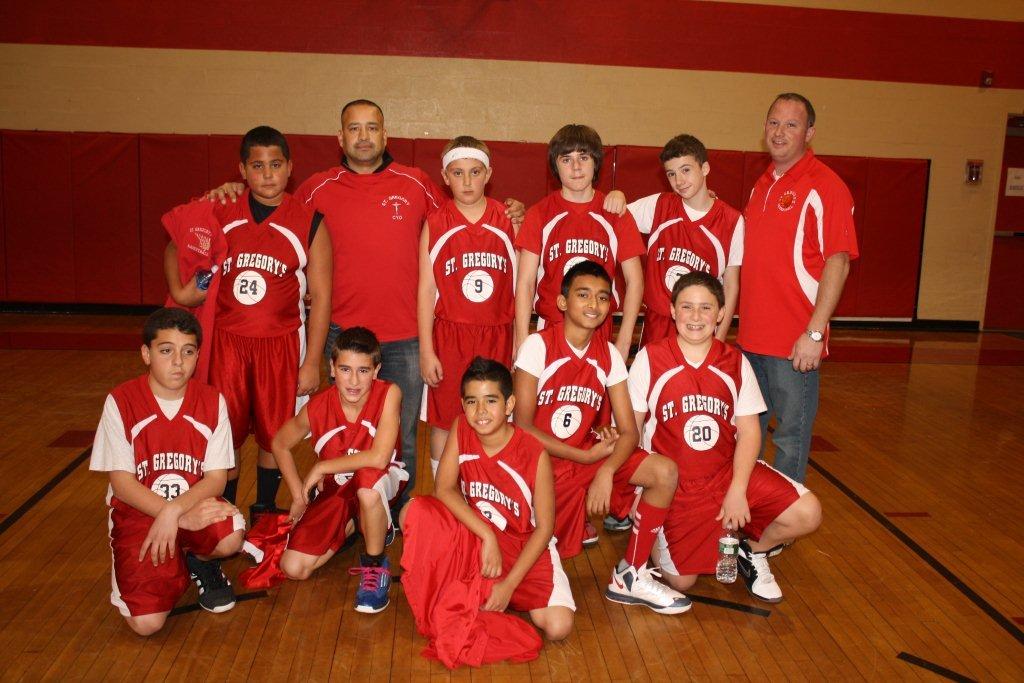 Junior Varsity Black
Coaches Louis Herrera and Kevin Nelson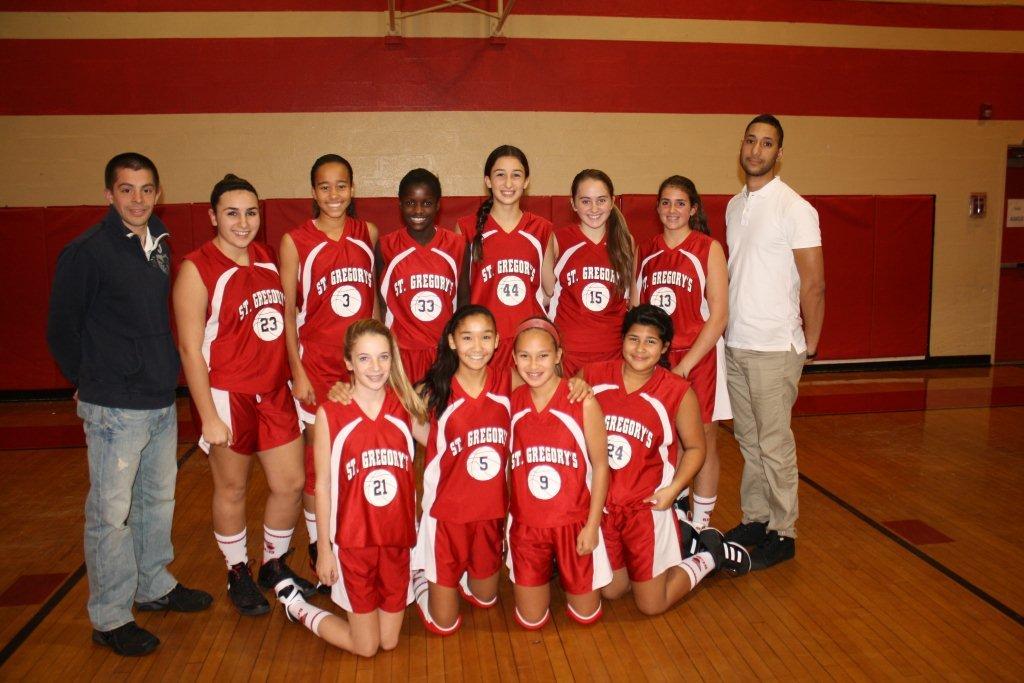 VARSITY GIRLS RED TEAM
2008-2009 State Champs, 2009 -2010 State Champs, 2010-2011 County champs and Upstate NY Champs
Coaches Orlando Rivera and Brian Leiken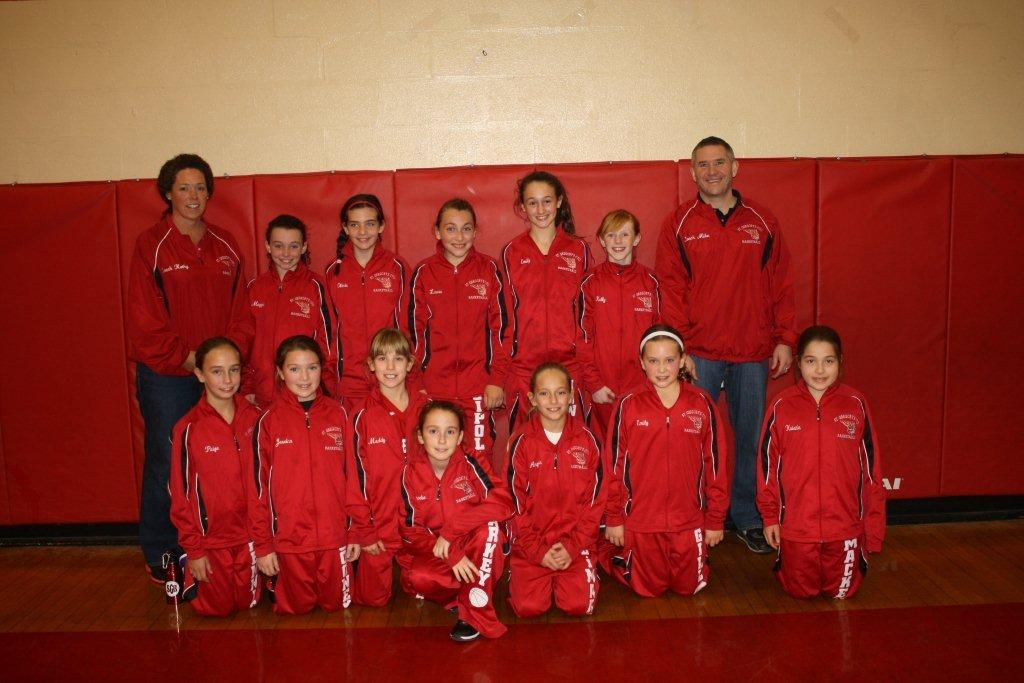 CADETS RED
2011-2012 County Champs, and Upstate NY Champs
Coaches Kathy Horan and Mike Gill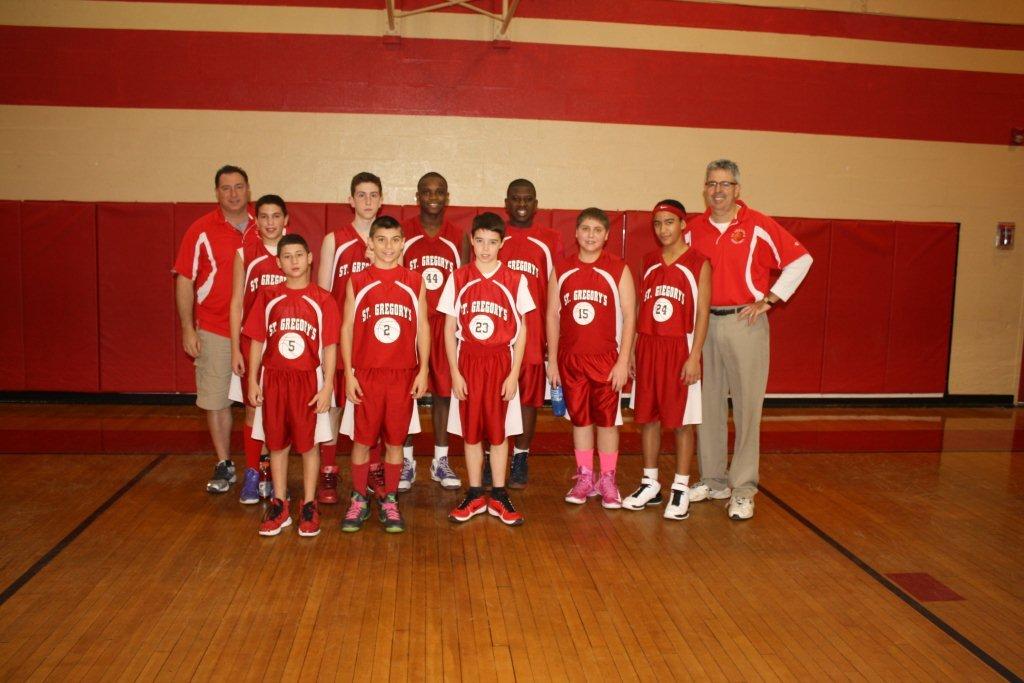 JUNIOR VARSITY BOYS RED
2008-2009 STATE CHAMPS, 2009 - 2010 COUNTY AND CHAMPS
Coaches Bill Madden and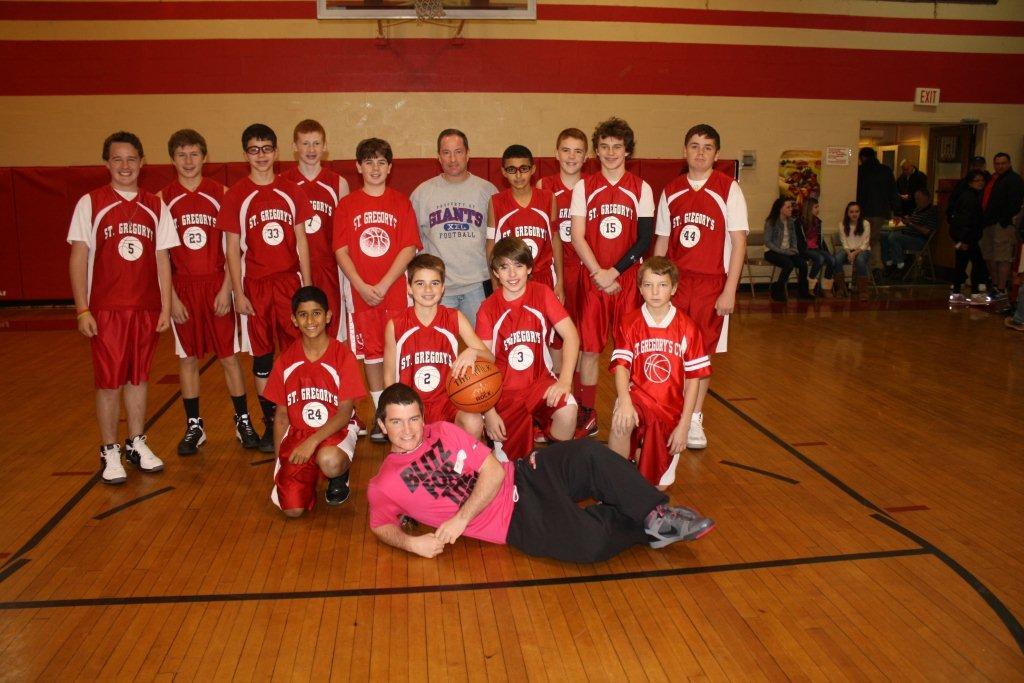 VARSITY BOYS WHITE
Coach John Lennon and "Bagels"
+++++++++++++++++++++++++++++++++++++++++++++++++++++++++++++++++++++
CONGRATULATIONS TO SAINT GREG'S 2012 STATE CHAMPIONS
SIXTH GRADE GIRLS COACHED BY JOE CORRETJER!!!!!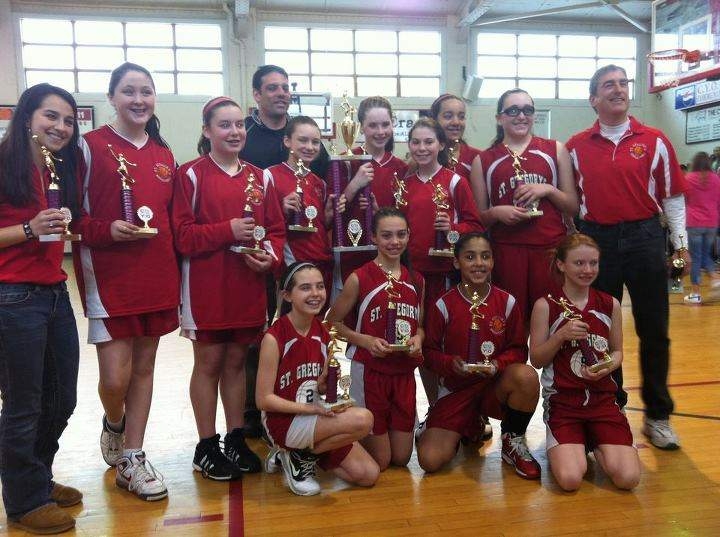 Play Off Games
*2012*
++++++++++++++++++++++++++++++++++++++++++++++++++++++++++++++++++++++++++++++
Undefeated Back to Back State Champs for 2 Years
6th Grade Girls Red
Coach Manny Mavrorasakis and
Assit Coach PJ Rivera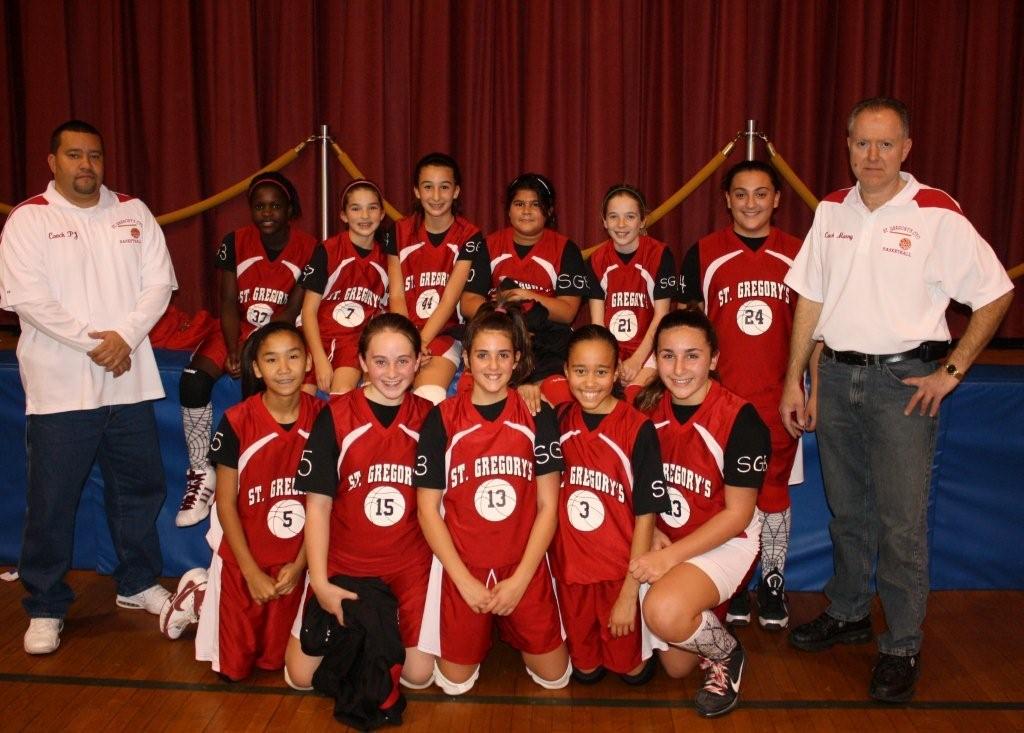 Cadets Red Back to Back Undefeated Ste Champs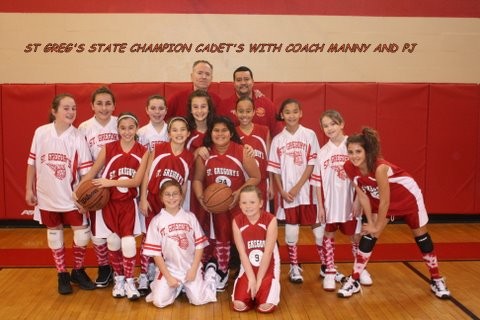 2008-2009 & 2009-2010 UNDEFEATED STATE CHAMPION'S: SAINT GREG'S CADET'S RED, COACHED BY MANNY MAVRORASAKIS AND PJ RIVERA
**********************************************************************
Getcha Head In The Game
Monday, October 11
New Survey for our current season
Who Is Playing at Home This Week?
PLAYOFF GAMES FOR 2013
HOME GAMES:
SUNDAY, FEBRUARY 24th:
12:00 pm - 3rd Grade Girls vs St Margaret's White
1:15 pm - 4th Grade Girls White vs St Paul's
2:30 pm - 5th Grade Girls Red vs St Francis
3:45 pm - 6th Grade Boys Red vs St Paul's
5:00 pm - JV Girls White vs Sacred Heart
6:15 pm - JV Girls Red vs St Aedan's
7:30 pm - JV Boys Red vs St Margaret's White
AWAY GAME'S
SUNDAY February 24TH:
2:00 pm Varsity Girls White vs St Catherine's At St Catheirine's
3:30 pm -Varsity Girls Red vs St Francis At Albertus Magnus
3:30 pm - 4th Grade Girls Red vs St Margarets At St Margaret's School
Monday, November 28
new 2010-2011 game pictures