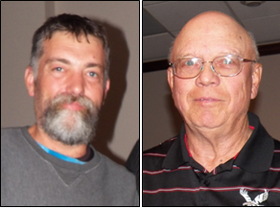 Jake Perry, Presidential Pride ... Chuck Jungblom, Campbell-Stewart
Tuesday, January 27
WELCOME!
2015 SSUA Training Schedule
Meetings on Wednesday nights at Northwest Wildlife Council Auditorium, 6116 N. Market, one block south of Francis, except for pitching clinic on Feb. 25 and indoor clinic on March 25 (sites to be announced) and outdoor clinic on Saturday, April 4 at Plantes Ferry Park.
The schedule:
Feb. 4 – 6 pm, Informational meeting for new officials
Feb. 11 – 6 pm, New-to-3rd-year officials; 7 pm, Everyone, Mandatory General Membership Meeting
Feb. 18 – 6 pm, New-to-3rd-year officials; 7 pm, WIAA/WOA officials
Feb. 25 – 6 pm, Everyone, pitching clinic, site TBA
March 4 – NO MEETING
March 11 – 6 pm, New-to-3rd-year officials; 7 pm, Everyone, Mandatory General Membership Meeting
March 18 – 6 pm, New-to-3rd-year officials; 7 pm, Everyone
March 25 – 6 pm, Everyone, indoor clinic, site TBA
April 1 – NO MEETING
April 4 – Everyone, Plantes Ferry Park, outdoor clinic, time TBA
April 8 – 6 pm, Everyone, rules review
State of SSUA … all is good … an open letter …
from your Board of Directors and ASA Commissioner Fuzzy Buckenberger in "Rules, Documents & Materials" at the top, or click on the link.
See how the winter has gone and what's ahead in 2015.
.
-(0)-
David Birdsell steps down as SSUA president, Ron Snyder steps up
Some of you may know of my 9-year-old son Luke. He has Autism and recent changes in his medication have made his behavior a challenge to manage. This in combination, with the growing role in my job with Hollister-Stier that is requiring long work days, has made a change necessary. That change is that I am stepping down as president of SSUA.
Vice President Ron Snyder has taken over as SSUA president and the Board appointed Scott Hofstee to replace Snyder as Vice President.
There are no further issues behind my decision other than my family and my job. I would greatly appreciate any thoughts and prayers.

Yours in softball

David Birdsell
-(0)-
SSUA has new WOA Rep, Treasurer
Effective January 1, 2015, assigner Bob Francis became the SSUA WOA liaison. Thank you to John Isles for his years of service in the position.
Also effective January 1, 2015, Rich Hobson took over as SSUA treasurer. Rich brings years of experience in the banking field as well as countless years of service to SSUA.
David Birdsell, SSUA President
-(0)-
.
ASA UMPIRE EXAM
.
The 2015 ASA Umpire Exam & Answer Sheet are available on the ASA Website.
.
-(0)-
ASA CLINIC & SCHOOL OFFERINGS
New to the list:
IDAHO ASA'S INLAND EMPIRE CLINIC AT THE COEUR D'ALENE CASINO & RESORT WAS CHANGED ON DEC. 29 TO THE WEEKEND OF FEB. 20 & 21. SPECIAL ROOM RATES. GREAT OPPORTUNITY TO GAIN VALUABLE UMPIRE TRAINING. SEE THE UPDATED CLINIC FLYER AND REGISTRATION FORM IN "RULES, DOCUMENTS & MATERIALS" UNDER TRAINING – CLINICS & SCHOOLS.
CHECK OUT OTHER TRAINING OPPORTUNITIES: THE 2015 ASA NATIONAL UIC CLINIC IN OKLAHOMA CITY FEB. 5-8 (ALL UMPIRES ARE WELCOME AND ENCOURAGED TO ATTEND!). … THE FLYER AND REGISTRATION FORM FOR AN ASA NATIONAL UMPIRE SCHOOL IN HILLSBORO, ORE., MARCH 6-8, 2015. … A FLYER AND HOTELS INFO FOR AN ASA NATIONAL UMPIRE SCHOOL IN CASPER, WYO., APRIL 24-26, 2015. … VIEW A LIST OF ALL THE 2015 ASA NATIONAL UMPIRE SCHOOLS.
-(0)-
Chuck Jungblom receives Campbell-Stewart Award;
Jake Perry is Presidential pride recipient
Chuck Jungblom, a 27-year umpire who has worked 12 national tournaments over three phases, received the Spokane Softball Umpires Association's top honor, the Campbell-Stewart Award, at the annual season-ending banquet on Nov. 8 at the Spokane Airport Ramada Inn.
Jungblom has been to nine Amateur Softball Association nationals in slowpitch (five), fastpitch (two) and modified pitch (two) and three Senior Softball USA nationals. The award, inaugurated in 1975 and honoring two former Spokane ASA umpires-in-chief, the late F. Bruce Campbell and Chuck Stewart, recognizes an umpire for longevity, dedication, excellence and service to softball umpiring in Spokane.
Jake Perry, historically one of SSUA's busiest umpires who overcame the effects of a stroke last winter to return to the field, received the Presidential Pride award from outgoing president Dallas Williams.
Other awards went to Dennis Keys (adult) and Bryan Raschka(youth), umpires of the year; Tammy Doffek (adult) and Jasmine Devereaux (youth), most improved; and Kenny Williams (adult) and Daryl Williams (youth), rookies of the year.
Special awards went to Ken VanSickle, athletic director at University High School and coordinator of softball for the Greater Spokane League, who was given the Home Run Award that recognizes a non-member for contributions to SSUA, and Del and Donna Sundberg, who founded the 4thof July Shootout girls fastpitch tournament that celebrated its 25thanniversary in 2014. SSUA umpires have run the Shootout since 1996.
Congratulations all!!!
Our story went national! ASA published it in its online newsletter Inside Pitch, on Page 30. Also in the December edition of Inside Pitch is a story on Seattle's Malcolm Boyles, the ASA Western Deputy Supervisor of Umpires, featuring a poem written for Malcolm by our own Handy Harnasch. It's on Pages 11 and 12. Check if out.
If you missed the banquet, we're sorry; you missed one of the best.
John Isles put together a special PowerPoint that ran continuously during the banquet with all the Association's major award winners through the years and the names of umpires who worked some of the significant youth and adult tournaments in 2014. Check it out in "Rules, Documents & Materials" in the Awards and Honors category.
-(0)-
Ken Mathia named new Spokane ASA UIC
Ken Mathia, an ASA umpire for 24 years, is the new Spokane ASA Umpire in Chief, Commissioner Fuzzy Buckenberger announced.
"I am extremely excited that Ken Mathia has agreed to be my UIC," said Buckenberger. "Besides being one of the top slow pitch umpires in Spokane, he has a lot of experience as a program director and as a trainer."
Mathia, a former SSUA assignor and president, replaces Randy Harnasch, who has filled the position for the better part of five years. See story at spokaneasa.com
-
.
Rain, rain go away … but if it doesn't …
check the status of your game
on the SSUA Weather Hotline, 509-723-4511
Games canceled or postponed by weather, or other unforeseen circumstances, by 12 noon will be posted to the Weather Hotline. … Umpires will be called regarding cancellations or postponements that occur after 12 noon.
In the event of inclement weather, if your game is not on the recorded message and you haven't been called, GO TO YOUR GAME SITE! Because weather conditions can vary within our area, rainouts ARE NOT one-size-fits-all. You may have to postpone a game when you arrive, but that is one of your responsibilities that you can't do from home!
-(0)-
WE CAN ALWAYS USE MORE UMPIRES!
Interested in umpiring? Contact information for the SSUA Board of Directors and Spokane ASA Umpire in Chief Ken Mathia is below.
No experience is necessary, just a love of the game and a willingness to learn. And training is free!
-(0)-
CHECK OUT "RULES, DOCUMENTS & MATERIALS" ...
For
• REVISED SSUA RECREATION EJECTION REPORT
• GOOD STUFF IN ASA RULES CLARIFICATIONS & PLAYS
• COUNTY RULES & REGS + CITY CODE OF CONDUCT
• CITY & COUNTY BAT POLICIES WITH THEIR APPROVED BAT STICKERS
(2014 NON-APPROVED BATS & LOCAL STICKERS DOCUMENT INCLUDES ASA NON-APPROVED BATS LIST WITH COUNTY & CITY STICKERS YOU CAN CLIP AND CARRY IN YOUR LINEUP CARD HOLDER!)
And there's more ...
• MALCOLM BOYLES, ASA WESTERN DEPUTY SUPERVISOR OF UMPIRES,
HAS GREAT TIPS ON GAME MANAGEMENT ...
.
Rules, Documents & Materials Index
1. SSUA Bylaws
2. Local Rules
3. National Rules
4. ASA Clarification & Plays
5. Training - Clinics & Schools
6. Training - PowerPoints & Material
7. SSUA Policies
8. Information
9. ASA National Awards Programs
10. SSUA Board Meeting Minutes
11. History
12. Awards & Honors
13. Rec & High School Tournaments
14. 4th of July Shootout