SSDIB Chiefs: Welcome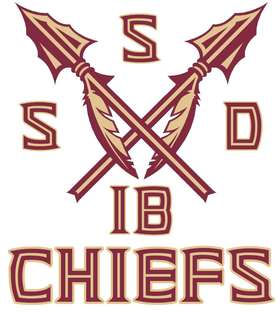 South San Diego - Imperial Beach Chiefs Youth Football & Cheer
Tuesday, September 6
Building Character, integrity & Pride since 1969
South San Diego - Imperial Beach Chiefs Youth Football & Cheer est. 1969 is proud to be a part of the South Bay community and youth sports for over 45 years and counting. Our organization is focused on growing gifted children, both academically and athletically also establishing values and morals of our future leaders. Emphasis will be placed on teaching the fundamentals of football & cheerleading, through the importance of teamwork and ensuring that all participants learn responsibility, respect, sense of pride, self esteem and confidence through hard work and dedication.
Mar Vista High School presents SSDIB Chiefs Youth Football Night
Friday, September 16 @ 7:00pm Vs. Valhalla Norsemen
Halftime exhibition with Tiny Mites & Mitey Mites division
***As for admission, the current athletes and cheerleaders who attend the game in uniform be granted free admission along with the coaches of the teams that will be doing the halftime exhibition. All other adults will need to pay the regular admission price.
We hope to see all our Chiefs Family out there!!
Get Social with us for up to date info!!
Saturday, March 25
2017 Football & Cheer Season
2017 Game Schedule:
Week 1: August 26 Vs. TBA
Week 2: September 9th Vs. TBA
Week 3: September 16th Vs. TBA
Week 4: September 23rd Vs. TBA
Week 5: September 30th Vs. TBA
Week 6: October 7th Vs. TBA
Week 7: October 14th Vs. TBA
Week 8: October 21st Vs. TBA
Playoffs:
Quarter Finals: October 28th Vs. TBD
Semi Finals: November 4th Vs. TBD
Super Q-Bowl: November 11th Vs. TBD
Desert Pacific Regionals: November 17th Vs. TBD
AYF & AYC National Championship (in Florida): December 3rd-8th Vs. TBD
Friday, May 5
2017 REGISTRATION
South San Diego - Imperial Beach Chiefs Youth Football and Cheer
2017 Signups, ages 5 - 14
Dates:
Saturday's 10am - 2pm
May 13th & 27th - June 10th & 24th - July 8th & 22nd
at Montgomery Waller Park 3020 Coronado Ave. 92154
Near the snackbar/ baseball field, enter through Palm Ave
What to Bring:
1x1 Color Photo (2 copies)
Two Proof of Residency (2 copies each)
Original Birth Certificate (plus 2 copies)
FINAL Report Card (2 copies) Parent or Guardian
Registration and Deposit Fee
Cost:
Flag Football $245
Tackle Football $305 plus $100 gear deposit (cash deposit)
Cheer $245 plus $100 uniform deposit (cash deposit)
$60 minimum deposit, payment plan available.
Siblings Discount $10 off, one sibling only. $10 off if Paid in Full after April 30th.
Football Divisions:
Flag - 7u (Cannot turn 8 before 8/1)
Tiny Mites - 8u Tackle (Cannot turn 9 before 8/1)
Mitey Mites - 9u Tackle (Cannot turn 10 before 8/1)
Jr. Peewee - 10u Tackle (Cannot turn 11 before 8/1)
Peewee - 11u Tackle (Cannot turn 12 before 8/1)
Jr. Midget - 12u Tackle (Cannot turn 13before 8/1)
Midget - 14u Tackle (Cannot turn 15 before 8/1)
Cheer Divisions:
8u Cheer (Cannot turn 9 before 8/1)
10u Cheer (Cannot turn 11 before 8/1)
12u Cheer (Cannot turn 13before 8/1)
14u Cheer (Cannot turn 15 before 8/1)