South Kitsap Southern Little League: Welcome
Thursday, June 11
ALL STARS!
South Kitsap Southern Little League (SKSLL)
ALL STAR TEAM ROSTERS TO BE ANNOUNCED JUNE 15th
Tons of updated Information in our SKSLL Group Page on Facebook
CLICK HERE >>>and LIKE US ON FACEBOOK
Minor Prep Tournament Bracket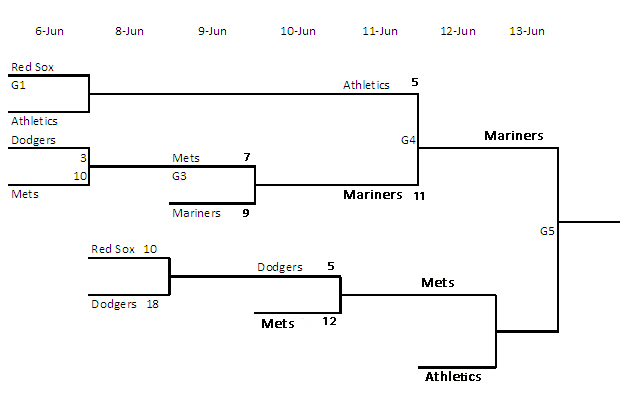 Get 'em off the Couch!
PLAY BALL!
WE ARE STILL REGISTERING!!
Even though teams have been finalized we will ALWAYS
let a child play ball!!
2015 Registration Information and Forms
---
Residency and School Attendance Eligibility
In an effort to accomodate Little Leaguers playing with their classmates, and ease the burden on parents and guardians, Little League recently amended its residency requirements to allow children to play in the local league whos boundaries where they attend school is located.
In order to accomodate the change, Little League has recently adjusted the Regulation II (d) and II(a) form and created an official Little League school enrollment form. This form can be utilized to players that attend school within a league's boundary but would prefer not to provide a school performance record or school registration record in order to enroll in a league for participation.
For further questions, please contact Margot at sksllplayeragent@yahoo.com
---
Become A Board Member!
General Meetings are on the 1st & 3rd Monday of the month.
---



---
Thank you to ALL of our wonderful volunteers.
YOU are what makes this league a success.
Why be a Volunteer?
It's not for money, it's not for fame
It's not for any personal gain
It's just for love of fellowman
It's just to send a helping hand
It's just to give a tithe of self
That's something you cannot buy with wealth
It's not medals won with pride
It's for that feeling deep inside
It's that reward down in your heart
It's that feeling that YOU have been a part
Of helping others far and near,
that makes you be a Volunteer
-Author Unknown
It is NEVER too late to get involved and there is no such thing as too little time.
Every minute counts in the lives of children.
Ask a Board Member how YOU can get involved
---
Special Thanks to our 2015 SKSLL Sponsors
We couldn't play ball without your support!
Dana's Heating and Cooling * Kitsap Bank * Bayside Photography * RoadRunner Concrete Cutting * Olalla Food Center * POWTEC * Peninsula Photography * Evergreen Mortgage * Olalla Community Club * The Creme Cafe * Bucks * John M. Cameron - Century 21 * Countryside Auto * Prestige Escrow * All About Embroidery * Graphic Reflections *Express Espresso * Conan Fuel * All About Printing * Kitsap Flooring *
Elton Goodwin Foundation * John's Lawn Care * Olalla Landscape
---
SKSLL is proud to be a part of the Little League National Program.
"Little League Online"
is a great way to check up on all the Local, District, Regional, and National news as it happens in Little League Baseball.
Check out what the Little League program has to offer.
"The Little League Pledge"
Do you know the words? Follow the link for the history behind this long standing tradition in Little League Baseball.
Test your knowledge. How well do you know the rules of Little League Baseball? Find out by taking this
"50 Question Quiz"
. It's open book, so if you have a recent rule book the section references are provided. Good luck
MAILING ADDRESS: PO Box 86 Olalla, WA 98359 PHYSICAL ADDRESS: 5795 SE Hovgaard Rd, Olalla, WA
Wednesday, June 10
2015 Interleague Champions SKWLL Imagination Station
Congratulations to
South Kitsap Western Little League
and their highly compentent
Imagination Station Team
for winning the
Minors Interleague Tournament!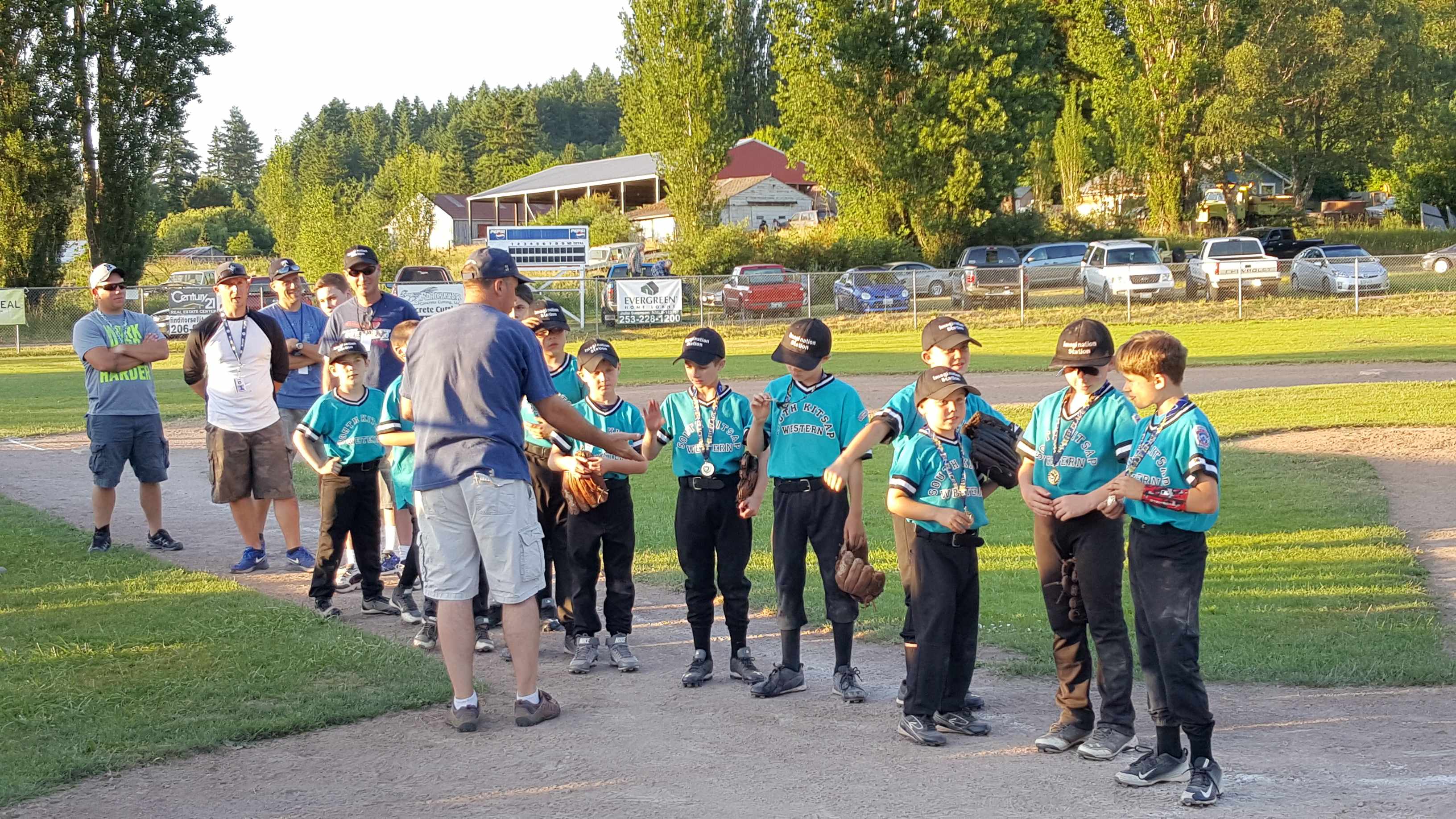 Thursday, June 11
Final Interleague Brackets
FINAL Minors Winner Bracket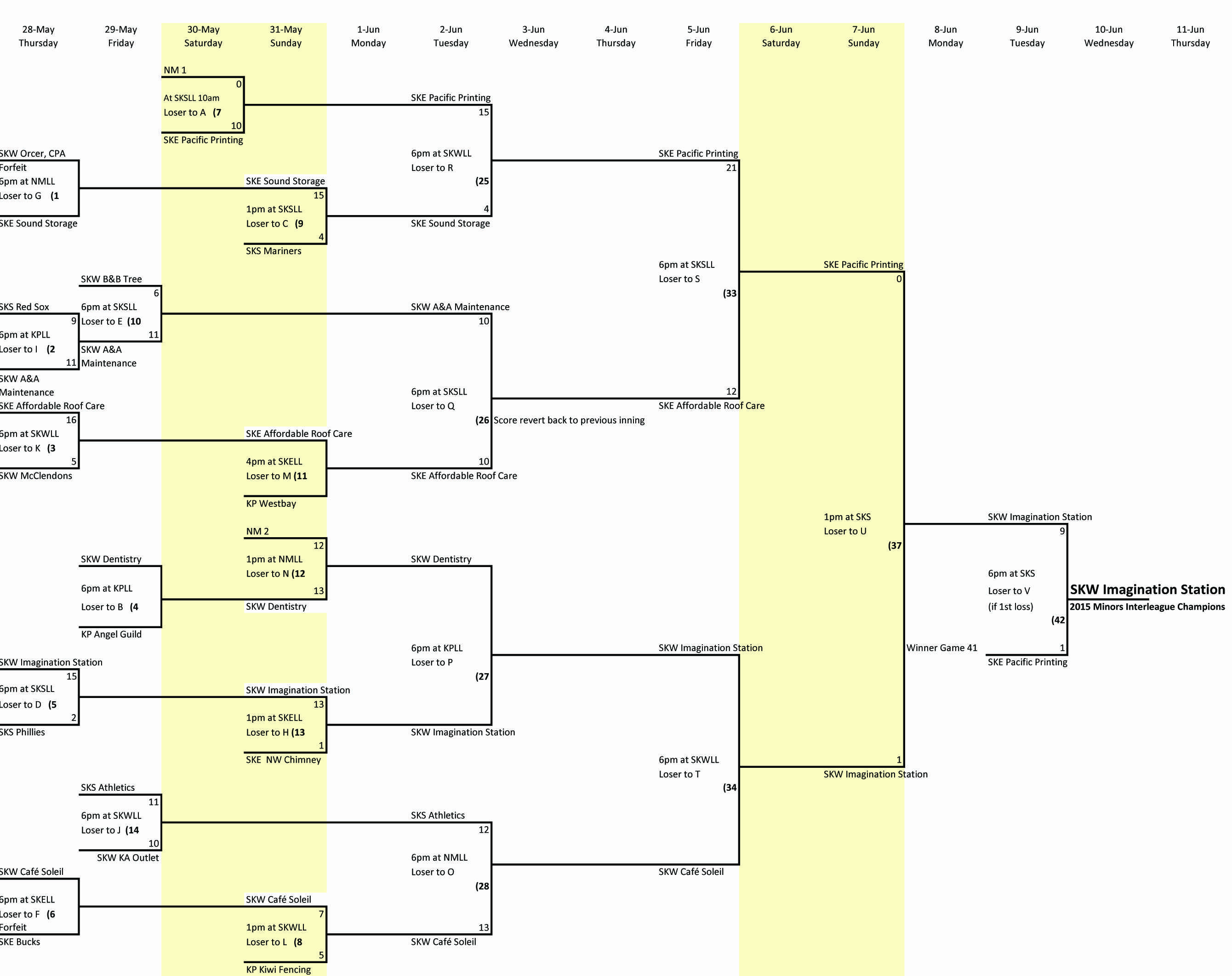 Minors Consolation Bracket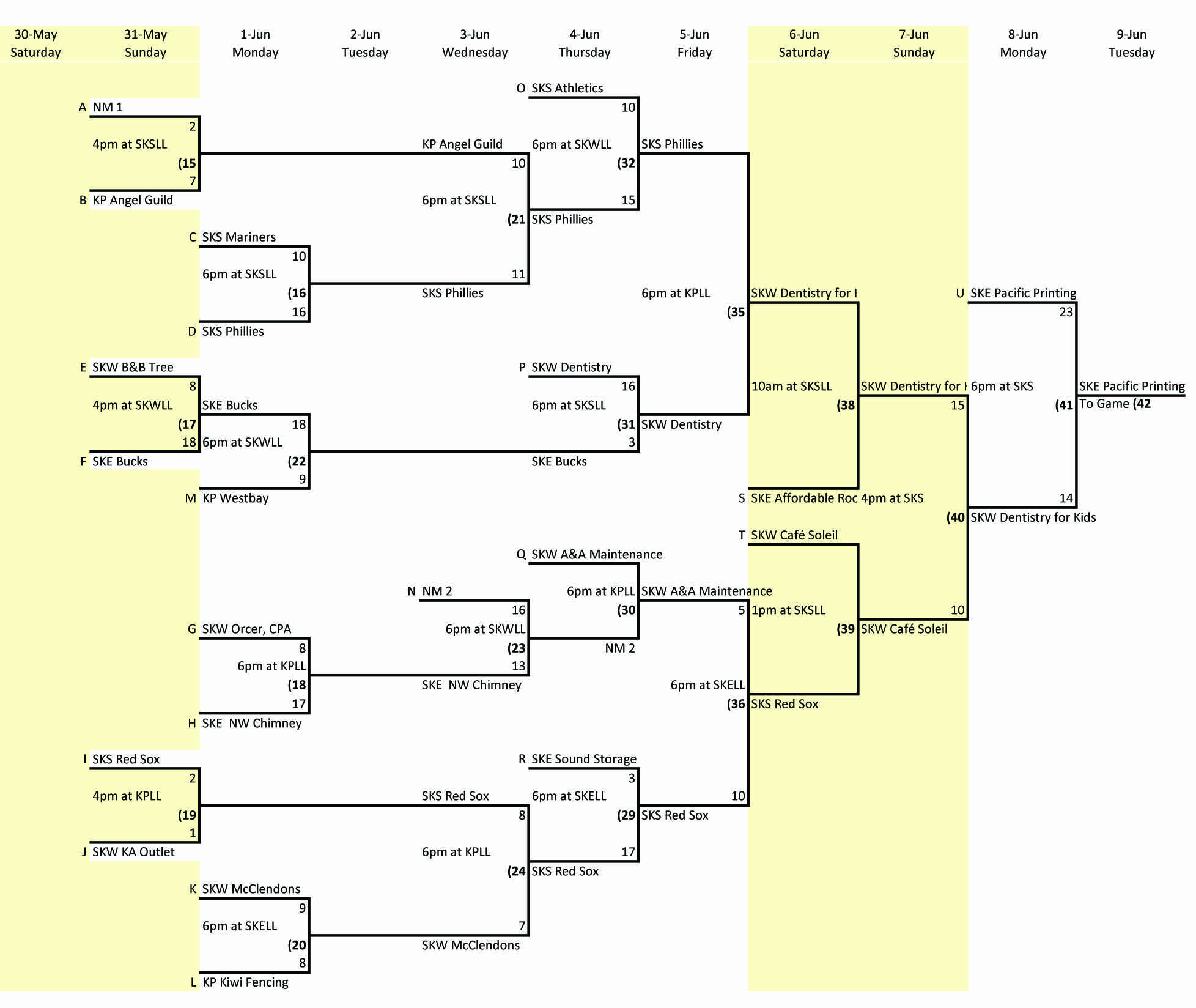 Majors Bracket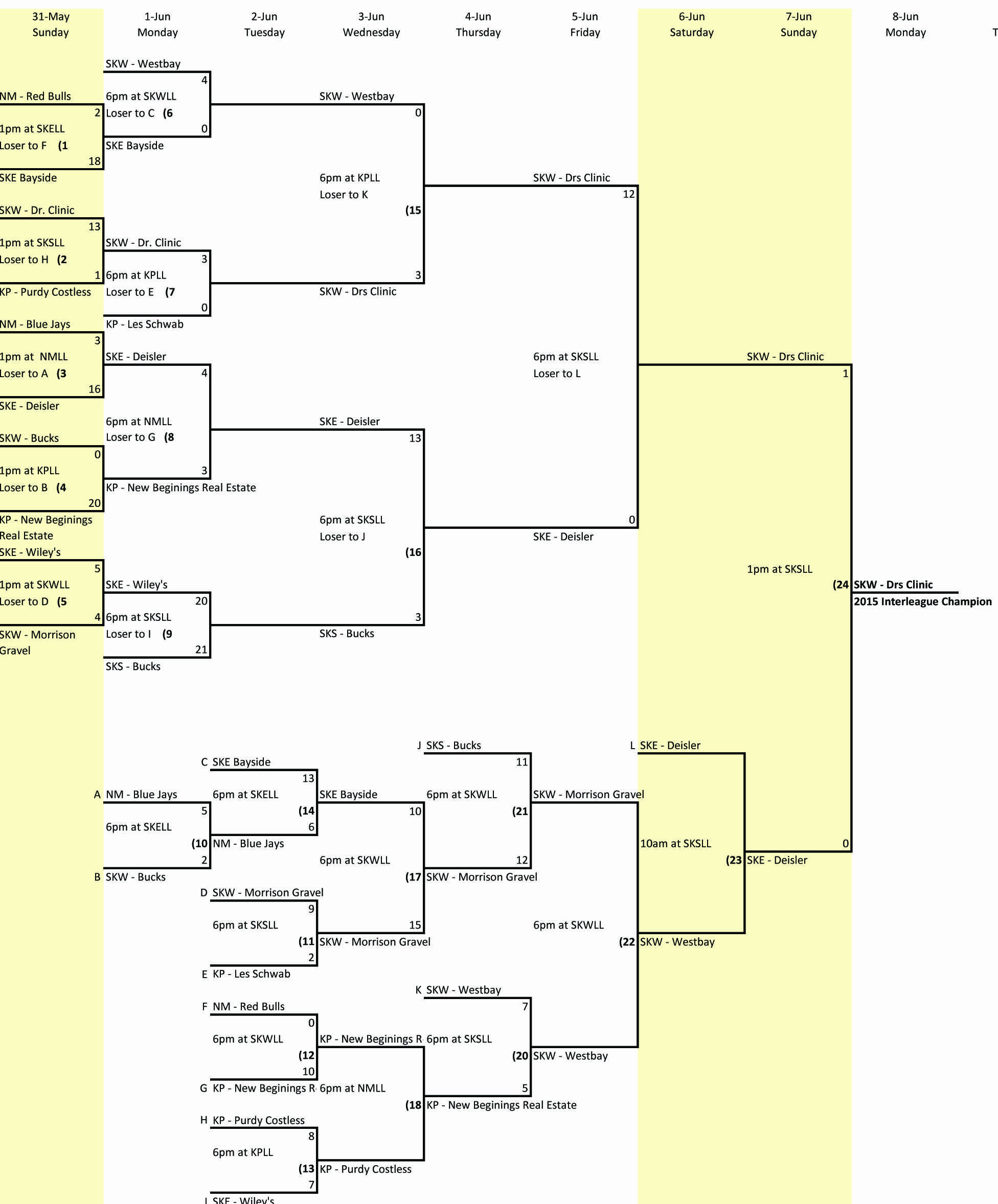 Sunday, May 10
Dinner Auction was a SUCCESS!
After a long time of organization and prep work, only to have our venue cancel at the last moment, we were able to change the location at the last minute, only to have the owner of the WigWam pass away. Our condolences on suct a tragedy. The show must go on, and we pulled it together, and not only was it fun it was very successful. We had great attendance, fabulous items, generous donations, and really had a great time.
Here's some highlights.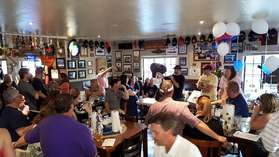 Chris Sizemore from Stokes Auction was great1
Sunday, May 3
Season is Heating Up!
Baseball is fun!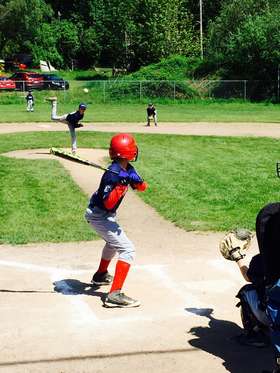 Mason Elena At Bat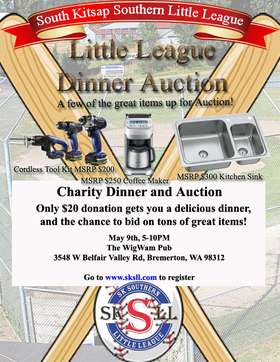 CLICK TO REGISTER
Saturday, April 25
South Kitsap Dinner Auction - May 9th 5PM at the Wig Wam in Bremerton
Please Support SKSLL!!
Our dinner auction is coming up!
Wednesday, April 8
Our TBall Team The Scrappers Win Their First Game
Many players begin their baseball love in TBall. SKSLL considers this division of our league to be most one of our most important. It is here that the love of the game, and the loyalty to the league begin.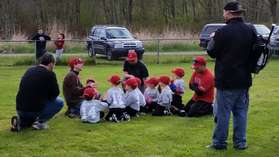 The Scrappers Win Their First Game
Saturday, March 21
Uniforms Are In!
All uniforms are being delivered! Opening Day on March 28th 11AM!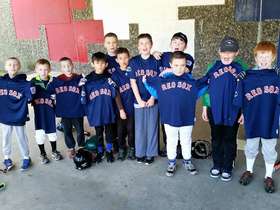 2015 Minor League Red Sox
Saturday, March 7
The Season IS HERE!!!
Well! We are just rolling now. All teams, managers, and sponsors are in place. All gear has been distributed. Most teams have had, or will this weekend have their first practice.
If you'd like to help out and volunteer contact us!
If you know of any businesses that would like to take advantage of advertising with us, CONTACT US!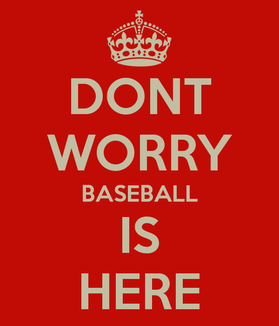 Volunteer Today! Help the kids play ball!
Wednesday, March 4
We Just Wrapped up tryouts
We finished up a great couple of weekends of tryouts.
Here's Coaching Coordinator Greg Rusted doing what he does best...coaching.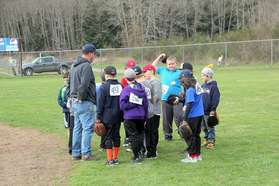 WE ARE STILL REGISTERING!
Friday, February 20
Tryouts are happening 2/14, 2/15, 2/21, 2/22 Find out more on Facebook
We had a great first weekend of tryouts. Another great one to go.
And are we lucking out on the weather or what?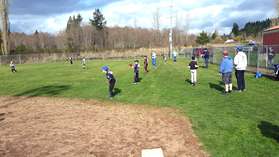 We have some great talent!
Monday, December 29
Tacoma Rainiers Takeover!
Monday, December 29
The Sad Passing of Mike Rodenbucher
My dear SKSLL Family ..
Sad News to share .. Mike Rodenbucher, long time SKSLL Umpire and former UIC, passed away on Saturday morning. He was a wonderful man, taught me SO MUCH and had a great way of breaking down the rules and regulations. RIP Mike. You will be missed my many. Our thoughts and prayers go out to his family.