South Kingstown Little League: Welcome
SKLL offers baseball and fast-pitch softball programs for boys and girls
ages 4 to 16. For more information about our league
and its programs, please visit the FAQ section.
---
2014 Spring Registration
Registration for the South Kingstown Little League 2014 Spring season is now open! Again this year, all registrations will be processed online through SportsSignup at www.sportssignup.com/South-Kingstown-Little-League-Online-Registration.start.
Register for Baseball or T-Ball by February 15th to receive a $10 discount for each registration!
For those who are unable to register online, Walk-in Registration will be held on Saturday, January 11, 2014 from 10:00 am to 1:00 pm at the Neighborhood Guild, 325 Columbia Street, Peace Dale. Those families new to SKLL or who have changed residency within the past year may drop off copies of their proofs of age and residency at that time if they prefer not to send them through the mail.
Deadline (Major Baseball Division only): February 28th
Once you have registered, don't forget to fill out, print and sign a Medical Release Form for each child registered. This form is to be turned into your Team Manager at the first practice.
If you would like to manage, coach, or help out on the field, please fill out a Volunteer Form, and mail it to SKLL, PO Box 388, Wakefield, RI 02880. You will not be permitted to help on the field unless we have these documents on file.
All required forms can also be found on our Forms & Documents page. If you are unsure of your child's "league age", please use Little League's Age Calculator.
---
Saturday, April 26
2014 Opening Day
Opening Day ceremonies are scheduled for Saturday, April 26th starting at 10:00 AM. Join us in celebrating the start of the 2014 SKLL baseball and softball season! Please see our flyer which outlines all the activities for the event. This year's opening day will be the biggest and best ever! Your favorite activities are returning from last year, including the dunk tank, fly ball rocket launcher and the SKLL Home Run Derby! The Pitch, Hit & Run competition, sponsored by SK Parks and Rec, starts at 8:30.
Get there early and enjoy all the activities!
---
Sunday, March 2
Softball Updates/Registration Deadlines
Softball season is upon us! A few important reminders:
Registration
The registration deadline for returning and new major league players is Monday, March 10, 2014. The registration deadline for junior/senior, minor and instructional league players is Monday, March 24, 2014.
We need your help to keep our program going! Please spread the word to your neighbors, friends, etc. on the fun of Little League fast pitch softball!
Major League Evaluations
Players new to the major league must attend evaluations on Thursday, March 13, 2014 at Bomb Squad Baseball Center from 5-7pm. Please arrive a few minutes early and bring a glove and bat if you have one.
Pitching Clinics
SKLL will offer free pitching clinics with Keri Tarro, a former RI College player and current coach with East Greenwich High School in April! The pitching clinics will take place at Upper Broad Rock field on Sunday, April 6 and Sunday April 13 from 12-2pm. Beginners will attend from 12-1pm, and more advanced pitchers from 1-2pm. Please e-mail softball@skll.org to register as space will be limited!
---
Tuesday, January 21
Softball Newsletter
Please see
our newsletter
about the upcoming Spring 2014 Softball Season:
http://www.eteamz.com/SKLL/files/2014SoftballNewsletter.pdf
---
Thursday, April 3
2014 T-Ball Program - Registration available for 4-6 year olds!
The 2014 T-Ball program has been scheduled for 6 consecutive Saturday mornings starting May 3rd. There will be 2 sessions each Saturday, 8:30-9:45 and 10:00-11:15. If a player has a conflict with one of the times, please indicate so during registration, so he/she can be scheduled accordingly. Otherwise, players will be randomly assigned a timeslot, and you will be contacted by your child's manager in April with additional details.
Registration will continue through Opening Day on April 26th, so register now!
---
Saturday, April 26
2014 Pitch, Hit & Run Competition
South Kingstown Parks and Recreation will be holding its annual boys baseball PITCH, HIT & RUN competition for residents ages 7-14 on Saturday, April 26, 2014 from 8:30 a.m. to 11:30 a.m. at Tuckertown Park (prior to the SKLL Opening Day ceremonies). There will also be a softball PTICH, HIT & RUN competition for girls ages 7-14, on Saturday, May 3, 2014 from 8:00 a.m. to 11:00 a.m. at Old Mountain Field. Please download the baseball and softball flyers for all of the details. Questions? Call the Neighborhood Guild at 789-9301.
---
Thursday, February 13
First Aid and CPR Classes for Managers and Coaches
SKLL offers First Aid and CPR classes to managers and coaches, as part of Little League's regulation that every team have at least one coach that is certified in these skills. All classes for 2014 will be held at the SK Police Station from 6-8 pm.
April 1st - First Aid
April 2nd - CPR
April 9th - First Aid
As you enter the front door of the Police Station, the classroom is down the hall to the right.
Please contact info@skll.org for more information about these classes.
---
Sunday, May 4
Sunday, May 4th Red Sox Little League Day
The Red Sox are going to be having a Youth Baseball Day at Fenway Park. On Sunday, May 4th we will be having a pre-game parade for players and coaches around the warning track. There is a VERY LIMITED number of tickets available for Sunday, May 4th. Tickets will be sold on a first come, first serve basis.
Once Sunday, May 4th sells out we have the following alternate dates that will include a fundraiser. Please check school calendars many of these days fall in line with school vacation weeks.
Saturday April 5th 710pm vs. Brewers
Friday April 18th 710pm vs. Baltimore
Saturday April 19th 135pm vs. Baltimore
Sunday April 20th 7pm vs. Baltimore
Tuesday April 29th 710pm vs. Tampa Bay
Wednesday April 30th 710pm vs. Tampa Bay
Thursday May 1st 710pm vs. Tampa Bay
Friday May 16th 710pm vs. Detroit
Sunday May 18th 8pm vs. Detroit
Friday May 30th 710pm vs. Tampa Bay
Saturday May 31st 715 pm vs. Tampa Bay
Friday June 13th 710pm vs. Cleveland
*5/30, 5/31 are NOT memorial day weekend
If you are interested in attending, please send an email to info@skll.org with your name, phone number, and the number of tickets desired. We may not have a choice of dates, so you will need to be flexible regarding dates.
---
Wednesday, February 5
Doug Dynasty #doitforthedougie T-shirts
Meet Douglas Barlow…
He is a junior at SKHS…and took part in Little League since the age of 5.
Two months ago, he was diagnosed with Hodgkins Lymphoma.
His girlfriend Kaitlin decided to sell t-shirts to raise money for the Jimmy Fund Clinic at the Dana Farber Center where Douglas receives his treatments.
Please consider purchasing a "Doug Dynasty" t-shirt for $12 to support this awesome young man and help him support The Jimmy Fund Clinic!!
Please email me at thassell@verizon.net if you are interested in ordering.
I will take the orders and get them to Kaitlin. She will be submitting a large order and I will collect your money when I deliver your shirt. Shirts can be ordered in adult sizes XS, S, M, L and XL.
If you don't know Douglas, he is an inspiring young man whose smile and positive attitude are amazing!
Thank you for your support!
Tonia and Lew Hassell
---
Thursday, December 26
2014 URI Baseball Raffle
Dear Little League Families,
We have been contacted by URI Baseball to ask if our league was interested in helping to sell raffle tickets for their annual raffle. URI offered to share the profit of tickets we sell with South Kingstown Little League. We at SKLL thought this would be a good opportunity to raise additional revenue for the league and develop a partnership with the university.
Proceeds from ticket sales would be used for player development (clinics / training), purchase new equipment, and upgrade the facilities utilized by SKLL. This would have a direct positive impact on our baseball and softball players and enhance the programs offered by our league.
Please see the attached information for the raffle.
If you have any questions or are interested in purchasing a ticket please contact me at fgskll@cox.net.
Thank you for your time and consideration,
Sincerely,
Frank J. Gallucci
Frank J Gallucci
President
South Kingstown American and National Little Leagues
---
Monday, December 30
Important Rule Change for the 2014 Season: Residency and School Attendance Eligibility
In an effort to accommodate Little Leaguers® playing with their classmates, and ease the burden on parents and guardians, Little League® recently amended its residency requirements to allow children to play in the local league whose boundaries where they attend school is located. To verify enrollment, parents will need to bring an official school document, such as a report card or school enrollment form, confirming enrollment in the school for the current academic year, dated before October 1, 2013. Read the full text of the new rule here.
In order to facilitate the change, Little League has recently created an official Little League school enrollment form. This form can be utilized by players that attend school within a league's boundary but would prefer not to provide a school performance record or school registration record in order to enroll in a league for participation. For further clarification on the new residency requirements, please view the video.
---
Monday, October 21
SKLL Has Two Fall Ball Championship Teams!
What an exciting weekend for SK baseball! The 10/11 Fall Ball A team coached by Mike McNamara won the Championship Saturday night against the undefeated Wickford team! The 8/9 Fall Ball A team coached by Robert Young also won their Division! Congratulations all!
See more team photos on the Photo Album page.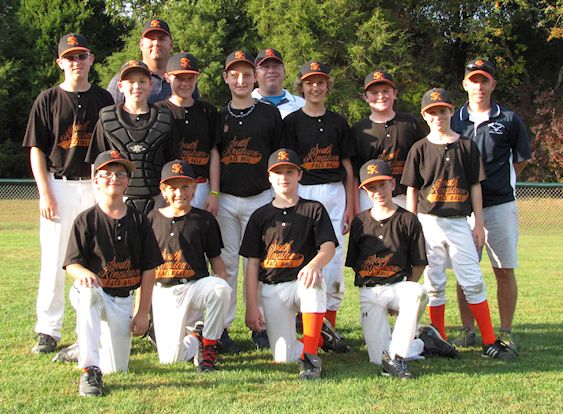 10/11 Championship Team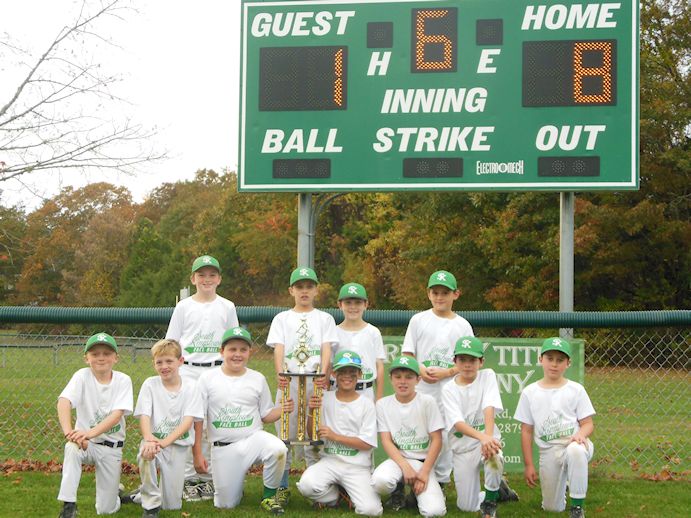 8/9 Championship Team
---
Thursday, October 3
SKLL 2013 Annual General Membership Meeting
The South Kingstown Little League will hold its annual General Membership meeting on Tuesday, October 29th at 6:00 pm at the Neighborhood Guild. The meeting is open to parents, coaches, volunteers, and anyone with a vested interest in the operation of South Kingstown Little League.
The agenda will include a review of 2013 annual reports and election of the 2014 Board of Directors. The SKLL Board of Directors, elected from and by the adult members of the league, is responsible for the day-to-day operations of the league within the rules, regulations and policies of Little League.
If you are interested in serving on the Board or as a member of a committee, please respond by email to info@skll.org or by regular mail to SKLL, PO Box 388, Wakefield RI 02880 by October 25th. Descriptions of the Board of Directors Roles are listed on the League Officers page.
---
Saturday, March 16
Little League International Bat Resource Page
Little League International has assembled an online resource page dedicated to baseball bat information. Click here to find the latest bat information, including the current Little League Baseball rules and regulations governing bats, definition of terms, the moratorium on the use of composite bats, and a series of frequently asked questions, with answers and licensed bat lists.
They have also developed a mobile-friendly webpage that provides a current listing of licensed baseball bats with a 2 1/4 inch maximum diameter that are approved for use in the baseball divisions of Little League (Little League [Majors] Division and below).
---
Thursday, January 3
SKLL Welcomes Back Babe Ruth Players
The SK Babe Ruth league has completed its final season and is no longer in operation in South Kingstown. Because of this, South Kingstown Little League has expanded its offerings to include Junior and Senior Baseball divisions for ages 13-16. We expect many former Babe Ruth players to return to SKLL and join us in these new divisions! Please contact us if you have any questions regarding Junior/Senior Baseball.
---
Thursday, January 3
Sponsorship Opportunities
Interested in sponsoring a South Kingstown Little League team? Visit the Sponsorship Opportunities page to find out how!
---
Wednesday, May 18
SKLL Message Boards!
Message Boards have been added to the website to give all SKLL families a place to communicate with each other. To access the Message Boards, click the link on the left menu.
---
Thursday, May 19
Lost & Found
A
Lost & Found section
has been added to the
Message Boards
. If you have lost or found any items at any of the SKLL fields or events, please check the board to see if information about the item has been posted. If not, feel free to post information about the item on the Board.
---
Facebook Feed