Upcoming Games
Date
Event
Time
Location
Sat 3/3
Bruins vs. Islanders
8:15 PM - 9:30 PM
South Delta Rec Centre
Sat 3/3
THC II vs. Wild
9:45 PM - 11:00 PM
South Delta Rec Centre
South Delta Over 35 Men's Hockey League

Really, It's Non-Contact
A non-contact, competitive league that has been operating for over 30 years in Ladner and Tsawwassen. Skill levels vary, but the pace of play is good for out-of-shape weekend warriors. We are always looking for new players to spare or be full-time. You have to be 35 years of age or over as of January 1st, 2013.
All teams are looking for players. Click the links to get their contact information.
Tuesday, February 20
Regular Season Final Individual Stats
February 19, 2018
South Delta Mens 35 + Adult Hockey 2017/2018 Final Regular Season
Individual Statistics
Leading Scorers
NAME GP G A PTS PIM
1. Amir Bath, Islanders 13 7 20 27 26
2. Sean Stock, Wild 13 17 8 25 6
3. Steve Cowan, Islanders 17 19 5 24 2
3. Brad Dickson, Guns 17 15 9 24 4
4. Rob Bogress, Islanders 15 8 15 23 2
4. Chris Labelle, Yeti 18 13 10 23 6
5. Trevor Smith, Guns 14 15 7 22 12
6. P. Mackie, Yeti 15 16 4 20 8
7. Jason Boyce, Bruins 12 13 6 19 2
8. Neil Grannary, Guns 10 6 12 18 8
9. Doug Roberts, Bruins 13 7 9 16 24
9 . Aaron Samis, Yeti 15 10 6 16 4
10. Ray Meaney, Wild 10 6 9 15 4
10. Mike Dempster, THC II 13 8 7 15 8
10. Andrew Marchand, Guns 16 8 7 15 10
10. Kevin Mastelkemper, Yeti 16 7 8 15 8
10. Tom Hasker, Islanders 16 6 9 15 4
Leading Goalies (Min 7 Games) GP GA GAA W L T OTL
1. Rusty Mason, Guns 18 44 2.43 12 4 1 1
2. Stacey Greenstein, Bruins 11 39 3.55 6 4 1
3. Kurt Jesson, THC II 11 44 3.99 2 5 2 2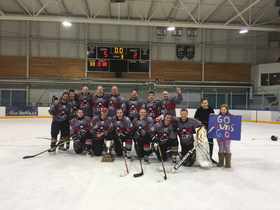 Guns 2017 A Champions
Sunday, March 26
2017 Guns & Wild A & B Champions
Congratulations to the GUNS for completing a dominate 2017 season by winning the "A" Championship 5 to 2 over defending Champions Islanders. Led by anything but rusty goaltending, Stellar Rusty Mason gave up only 2 goals to the Islanders who had led the league in goal scoring. All world Neil Grannery led the Guns attack with 2 impressive goals, other helpers came from Dave Atkinson, Steve Haywood and Giant Brad Dickson. Team captain Trevor Smith contributed with a huge game by collecting 3 assists and being a physical presence on the ice all night. The Guns only lost 4 games during the season and will be very hard to beat in the years to come. The Guns are loaded.
Avenging last years loss to the Bruins the WILD won their first "B" Championship 5 to 1 over the Yeti. The impressive win ended the Bruins 5 year reign and showed the league that the Wild are for real. Wild goaltender, Jay Goodburn turned aside all but 1 Yeti goal and proved he is one of the most dominate goalies in the league. The Wild were led by 2 goals from Fan Favourite and Sniper Geoff Ryan and helpers by Matt Ryan, Mike Dempster and Perry McLarty.
The Executive would like to once again thank Paisley Wallace for all her hard work and dedication as league Timekeeper. Paisley is a very accomplished player and the league is fortunate to have her assistance. League referrees Brad Wolf and Aaron Tishler showed their patience and professionalism all year and kept the play honest and fair. Finally the league would also like to Thank league President, Dave Espley, for all his leadership, guidance and hard work throughout the year.
Wishing everyone a Safe and Fun Summer.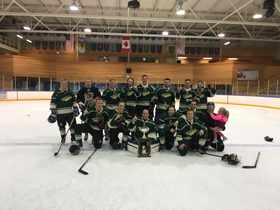 WilD 2017 B Champions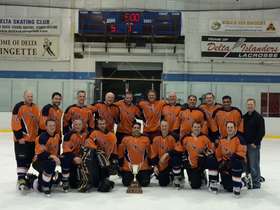 Islanders A Pool 2016 Champions
Sunday, March 13
ISLANDERS "A" 2016 CHAMPIONS / BRUINS "B" 2016 CHAMPIONS AGAIN
Islander goalie, Don Brown, proved he is one of South Delta's premier goalies by backstopping his team to a 5 – 1 Victory to claim the South Delta Men's +35 A Pool Championship; Brown was brilliant as he stopped all but 1 attempt by the pesky THC II team. The Islanders won their 3rd Championship in 5 years and were helped by goals from league scoring leader, Steve Cowan, tenacious Tom Hasker, and forwards Craig Boliver, Peter Zed and Peter Dashkewytch. Islander Fan favorite defensemen Mark Bermel playing his last game, as an Islander did not disappoint with a solid defensive effort.
Bruins goalie Stacey Greenstein was also spectacular in helping his dynasty Bruins team earn their 5th "B" pool championship in a row with a 5 to 2 victory over the Wild. Sniper Mike Norcott led the Bruins attack with 2 goals with singles going to Arnie Kellner, Matt Belcarras and Glenn Sweeney.
The Executive would like to once again Thank Time Keeper and Scorer Paisley Wallace for all her outstanding work and effort she displayed this year. Many Thanks also go to league referees Brad Wolf and Aaron Tishler for keeping the peace.
SEE YOU ALL NEXT YEAR !! HAVE A SAFE AND FUN SUMMER !!!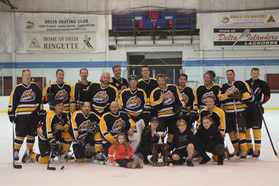 Bruins B Pool 2016 Champions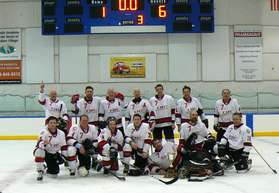 THC II 2014/15 "A" CHAMPIONS
Sunday, April 5
THC II WINS "A" TITLE CHAMPIONSHIP AND BRUINS WIN 4TH STRAIGHT "B" TITLE
Congratulations to the Bruins in winning their fourth straight "B" Pool Championship behind the stellar goaltending of Stacey Greenstien. The Bruins attack was led by goals from Brian Powell and Alex Izzo.
THC II returned to the Championship Circle by avenging last years loss to the Guns and beating them 6 to 1 to capture the "A" Pool crown. The THC II team was led by the outstanding, fantastic goaltending of league president, Dave Espley, who allowed only 5 goals in 3 playoff games. The potent THC II offence was led by rookie Ken Phillips with 3 goals and helpers registered by Sean Gurniak (2) and David Clarkson (1)
The Executive would like to thank Paisley Wallace once again for her dedication and outstanding work through out the year as our TimeKeeper and Scorer. Special kudos to our two officials, Brad Woof and Aaron Tishler who displayed amazing patience and professionalism all season
WISHING ALL PLAYERS A WONDERFUL SUMMER AND WE LOOK FORWARD TO SEEING EVERYONE BACK ON THE ICE NEXT YEAR !!
Thursday, April 10
2014 GUNS SILENCE THC II TO WIN FIRST "A"CHAMPIONSHIP / BRUINS WIN "B"TITLE WITH DRAMATIC SHOOTOUT WIN
The 2014 GUNS avenged last years final title loss in impressive fashion by silencing a pesky THC II team 3 to 1 to win their first "A" Championship title this year. Proving Defense always wins championships the regular season first place Guns were led by stellar goaltender, Rusty Mason and recieved timely goals from Captain Trevor Smith, and allstars Niel Grannary and Brad Dickson to cement the victory. The third place THC II impressive playoff run was stopped only a few goals short of their ultimate prize.
In the "B" Championship the 2014 BRUINS repeated as Champions needing a dramatic shootout win to defeat the upstart YETI. Last year the Bruins needed OT to win their title but this year they notched it up a level and won in a shootout. All star Tim Kuepfer scored what proved to be the winner with a shot heard throughout all of South Delta.
The Executive would like to thank all players, referees and especially timer / scorekeeper Paisley Wallace for all her hardwork during this very successful year. Enjoy the summer and see you on the ice next year !!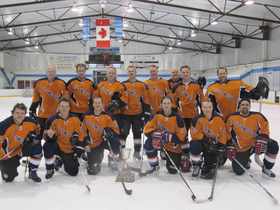 2012/2013 A Champions
Friday, March 29
2013 ISLANDERS SILENCE GUNS FOR A CHAMPIONSHIP, BRUINS WIN B POOL WITH OT WIN
The 2012 - 2013 Islanders and Bruins proved too powerful for their expansion opponents in this years' playoffs. The Islanders led by their own "Killer B" line (Shawn Boliver (3 goals), Rob Bogress (1 goal) and Craig Boliver (1 goal) beat the expansion Guns 9 to 3 to earn their second consecutive championship and third in the last five years. The final score was not indicative of how close these two teams were during the regular season and despite missing key players for both teams due to Spring break it proved too costly for the Guns. The remainder of the Islanders onslaught was led by Peter Dashkewytch (2 goals), Steve Cowan (1 goal) and Kevin Bruels (1 goal). Islander goalie, Jeff Reid, along with stalwart defencemen Kyle Lappin, Mark Bermel, Kevin Bruels and Ryan Schram thwarted any Guns comeback throughout the night.
The B championship was a tense, competitive see saw battle all night between the Bruins and Northstars. The final score was not determined until sure handed Dave Ashe deftly deflected a Sonny Plante pass behind call up THC allstar goalie Dave Espley to seal the victory in overtime. The Bruins were also led by goals from Wayne Okamura, Mike Norcott, Mike Wilson and Tim Kuepfer. Popular Bruins goalie, Stacey Greenstien, helped preserve the victory over the talented Northstars team with timely saves during the regulation and overtime periods.
The Executive would like to thank all players, managers, referees and our time/score keeper, Paisley Wallace, for a great and fantastic year and we look forward to seeing everyone on the ice next season !

2011/2012 Champions
Monday, March 12
2012 ISLANDERS CRUSH THC II TO WIN 2012 CHAMPIONSHIP
It took the South Delta Islanders 3 years to finally beat the dominant, highly talented THC II team and claim the 2012 Championship. After finishing third during the regular season the Islanders had Playoff wins against Mud Bay and the Bruins before facing a showdown with the first place Chiefs for the opportunity to play THC II in the final. The Islanders prevailed in a hard fought 5 - 4 victory and a rematch of last years final was set.
This time the Islanders solved the potent THC II offense with a suffocating defence led by outstanding goaltender Don Brown and defensemen Kevin Bruels, Mark Bermel and the Lappin brothers Curt and Cyle. Allstar THC II goalie Dave Espley could not withstand the pesky and persistant Islander forwards led by Co Regular Season Scoring Champion Rob Bogress. The Islanders recieved two helpers from Cyle Lappin and singles from Aaron Maclellan, Craig Boliver, Kevin Bruels and Peter Dashkewytch to help seal the victory.
Scott Ridgewell's Bruins captured the Consolation Game for third place after the Chiefs forfeited the game.
The Executive would like to thank all the players and team reps that helped make 2011/2012 a great success and wish all of you a safe summer - See you on the ice next year !!!

2011 Champs !!
Sunday, March 13
DYNASTY - THC II CONTINUES DOMINANCE WITH 2010/2011 CHAMPIONSHIP WIN !!!
THC II men's hockey team capped off yet another successful 2010/2011 regular season with a 6 - 0 victory over the Islanders last Saturday. The first place and champion THC II team again used a stalwart defence behind the exceptional goaltending of Dave Espley to suffocate the Islanders attack. THC II received multiple goals from Russ Thompson and single helpers from Rich Allen, Chris Malloy, J.P Harabourne, and Dave Sochting to help crush the second place Islanders team. THC II team only allowed 4 goals against throughout the playoffs including 3 shutouts and scored 26 goals to solidify their dominance over their league opponents. With 3 Championships in the last 4 years the talented and hard working THC II team proved they are indeed a dynasty in South Delta men's hockey.
Mud Bay defeated T-Town Chiefs 2 -1 to capture the bronze medal game. The win capped off a remarkable playoff run by the last place Mud Bay team. The Animals were helped by goals from Andrew Hawchuk and Ron Kee.
Thanks to all who made it another successful season and the Executive looks forward to seeing everyone next year on and off the ice. Have a great summer.
Thursday, March 18
THC II Caps off Great Year with 2010 CHAMPIONSHIP !!!!
THC II men's hockey team capped off a successful 2009/2010 regular season with a hard fought 4 – 2 victory over the Mud Bay Animals last Saturday. The first place and champion THC II team used a stalwart defence behind the exceptional goaltending of Doug "Stumpy" Shier to suffocate the Mud Bay attack. THC II received multiple goals from Sean Gurniak and single helpers from Kevin Wladichuk and Russ Thompson to help eliminate the second place Mud Bay team.
South Delta Islanders defeated T-Town Bastards 4 -1 to capture the bronze medal game. The win salvaged an otherwise poor regular season performance from last year's Champions. The Islanders were also led by exceptional goaltending from Don Brown and timely goals from Cyle Lappin, Kevin Bruels, Carl Walker and Tim Wheatley.
Thanks to all who made it another successful season and the Executive looks forward to seeing everyone next year on and off the ice. Have a great summer.