Admin

Last updated

01-06-15 12:17 PM

South Delta Invaders Rep B Girls Fastpitch

Dave Rally

604-961-2728

Fax: 604-874-0820

Hawthorne Pk & Brandrith Pk

Delta, Canada
South Delta Invaders Fastpitch is the Rep Division of the South Delta Minor Fastpitch Association providing an opportunity for girls ages 10-18 to represent South Delta in competitive Fastpitch softball at a rep level.
---
2015 REGISTRATION IS NOW OPEN
REGISTRATION IS OPEN UNTIL FEBRUARY 15, 2015. A late fee of $25 will be levied for any late registration. Remember to print your receipt on the final page for your Child Fitness Tax Credit
---
We encourage our athletes to feel the pride of representing their home community, and to develop the desire to give back to that community by acting as positive role models; to develop a love of the game and of sport in general, to learn the importance of being a part of a team, to nurture friendships and community ties, and to learn life skills through the game of softball. Our goal is to implant firmly in our athletes, the ideals of good sportsmanship, honesty, loyalty, courage, and friendship, so that they may be well adjusted, healthy, trustworthy and responsible citizens.
---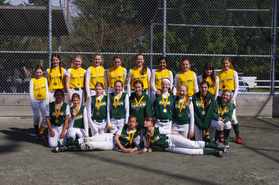 2013 U14B Winners - 99 Invaders (Gold), 00 Invaders (Silver)
Handout:
Coaching Application