SINCLAIR COMMUNITY COLLEGE: News: PRIDE WIN FINAL HOME SERIES AGAINST LAKELAND!
PRIDE WIN FINAL HOME SERIES AGAINST LAKELAND!
Game 1
Matt Kruzel matched up with Lakeland Ace John Gora in a rematch of the game two weeks ago in Cleveland. Kruzel won the battle this time and received plenty of help from his offense who torched Gora for double digit hits and runs.
Final Score: Sinclair 14 Lakeland 5
WP: Matt Kruzel (3-2) 5 2/3 IP 5H 5R 4ER 3BB 6K's
Offensive Leaders: AJ Kruzel 3-4 2RS 3 2B 3RBI's, Austin Downing 3-5 RS RBI, Nick McGill 2-3 2RS BB HR RBI, Tyler Raymond 2-3 2RS 2B SB 3RBI
Game 2
The Lakers doubled the Prides hits in the second game but were unable to keep a late lead. Lakeland starter Brandon Easton had Sinclair hitters frustrated all night but they battled until the end, scoring three in the bottom of the 7th inning to tie it and three in the bottom of 8th inning to win it. That was after Lakelands centerfielder hit a two run homerun in the top half of the extra frame to give them another lead.
Final Score: Sinclair 7 Lakeland 6 (In 8)
WP: Scott Haag 1IP 1H 2ER BB K
Offensive Leaders: Austin Downing 2-3 RS SB HR 2RBI's, Drew Williams 1-2 BB 2B, Tyler Raymond 2-3 2RS BB 2RBI
Game 3
By Brendan Loiacono
Sophomore Stephen Holland gave a valiant effort on the mound for the Pride, but Sinclair could not hang on in extras as they fell to Lakeland. The visiting Lakeland started off the scoring with a five run top of the third inning. Sinclair responded in the bottom of the fourth with three runs as Tyler Raymond singled with one away. After Drew Williams lined out hard to right field, Paul Wilson singled, setting the stage for Lance Straley. With two men on and two gone in the inning, Straley reached on error as Paul Wilson and Tyler Raymond both scored, making the tally 5-2 Lakeland. Jon Lowe then singled to right field sending Lance scurrying home for the third run. Both offenses were held in check until the bottom of the seventh inning when the Pride offense came alive once again. Sinclair tacked on two runs in the seventh when AJ Kruzel led off the frame with a single, which was followed by a walk to Austin Downing. Matt Sullivan laid down a perfect sacrifice bunt which stopped dead in its tracks right in front of home plate, advancing Kruzel and Downing a base each. During Tyler Raymond's two out plate appearance, a passed ball allowed Kruzel to score and awarded Downing third base. Raymond eventually walked and during Drew Williams' time at the plate, a wild pitch sent Downing home from third base, tying the game at five. In the top of the eighth inning, Lakeland plated two more runs which Sinclair could not respond to in the bottom half of the inning as they fell 7-5 in eight innings.
Final Score: Lakeland 7 Sinclair 5
LP: Stephen Holland – 7.1IP 7H 7R 7ER 2BB 5K
Offensive Leaders: Jon Lowe 2-4 1RBI 1BB, AJ Kruzel 2-4 1R 1BB, Tyler Raymond 2-4 1R 1BB
Game 4
Sophomore Scott Haag toed the rubber for Sinclair against the Lakeland Lakers in game two of Saturdays twin bill. The score was nil for both sides until the fourth inning when Drew Williams singled in AJ Kruzel for the first run of the game. Lakeland volleyed with a two run fifth inning, which would prove to be their only fruitful frame of the contest. In the fifth inning, AJ Kruzel worked a two out walk which was followed by an Austin Downing single, setting the table for Drew Williams. Williams singled to left field which scored Kruzel. The Tartans added their third and final run of the game in the sixth inning when centerfielder Jon Lowe tripled to right field as Argumedo scored from first with great haste to give the Pride the lead, which they held on to. Scott Haag dominated on the mound for Sinclair, going the distance and securing the victory.
Final Score: Sinclair 3 Lakeland 2
WP: Scott Haag- 7 IP 6H 2R 2ER 2BB 6K
Offensive Leaders: Jon Lowe 2-4 1RBI, AJ Kruzel 0-1 2R 3BB, Drew Williams 2-3 2RBI
With the wins, Sinclair improves to 13-7 in the OCCAC and needs just one win this weekend at Cuyahoga to secure their 5th straight OCCAC Title.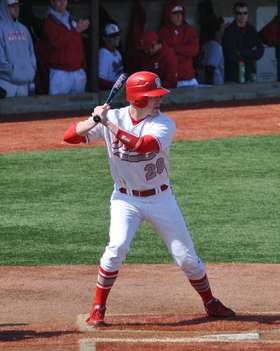 After missing a month, Drew Williams picked right up where he left off going 6-9