SINCLAIR COMMUNITY COLLEGE: News: SINCLAIR'S MENTAL PREPARATION MAY BE THE KEY TO THEIR SUCCESS
SINCLAIR'S MENTAL PREPARATION MAY BE THE KEY TO THEIR SUCCESS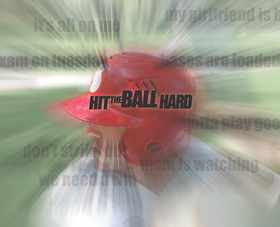 By Giustino Bovenzi, Sports Editor clarion@sinclair.edu
Sinclair Community College's baseball program has produced a conference championship in seven of the last 11 seasons, and it makes you wonder—what's their secret? What are they doing that other teams aren't?
Well the answer to that question could be the mental game. Sinclair's head coach, Steve Dintaman, was introduced to sports psychology during a coaching convention where he saw Ken Ravizza speak. That's when it really hit him about what he needed to do to give his teams a competitive edge.
"When he spoke it just kind of got me and then I read his book and I was like 'holy [expletive]—what have I been doing this whole time,'" Dintaman said.
After reading Ravizza's book "Heads-up Baseball: playing the game one pitch at a time," he read Brian Cain's book called "Toilets, Bricks, Fish Hooks and Pride: The Peak Performance Toolbox Exposed."
That's when he knew this would become part of his coaching philosophy forever. "
People that we coach against that don't have mental games you can see it all the time, when they get down they fall apart," Dintaman said. "You can pick my guys out from different teams any day of the week."
Daily Routines
Each one of Dintaman's players has their own rituals or repetitive behaviors that they practice either on the field or at home. Whether it is their batting stance, pitching mechanics or their study habits, Dintaman said that his teams work on the mental game all year round on a daily basis. "
We try to do some kind of mental game stuff every single day," Dintaman said. "We do this 5-4-3-2-1 drill that Brian Cain made up before practice starts. We devote a week and a half to two weeks to just straight mental game training, usually in January, before the season starts."
That time in the offseason has tremendous value to Dintaman and his program. One of his former players said that the tools he uses from the mental game help him deal with adverse situations.
"The mental game really helps you deal with adversity," former Sinclair and current Indiana Tech pitcher Alex Kimsey said. "There's never going to be a game where you're not going to go through some sort of adversity."
The Game Today
As teams are always trying to get a competitive edge, the implementation of different coaching philosophies come and go. But Dintaman feels like this system is working for his team and the results speak for themselves.
"The mental game is something that is becoming more relevant to more teams than what it used to in the past," Dintaman said. "It's just more of your thoughts, and what goes on in your mind. We say it's what separates the great athletes from the good athletes.
Having that kind of mental toughness. It doesn't base your confidence on results, it bases your confidence on what you can control. Your preparation, your routines, your attitude, your breathing, stuff you can control to where once you get into a game situation you can just let your abilities take place and take the results when its over."
The fifth-year head coach insists that players should only focus on what they can control and not the unforeseeable. Dintaman also said that every year, the mental game is expanding.
"It's a way for guys to stay in the moment and stay present," Dintaman said. "Stop worrying about past results and future results. Every year we get more in-depth and more in-depth, guys almost have to buy into it."
Impact of the Mental Game
Marcus Heath, who is now at Youngstown State University, is one of Dintaman's most successful players and one who Dintaman said had one of the strongest mental games he's seen. To Heath, his definition of the mental game is having a routine and focusing on the concept of repetition.
"You never get too high, or too low on yourself," Heath said. "You could go 4-4 or you could go 0-4, but you want to stay the same mentally."
Heath said that he always had the physical skills and talents needed to be a successful baseball player but he couldn't channel that performance consistency. So when he arrived at Sinclair, the outfielder said that the mental game resurrected his career.
He also said that implementing the mental game has allowed him to take his game to the next level while staying focused on what he can control. Heath, as well as Dintaman's other players, accomplish their goals "one pitch at a time."
One Pitch at a Time
Dintaman insists that players take the game on such a smaller scale as opposed to staring at the big picture of things. All teams have big picture goals, but the road to reaching that goal is not instant, Dintaman said.
"We break it down to more of the simple things," Dintaman said. "Win pitches, win innings and win games. [We grow up in a] society that's all about numbers, its always about what's my batting average? We're trying to change that mindset with guys letting them know that there's a bigger picture out there. It's not about how many doubles you had, or how many triples you had, or how many strikeouts you had. It comes down to in the end, who competes the best and who ultimately wins the game."
This philosophy seems to be working as the Pride are on their way to set a new school record for wins in a season in 2012.
Visualization
Putting yourself in scenarios and being successful in those scenarios is a key element of the mental game. Being prepared for any situation, mentally can lead to more production and better team results. Under Dintaman, Sinclair's overall record is 180-67, which is the second-highest win percentage in school history.
Tartan Pride players attribute visualization as one of the biggest and most helpful mental game tools they have learned from the system.
"It's changed my game a lot," Joe Ford, staring shortstop for Sinclair said. "I've never really been a big mental game guy until I got here. Visualization and taking the game one pitch at a time has really helped me a lot." "Visualization is very important before games. Visualizing your at-bats, and visualizing success, seeing the pitches and seeing yourself doing well."
Hit the Ball Hard
Another reoccurring term Dintaman's players repeat often is "hit the ball hard."
Practicing this concept is another form of visualization and staying focused throughout at-bats. Heath said that this phrase is the only thought going through his mind when he is in the batters box.
"When you get in the batters box, and that pitch is coming, you don't have time to even think," Heath said. "So the last unconscious thought I want in my head is hit the ball hard."
That concept has helped Heath propel his way from junior college to the Division-1 level.
A Game of Failure
Many of Dintaman's players, current and former, describe baseball as a game of failure. And dealing with failure is one of the biggest lessons Dintaman teaches his players.
"You could have four great swings as a hitter, and just hit laser-beams and the guy makes four diving catches, and if you're basing it off results you're 0-4 and you're pissed," Dintaman said. "But you've got to understand you've had four great at-bats, and that an outstanding day for you. Baseball will screw you over… but it's just the way it goes. It about failure, and how you handle failure—and that's again another life lesson. That's why this game is the greatest game of all-time. Because of the lessons you can learn beyond baseball."
Flush it Away
Making mistakes in the play of field can lead to players getting down on themselves and could lead to a performance slump. So to avoid those slumps, players practice releasing their frustration in various ways.
Some of those ways involve a few novelty items or procedures the team practices during games and the most recognizable revolves around a toilet in the dugout.
The team uses a small plastic toilet that they use for "flushing" away a negative play.
"Everyone has their own release," Dintaman said. "We always ask a guy what their release is in the field if they make a bad play."
Another technique is wiping it clean. Dintaman said some of his pitchers would wipe the rubber down on the mound. But shortstop Joe Ford uses a different approach.
"What I do is I just wipe the dirt with my cleat a little bit," Ford said. "If I make an error I just wipe it clean and forget about it and get on to the next pitch."
Journaling
Another way for players to find a release after the game is over is journaling. This is a process where if the player can't find a sufficient release in the field, they will actually write out the frustration in a journal.
"I tell guys, during the game you don't have time to feel sorry about your first strikeout, or an inning where you allowed three runs," Dintaman said. "After the game [then you can] reflect. Take 15-20 minutes to journal and think about what happened, you know, what I did well and what I didn't do well and learn from it. You can learn just as much from failure as you can from success."
A Part of Their Game Forever
Although Dintaman didn't have the opportunity to use the mental game during his playing days, he is positive his players will apply it to not only baseball—but toward life as well.
"This is why the mental game is so good because it applies to life," Dintaman said. "It applies to things beyond baseball. Guys can let go of things in situations, instead of letting them ruin your day. Just knowing what's in your control and then putting all the stuff together."
Heath said he frequently speaks with Dintaman to stay up to date with new developments in the mental game.
"I came from Sinclair to Youngstown, and I'm still going back to Sinclair for different stuff about the mental game," Heath said. "Coach Dintaman really saved my career. I was kind of unsure about my own game and if I deserved to play college baseball and words can't even describe how he influenced my career. The mental game is such a big part of the game and most schools don't even pay attention to it. If I am ever a coach, we will give equal time to hitting... fielding… pitching… and equal time to the mental game. It's such a huge part of my game now and I don't even know what I'd do without it."