SINCLAIR COMMUNITY COLLEGE: News: SATURDAY SWEEP FOR SINCLAIR OVER LAKELAND
Sunday, April 22
SATURDAY SWEEP FOR SINCLAIR OVER LAKELAND
Sinclair began a new streak Saturday, after their thirteen game winning streak was snapped in game two on Friday. The Pride offense scored seven of their eight runs in the 3rd and 4th innings and Corey Johnson continued his dominance over Laker hitters. Johnson has only allowed two hits in fourteen innings of work against Lakeland this season.
Final Score: #11 Sinclair 8 Lakeland 1
WP: Corey Johnson (4-3) 7IP 2H ER 4K's
Offensive Leaders: Joe Ford 2-4 RS RBI, Austin Downing 1-3 2RS BB, Kyle Vander Ark 2-3 3RBI's, Matt Sullivan 1-3 RBI, Darwin Argumedo 1-2 2B BB RBI, Paul Wilson 2-3 3RS BB 2SB 2B.
The Pride never led the series finale in the first seven innings of play. The first run for Sinclair came in the 3rd inning, off the bat of Dan Lawrence who singled to right. Trailing 3-1, the Tartan offense had numerous opportunities with runners in scoring position but failed to get a big hit in the first five innings of the game. With two on and two out in the 6th, Jon Lowe laced a double in the left centerfield gap that scored two, tying the game at 3. Sinclair's bullpen was stellar once again as Ryan Carter threw three scoreless innings while striking out six and Matt Kruzel also held Lakeland scoreless in his three innings of work. In the bottom of the 8th, Mike Maddle singled up the middle with one out. Matt Sullivan then hit a groundball to the shortstop that became a fielder's choice as he beat the throw to first base. With two outs and Darwin Argumedo up, things got crazy. A wild pitch allowed Sullivan to move to second and as the ball went to the backstop, he surprised the catcher by attempting to take third as well. Sliding into 3rd, the ball skipped past the third basemen and into the outfield. While on the ground, the third basemen stayed on top of Sullivan and did not allow him to get up and run home. The home plate umpire made the call and Sullivan was awarded home plate, ending the game.
Final Score: #11 Sinclair 4 Lakeland 3 (8 Innings)
WP: Matt Kruzel 3IP H 3K's
Offensive Leaders: Jon Lowe 2-3 RS 2B 2 RBI's, Mike Maddle 2-2 RS BB.
Sinclair will take on Vincennes University on Wednesday, April 25th in the last home game of the season. Sinclair will enter the game with a 36-12 overall record and 17-3 record in the conference.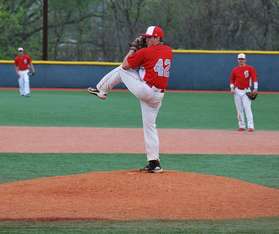 Corey Johnson is now 4-0 in conference play with a 1.50 ERA