SINCLAIR COMMUNITY COLLEGE: News: MAGIC NUMBER AT TWO AS PRIDE SWEEP OWENS SERIES
MAGIC NUMBER AT TWO AS PRIDE SWEEP OWENS SERIES
After winning the first two games at Owens, Sinclair traveled back to Toledo on Tuesday to finish the series. Game three began in the bottom of the 5th inning with nobody out, and Sinclair ahead 3-1. Freshmen Matt Kruzel entered the game for Corey Johnson and recorded three quick outs to send the game into the 6th. Both teams failed to score in the 6th, but in the 7th Sinclair got hot and scored three runs. The Pride offense reeled off eight straight quality plate appearances and the inning was highlighted by a Kyle Vander Ark sacrifice fly that went fifteen feet from home plate. Joe Ford saw that the plate was uncovered and he tagged up to score. Owens scored one run in the bottom of the inning but Kruzel ended the game with a strikeout.
Final Score: #11 Sinclair 6 Owens 2
WP: Corey Johnson (3-3) 4IP 5H 1ER 3K's
SV: Matt Kruzel (2) 3IP 2H 1ER K
Offensive Leaders: Joe Ford 2-4 2RS RBI, Kyle Vander Ark 2-3 3B 2RBI's, Blake Hall 1-2 RS SAC 2B.
Brock Trimbur started for the Pride in the final game of the series and was looking to finish the sweep. Trimbur put zeros on the board early and the offense took off from there. The Tartan hitters scored a run in 1st and the 4th and scored three times in both the 3rd and 5th innings. The runs in the 5th were scored on three straight hits from the top of the order, all with two outs. Trimbur turned the ball over to Ryan Carter for the final two innings to preserve the win.
Final Score: #11 Sinclair 8 Owens 5
WP: Brock Trimbur (6-0) 5IP 6H 3ER K
Offensive Leaders: Joe Ford 2-5 RS RBI, Austin Downing 2-4 2RS SAC 2RBI's, Drew Williams 2-3 RS BB 2RBI's.
Sinclair is now riding their longest winning streak of the season at twelve. This weekend, the Pride host Lakeland CC in their last conference home series of the season. With just one win, Sinclair will claim their 4th straight OCCAC Conference Title. Friday's game one is schedule for 2pm and Jon Thacker will be on the mound for the Pride.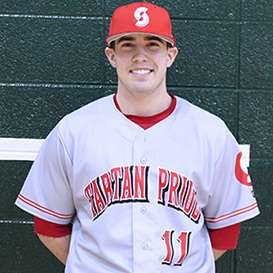 Austin Downing had two safety squeezes and bunted for a hit in the DH.