SINCLAIR COMMUNITY COLLEGE: News: SINCLAIR TOPS HAMILTON 10-7!
SINCLAIR TOPS HAMILTON 10-7!
Sinclair and Miami-Hamilton traded runs all night long but in the end, the Pride found a way to win the last inning. With the score tied at six heading into the 9th, the Pride took advantage of a misplayed ball in the outfield to start the inning and then poured it on. After putting up four runs, Matt Sullivan relieved Paul Wilson on the mound to close the game out.
Final Score: #11 Sinclair 10 Miami-Hamilton 7
WP: Paul Wilson (1-0) 2IP 3H 2ER
Offensive Leaders: Joe Ford 1-2 RS 2BB, Austin Downing 2-3 RS SAC BB RBI, Kyle Vander Ark 2-4 RS 2 RBI's, Matt Sullivan 2-5 RS 3B RBI, Jon Lowe 3-4 2RS 2B 3B 2RBI's, Blake Hall 2-4 BB 2B 3 RBI's.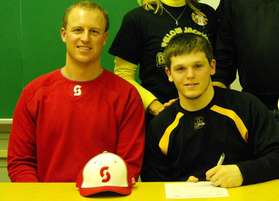 Jon Lowe had another three hit game with two extra base hits