South Brandon Little League: Welcome
Thursday, August 14
Please go to our NEW website as this site will NO longer be updated:
YOU CAN NOW REGISTER ONLINE. Click on Register at the very top of the page to create a login or sign-in as a returning customer.
Thank you for your continued support!
---
SBLL 11-12 BB ALL STAR TEAM MAKES IT TO SE REGION TOURNEY
Game 1: Florida-South Brandon routs West Virginia-Bridgeport 4-3
Game 2: South Brandon loses to North Carolina 6-2 in 8 innings.
Game 3:
South Brandon beats Georgia 15-0
Semi-final Game: Defending Champs Tennessee beat South Brandon 13-1 in 4 innings.
It has been a long, hot summer with tournaments going on in our District thru the end of July. And for those who don't know... our 11-12 Baseball team won the State tournament and played at the SE Region tournament. This is a huge honor for a team to have made it that far. A big shout to Manager Tony Saladino, Coaches Oz Malave and Gary Delalley,
and the t
eam for this outstanding achievement.
There was a lot of buzz around the District every time they played, with text messages flying left and right after each inning with updates, and for the hundreds of us who watched GameChanger as the game was playing live.
And then how exciting to watch the kids playing in the semi-final game on TV, with close-ups of all the players! This is an experience these kids will remember for a lifetime. The smiling faces you see below did a fabulous job of representing South Brandon!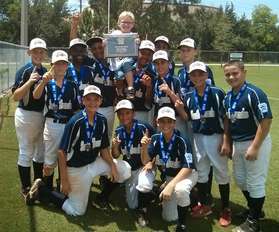 11-12 State Champs