Round Rock Stars Track Club: Welcome
2014 Summer Track Season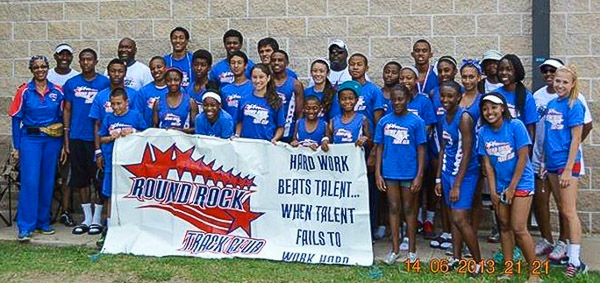 Round Rock Stars at 2013 District Meet in Converse, Texas
We're starting up again with conditioning. Won't be long until Summer Track starts in earnest. Join Us This Summer!
Sunday, March 9
Conditioning Schedule
Our conditioning schedule will be 3:30pm - 5:00/5:30pm on the following Sundays:
March 16, 2014
March 23, 2014
March 30, 2014
April 6, 2014
April 13, 2014
We'll see you at Cedar Ridge High School track!
Friday, March 7
Spring Training
Our track season is quickly approaching and we will start conditioning training on March 9th, weather permitting. This is optional training and is not required to participate in summer track, but it is recommended to get the athletes in shape. Please dress in running attire, running shoes, and bring water bottles.
Date: Sunday, March 9, 2014
Time: 3:30pm
Location: Cedar Ridge High School, 2801 Gattis School Road, Round Rock, TX
Registration Fee: $50.00 per athlete
Two forms are required for each athlete: