ROGUE VALLEY POP WARNER: Welcome
Wednesday, May 1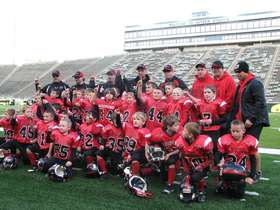 Medford 1st, 2nd & 3rd Graders at Autzen - 2012
Rogue Valley Pop Warner Football consists of these associations. Ashland Pop Warner, Phoenix/Talent Pop Warner, Medford Pop Warner, Central Point Pop Warner, Upper Rogue Pop Warner, Grants Pass/Rogue River Pop Warner. Participants must register with association in area that they attend school.
All Rogue Valley Pop Warner Coaches, Assisitant Coaches as well as Head Coaches are required to have current, league approved youth coaching certificates and cuncussion training certificates prior to participating with team. See your head coach or association directors if you need to satisfy this requirement.
All Rogue Valley Pop Warner assistant coaches are encouraged to attend the "Mandatory Head Coaches" meeting on August 4th. We will have a physician present to discuss, train, and certify each coach on cuncussion awareness.
First league aproved possible start of practice for 2013 season is Monday, August 5th.
League Commissioner: Greg Reeser PO Box 3553, Ashland, OR 97520
All site postings must be approved by league commissioner prior to listing.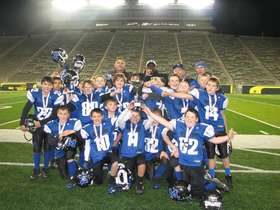 Medford 5th Grade Panthers - Winners at Autzen
NFL Tonight - Hank by Hank