ROGUE VALLEY POP WARNER: Welcome
Tuesday, April 8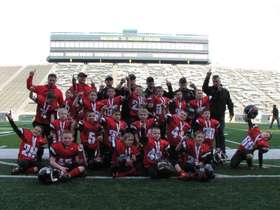 2013 JPW State Champions - Medford Renegades
Rogue Valley Pop Warner Football consists of these associations. Ashland Pop Warner, Phoenix/Talent Pop Warner, Medford Pop Warner, Central Point Pop Warner, Upper Rogue Pop Warner, Grants Pass/Rogue River Pop Warner. Participants must register with association in area that they attend school.
All Rogue Valley Pop Warner Coaches, Assisitant Coaches as well as Head Coaches are required to have current, league approved youth coaching certificates and concussion training certificates prior to participating with team. See your head coach or association directors if you need to satisfy this requirement.
All Rogue Valley Pop Warner assistant coaches are encouraged to attend the "Mandatory Head Coaches" meeting on August 3rd. We will have a physician present to discuss, train, and certify each coach on concussion awareness.
Pop Warner
Youth Football Safety Facts
Parents – Did You Know???
*Organized youth football, like Pop Warner, has 12% fewer injuries per capita than does organized soccer in the same age range? 2
*Organized youth football has 50% fewer injuries than does bicycle riding in the same age range? 2
*Organized youth football has 74% fewer injuries than does skateboarding in the same age range? 2
*Not only is the injury rate lower in Pop Warner football than these activities, but also there is "an absence of catastrophic head and neck injuries found at higher levels (of football)"? 1
Why is Pop Warner football so relatively safe? The answers are simple:
1. Equipment All Pop Warner players wear first class protective gear, including helmets and shoulder pads. Other sports like soccer, have frequent player contact incidents, but without the benefit of protective equipment.
2. Age/Weight Restrictions All Pop Warner players are divided into specific age and weight divisions, which prevents dramatic differences between players who may collide during play. Moreover, the velocity at which younger players may collide is dramatically less than that which their older counterparts may experience. The combination of less speed and less weight than at higher levels of play, tend to reduce collisions in youth football to a very small factor, in terms of injuries.
1 "Injuries in Youth Football", Institute of Sports Medicine and Athletic Trauma, Lenox Hill Hospital.

Pediatrics Magazine.
2. U.S. Consumer Product Safety Commission. NEISS
First league approved possible start of practice for 2014 season is Monday, August 4th.
League Commissioner: Greg Reeser PO Box 3553, Ashland, OR 97520
All site postings must be approved by league commissioner prior to listing.
NFL Tonight - Hank by Hank
Thursday, November 7
2013 Album
Upcoming Events
Date
Event
Time
Location
Sat 5/17
Medford Sign-Ups
8:00 AM - 1:00 PM
Cascade Athletic Supply Co.