Welcome to Rockville Youth Baseball: Welcome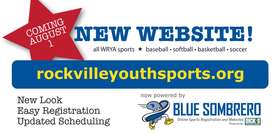 New Website Look - August 1!
Welcome to Roc
kville Baseball!
Established in 1983, Rockville Baseball provides more than 300 children, ages 4-15, with a quality baseball program. Our program is dedicated to promoting good sportsmanship, team work, commitment, honesty and courage – all life skills that will stay with these young people long after they have graduated from our program. We call this, "The Rockville Way."
Our mission is to provide the community with a safe, family-friendly environment for our children to build their self-esteem and character while learning the fundamentals and enjoying the game of baseball at a first-class facility.
Rockville Baseball is a member of District 5 of Virginia's Cal Ripken/Babe Ruth Baseball.
---
See Sponsor Deals and Discounts for DICK'S SPORTING GOODS coupons.