TOUR RATTLERS: Hunter Hatcher #2
Hunter Reece Hatcher
Hunter Reece Hatcher
April 9, 1993 - April 19, 2012

Richmond Rattler, Hunter Hatcher, passed away on April 19th, 2012. Hunter was a 1993 birth year Rattler that was a member of both the 1993 and the 1994 based Rattler teams. Hunter and his brother Luke (a 1994 Rattler) grew up playing hockey at the old Hull Steet rink and at Shooters. They also spent a couple seasons playing in the Central Virginia Youth Roller Hockey League at Skateland in Ashland. Hunter was a loving son, brother and friend who will be missed by many.
HUNTER HATCHER MEMORIAL HOCKEY TOURNAMENT
July 14, 2012
On July 14, 2012 a hockey tournament was played in honor of Hunter Hatcher and 100% of the proceeds of this event were donated to the "Hunter Hatcher Fund". The event was open to all hockey players born between 1991-1996, and players did not need to be a previous teammate of Hunter to participate. Over 40 players attended and 5 teams came out to play hockey in honor of Hunter and to support the Hatcher family in this very tough time.
The picture below was taken when Hunter was a member of the Richmond Rattler 1994 team. He is pictured on the bottom 2nd from the right wearing #2.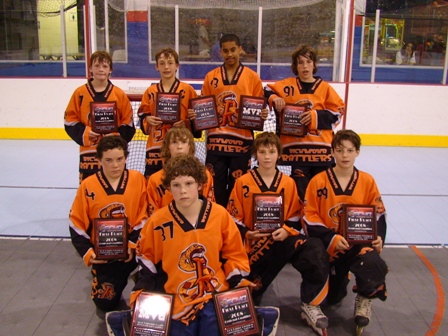 Rattler 94's - ECHO Tournament Waldorf, MD