TOUR RATTLERS: 2015 Season
Sunday, July 5
2015 14U Black Rattlers Season at a Glance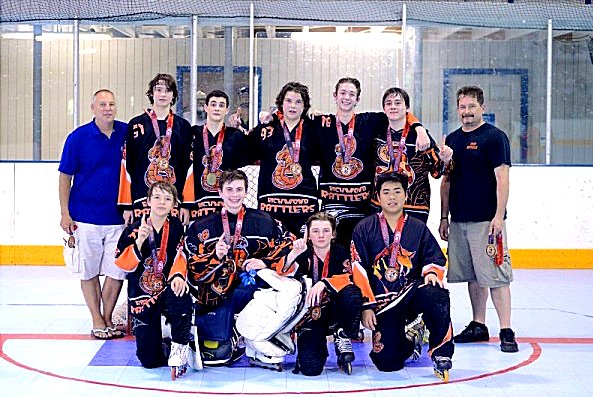 NARCh Snellville, GA 1st Place in Gold Division
The 2015 Tour Richmond Rattlers 14U Black team had a very successful regular season. Their campaign began in March, with a strong 2nd place finish at the Midlothian Echo Regional and culminated in June with an impressive 2nd place finish at the Pittsburgh NARCh Regional. The team finished the season with four 2nd place finishes (one as a 16U team), along with a 1st in the NARCh Regional in Snellville, Georgia.
The 2001 players went to Philadelphia and finished 3rd at Winter Wars East.
The Rattler roster includes 2 major birth-year players, Tripp Samuel and William McElfresh. The remainder of the team is comprised of Andrew Owens in net; Jon Heller, Stephen Koffley and Kody Choi on defense; along with Bronson Walz, Josh O'Connell and Bryce Hamilton on offense. The team has been joined at various tournaments by Luke Kangas, Braiden Samuel, Derek Apple and Matthew Vicini, with Josh Hutchinson set to join them at Nationals.
The 2015 14U Black season will culminate at the NARCh Nationals in Estero, Florida in late July with the team entered in the Gold/Platinum division.
Season synopsis:

2nd place Echo Regional / Midlothian - 3-2 (lost to 2000 Dragons 4-0).
* 3rd place Winter Wars / Philadelphia - 2-1-1 (lost to Team PA 4-0).
2nd place TORHS/2Hot4Ice / Choice Inline, NJ - 4-1 (lost to PA Predators 2-1).
2nd place Echo Regional / Winchester (16U) - 4-1 (lost to Rattler 16U Black 2-1).
1st place NARCh / Snellville, GA - 5-0 (beat Tour Lizard Kings 3-2).
2nd place NARCh / Pittsburgh - 4-1 (lost to Revision Inferno 4-0).
The final regular season record was 20-5 (22-6-1 with the birth-year record included)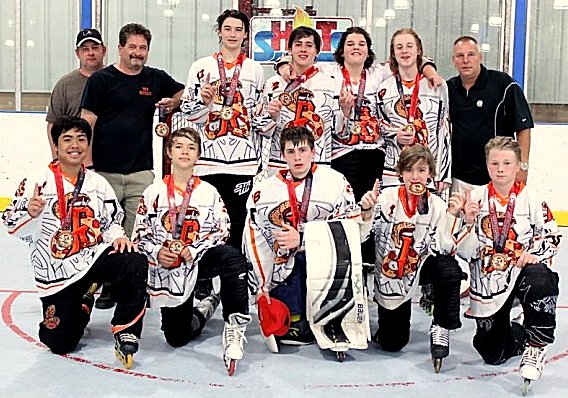 NARCh Pittsburgh 2nd Place in Gold Division
Monday, March 16
2015 Tour Rattlers - ROSTERS
2015 Tour Rattlers - ROSTERS
12u Black
Coach: Anthony Desantis
Aidan DeSantis
Caleb Mazzucco
Chris Leonardo
Daniel Mcklevey
Hunter Lavin
Jack Scelzi
Nevin Barns
Ryan Blankenship
Seth Johnson
Alternates: Alex Fazakas, Derek Reisenweaver, Cayden Masterson

14u Black
Coaches: Frank Heller, Keith Hamilton
Andrew Owens
Bronson Walz
Bryce Hamilton
Jon Heller
Josh O'Connell
Kody Choi
Stephen Koffley
Tripp Samuel
William McElfresh
14u Orange
Coaches: Mike Klee, Darryl Talman
Braiden Samuel
Derek Apple
Joe Casolaro
Joshua Hutchinson
Nick Collins
Peyton Klee
Riley Horsley
Tyler Goodman
Tanner Rusnak
Alternate: Tucker Tharpe
16u Black
Coaches: Mike Klee, Darryl Talman
Anthony Desantis
Austin Rackett
Brendon O'Keeffe
Damien Walz
Dawson Klee
Eric Todd
Gavin Williams
Jacob Sklar
Jordan Mansini
Josh Edwards
Kory Swansey-Johnson
18u Black
Coaches: Brian Cecil, Darryl Talman
Ben Talman
DJ Smith
Dylan Cecil
Ryan Todd
Mattthew Jahn
Nick Reisenweaver
Noah Madey
Travis Broughman
Zach Herndon
Zach Pierce