Rancho Cucamonga ACE Softball (www.rcacesoftball.com): Welcome
---
***2014 Spring Registration***
GOOD NEWS! ONLINE REGISTRATION IS NOW OPEN! CLICK ON THE BUTTON BELOW!

You may also register at one of our Walk-Up Registration Dates:
Wednesday, December 4th, 2013
Wednesday, December 11th, 2013
Wednesday, December 18th, 2013
Wednesday, January 8th, 2014
All Walk-Up Registrations will take place at Red Hill Park from 6 - 8pm.
**NEW PLAYERS WILL NEED TO BRING A COPY OF THEIR BIRTH CERTIFICATE TO ONE OF THE WALK-UP REGISTRATION DATES!**
---
2014 Spring Season Prices
T-Ball: $85.00 (Resident) / $95.00 (Non-Resident)
All Other Divisions: $115.00 (Resident) / $125.00 (Non-Resident)
**All Registrations received after 1/15/2014 will be assessed a late fee!**
---
FUNDRAISER INFORMATION
Our fundraiser this season will be the Community Discount Cards however, RC ACE is now offering a fundraiser buyout option.
Each player will be required to sell FIVE (5) cards at $10.00 each for a total of $50.00 or the parent can buyout the Fundraiser for $30.00 (to be assessed at time of registration).
Cards will be given out at walk-up registration if the fundraiser has not been bought out.
Anyone who has registered online and would like to pick up their cards early, please come to one of the walk-up registration dates otherwise, your manager will pass them out at your first practice.
---
**RC ACE Board Positions**
Did you know our League is ran entirely by Volunteers?
If you have comments, suggestions or concerns, please consider volunteering your time to help make a positive impact. Rancho Cucamonga ACE Softball is looking for a few individuals to help us wrap up the Winterball season and continue the success for the 2014 Spring season. If you are interested in becoming a board member or have any questions about board member positions, please email or Call Lisa DiNoto for more information.
---
**BACKGROUND CHECKS**
Managers, Coaches, Team Moms and anyone who is practicing or coaching with the girls, need to have their background paperwork submitted with a payment of $18.
If you are not background checked, you can not practice with the team on the field!!
Please contact Marcella @ marcy7panda@yahoo.com if you have any questions.
---
**CMS FIELDS REMINDER**
Managers/Coaches/Parents - Please be sure to pick up all trash when leaving the fields for the night.
School Administrators will call us if trash is not picked up and this may result in losing the CMS Fields for the league to practice and play.
Also, there are to be NO PETS on any of the CMS Fields. CMS is school grounds and it is against the law to have a pet on the field where children play.
---
Photo of the Week
T-Ball's Cubs remember what the game is all about!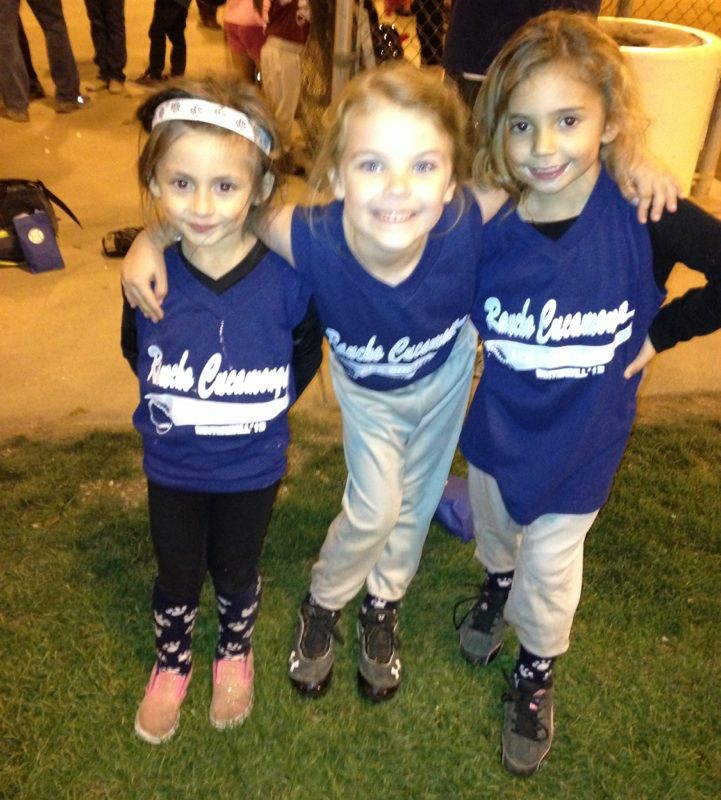 Check out all of the Photos of the Week in our album!
Interested in being the Photo of the Week? Email your submissions to rcacesoftball@yahoo.com. We will update every Friday with a new photo throughout the season!
---
---