ROSEDALE LITTLE LEAGUE: Welcome
HOME OF THE ROSEDALE LITTLE LEAGUE. SERVING CAMBRIA HEIGHTS, FAR ROCKAWAY , LAURELTON, SPRINGFIELD GARDENS, ROCHDALE, & ROSEDALE
Message From The President,
Dear Family, Welcome to the 2017 Season. With 61+ years of service to Rosedale and surrounding communities Rosedale Little League is still working to give the best possible baseball experience to our players, parents and fans. With devoted Managers and Coaches that are background checked we continue to be one of the best leagues in Southeast Queens. I can promise you that nothing good happens without lots of work and dedication. The Board of this league along with Managers and Coaches and countless volunteers work hard in upholding the reputation of this league through organized baseball and softball. It is everyone's job to protect every child in the park. If you see something, say something. It doesn't matter how small or how big, if it makes you or your child uncomfortable I want to know about it IMMEDIATELY!! I can't help you if you wait till the end of the season. Put your CHILD FIRST because that is the mission of this league. Please come and be a part of the wonderful things we are doing in the Rosedale Little League. For most of us it is not just baseball and softball. We have an Opening Day Parade, Allstar Day, Clean Up Your Park Day, Managers and Coaches against the Parents, Holiday Festival, Annual Awards Dinner at Antuns our Annual Christmas Party at St. Clares and the numerous Toy Drives. We have collected toys for Saratoga Inn Shelter, St. Mary Star of the Sea Church in Far Rockaway Shelter, Springfield Shelter and this past year we sponsored an organization called Adopt A Family. We are committed to building communities and being a part of strengthening families. Parent please come to the practices, come to the games and make sure that my Managers and Coaches are giving your children an experience they will remember forever. You have a responsibility to your child to do that. It is our humble desire that your child enjoys their time with the Rosedale Little League no matter how short or long the time is. This is a thankless, payless job and you have to wonder why we do this. We do it because we love your children and this community. There is no amount of money that could compensate for the memories that are created every year from watching your children from the beginning of the season to the end. It's a wonderful feeling and that's why we continue to do what we do. We need responsible Managers, Coach's, Scorekeepers, Field Helpers and Team Moms. Because of the outstanding work that we have done in the community our territory has been extended to Cambria Heights, Laurelton, Springfield Gardens and Rochdale that is why it is imperative that we get feedback from you. Any sport you put your child in requires a certain level of commitment from you the parent. I also encourage you to go to Little League International website to learn more about Little League ball. It is extremely important that if you have a child playing any sport they are covered under your insurance. Every year I ask for help and there are those that will always volunteer and others that stand by and watch. I always say this and will continue to preach that you can either be part of the solution or part of the problem. Come help us be a part of the solution. We need your help. Much love to you and your family. Registration is now open. Contact Bernie Brown at 917-561-6921
Bernie Brown, President

State University of New York Coaches Program
Wednesday, February 16
MANAGERS & COACHES
All Managers are SUNY University Certified.
Everyone is background checked
We are working on getting every Coach Certified
ROSEDALE LITTLE LEAGUE REGISTRATION
Saturday, April 26
SNY SPORTS CONDUCT FIELD MAINTENANCE CLINIC WITH SOME OF OUR COACHES
Thursday, May 2
Rosedale residents demand DOT help
Seven-year-old Alec McFarlane looks at home at the Rosedale Little League field with his teal uniform and black glove.
He plays shortstop just like his idol, Derek Jeter. And like the Yankee captain, it will be a while before Alec can get out on the field and play again.
Unlike Jeter, Alec wasn't hurt in action on the diamond. He was hit by a car on April 22 while crossing the busy 147th Avenue from the league's practice facilities in Brookville Park on the north side of the street to the game fields on the south side — a place where parents, elected and community leaders have wanted the city's Department of Transportation's help for years.
"We need a crosswalk right here," Bernie Brown, President of the Rosedale Little League said, pointing to the road by the playing field entrance on 147th Street.
"We need flashing yellow lights in the middle of the block," she added. "We need Children Crossing signs. I've been president of the league for eight years and we began asking the DOT before that. They have these lights and signs in warehouses gathering dust. Alec is one too many child hurt. We don't want anyone to get killed."
Alec is in second grade at PS 181, and his favorite class is gym. His uniform cap conceals the four staples that closed a gash in his scalp. And his broad, infectious smile masks the cuts on his face, the pain he still feels in his ribs and head and the fear.
"I was scared," he said after first being hit.
His mother, Janet Grant, remembers little between receiving the phone call every parent fears and the emergency room doctor's assurances that Alec was banged up but would be fine.
She pleaded with the DOT on Tuesday.
"Drivers aren't going to stop or slow down on their own," she said, waiving her hands at the cars whizzing past in both directions.
"They have no reason to," she said. "There's nothing telling them they have to."
Community Board 13 held its regular meeting the day after Alec got hit, and Board Chairman Bryan Block was livid, pointing out that this was not the only place where the DOT has refused slow zones or traffic control devices in places that subsequently had serious — sometimes fatal — accidents.
Councilman Donovan Richards (D-Laurelton), who met Alec and his mother at the field on Tuesday, said it all usually comes down to federal guidelines that the city uses to dictate where stop signs, traffic lights and other traffic calming measures should be.
"Take slow zones," Richards said. "Between the Council office, the league, the community board, the civics and others, we've asked for 50 slow zones. They don't seem to have trouble getting them in Northern Queens, but all of ours in Southern Queens have been denied."
He and Brown believe the DOT may monitor the area at times of day or times of year when the parks that straddle the street are not at maximum use, such as late mornings and early afternoons when people are at work, or when Little League is not in season.
Richards admitted he was stumped when asked what DOT engineers know about local traffic conditions that residents don't.
Brown was not. She showed a list of 70 parents who have complained repeatedly to 311.
And she said the calls for DOT action is no longer a request.
"We are demanding this," she said. "We know numbers. We have 200 players ... and up to 400 people at this park. This is a busy street ... And we're going to keep calling until we get those lights and signs."
Monday, April 29
Queens street near little league park a speeding danger zone for kids
Brookville Boulevard and 147th Avenue in Rosedale, Queens is a popular place for little kids to play ball.
But, also a place for cars to speed or even race. Little kids and fast cars a dangerous combination.
There two baseball fields on both sides of the street. And there are no stop signs, no crosswalks and no speed bumps to slow cars down.
According to the little league president, a seven-year-old was hit here just last week. The little league president says on any given weekend there are 250 kids here. Many of them have to cross this street. They take their lives into their own hands. Parents here want immediate action. Put in crosswalks, crossing guards, something to slow these drivers down!
Dudley Irvington who lives right next to the fields and says he has front row seats to some scary situations.
"When it comes to speeding — everybody speeds, ok? Sometimes this is one lane, they make two lanes out of it. My brother-in-law parked right here and someone crashed right into it!" he said.
Irvington says not only do people speed here but they race here too. "Sometimes it's like a racetrack here," he added.
"Sometimes we have the parents and they are overly engaged in the game and the kids run across the street to get a ball," he said.
We contacted the Department of Transportation and they say they are looking into it for us.
In the meantime, as another weekend approaches, some parents hope the city will spring into action before another child is hurt.


Read more: http://pix11.com/2013/04/26/queens-street-near-little-league-park-becoming-drag-racing-hot-spot/#ixzz2RpPg611K
Click on video icon below to watch video.
Click icon to view video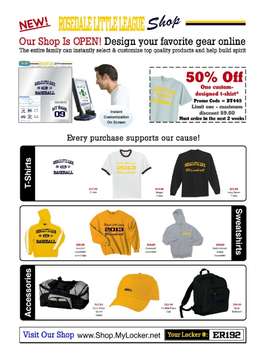 CLICK ANYWHERE ON FLYER TO ENTER
Wednesday, January 30
OUR ONLINE STORE IS NOW OPEN
TIPS FOR THE COACH
As the season starts, we want to get off to a good start with our team and what is expected of them. Of course, youth baseball is unlike a school team sport and you cannot force a player to practice or even force them to be on time. However, there are certain things you can do as a coach to ensure your team develops good habits. My own personal pet peeve was having the players arrive late for practices. My practices usually run no longer than one hour and if a player is fifteen minutes late, he misses a full quarter of a practice. I have tried a number different tactics. The first one is, I give each player a number as they arrive at practice and they keep that number throughout the practice. Whoever arrives first is number one and when it comes to batting practice he or she goes first. The players remember this and after a couple of practices, you will notice the difference with players arriving early to get a good number. Another technique I use is to start practice with a mini batting practice even before warm ups. After you do this a few times, you'll notice the players arriving early and telling you that they go first. Do not do this technique every practice but every once in a while. Practices, especially early in the season, will set the tone for a successful and fun season. The kids take notice when the coach arrives early and organized. Use these two techniques to get your players to arrive on time.
Tuesday, January 22
CHECK OUT OUR PHOTO ALBUMS
If you would like to purchase any of the photos in our photo album please contact David Mitchell @ 718-749-4616 or david@daestar.com
Tuesday, January 22
Click on video icon to see Rosedale Little League Baseball - Girls 2007
Rosedale Little League Baseball - Girls
Wednesday, May 1
Rosedale Little Leaguers Help Spruce Up Brookville Park
Members of Rosedale Little League teamed up with the Parks Department to do a little spring cleaning at Queens' Brookville Park on Saturday. All of the participants received free tickets to an upcoming Mets game.
click on icon to view