Quito LL: Welcome
Welcome To The Home Of Quito Little League Baseball!
Congratulations to the 11's Allstar Team,
SECTION 5 CHAMPIONS! GREAT SEASON!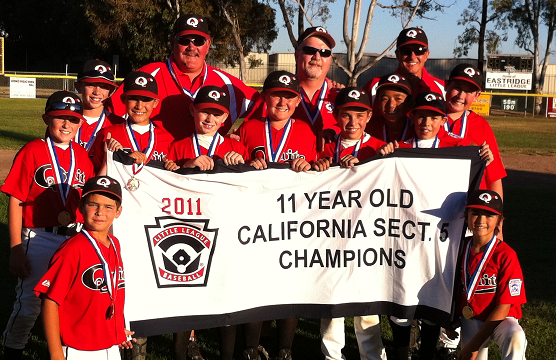 ---
The 8's, 9's, 10's, Major's, and Junior's all played Great
and Congratulations on a successful post season!!
---
Quito Little League is an organization of volunteers dedicated to serving youth sports programs. It is a program for kids. The commitment is to provide a Little League Baseball Program with qualified leadership. Safety, training, participation, fun, sportsmanship, teamwork, fair play and commitment to volunteerism are our goals. The experiences players have in Little League will last a lifetime. Little League provides an opportunity to teach youngsters teamwork, perseverance, integrity, and good sportsmanship—qualities they can draw upon as adults. Quito Little League is part of Little League International's West Region, District 12.

Quito Little League is based upon the following principles:
• Creation of a fun, safe and competitive environment
• Identification of coaches with baseball knowledge and who are instructive encouraging and supportive
• Continuous development of players and coaches
• Creating an equal opportunity for all children to participate
• Encouraging a variety of baseball experiences at all levels
• Providing a means for families to share in the operations of the League
• Increasing and improving community participation

---
League Address: PO Box 772, Campbell, CA 95009 League ID #4051211
Send us your feedback at feedback@quitoll.org