Puyallup Juniors Volleyball Club: Welcome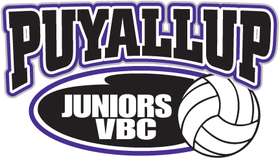 16719 110th Ave. East, Suite A, Puyallup, WA 98374 • (360) 367-1821 • puyallupjuniorsvbc@gmail.com
Mailing Address: PMB 197, 17404 Meridian East, Suite F, Puyallup, WA 98375
* * * * * *
Click here to visit our Facebook page. Like us to receive updates!
Follow us on Twitter @PuyallupJuniors
* * * * * *
VERTICAL/JUMP CLASSES
GET HIGHER!
A FREE specialized vertical training class with Harshiem Ross is being offered Friday evenings from 6-7 pm. Please sign up each week you plan to attend on the sign-up sheet located at the front desk. See you on Fridays! No class February 21st due to College Information Night.
* * * * * *
Regional Teams - Mondays & Wednesdays
U10, U13/14:
5:30 - 7:30 Practice
•
7:30 - 8:00 Strength and Conditioning
U15 R, U16 R & U17 NAT'L:
7:00 - 7:30 Strength and Conditioning • 7:30 - 9:30 Practice
National Teams - Tuesdays & Thursdays with Optional Fridays
U12, U13 & U14: 5:30 - 7:30 Practice • 7:30 - 8:00 Strength and Conditioning
U15, U16 & U18: 7:00 - 7:30 Strength and Conditioning • 7:30 - 9:30 Practice
* * * * * *