Puyallup Juniors Volleyball Club: Welcome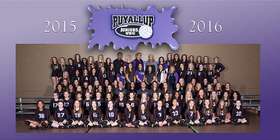 Building Address
16719 110th Ave. East, Suite A, Puyallup, WA 98374 • (360) 367-1821 • puyallupjuniorsvbc@gmail.com
Mailing Address
PUYALLUP JUNIORS VBC
PMB 197, 17404 Meridian East, Suite F, Puyallup, WA 98375
* * * * * *
Attention: Experienced Coaches Needed
We are looking for a few great coaches to fill our amazing coaching staff
**Experience required & pay is determined on experience**
Contact Maria for details!
Click here

to like our Facebook page. Follow us on T
witter @PuyallupJuniors
* * * * * *
Congratulations, PJVBC Teams & Players!
Congratulations to our U18 National Team (Tina) for their championship win at the NW Juniors Memorial Day Classic!
Congratulations to our U16 National team for their Gold Division Championship win at the Emerald City Classic!
Congratulations to Ashlyn Bacon and Cailey Cashman (from 16 National) on being selected for the Emerald City Classic club division All-Tournament team!
Congratulations to our U14 National team for their Bronze Division Championship win

at the

NW Juniors Memorial Day Classic!
We are so proud of you all! What a great way to finish the regular club season!
#PJStrong
* * * * * *
PJVBC Summer Camps & Clinics
Puyallup Juniors is pleased to offer another year of great camps and clinics! Head on over to our Camps & Clinics tab or download our flyer under the Forms tab to see the full schedule and get more information about our 2016 offerings.
* * * * * *
Pay Online Feature Now Available!
We have just launched a pay online feature which will allow you to make online payments for club dues through PayPal! We're excited about this update and hope that it will provide convenience for you in your payment plans. *Please be aware that the club due amounts will be slightly higher if you pay online. This is to help cover the fee for using PayPal. You are still more than welcome to pay with cash or check in person at Sunrise Courts or pay by mail and avoid this fee!
Click the "Pay Online" tab at the left for more information and to start paying online!