Puyallup Juniors Volleyball Club: Welcome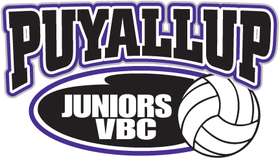 16719 110th Ave. East, Suite A, Puyallup, WA 98374 • (360) 367-1821 • puyallupjuniorsvbc@gmail.com
Mailing Address: PMB 197, 17404 Meridian East, Suite F, Puyallup, WA 98375
* * * * * *
Click here to like our Facebook page. Twitter @PuyallupJuniors
* * * * * *
January 30th - Information to be emailed soon!
Please note there will be no Jump Training or U15 Black Practice on January 30th

U15 BLACK IS LOOKING FOR 2 PLAYERS
Call 360.367.1821 or email puyallupjuniorsvbc@gmail.com if you are interested in either team.
* * * * * *
JERSEY MIKE'S OFFERS PJVBC 10% OFF!
Offer valid at Puyallup Sunrise Village location (10306 156th Street East) for all PJVBC members and families! For more info click the SPONSORS tab at left or print coupon by clicking on HANDOUTS at bottom of page.
PJVBC PARENTS AND PLAYERS
Check out your team page by clicking the TEAMS tab at left, then select your team. Travel information, rosters, schedules, practice schedules and more information specific to your team are all found on your team page. Share your game or practice photos by clicking the ALBUMS tab on your team page and uploading your photos.
PHOTO DAY
February 9th - more info to come.
PJVBC SPORTS MEDICINE PROGRAM
Puyallup Juniors has partnered with Olympic Sports & Spine Rehabilitation to bring you a great Sports Medicine Program. It includes individualized player injury risk

assessment using
cutting-edge technology and a FREE Bumps and Bruises Program for our players who have been inj

ured on the court. Find out more by clicking here for a printable flyer or on the Sports Medicine tab at left for complete info.
* * * * * *
LITTLE PJ'S CAMP
Learn the fundamentals of the game and have a great time! Runs Mondays and Wednesdays from 4:30 - 5:30 from December 1, 2014 through February 25, 2015. Cost is $160. See Camps and Clinics tab for more information or call 360.367.1821 to register.
* * * * * *
PRIVATE LESSONS
Available with our great coaches! Click on the tab at left for more information and to get in touch with the coach of your choice.
* * * * * *
Handout:
Jersey Mike's Coupon