Puyallup Juniors Volleyball Club: Welcome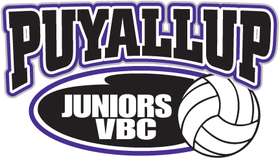 16719 110th Ave. East, Suite A, Puyallup, WA 98374 • (360) 367-1821 • puyallupjuniorsvbc@gmail.com
Mailing Address: PMB 197, 17404 Meridian East, Suite F, Puyallup, WA 98375
* * * * * *
Click here to visit our Facebook page. Like us to receive updates!
Follow us on Twitter @PuyallupJuniors
ADVANCED PLAYER SKILL SESSIONS
Sessions designed for girls with prior club experience or comparable experience.
Sundays October 5th through November 2nd. Two sessions each Sunday 9:00 - 10:30 or 10:30 - 12:00 just $30.00 per session. During the session there will be 3 skill sets ongoing: Hitting and blocking coached by Greg Finel, passing and serving coached by Craig Burrows, and setting coached by Shawnna Shula. Register to guarantee a spot, drop-ins available if space permits. Call
(360) 367-1821
or email puyallupjuniorsvbc@gmail.com to register.
* * * * * *
CLUB READY CAMP IS GOING ON NOW!
This is a great camp for girls not playing on a high school team who want to get prepared for November tryouts. It runs every Monday and Wednesday evening from 6 to 8 through October 29th and is designed for all skill levels. Drop-ins welcome, just $25 per session. Call
(360) 367-1821
or email puyallupjuniorsvbc@gmail.com for more information.
* * * * * *
Please visit the Tryouts tab at left for more information and to download the required forms
The tryout dates for our 2014-15 season are:
U12, U13 and U14
Monday, November 3, 2014
5:30 p.m. - 7:30 p.m.
U15 and U16
Sunday, November 16, 2014
12:00 p.m. - 2:00 p.m.
U17 and U18
Sunday, November 16, 2014
3:00 p.m. - 5:00 p.m.
* * * * * *
WE ARE VERY PLEASED TO ANNOUNCE THE FOLLOWING COACHES WILL BE JOINING PUYALLUP JUNIORS VBC THIS COMING SEASON!
GREG FINEL, Manager of Administration
SARAH ZELTMAN, Skills Coach
JEN ONEY,
Sports Training Specialist
JORDAN SHADLE, Conditioning Coach
SHAWNNA SHULA,
U18N Head Coach
JACLYN KATE FERGUSON, U18N Assist. Coach
SAMANTHA POTTS
,
U13 Assist. Coach
To read all of our coach and staff bios click
here
or on the Coaches & Staff tab at left.
Are always available with our great coaches!
Click here for more information or on the Private Lessons tab at left.